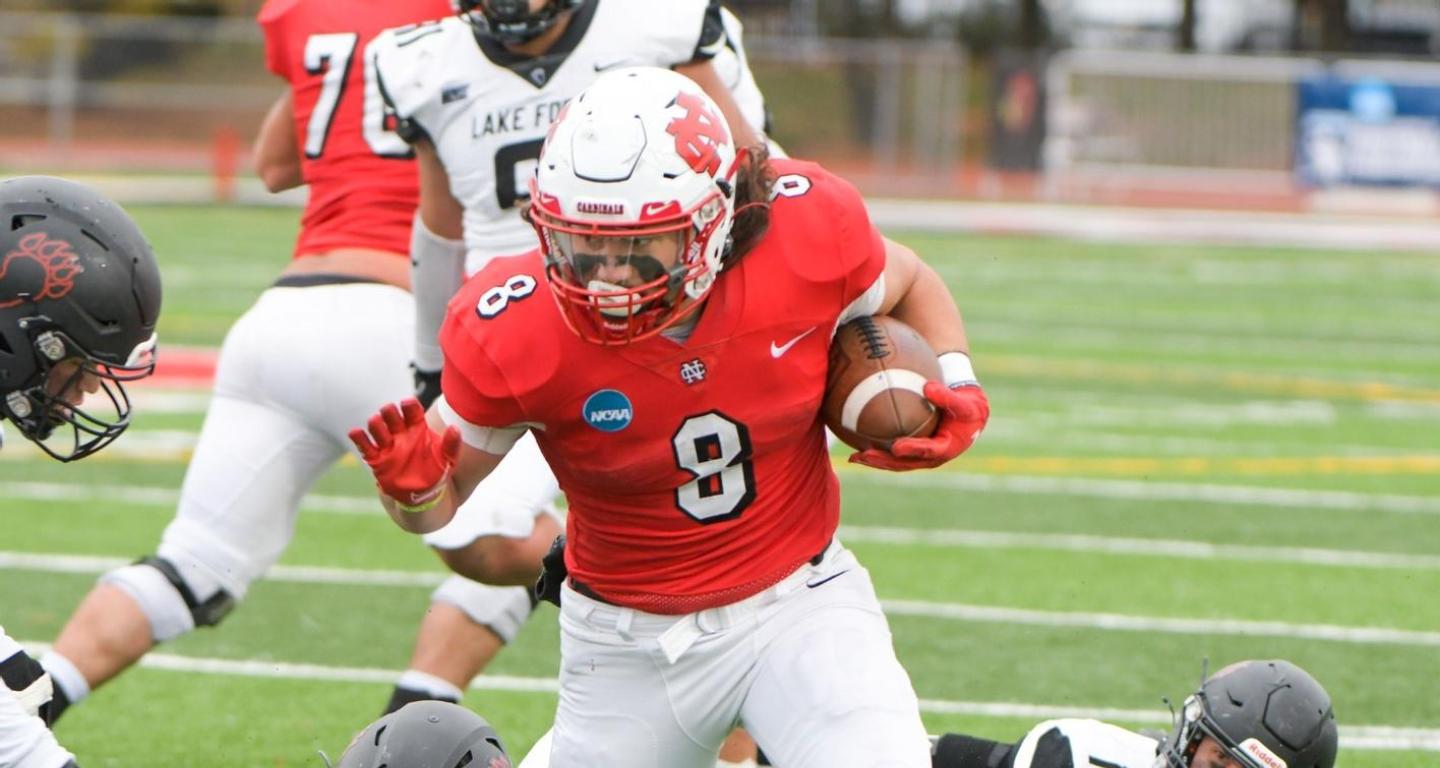 Feature News
Semifinal Win Sends Cardinals to Annapolis for Stagg Bowl
Dec 10, 2022
Making the first national semifinal played at Benedetti-Wehrli Stadium a memorable one with a masterful performance, the North Central College football team qualified for its third straight national championship game Saturday with a 49-14 dismantling of 2021 NCAA Division III national champion University of Mary Hardin-Baylor (Texas). 
The No. 1-ranked Cardinals scored twice before the visitors took possession of the ball and led throughout, scoring 28 unanswered second-half points to put the contest away. North Central (14-0) advances to the Amos Alonzo Stagg Bowl Friday at Navy-Marine Corps Stadium in Annapolis, Maryland.

The Cardinals took the game's opening possession 62 yards in 13 plays and scored on Luke Lehnen's 16-yard touchdown pass to Alec Wolff. Wolff's score was the 100th for North Central this season, making it the only college football team in the nation (all divisions) to score at least 100 touchdowns this season. Tanner Rains' ensuing kickoff took a high bounce at the Crusaders' 32-yard line and Joe Sacco made a leaping grab to secure the ball for the hosts once again. Four plays later, Ethan Greenfield broke a tackle by UMHB's Tristan Green at the five-yard line and reached the end zone for a seven-yard scoring run to give the hosts a 14-0 advantage less than nine minutes into the game.

The No. 3-ranked Crusaders (12-2) got on the board with Kyle King's 15-yard TD pass to Brandon Jordan, narrowing the gap to 14-7 late in the first period. North Central stalled the visitors' momentum with an 11-play, 73-yard possession which ended with Lehnen firing an eight-yard touchdown pass to tight end Matt Quinn. Quinn's first collegiate reception extended the Cardinals' lead to 21-7 early in the second quarter.

King brought the Crusaders within a touchdown with a second touchdown pass to Jordan, this time from 32 yards out, to narrow the gap to 21-14 with 6:13 on the clock. UMHB had a final scoring opportunity just before halftime, but Anthony Avila's 23-yard field goal was blocked by Brandon Greifelt. The guests opened the second half with possession but Sam Taviani's interception on the third play from scrimmage put the Cardinals on the attack once again in Crusader territory.

Lehnen completed a 15-yard pass to Greenfield on the ensuing drive before hitting DeAngelo Hardy for a 28-yard TD toss, boosting the lead to 28-14. After forcing a turnover on downs at its own 23, North Central went 77 yards in nine plays to take a commanding 35-14 lead at the end of the third quarter. Greenfield scored from four yards away for his nation-leading 25th rushing touchdown of the campaign. 

UMHB was held to 12 total yards on three fourth-quarter possessions, and the Cardinals tacked on a 23-yard scoring pass from Lehnen to Nic Rummell and a 12-yard TD run by Terrence Hill. North Central owned a 468-286 edge in total yards, converting 10 of 14 third downs and all five of its red-zone opportunities.

Lehnen ran for 139 yards on 13 carries while completing 13 of 20 passes for 174 yards and tying a career high in touchdown passes. Greenfield gained 127 yards on 23 rushing attempts, while Hardy made six catches for 71 yards. BJ Adamchik posted a team-high 10 tackles while Taviani and Dan Gilroy each finished with six. Taviani made a career-high four tackles for loss, including two quarterback sacks, while Antwain Walker recorded an interception and five pass breakups, a single-game season high for the North Central defense.

North Central advances to take on the University of Mount Union (Ohio) in the national championship. The Purple Raiders (14-0) defeated Wartburg College (Iowa), 34-31, in semifinal play Saturday. The Cardinals defeated Mount Union, 26-13, in the national semifinals last season on the Raiders' home field. Kickoff is scheduled for 7 p.m. Eastern time and the game will be broadcast live on ESPNU.
For more information on the Cardinals, go to northcentralcardinals.com.