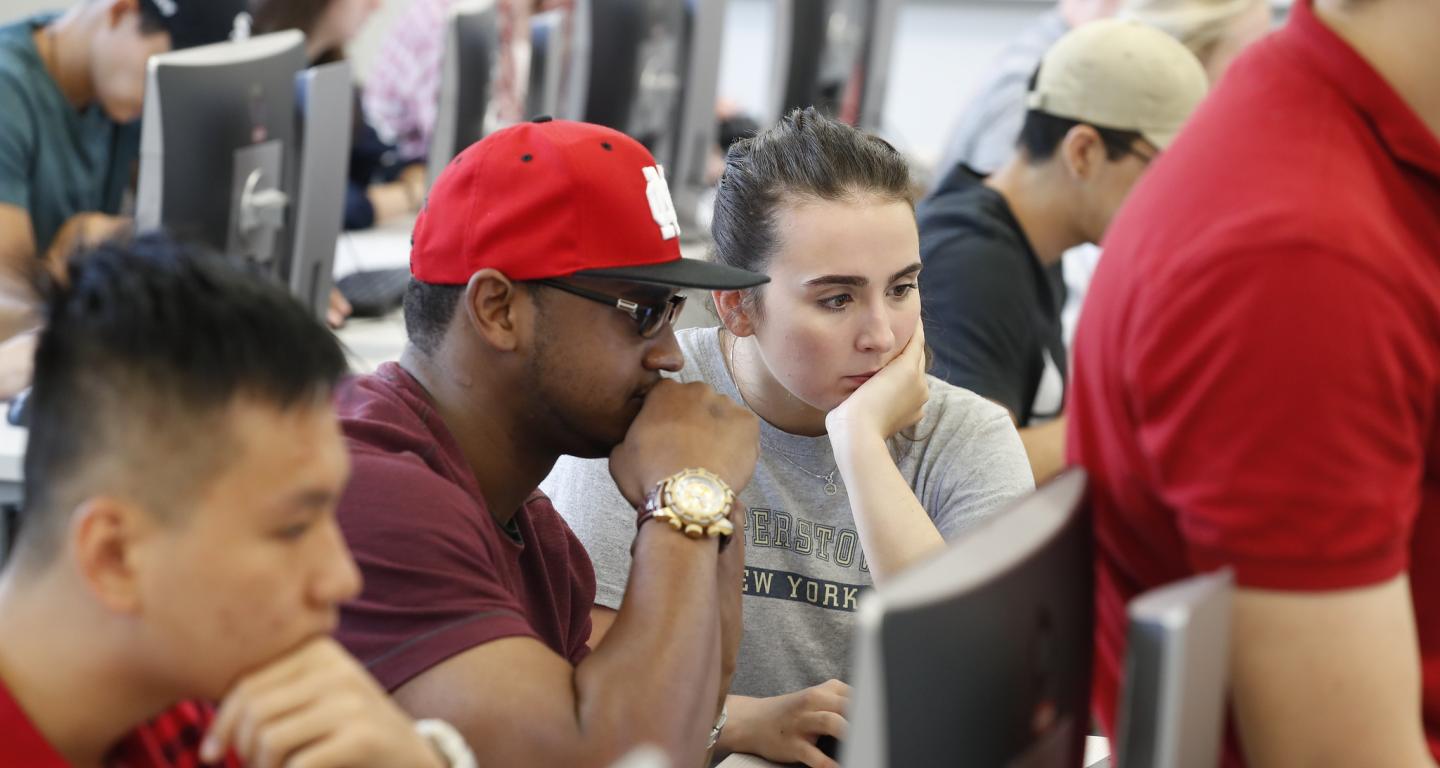 How to Become a Nuclear Medicine Technologist
Feb 22, 2023
How to Become a Nuclear Medicine Technologist
At any point in your education, have you ever been amazed by something you learned during a science experiment? Whether it was making slime from household ingredients or investigating the properties of a particular chemical, maybe you liked that your hands-on work enabled you to learn something new.  
What if you could do similar hands-on work for your career? There are many science-related careers, ranging from health science to natural science, but have you ever considered nuclear medicine technology? Nuclear medicine technology is one of the few professions that grants exclusive access to tools used for diagnostic medical imaging.
There are other types of medical imaging, including diagnostic medical sonography, computed tomography (or CT) and positron emission tomography (or PET). What's different about nuclear medicine, though, is that it uses radioactive materials to trace the origin of the problem. Nuclear medicine technology can provide healthcare professionals with a unique view of human anatomy, making it crucial for diagnosing some medical cases.
If you enjoy working with people and have a passion for science, then nuclear medicine technology might be the career for you. Read on to learn more about how to become a nuclear medicine technologist.
What is a Nuclear Medicine Technologist?
Before exploring what you can do with a nuclear medicine degree, we first need to explore more about the field and how a nuclear medicine technologist helps patients. 
How much do nuclear medicine technologists make? As reported by U.S. News, nuclear medicine technologists earned an average annual salary of $79,590 in 2020. But what is a nuclear medicine technologist, exactly? Nuclear medicine technologists give their patients small doses of radiopharmaceuticals, which are compounds of radioactive material and a tracer, per RadiologyInfo.org. Following the necessary safety protocols and precautions for radiation exposure, nuclear medicine technologists use these radiopharmaceuticals to collect imaging that traces the root cause within the human body. With these images, doctors can diagnose medical conditions from cells to entire organ systems. 
Nuclear medicine is used for therapy, too. According to RadiologyInfo.org, radioactive materials can be used to treat patients, most commonly for certain types of cancers. This kind of cancer treatment is similar to radiation therapy—both nuclear medicine technologists and radiation technologists perform hands-on, technical work with patients. The main difference, though, is that nuclear medicine technologists inject radiopharmaceuticals into patients to treat them. 
Now that we've covered an idea of how this profession uses nuclear medicine to help patients let's look at the steps for how to become a nuclear medicine technologist.
What Are the Requirements?
To work in the field, nuclear medicine technologists need to earn professional accreditation through an exam. The level of accreditation depends on where you live—some states require only a certification in nuclear medicine technology, while others require a certification and a license. 
Before you can earn your certification and license (if necessary), you must first become eligible to take your exam by completing a nuclear medicine technology program. Some nuclear medicine technologist jobs will require either an associate's or a bachelor's degree. However, you will still need to complete clinicals and coursework specific to nuclear medicine to become eligible for the exam, which students can "acquire by graduating from an accredited [certification] program," per U.S. News. 
Some institutions design their nuclear medicine technology programs to include completion of a certification program as a curriculum requirement. This type of program allows a student to complete certification with an accredited program while earning their bachelor's degree in nuclear medicine technology. A bachelor's degree in nuclear medicine technology gives students a scientific background that will provide a foundation for their careers. Common courses may include chemistry, physics and anatomy and physiology.
Once you become a certified nuclear medicine technologist, you'll work hands-on with patients and radioactive materials, so it's critical to learn how to limit radiation exposure as much as possible, both for your patients and for yourself.  This may seem daunting, but that's one way that completing a nuclear medicine technology program helps prepare you to work in the field. As you think about programs, you will want to search for institutions that give you the educational background and scientific foundation that you'll need in your career.
What Skills Are Needed?
Beyond completing course requirements, there are other important skills that help nuclear medicine technologists succeed in their field. Nuclear medicine technologists work directly with patients, so interpersonal and customer service skills are essential. Because patients could vary from adults to children, nuclear medicine technologists will also need to develop an ability to communicate with many types of patients, including parents and caretakers.
Since nuclear medicine technologists may be working with patients who are undergoing a difficult time in their lives, having empathy is important for this job. North Central College Health Programs Advisor and Student Success Coach Arwen Lynch emphasized this point, stating that nuclear medicine technologists need to "be there for [their patients]" and assure them "they're in good hands."  Though nuclear medicine technologists often work with other healthcare providers on patient cases, having positive interactions with patients can make all the difference. 
When considering nuclear medicine technology programs, you'll want to look for colleges that help you develop these skills and that offer opportunities for practical experience in health care. That way, when you enter the workforce, you'll be prepared to apply the knowledge and skills you've already acquired.
How to Advance Your Career
Throughout their academic careers, students can look for opportunities to develop the skills and knowledge necessary to become a certified nuclear medicine technologist. For instance, students can job shadow to learn more about the career and to see first-hand how nuclear medicine technologists provide patient care.
On top of job shadowing, there are many other avenues for students to hone their skills. While you won't be able to get your hands on radiopharmaceuticals right away, there are other ways you can gain experience in health care. Through volunteering or entry-level jobs, students can find opportunities to work with patients. Students can become assistants in various health care areas, like physical therapy, rehabilitation, or dentistry. Certainly, students can use their experience with patient care as they learn how to become a nuclear medicine technologist. 
Additionally, students can acquire experience as a registrar in clinics or hospitals. As Lynch details, working or volunteering as a registrar will give you experience using electronic medical records systems and teach you to know how to "read reports, read prescriptions [and know] how to access insurance information." For nuclear medicine technologists, knowing how to access records and maintain patient confidentiality is an important function of the health care field.
Another bonus is that any kind of health care experience will also give you an understanding of how different health professions work with one another. As a nuclear medicine technologist, you may have to work with nurses and doctors, as well as other medical imaging technicians, including radiation technologists.  By acquiring experience early on, you will already be prepared to collaborate with other professionals, even during clinicals in your certification program. 
Start Your Journey as a Nuclear Medicine Technologist
You will want to search for educational programs that will provide you with the opportunity for hands-on experiences in health care. To help you jumpstart your career while you are earning your degree, look for institutions like North Central College that network with local hospitals and clinics to offer students a variety of professional, practical opportunities.
As you plan your own path for how to become a nuclear medicine technologist, you will also want to search for colleges that partner with certification programs. At North Central College, for example, nuclear medicine technology majors apply to the nearby certification program at Northwestern Memorial Hospital's School of Nuclear Medicine Technology. There, students will build upon their classroom knowledge and work with trained nuclear medicine technologists.
During the certification program, "students will spend a … tremendous amount of time actually doing clinicals, meaning [they are] actually at the [patient's] bedside, working with other nuclear medicine technologists," commented Lynch. Upon completion of the program, students will be eligible to take their exam for certification and license and will have earned their bachelor's degree in nuclear medicine technology.
With an educational foundation and practical experience in the knowledge and skills you'll need, you'll feel ready to begin your career as a nuclear medicine technologist.
Hannah Brauer is a communications specialist in the North Central College Office of Institutional Communication. She has a bachelor's degree from Eastern Kentucky University, and she has four years of experience working with college students and collegiate communications.
Sources: 
Bratcher, Emily H. (2022). "Nuclear Medicine Technologist." U.S. News. & World Report. Retrieved November 15, 2022, from https://money.usnews.com/careers/best-jobs/nuclear-medicine-technologist 
North Central College. https://www.northcentralcollege.edu/program/nuclear-medicine-technology 
RadiologyInfo.org. (2022, July 6). "General Nuclear Medicine." Radiological Society of North America, Inc. Retrieved November 16, 2022, from Nuclear Medicine, General (radiologyinfo.org)