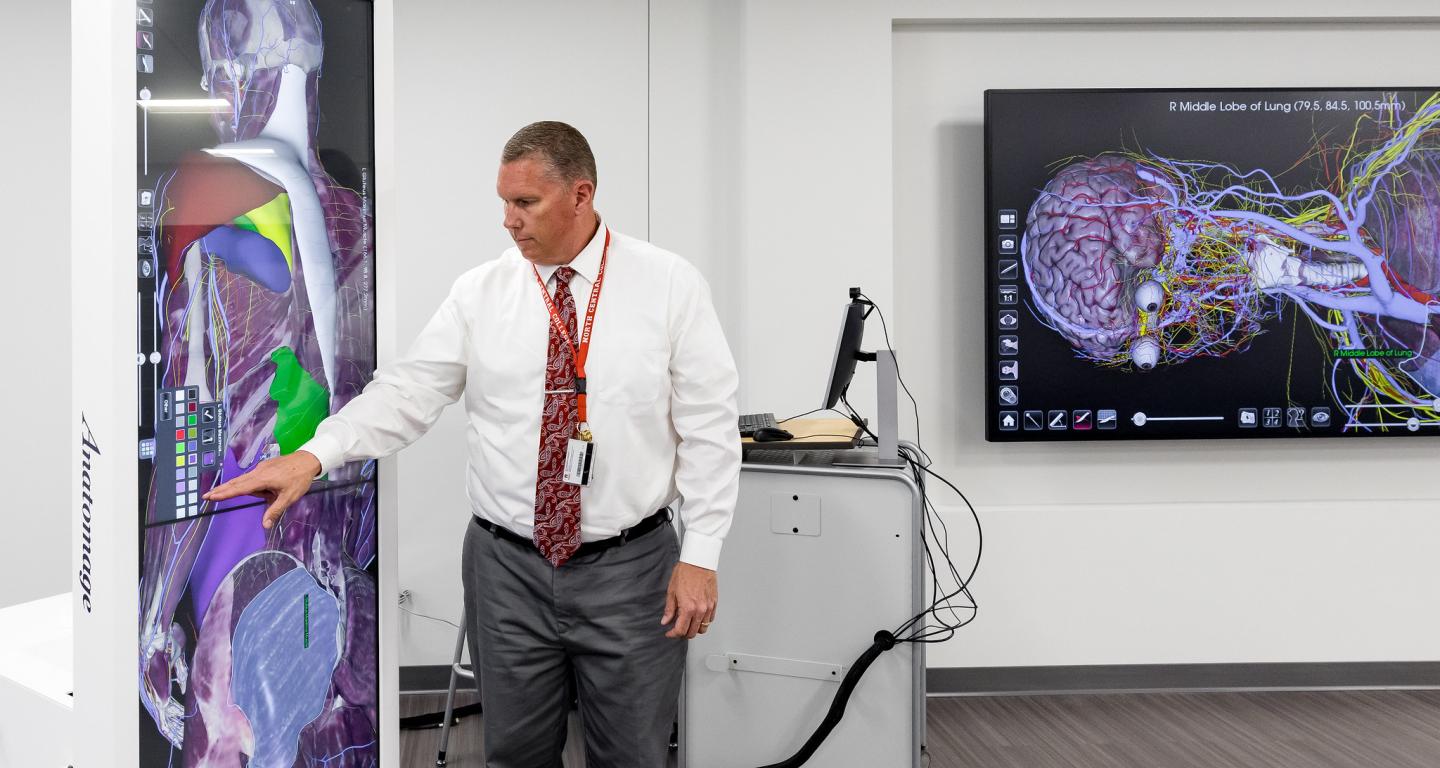 How Much Do Nuclear Medicine Technologists Make?
Reviewed by Jacob Imm
Mar 01, 2023
How Much Do Nuclear Medicine Technologists Make?
If you're trying to choose a career path, it can be difficult to narrow down your interests to one specific job field—or find one that perfectly combines them all together. 
But if you're curious about entering the healthcare field and have a knack for science, math, and computer technology, you're in luck: a nuclear medicine technology career might be just the job to tap all your likes in a well-paid, specialized field with room for growth.
While exploring education and career options in health imaging, you might be wondering: how much do nuclear medicine technologists make? If you're looking for a health imaging career with six-figure income potential, keep reading for all the radioactive details about nuclear medicine technologist salaries and job prospects. 
What Is a Nuclear Medicine Technologist?
So, what is a nuclear medicine technologist? The high-tech job title of nuclear medicine technologist fits right in with the position's specialized skills and knowledge in the field of medical imaging. As a nuclear med tech, you'll work with radioactive substances and highly technical imaging equipment to gain insight into the function of a patient's soft tissue organs that other imaging processes like X-rays are unable to see. 
Some day-to-day job duties of a certified nuclear medicine technologist include: 
Interacting with patients to educate and help them feel at ease

Preparation and administration of radiopharmaceuticals

Digital enhancement and processing of images

Providing images, information, and analysis to physicians

Following radiation safety protocols and procedures
What Certifications Do Nuclear Medicine Technologists Need?
If you want to know how to become a nuclear medicine technologist, you typically need an associate's or bachelor's degree in nuclear medicine or a related health sciences field. In addition, you may need certification from the Nuclear Medicine Technology Certification Board (NMTCB) or the American Registry of Radiologic Technologists (ARRT), although licensing and certification requirements vary by state and employer.
Where Do Nuclear Medicine Technologists Work?
Once you graduate and become certified, what can you do with a nuclear medicine degree? Nuclear medicine is used to assess organ function and to diagnose various diseases such as tumors, infections, hematomas, and cysts. A certified nuclear medicine technologist typically works in healthcare-related facilities, including but not limited to:
Medical laboratories

Imaging clinics

Hospitals

Physician's offices

Outpatient centers

Research universities
What Is the Average Salary for Nuclear Medicine Technologists?
According to the U.S. Bureau of Labor Statistics (BLS), the median annual salary for a nuclear medicine technologist in 2021 was $78,760 or $37.86 per hour. But since this is the national average, your actual nuclear medicine technologist salary and hourly rates could be significantly higher depending on the area where you live and the type of facility where you work. 
What Are the Highest Paying Regions for Nuclear Medicine Technologists? 
Regional location and demand for workers play a significant role in determining the salary of a certified nuclear medicine technologist. The BLS reports that the top five states for high earning potential as a nuclear medicine tech as of 2021 are:
California – Annual mean wage of $124,930
Rhode Island – Annual mean wage of $106,670
District of Columbia – Annual mean wage of $104,450
Hawaii – Annual mean wage of $104,080
Washington – Annual mean wage of $103,480
While the metropolitan areas of California dominate the highest city wage category, you can earn a good living in rural and suburban areas as well. The top five nonmetropolitan regions with the highest mean salaries are: 
Northeastern Ohio – $74,000
Lower Peninsula of Michigan – $73,340
Piedmont, North Carolina – $71,560
Northeast Mississippi – $64,430
Nonmetropolitan areas of Kansas – $61,880
Regardless of what part of the country in which you decide to live and work, you can be certain you'll be earning a respectable base salary in relation to the region's cost of living.
How Much Can You Make as a Traveling Nuclear Medicine Technologist?
If you're looking for temporary positions that let you travel around and experience different parts of the country, you could earn a hefty travel nuclear medicine technologist salary. According to the healthcare job site Vivian, travel nuclear medicine techs could earn up to $3,527 per week, with an average of $2,595 per week as of December 2022.
Job Outlook for Nuclear Medicine Technologists
With continuous advancements in nuclear imaging and high earning potential, the job outlook for the nuclear medicine field is positive, with a projection for steady growth of around 2% over the next ten years, according to the BLS. While this growth may be slower than in other healthcare fields, it doesn't mean there will be a shortage of employment opportunities.
The BLS also suggests a greater need for technologists moving forward due to the demand for cancer detection amidst an aging population, as well as the development of therapeutic treatments utilizing radiopharmaceuticals. When evaluated alongside all health technician jobs, a growth rate of 7% is projected to take place between 2021 and 2031.
Visualize Your Career Goals With North Central College
Medical imaging is a booming field with high earning potential and future job security. Specializing in the relatively new field of nuclear medicine technology provides ample room for growth alongside continuously improving methods and uses for radiopharmaceuticals. 
If you're contemplating a nuclear medicine technologist job, consider choosing North Central College's B.S. in Nuclear Medicine Technology for your degree. Our unique 3+1 program provides a rigorous course of study in liberal arts, mathematics, and science. In addition, our hands-on 13-month program at Northwestern Memorial Hospital gives students a real-world clinical learning experience as they complete their degree and prepare to enter the workforce. 
Jacob Imm is the associate director of communication in the North Central College Office of Institutional Communication. He has 13 years of collegiate communications experience and has worked with hundreds of college students. He has a bachelor's degree from the University of Notre Dame and a master's degree from Northern Illinois University.
Sources: 
Jensen, K. (2022, June 8). A Day in the Life of a Nuclear Medicine Technologist. Health Professions Network. https://www.hpnonline.org/a-day-in-the-life-of-a-nuclear-medicine-technologist/
Nuclear Medicine. (2019, November 19). Johns Hopkins Medicine. https://www.hopkinsmedicine.org/health/treatment-tests-and-therapies/nuclear-medicine
Nuclear Medicine Technologists. (2022, March 31). U.S. Bureau of Labor Statistics. https://www.bls.gov/oes/current/oes292033.htm
Nuclear Medicine Technologists : Occupational Outlook Handbook. U.S. Bureau of Labor Statistics. (2022, September 8). https://www.bls.gov/ooh/healthcare/nuclear-medicine-technologists.htm
Nuclear Medicine Technology. (n.d.). North Central College. https://www.northcentralcollege.edu/program/nuclear-medicine-technology
Travel Nuclear Medicine Technologist Jobs - Up To $4,288/wk. (n.d.). Vivian Health. https://www.vivian.com/allied-health/nuclear-medicine-tech/travel/
What Do Radiologic Technologists Do. ARRT. (n.d.). https://www.arrt.org/pages/about-the-profession/learn-about-the-profession/what-do-radiologic-technologists-do
Nuclear Medicine Technologist. U.S. News & World Report. (n.d.). https://money.usnews.com/careers/best-jobs/nuclear-medicine-technologist