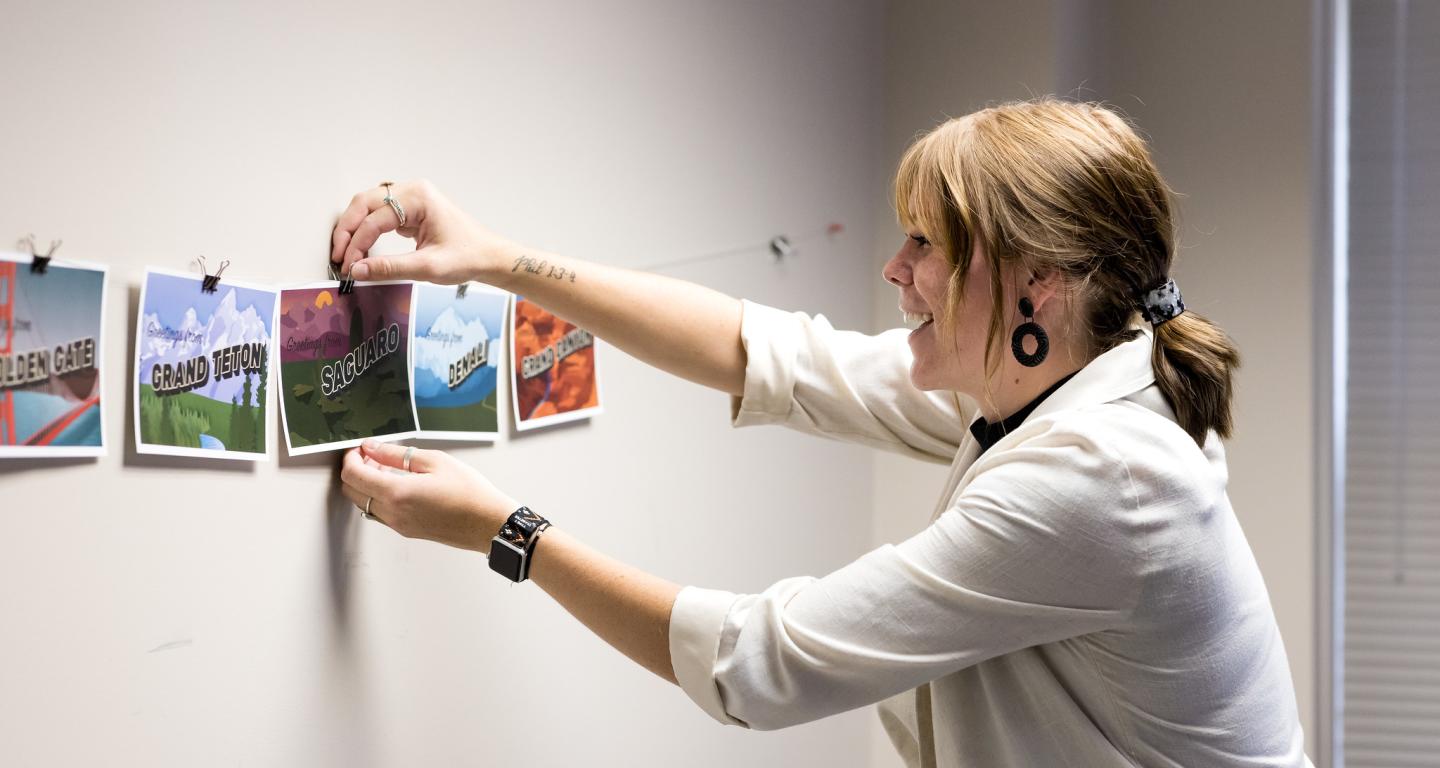 What is Art History?
Mar 24, 2023
What is Art History?
If you are passionate about the story artwork from around the world and different periods tell, earning a degree in art history would be a rewarding career path for you. As a visual and language communications degree, art history is for those curious about the rich history of art and how it informs us of yesterday's world today. Keep reading to learn more about art history, the profession of art historians and the benefits of being an art history major.
While art history might seem relatively straightforward, it goes much deeper than that. Despite "art" and "history" being subjects most of us have studied in school, the two together raise complex questions and require expert visual analysis, written communication and critical thinking skills. According to Britannica, the largest encyclopedia in the world, "art history is the historical study of the visual arts, where individuals identify, classify, describe, evaluate, interpret and aim to understand the art products and their historical developments." These fields include painting, sculpture, architecture, decorative arts, drawing, printmaking, photography and interior design.
Why is art history important?
Art history is important to us as a society for a multitude of reasons. Primarily, it accounts for previous individuals, places and events. Artwork available around the world serves as a window into the past. Therefore, art history offers us a glimpse of what life was like before. 
From the colors and materials used to the scenes and symbolism portrayed, these factors can provide more information about the individuals, culture and period from which it originated. Through art, we can also learn about previous beliefs, thoughts and values, giving us a deeper understanding of civilizations and how they have evolved. 
Art History Careers
You may ask, "What can you do with an art history degree?"
A major or minor in art history prepares you for careers in:
Art insurance

Art appraisal and sales

Digital communications

Exhibition design

Libraries and archives  

Museum and cultural institutions

Arts and non-profit administration

Art therapy and community arts programs

Art conservation and historic preservation
While there are many career paths for art history majors, as listed above, one of the more common career paths is becoming a college professor. A fulfilling role, art history professors take the current knowledge and understanding of the field and teach it to the next generation of learners through various art history courses, whether they revolve around renaissance, modern or contemporary art. They should effectively communicate their knowledge to students who study art history, whether it focuses on a broad range of topics or a particular period, movement or artist. Professors are crucial in ensuring art history students acquire a well-rounded education. They also can play a key role in helping students find internships to further their knowledge.
Art history is also a fulfilling major as training provides crucial expertise in industries that buy and sell art, manage collections, create visual media communications and connect people to education, therapy, and events. Since visual imagery is the most common way individuals communicate with one another, students often add art history alongside a major in art education, graphic design, studio art, modern languages, business or psychology.
What is an art historian?
With a background in art history, you could work in several unique settings, such as museums, libraries, universities, art galleries or auction houses. In many cases, art historians are self-employed. Self-employment options include appraisal services and independent curators or gallery owners, but art historians also work in larger organizations such as museums, auction houses, and the insurance industry. In these settings, you can still expect to work alongside other art historians, artists or museum curators. When it comes to education, a Bachelor of Arts degree is required in most cases to become an art historian. According to the U.S. Bureau of Labor Statistics, careers in the cultural sector are growing as vital contributors to the experience economy.
"Art history is a really flexible field of study because the global content and communication skills apply to so many careers, stated Lindsay Shannon, associate professor of art history, gallery director and student gallery Coordinator at North Central College. "I work with students to tailor their studies to their career interests; sometimes, a master's degree in museum studies, business or information science is the goal. In other cases, studying for a certification or simply doing an internship will help (students) gain the appropriate skills and experience to be ready for the job market." The knowledge you gain from an art history degree can be applied to the field as well as other industries, such as architecture, costume design, furniture design, museum work, government employment, interior design, teaching and private and public research projects.
What does an art historian do?
As an art historian, your primary day-to-day duty would include researching a piece of art or artifact to uncover its historical context. Utilizing the knowledge and hands-on experiences earned from your degree, you would aim to discover who created a specific piece of artwork, when it was made and why by identifying, evaluating, classifying and recording your finding to others. 
Other responsibilities of art historians may include:
Advise museums and art galleries on which art to sell or buy

Assist art or museum curators in putting together exhibitions

Maintain databases and catalogs of artifacts

Present art exhibitions to organizations, clubs, schools and museums

Publish research and historical developments in scholarly journals or publications

Review articles written by other art historians to ensure findings are accurate

Study and preserve artifacts

Teach the history of art at lectures and events

Travel to sites such as libraries, art galleries or archeological digs to conduct research
What are the next steps?
If you are a prospective student and are interested in majoring in art history, take some time to explore different college and university websites and the programs they offer. For instance, students enrolled in North Central College's art history program "learn to think critically about art from a range of different cultures and time periods," added Shannon. "This global approach is designed to apply to 21st-century careers that require the ability to communicate, collaborate, and empathize with colleagues from diverse backgrounds." Additionally, students have access to unique opportunities, including exhibitions in the campus galleries, courses offered on-site in the city of Chicago and internships at nearby museums, studios, galleries and auction houses. 
Students can apply their knowledge and gain hands-on experience through the College's University Partner Program with the Art Institute of Chicago, including free museum admission and career programming for North Central College students. While working alongside expert faculty who foster an open and encouraging learning environment in the classroom and throughout the Art & Design department, North Central College will help you find the right path for you as a student and professional in your career.
Kara Kots is the senior social media specialist in North Central College's Office of Communications. There, she contributes her content, writing, and communication skills. 

 
Sources:
Art History. North Central College. https://www.northcentralcollege.edu/program/art-history. Accessed December 12, 2022.
Art History. Britannica. https://www.britannica.com/art/art-history. Accessed December 14, 2022.
Art History Careers: Job Options and Training Requirements. Best Accredited Colleges. https://bestaccreditedcolleges.org/articles/art-history-careers-job-options-and-training-requirements.html#:~:text=According%20to%20the%20BLS%2C%20art,a%20research%20assistant%20or%20writer. Created October 1, 2021. Accessed December 19, 2022.
What will my duties entail as an Art Historian? Online Schools Center. https://www.onlineschoolscenter.com/duties-art-historian/#:~:text=As%20the%20title%20indicates%2C%20an,exhibitions%20for%20others%20to%20enjoy. Accessed December 19, 2022.
What is art history and where is it going? Khan Academy. https://www.khanacademy.org/humanities/ap-art-history/start-here-apah/intro-art-history-apah/a/what-is-art-history. Accessed December 21, 2022.
Art Historian. The Art Career Project, https://theartcareerproject.com/careers/art-history/. Created July 5, 2021. Accessed December 21, 2022.
Archivists, Curators, and Museum Workers. U.S. Bureau of Labor Statistics. https://www.bls.gov/ooh/education-training-and-library/curators-museum-technicians-and-conservators.htm. Accessed December 22, 2022.