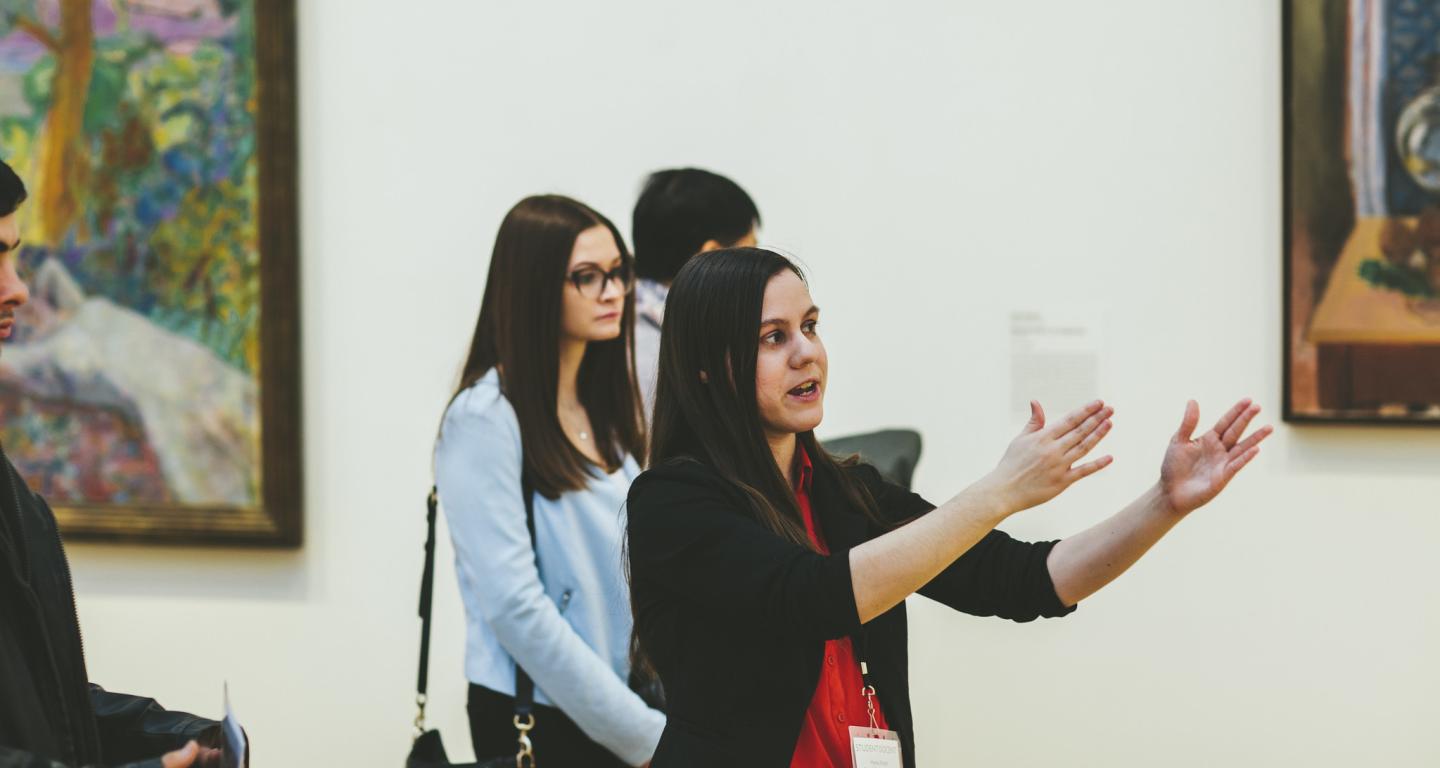 What Can You Do with an Art History Degree?
Mar 29, 2023
What Can You Do with an Art History Degree?
Few educational subjects are as intertwined as art and history. From an early age, we are taught to measure changes in society and culture throughout human existence in part by how people created art at any given time. Whether it be visual art, fine art, contemporary art, modern art, Western art, Asian art, or otherwise, artistic movements have helped mark the time as empires, nations and political movements have risen and fallen. 
Learning how to track trends in art and its evolution over time brings with it a marketable set of skills and numerous career opportunities. If you are interested in art and a student of history, then pursuing an art history might be a good plan for your education. But what is art history? How can you take a degree program in this field and turn it into a career path? Read on to find out more.
What do you do in art history?
For a core definition of art history, we can look to Katherine J. Igoe, writing for The Muse: "An art history major is ostensibly about the study of fine art, sculpture, architecture, painting, decoration, and other forms of artistic expression throughout history."
While the building blocks of studying and working in art history is looking at paintings, drawings, sculptures and other works of art, there is a great deal more to it. 
Lindsay Shannon, associate professor of art history at North Central College, offers an overview of what art history students do at her institution that prepares them for a typical career in art history:
"Students in art history at North Central College learn to think critically about art from a range of different cultures and time periods," Shannon said. "This global approach is designed to apply to 21st century careers that require the ability to communicate, collaborate, and empathize with colleagues from diverse backgrounds." 
In other words, art history is as much about interacting with others as it is about analyzing works of art and is a more integrative and collaborative field than you might think. 
Once their general education requirements are completed, students will look to take an art history course load that involves subjects like visual art, museum studies, information science, visual culture, American art, and much more. Art history is one of the hallmarks of a liberal arts education, as it combines a lot of skills to help create a well-rounded communicator and scholar.
"Art history is both a visual and language communications degree," said Shannon. "Most of us are taught to understand how letters and numbers convey information from an early age, but very few schools teach us how to understand pictures beyond the basic color wheel. Images are used to convey much of the information we consume today including social media, pop-up ads, and political campaign videos."
An art history degree program is usually heavy in experiential opportunities. That includes studying in cities where professional art is readily available for viewing, visiting museums to take in collections, and completing internships doing things like assisting a museum curator, observing studio art in process, finding out about how to manage an art gallery, or learning the ropes at an auction house.
Typically, the common degree sought by students in art history is a bachelor's degree. With a bachelor's degree, there are a number of careers that are readily attainable and commonly found. Writing for Best Colleges, Christina Payne names some of the most common:
"Museum technician 

Meeting, convention, and event planner                            

Art director 

Exhibit designer 

Purchasing manager, buyer, and purchasing agent."
What else can art historians do?
While a bachelor's degree is common for students as it usually involves going to a four-year institution, an associate's degree from a two-year school is also an effective and legitimate way to start a career in art history. 
An associate's degree provides an appropriately helpful grounding in basic concepts that are useful for anyone in a professional setting. It also carries the advantage of taking less time to complete, meaning you can conceivably get into the job market before your colleagues who are starting their college careers at the same time as you.
Payne wrote that the art history careers that follow an associate's degree fall into a smaller number of categories that are more performative and less administrative in nature.
"An associate in art history qualifies graduates for positions as museum tour guides, photographers, and desktop publishers," Payne said. "The curriculum of an associate program also helps learners understand aesthetics related to various types of artistry, such as knitting, sculpting, cake decorating, quilting, and fashion design."
In addition, for those who choose to think outside the box, there are wider applications of art history degrees that can lead to additional career possibilities. Shannon detailed the versatility of art history in career preparation.
"Because visual imagery has been the earliest and most common way we communicate with each other as humans, art history teaches the analysis, interpretation, and communication of visual information which is vital to many careers today," she said. "For example, it is not uncommon for art history methods to be offered in health care and law enforcement settings to enhance training."
Shannon mentions that another effective way to create a rewarding career in art history is to combine the major with a second major or a minor that is related and in demand. That way, the concepts learned in the field will contribute to your professional development while still allowing you to find a career with a lot of options. She suggests a variety of double majors from across the academy, including art education, graphic design, studio art, languages, business, or psychology, leading to careers in social media, education, or financial development.
If art education is your chosen second major, you'll want to read our guides talking about how to become an art teacher and answering the question, "What can you do with an art education degree?"
Is a masters in art history worth it?
Just as with many other fields, it can be worth the extra time, expense and effort to continue after your undergraduate studies in art history to pursue a master's degree. Advanced degrees make it easier to ask for higher salaries and tend to lead to leadership positions as opposed to entry- or mid-level positions. To get them, you do need to invest with the confidence that you will earn it back through your career earnings.
In the art history field, the specific advanced degree you earn is less important than the relevant skills and experience that go with it, and art history is known for providing a wide range of versatile talents. Whether or not you go for an advanced degree at all depends on what you want to do—it never hurts, but it's not always entirely necessary.
Shannon said, "Majors are often interested in archives and curatorship, art therapy, commercial design and digital communications, education, art insurance or appraisal, arts administration, and historical preservation. I work with students to tailor their studies to their career interests; sometimes a master's degree in museum studies, business, or information science is the goal, in other cases studying for a certification or simply doing an internship will gain the appropriate skills and experience to be ready for the job market."
Pursuing an Art History Degree
No matter where you decide your educational path should end in your career search, you want to make sure it starts at a quality institution. Schools like Mansfield University and Grand Canyon University have established themselves as art history schools. As art history is a core liberal arts field, you may lean towards a school known for a comprehensive, individualized approach to a liberal arts education like North Central College.
North Central's art history program provides experiential opportunities, as we mentioned earlier, along with a curriculum that spans the world, a skills-based approach that enhances your career preparation, and access to quality support from their helpful offices of undergraduate admission and career services.
Jacob Imm is the associate director of communication in the North Central College Office of Marketing and Communications. He has 13 years of collegiate communications experience and has worked with hundreds of college students. He has a bachelor's degree from the University of Notre Dame and a master's degree from Northern Illinois University.
Sources:
"9 Jobs You Can Get With an Art History Degree (and the Skills You Can Take With You to Any Role)." Katherine J. Igoe, The Muse, https://www.themuse.com/advice/art-history-major-degree-jobs. 
"Art History Careers." Christina Payne, Best Colleges, https://www.bestcolleges.com/careers/art-and-design/art-history/. 
"Art History." North Central College, https://www.northcentralcollege.edu/program/art-history.