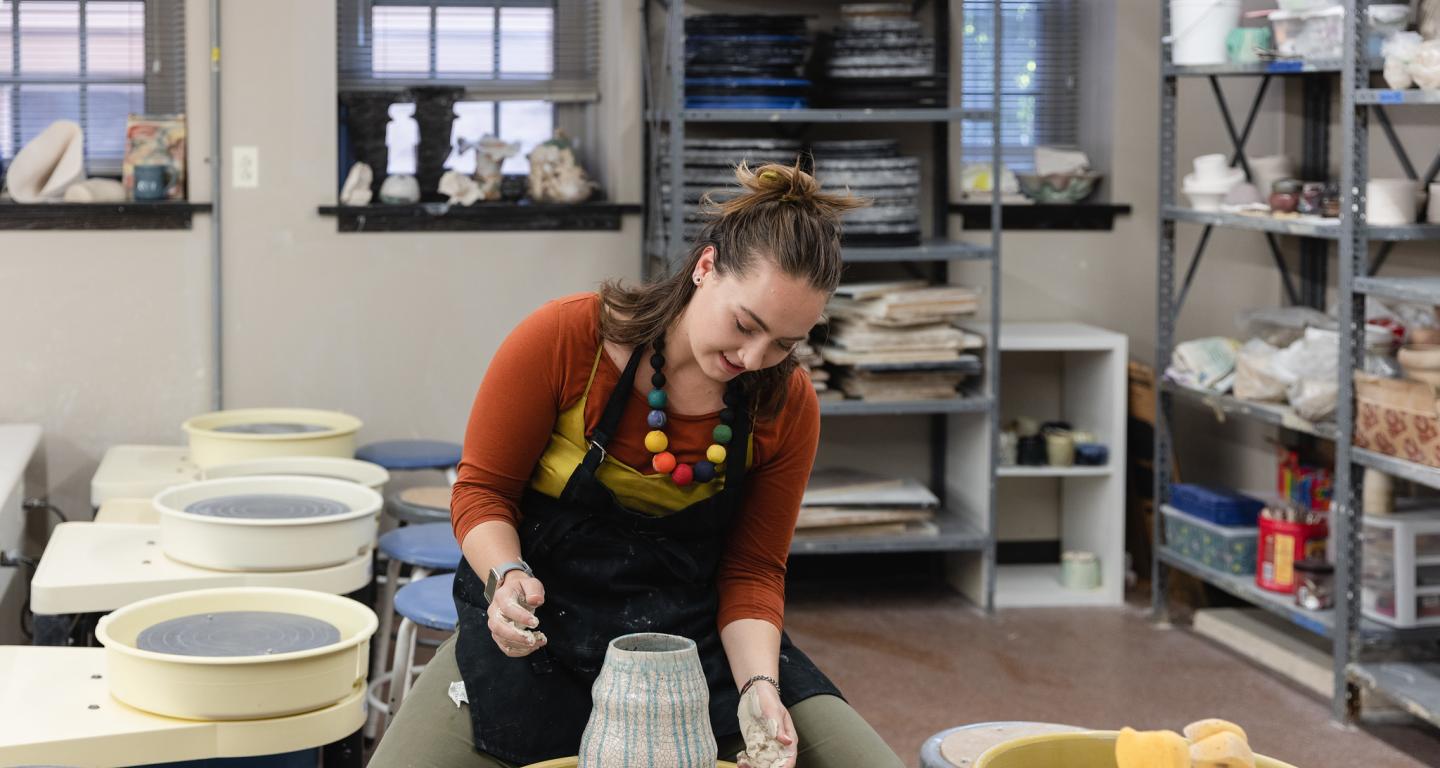 How to Become an Art Teacher
Mar 22, 2023
How to Become an Art Teacher
Are you someone who always has a sketchpad nearby? Do you love taking photographs, painting, or finding new ways to create images on your computer? Could you spend hours in a fine art museum? Do you enjoy guiding and helping others?
If so, you may wonder how you can turn your interest and appreciation for the visual arts into a future career. Becoming an art teacher is one pathway to consider.
You likely took art in school at some point while growing up, so you have a sense of what the job entails. However, it can vary depending on the age of students and a school's resources, from staffing to art supplies and materials.
Perhaps you thought of art class as simply a fun time in the day—a break from reading, science and math. But teaching art is a very purposeful discipline and an impactful one. There is extensive research showing a link between studying the visual arts and improved academic achievement and social-emotional development, contributing both to short-term and long-term success in the classroom and beyond.
Read on as we discuss how to become an art teacher, the educational requirements, and career paths after graduation.
HOW DO THE VISUAL ARTS IMPACT LEARNING?
Writing for Public School Review, Grace Chen cites several studies that show a connection between studying the arts and improved skills such as literacy and reasoning.
For example, she references a study by the Arts Education Partnership that shows students who engage in arts learning perform better in math, reading and writing. Specifically, the visual arts have a positive impact on the ability to organize writing and interpret complex reading texts, such as those found in science courses. Exposure to arts education can also increase capacity for higher-order thinking skills such as analyzing and problem-solving.
A researcher, writer and educator, Chen writes that this growing body of research has contributed to art education increasingly being seen as a central component of the school curriculum, not just a "nice-to-have" extracurricular.
Matt Fussell is an artist, teacher and owner of TheVirtualInstructor.com. In an article titled "Why Art Teachers are The Most Important Teachers in the School," he addresses common misperceptions about the value of art education, asserting that art teachers are especially needed today, because they are specialists in skills that are needed in every profession: creativity and innovation.
"Never in the history of mankind has there ever been a better time to be a 'creative'. It is the creative individuals that are finding success today," he writes. "Simply look at the world around you, and you'll quickly notice the opportunities that exist for those willing to be creative, to take chances, to innovate."
He adds: "Art teachers ... teach multiple answers to problems. They encourage mistakes and experimentation. They teach students to be thinkers—not memorizers."
WHAT DO ART TEACHERS TEACH?
Art teachers specialize in the visual arts, but the discipline encompasses many media and materials for helping students create and explore self-expression. A high level of variety can be one benefit of working as an art teacher.
According to the National Art Education Association (NAEA), the visual arts include:
The traditional fine arts — such as drawing, painting, printmaking, photography, and sculpture, as well as art in clay, glass, metal, wood, fiber, paper, and other materials.

Media arts — such as animation, video and emerging digital technologies.

Design — such as communication, product and interactive.

Environmental — such as architecture, landscape architecture, interior design, and urban planning.
Instruction may also include teaching students about art theory and art history. Like any educator—whether working with young children, adolescents, teens, or young adults—art teachers also need to be skilled in planning curriculum, managing a classroom, grading work, and collaborating with colleagues.
WHAT IS THE JOB OUTLOOK FOR ART TEACHERS?
What can you do with an art education degree? The United States Bureau of Labor Statistics (BLS) does not provide specific job outlook information for art teachers. However, from 2021-2031, the bureau forecasts that job opportunities will rise by 4 percent for kindergarten, elementary and middle school teachers, and they will rise 5 percent for high school teachers.
Besides working in a public school, an art teacher can find employment at a private school or non-academic settings like community art centers, children's museums, art museums, parks and recreation departments, or arts nonprofits.
Having a degree in art education does not limit you to working only as an art teacher. Especially if your studies include a liberal arts education at the core, you will have a solid foundation for transitioning to other related career pathways—for example, working as a graphic design, art therapist, or museum curator.
WHAT DO YOU STUDY TO BECOME AN ART TEACHER?
To work in a public school, art teachers must have a bachelor's degree and be state-certified to work with a certain age or grade level of students. In other settings, a degree and art teacher certification may not be required.
The curriculum for earning an art education degree will vary across colleges and universities. At North Central College, earning a bachelor's degree in art education encompasses a major with secondary education, so graduates are prepared to earn K-12 art teaching licensure.
Coursework emphasizes development of problem-solving skills and creative design thinking strategies through analysis, critique, and creation of works of art. Art education majors explore a range of media in foundational studio courses and refine their art practice in advanced courses. Experience in the field is also a critical component. North Central graduates complete at least 155 pre-residency teaching hours.
Bruce Spitzer, professor of education and chairperson of the department of education at North Central, says: "To prepare candidates to work in a wide range of diverse school settings, we ensure they gain field experiences in all traditional levels of schools: elementary, middle school/junior high, and high school. They can express a preference for their student teaching experience knowing they're selecting a developmental level with which they're comfortable. Art methods courses and field supervisors are experienced art teachers who help candidates refine their teaching to effectively reach every child's inner artist."
ART EDUCATION: A LIFELINE FOR HIGH-NEED STUDENTS
Federal education law, as defined by the federal Every Student Succeeds Act (ESSA), recognizes music and the arts as part of a well-rounded education, regardless of race, income, ZIP code, disability, home language, or background.
Chen writes that "the greatest benefit of the arts is seen amongst student populations that come from economically disadvantaged homes."
However, a recent study shows that among students who do not have access to music and arts education, a disproportionate number are concentrated in schools in major urban communities that have the highest percentage of students who are eligible for free/reduced price meals and are either majority Black, Hispanic, or Native American. Conducted by the Arts Education Data Project (AEDP), that study measured access to and participation in art education in public schools in the United States.
Art educators, therefore, can play a role in increasing equity in education. In recognition of that influence, the NAEA recently updated its position statement on diversity and inclusion in visual arts education:
"Visual art education should foster safe and brave spaces for discourse and freedom of expression through exploration of self and the lives of others, personal interests, and cultural heritage, and belonging through the visual arts."
Art education can also be integral to Social Emotional Learning (SEL). SEL has become an educational priority in recent years, as students demonstrate signs of greater stress and trauma. In a blog post for the National School Boards Association (NSBA), Robert B. Morrison writes: "Our music and arts educators are the secret weapon to implementing social-emotional learning in our schools, and arts education is the super power to once again connect our students to our schools and provide a pathway to express themselves for this in this post-COVID world of education."
CREATING YOUR OWN FUTURE
Some people may discourage you from becoming an art teacher—perhaps due to a misperception about the value of teaching and learning art. With an increased understanding of the evolving role of art education programs in the school landscape, you can more fully consider this option for sharing your talents and passion, living your values, and serving the next generation. Perhaps as a next step, reach out to an art educator and ask questions to hear first-hand what it is like to work in the profession today.
New challenges need a new generation to bring fresh perspective and ideas. Whatever path you decide for yourself, find a school that will support your goals as you create your own life—your own masterpiece.
Kim MacGregor is the editorial director and executive speechwriter in the North Central College Office of Communication. She has decades of experience as a communication strategist and writer for journalism, marketing, and nonprofit advancement. She holds a bachelor's degree in journalism from Marquette University.
Sources:
Arts Education Partnership. www.aep-arts.org.
Arts Education Data Project. www.artseddata.org
Bureau of Labor Statistics, U.S. Department of Labor, Occupational Outlook Handbook, Education, Training, and Library Occupations. www.bls.gov/ooh/education-training-and-library/home.htm.
Chen, Grace. "How the Arts Benefit Your Children Academically and Behaviorally." Public School Review, Nov. 9, 2022. www.publicschoolreview.com/blog/how-the-arts-benefit-your-children-academically-and-behaviorally.
Fussell, Matt. "Why Art Teachers are The Most Important Teachers in the School." TheVirtualInstructor.com. www.thevirtualinstructor.com/blog/why-art-teachers-are-the-most-important-teachers-in-the-school.
National School Boards Association. www.nsba.org.
National Art Education Association. www.arteducators.org.
U.S. Department of Education, Every Student Succeeds Act (ESSA). www.ed.gov/essa?src=rn.