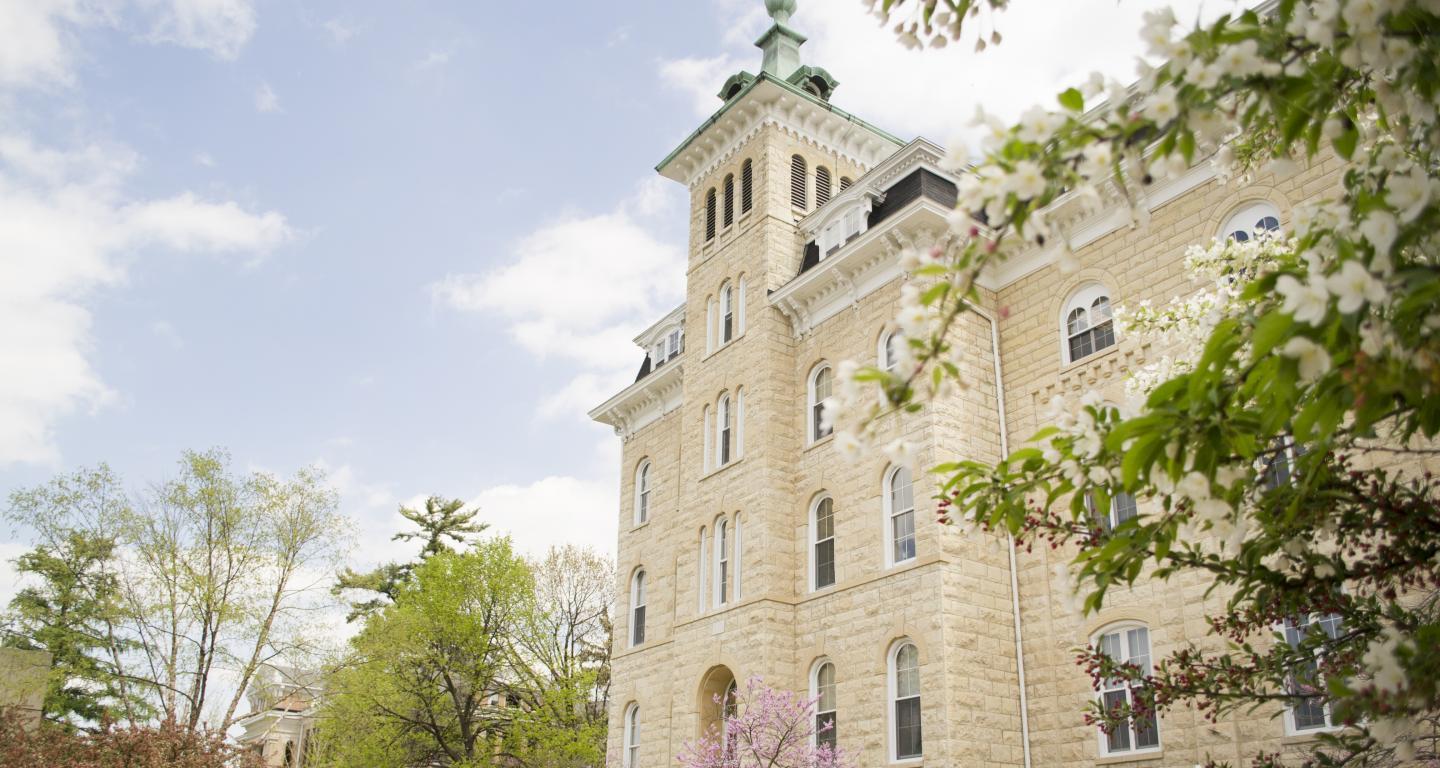 College of Arts & Sciences
Art Education
Why pursue a degree in Art Education at North Central College?
In art education, you'll develop your own artistic vision and foster the creativity of young people.
North Central's exceptional art education curriculum includes plenty of studio time in our top-notch art facilities. Our facilities are outfitted with studios for painting, drawing, printmaking, ceramics, sculpture and interactive media. You'll find your creative voice as a professional artist and have plenty of opportunities to share it in our dedicated gallery spaces.
The program also addresses current issues in K-12 education and leads to licensure by the State of Illinois. Because North Central graduates complete at least 155 pre-residency teaching hours, it's no surprise that they enjoy extremely high teacher placement rates. Graduates are also prepared for a wide range of teaching possibilities in community art centers, children's museums, art museums, parks and recreation departments and arts organizations.
IF YOU ARE INTERESTED IN
Creating and discussing art
Helping students turn creative energy into works of art
Educating the next generation
then a degree in ART EDUCATION might be for you.
Why study art education at North Central College?
In the Classroom
Art and Design Coursework:
2-Dimensional Design
3-Dimensional Design
Art History
Ceramics
Digital Art and Design
Drawing
Painting
Printmaking
Sculpture
Education Coursework:
Assessment of Learning
Content Area Literacies
Educational Technology
Elementary Methods
Equitable Learning Environments
Equity and Access in Systems of Education
Field Experience
Foundations of Teaching and Learning
Psychology
Student Teaching Residency
Teaching Students with Disabilities
Beyond the Classroom
As an art education major, you can:
Participate in the Senior Art Show, solo and group exhibits, and juried events in the College's dedicated exhibit spaces and local art galleries
Network with prominent artists at on-campus gallery exhibits and talks
Experience world-class art and architecture at galleries and museums in Chicago and Naperville
Conduct undergraduate research and present your findings at the College's Rall Symposium for Undergraduate Research
Join the National Art Education Association, Artists Club, Photography Club or Ceramics Club
Apply for competitive talent scholarships in art
Access the University Partner Program offered by the Art Institute of Chicago:

North Central students can gain admittance to the AIC free of charge with their North Central Student ID
Experience lectures, educational programs, and other special events
Art Education, B.A.
Art education majors develop problem-solving skills and creative design thinking strategies through analysis, critique and creation of works of art. Students explore a range of media in foundational studio courses and refine their art practice in advanced courses, culminating in a senior art exhibition.  Students pair the major with secondary education and are prepared for K-12 Art Teaching Certification as well as a wide range of teaching possibilities in community art centers, children's museums, art museums, parks and recreation departments and arts organizations. 
For additional programs and courses in this department, see .
Studio Art Electives
Four credit hours from studio art electives at the 200-level
Eight credit hours from studio art electives at the 300-level

Note: Studio electives should be from different methods for breadth
Senior Art Exhibit/Capstone
Notes:
* and  do not count toward the 400-level studio art electives (can be taken for 0 credits for Art Education majors)
* is a recommended course
Education Requirements
Completion of the  major requirements and the following courses:
Students must demonstrate elementary competence in a foreign language. For more information, see the  within the Academic Regulations section of this catalog.
Studio Art Education Internships and Jobs
A North Central education integrates career preparation with rich academic study. Our faculty encourages you to refine and apply your knowledge in an interconnected world. Here you'll learn to think independently and work globally to solve problems and lead.
Internships
Art facilitator, DuPage Children's Museum, Naperville
Careers
Recent graduates in art education include:
Aurora school districts
Chicago Public Schools
East Aurora School District 131
Naperville School District 203
Indian Prairie School District 204
Plainfield School District 202
 
Invest in Your Future
Choosing the right college is a big decision. Don't make it alone. North Central's admission and financial aid team is here to help you design a financial aid solution that works best for you and your family.
Merit scholarships, grants, loans, campus employment - these are just some of the resources available to you. Over 95 percent of students and 100 percent of all eligible students receive aid. Let our team partner with you in finding the best value for your education.
Learn more about financial aid and costs for North Central College
Apply to North Central College
The first step to becoming a North Central student is reading the application instructions specific to you. Find out everything you need to know about applying by selecting the group you belong to below.