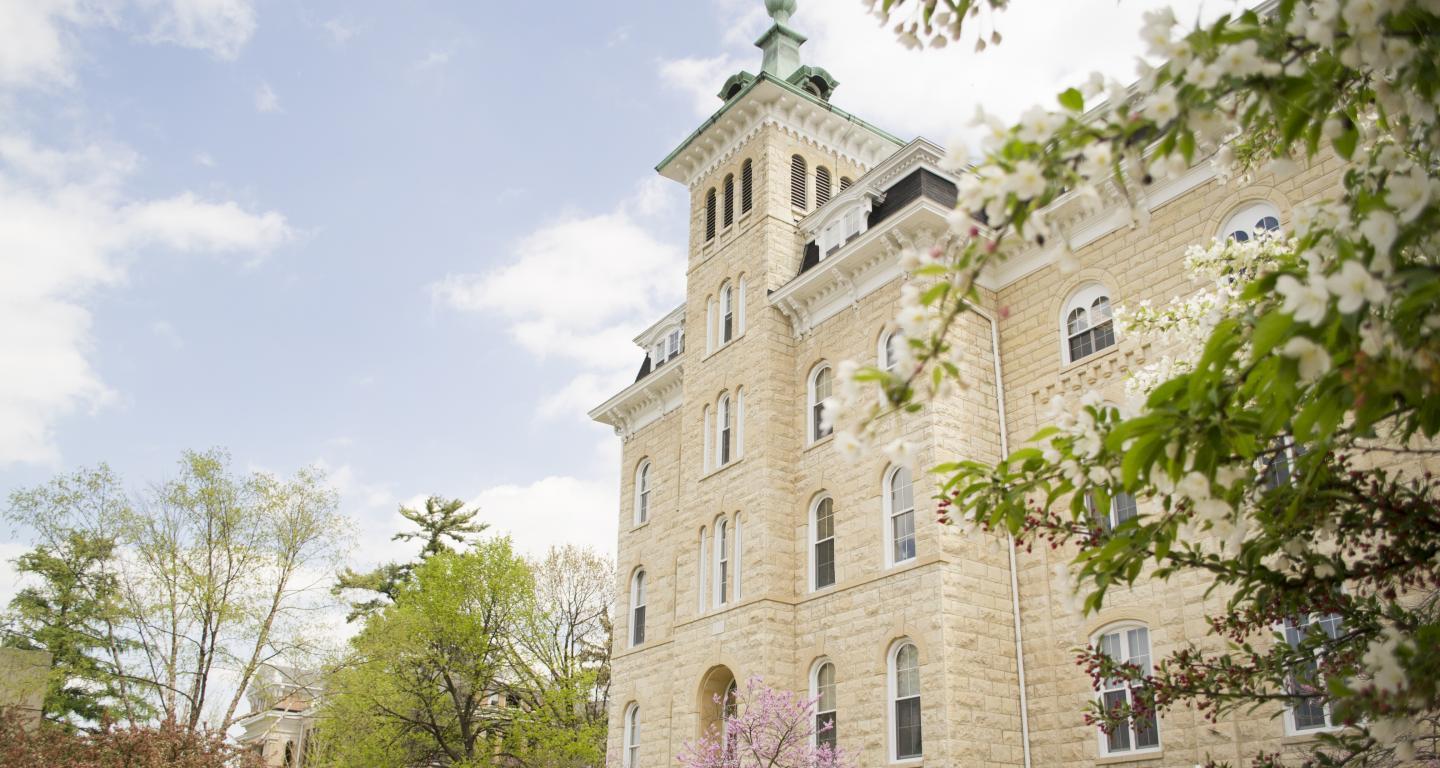 College of Arts & Sciences
Organizational Communication
Why pursue a degree in organizational communication at North Central College?
Organizational communication professionals are successful in hundreds of career paths. Typically, their skills are emphasized in roles like social and digital media, public relations, marketing, advertising, human resources, writing, politics, fundraising, sales and more. Majoring in Organizational Communication gives you the edge in a professional or corporate environment. By studying organizational communication, you'll learn the ins and outs of internal (corporate culture and human resources) and external (media, marketing, client relations). This program is designed to provide you with excellent oral and written communication skills. At North Central College you will learn practical application working with real-world clients. As an expert communicator, you can persuade, dissuade and interpret professionally. With a range of career opportunities, an Organizational Communication major helps you develop the kinds of people skills that top employers seek in college graduates.
IF YOU ARE INTERESTED IN
Developing organizational talent and teams
Managing complex projects and events
Improving communication practices• Connecting with diverse audiences
then a degree in ORGANIZATIONAL COMMUNICATION might be for you.
Why study organizational communication at North Central College?
In the Classroom:
Coursework topics:
Business and Professional Communication
Digital Writing
Global Media in a Digital Age
Group Interaction
Health Communication
Intercultural Communication
Interpersonal Communication
Organizational Communication
Persuasion Theory
Public Relations
Public Speaking
Rhetoric and Public Discourse
Beyond the Classroom
As an organizational communications major, you can:
Apply for internships and jobs through robust faculty and alumni networks or the Center for Career and Professional Development.
Join Cardinal PR, the public relations club, which works on real-world client-based projects.
Receive individualized coaching with our nationally ranked speech and debate team.
Achieve high honors at regional and national speech competitions.
Join the National Communication Association's official honor society Lambda Pi Eta.
Conduct research and present your findings at professional conferences or at North Central's own Rall Symposium for Undergraduate Research.
Get published in the award-winning Chronicle news magazine and ncclinked.com news website.
Go LIVE on the air, manage social media channels, or become a producer at the student-run radio station WONC, named the best college radio station in the country in 2015.
Study abroad to complement your degree.
Organizational Communication, B.A.
Organizational Communication focuses on how people communicate in diverse organizational contexts.  Students learn to think critically about communication practices in organizations, as well as develop specific skills for the development, presentation, and analysis of messages for different organizational stakeholders.  Depending on the specific courses selected, as well as recommended coursework in a minor, students are prepared for positions in business, industry, non-profit, health care, community and governmental organizations, and may take career paths in internal corporate communication, human resources, training and development, media and community relations, public relations, sales and marketing, customer/client service, community advocacy, technical communication, and management.
Because the major is compatible with a number of fields, and in order to develop expertise in a subject related to their career goals, students are strongly encouraged to pursue a minor. Please consult with Communication faculty and your academic advisor.
The Communication faculty also highly recommend that majors incorporate field experience working in a professional environment by completing at least one internship.  Students should work closely with faculty and Career Services to identify appropriate internship opportunities.
For additional programs and courses in this department, see Communication and Media Studies.
Foreign Language
Students must demonstrate elementary competence in a foreign language. For more information, see the  within the Academic Regulations section of this catalog.
Organizational Communication Minor
For additional programs and courses in this department, see Communication and Media Studies.
At least 20 credit hours to include:
Organizational Communication Internships and Jobs
A North Central education integrates career preparation with rich academic study. Our faculty encourages you to refine and apply your knowledge in an interconnected world. Here you'll learn to think independently and work globally to solve problems and lead.
Internships
Sports marketing intern, Chicago Bulls/ Sox Training Academy, Lisle, Ill.
Marketing and public relations intern, First Nonprofit Insurance Company, Chicago
Membership and communications intern, Chicagoland Bicycle Federation, Chicago
Sales intern, Live Nation Motorsports, Aurora, Ill.
Graduate Schools
Recent graduates in organizational communication have been accepted at:
University of Illinois at Urbana-Champaign
Michigan State University
University of Oklahoma
The John Marshall Law School, Chicago
University of Iowa
Northwestern University
University of Colorado-Boulder
University of South Carolina
Purdue University
Careers
Recent graduates in organizational communication include:
Senior manager, Insights and Strategic Planning, Sara Lee
Director of convention services, Indianapolis Convention and Visitors Association
Training manager, Spiegel Catalog
Graphics manager, OfficeMax
Guest connections representative, Walt Disney Co.
Print production specialist, Abbott Laboratories
Assistant vice president for external affairs, North Central College
Invest in your future
Choosing the right college is a big decision. Don't make it alone. North Central's admission and financial aid team is here to help you design a financial aid solution that works best for you and your family.
Merit scholarships, grants, loans, campus employment - these are just some of the resources available to you. Over 95 percent of students and 100 percent of all eligible students receive aid. Let our team partner with you in finding the best value for your education.
Learn more about financial aid and costs for North Central College
Apply to North Central College
The first step to becoming a North Central student is reading the application instructions specific to you. Find out everything you need to know about applying by selecting the group you belong to below.