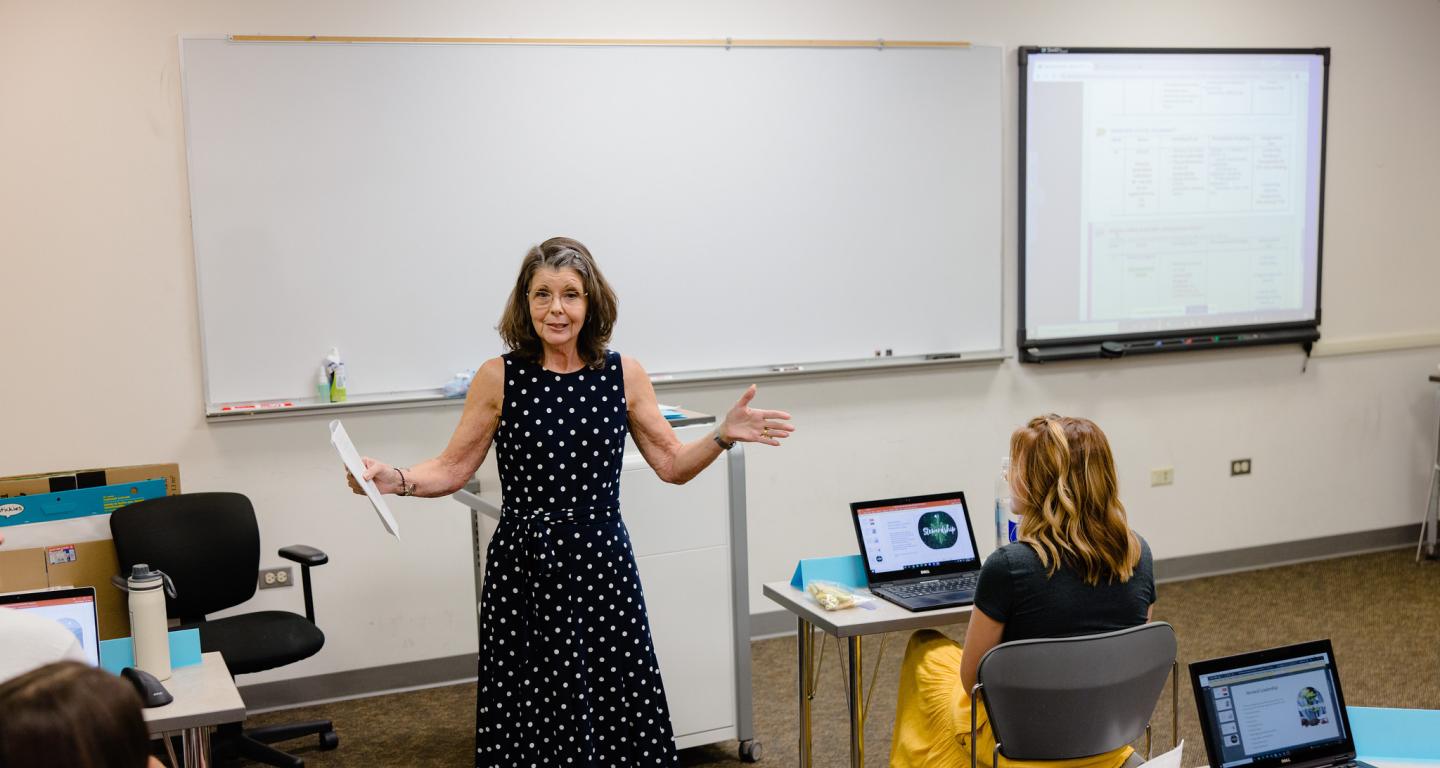 What is Special Education?
Reviewed by Jacob Imm
Mar 31, 2023
What is Special Education?
Think back to your time as a student. Did you ever have a teacher or advisor who encouraged your development, making a lifelong impression on your growth? 
Ultimately, that's the cardinal role of a special education teacher: To go beyond the conventional student-teacher relationship and nurture learners who have a challenging time flourishing in conventional classrooms. 
Whether they struggle to sit still during run-of-the-mill lectures or simply need more attention, special education teachers help bring out the best in their students so they can excel in an academic environment. 
Here, we'll touch on the rewards, opportunities, and (worthwhile) challenges awaiting those interested in this career path, as well as how to get started in the field.
What is a Special Education Teacher?
Special education can be extremely rewarding work with respect to both emotional fulfillment and compensation. As a career choice, it's certainly not for everyone—but for those who want to help students flourish no matter the boundaries they face, it can feel like a true calling.
If you're an empathetic and patient individual who enjoys helping others learn and discover their strengths, special education could be a wonderful career path for you. But before you begin your journey in the field, it's essential to know what to expect.
Job Duties
Special education teachers' responsibilities differ greatly from those of conventional teachers. A typical workday might involve activities like:
Working with students of varying abilities – One of the primary distinguishing features of special education teachers is the types of students they work with. According to the BLS, a special education student deals with a wide range of physical, emotional, mental, and learning disabilities that require attention and specialized teaching approaches.
Developing material suited to students – Students in special education environments need specifically catered material more so than those in conventional classrooms. Assessing students' level of understanding of different topics and tailoring lessons to suit their abilities is essential to their success (and yours, as an educator).
Tracking progress and creating curricula – Beyond the standard letter or percentage-based grade systems, special education services keep more in-depth records of their pupils' progression. Doing so helps track areas of improvement and create reasonable and responsive educational plans that meet students where they are in their learning.
Collaborating with colleagues – Not every special education student spends their whole day in a special classroom; some may come for specific lessons, and learn from other teachers on different subjects. Working together with co-teachers to create academic plans for students helps them succeed in your classroom and others.
Going beyond the books – A special education teacher's duties are as complex as the students they teach. They must be a shoulder to lean on, a role model, and a guardian of their pupils' best interests. They make a real difference in the lives of students who struggle in conventional classrooms, but to do so they must adapt to meet everyone's specific needs.
Salary, Benefits, and Demand
Special education can be rewarding work, but there are also times when it can be taxing or difficult. To that end, those committed to pursuing special education services deserve proper compensation as well as a transparent grasp of what opportunities are available to them.
If you're planning to work as a special education teacher, expect:
A competitive salary – The average American salary was just over $60,500 last year, according to the SSA. Meanwhile, the BLS reported the median income for a special education teacher was above $61,800 over the same period. When it comes to a special education teacher salary, you'll be fairly rewarded for your contributions to schooling and society.
Public servant benefits – Special education teachers working for the Department of Education enjoy a myriad of benefits. Plenty of annual leave, access to retirement funds, and competitive health insurance options are just some advantages of working in the special education department of a public school.
Abundant job opportunities – There are almost 500,000 special education teachers working in the USA right now, with many of them nearing retirement age. On top of this encroaching exodus from the workforce, the need for special educators is expected to grow 4% year after year for the next decade, according to the BLS. There's a big demand for special educators now, and it doesn't appear to be slowing down any time soon.
Career Trajectory
If you're considering getting a job as a special education teacher, you may wonder – what can I do with a special education degree besides teaching? For those interested in challenging themselves and cultivating their skill set, special education offers several opportunities for advancement:
Special needs education coordinator – After teaching for a while, you'll have developed a wealth of knowledge and a wide array of teaching strategies. Applying these skills as a coordinator means you'll develop a school's overall approach to special education and ensure its successful implementation in the classroom.
Other leadership roles – A proven track record as a special educator can lead to promotions to department head, lead teacher, or other similar leadership roles. In these types of positions, you'll oversee other teachers to ensure they're doing as thorough a job as you when you were in their shoes.
With plenty of places to go in your career in special education, you may be wondering how to break into the field. It will require schooling and (in most cases) special certification to begin working as a special education teacher.
How to Become a Special Education Teacher
Do you want to know how to become a special education teacher? Like any other teacher in a public school, special education teachers require a bachelor's degree and state-issued certification in order to qualify for open positions. Opportunities can exist in the private sector for people without these qualifications, but far more doors are open with them than without.
If you're intent on helping public school students with special needs, the first step is completing an undergraduate program. You can study any subject, but if your heart is with special education, a bachelor's degree specifically in this discipline is the most efficient way to break into the field.
How Can a Special Education Degree Set You Up for Success?
Special education is a booming field that's slated to grow even larger in the future. Bolstering your certification with a degree in the discipline will set you apart from other candidates by demonstrating to employers that you're not only qualified but passionate about this line of work.
When you study for a special education program, you'll learn about an array of topics from how to recognize exceptional children to learning which teaching strategies will help them learn best. You'll also need to take exams that cover a range of education- and psychology-based subjects, and you'll need to achieve high scores to earn your certification.
The fields of knowledge you'll need to study depend on your location. However, to complete a degree in special education from a quality, recognized university, you'll likely need to exhibit an understanding of:
The link between neurology and cognitive ability
The latest assistive technology schools use for students with learning disabilities
The social factors affecting individuals with special needs
How to create effective educational plans for special education classes
The psychology behind disability and how to understand things from a child's perspective
How to work with the caregivers of special needs individuals to maintain a routine fit for them
With all the knowledge that an undergraduate degree in special education gives you, you'll be ready to take on your certification with confidence.
How to Get Certified to be a Special Education Teacher
A state's certification board can require one or more of the following to issue a special teaching license:
The completion of state-mandated testing

Taking a specific course or courses before writing your tests

Having already obtained certain prerequisites during your undergraduate
Getting in contact with informed educational advisors can help you determine the specific steps that you'll need to take to obtain your certification.
Prepare for Your Future in Special Education
If you're ready to begin your journey in special education, then you'll want to carefully select a university program that will set you on the right path. Adequate preparation for teaching requires not only a solid theoretical understanding of pedagogy, but the practical skills to apply that knowledge in the classroom. 
When browsing home institutions, seek out a special education program that encompasses the wide range of approaches educators can take to the field. Developments in educational technologies, the emotional-social components of being an educator, and exploring how different subjects may be taught to differently-abled learners are all valuable (and fascinating) ways to broach the subject and effectively contribute to students' growth.
Special education programs like the one at North Central College combine in-depth theoretical study and field experience to prepare new teachers for special education classrooms around the country. If you're energized by the promise of becoming a special education professional, we welcome you to read more about our program and launch this exciting new chapter in your career.
Jacob Imm is the associate director of communication in the North Central College Office of Marketing and Communications. He has 13 years of collegiate communications experience and has worked with hundreds of college students. He has a bachelor's degree from the University of Notre Dame and a master's degree from Northern Illinois University.
Sources: 
Special Education Teachers. Bureau of Labor Statistics. (2022, October 4). Retrieved 20, December 2022, from https://www.bls.gov/ooh/education-training-and-library/special-education-teachers.htm.
Special Education Teacher. Michigan Civil Service Commission. (2019, January 17). Retrieved 20 December, 2022. https://www.michigan.gov/-/media/Project/Websites/mdcs/JOBSPECS/S/SpecialEducationTeacher.pdf?rev=263ec4e0ce0d446c83d2134c08222238
National Average Wage Index. Social Security Administration. (n.d.) Retrieved 20 December, 2022. https://www.ssa.gov/
Special educational needs (SEN) teacher. National Careers Services United Kingdom. (n.d.) Retrieved 20 December, 2022. https://nationalcareers.service.gov.uk/job-profiles/special-educational-needs-sen-teacher
Principles, Procedures, and Standards for the Approval of Private Special Education Programs. Connecticut State Department of Education. (2021, February). Retrieved 20 December, 2022. https://portal.ct.gov/-/media/SDE/Special-Education/PPS.pdf
Educator Licensure Special Education. Illinois Board of Education. (n.d.) Retrieved 20 December, 2022. https://www.isbe.net/Pages/Special-Education-Requirements.aspx