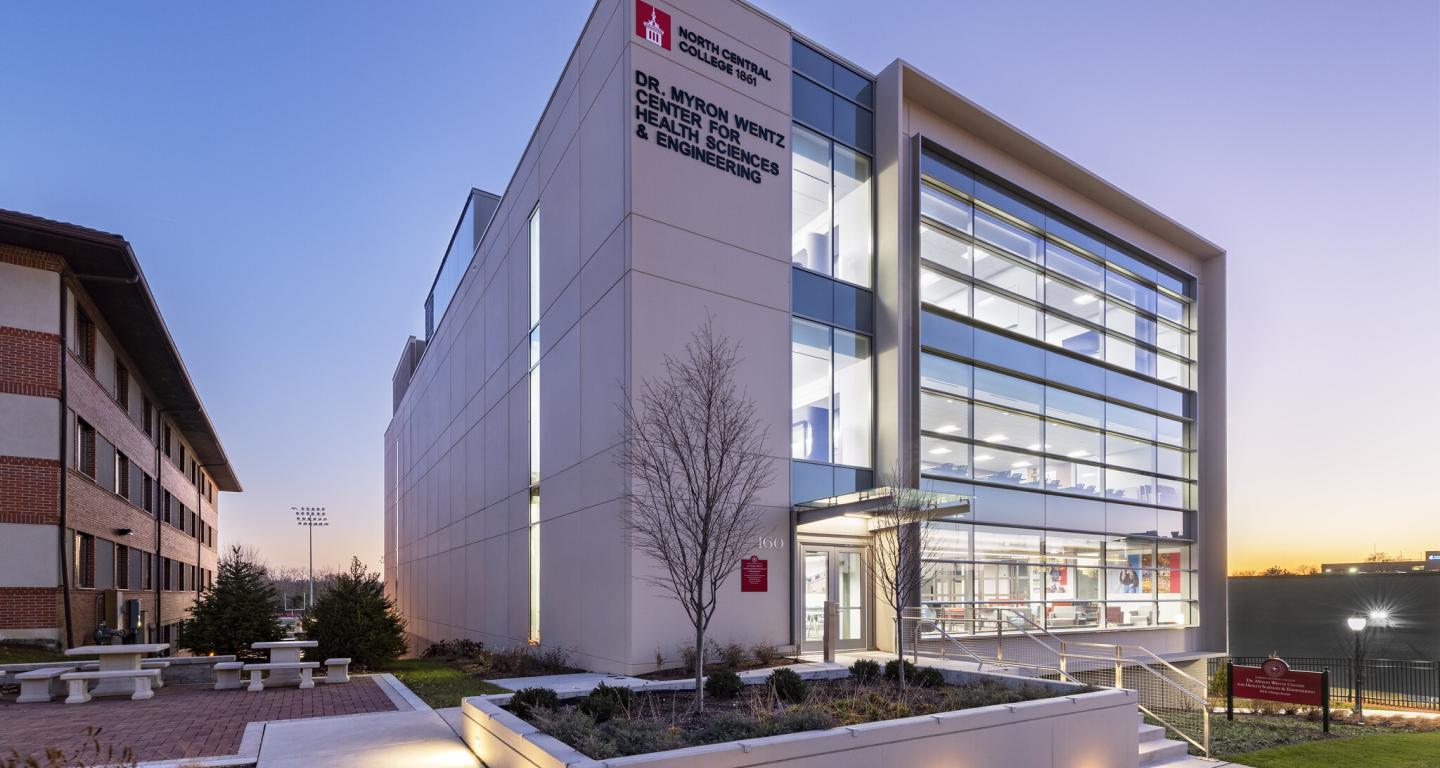 Media Releases
North Central College announces new Master of Nursing Program
May 22, 2023
North Central College's School of Education and Health Sciences (SEHS) has launched a Master of Science in Nursing (MSN) degree program, which will begin in fall 2023. The program aims to inspire future leaders in the advancement of the profession and to promote the art and science of nursing in an inclusive, culturally sensitive, and evolving health care environment. The program will provide advanced education and specialization for current licensed registered nurses, at a time when there is a national nursing shortage.
The MSN program offers four graduate nursing tracks: Family Nurse Practitioner (FNP), Psychiatric-Mental Health Nurse Practitioner (PMHNP), Nurse Executive Leader and Nurse Educator. The program will also offer a Post-Masters APRN certificate for licensed registered nurses who only need to complete a set of courses that will enable them to sit for the Nurse Practitioner certification examination. The FNP track specifically prepares nurses to become experts in all facets of patient care, disease management, and health promotion. The PMHNP track trains nurses to perform biopsychosocial assessments and diagnose patients with psychiatric and mental disorders across the lifespan. The nurse executive track coaches nurses to manage patient services and health care systems, and to make ethical and professional decisions that align with the health care organization. The nurse educator track trains nurses to teach necessary clinical skills and patient care.
Candidates interested in any of the MSN program options may submit their application through the NursingCAS | The Centralized Application for Nursing Programs starting today. Matriculating students must have earned a BSN from a CCNE or ACEN accredited program and hold a nursing license.
"North Central College continues to be a leader in building distinct, high-demand programs that provide health care solutions to societal problems," said Dr. Marci J. Swede, dean of the School of Education and Health Sciences at North Central College. "This is an opportunity for the College to build on its successful track record of growing advanced clinical health care programs that are rooted in the liberal arts traditions and that strongly adhere to evidence-based medical practice, while at the same time emphasizing a humanistic and relationship-centered approach."
The College's MSN specialty tracks integrate the American Association of College of Nursing (AACN) essentials and support the Commission on Collegiate Nursing Education (CCNE) accreditation standards to provide a robust population-focused curriculum that fosters the advanced knowledge, skills and abilities to develop the advanced nursing role. The College will provide both part-time and full-time options for each of the MSN specialty tracks. Upon completion of the MSN program at North Central College, graduates will be eligible to sit for a specialty-focused certification examination provided by specified national credentialing centers.
"One of the things that sets North Central College's MSN program apart from other online graduate nursing offerings is the community-based focus," said Dr. Mary Groll, MD, MS, chair of the department of medical sciences at North Central College. "We are resolutely committed to train competent advanced practice nurses who understand complex patients and systems, while providing innovative solutions to the current nursing shortage."
"North Central College's MSN program is committed to equipping future nurses to shape the future of health care through a student-based approach that focuses on preparing graduates to be competent and compassionate leaders who work as part of a broader health care team," said Dr. Georgine Maisch, DNP, MSN, CHSE, RN, program director at North Central College.
North Central's MSN program is the latest in a growing suite of graduate-level health science programs offered by the College, including: Master of Occupational Therapy Program;  Master of Physician Assistant Studies; Master of Athletic Training Program; and Doctor of Physical Therapy Program.
For more information about the College's MSN program or admission requirements, please visit northcentralcollege.edu/program/master-nursing.