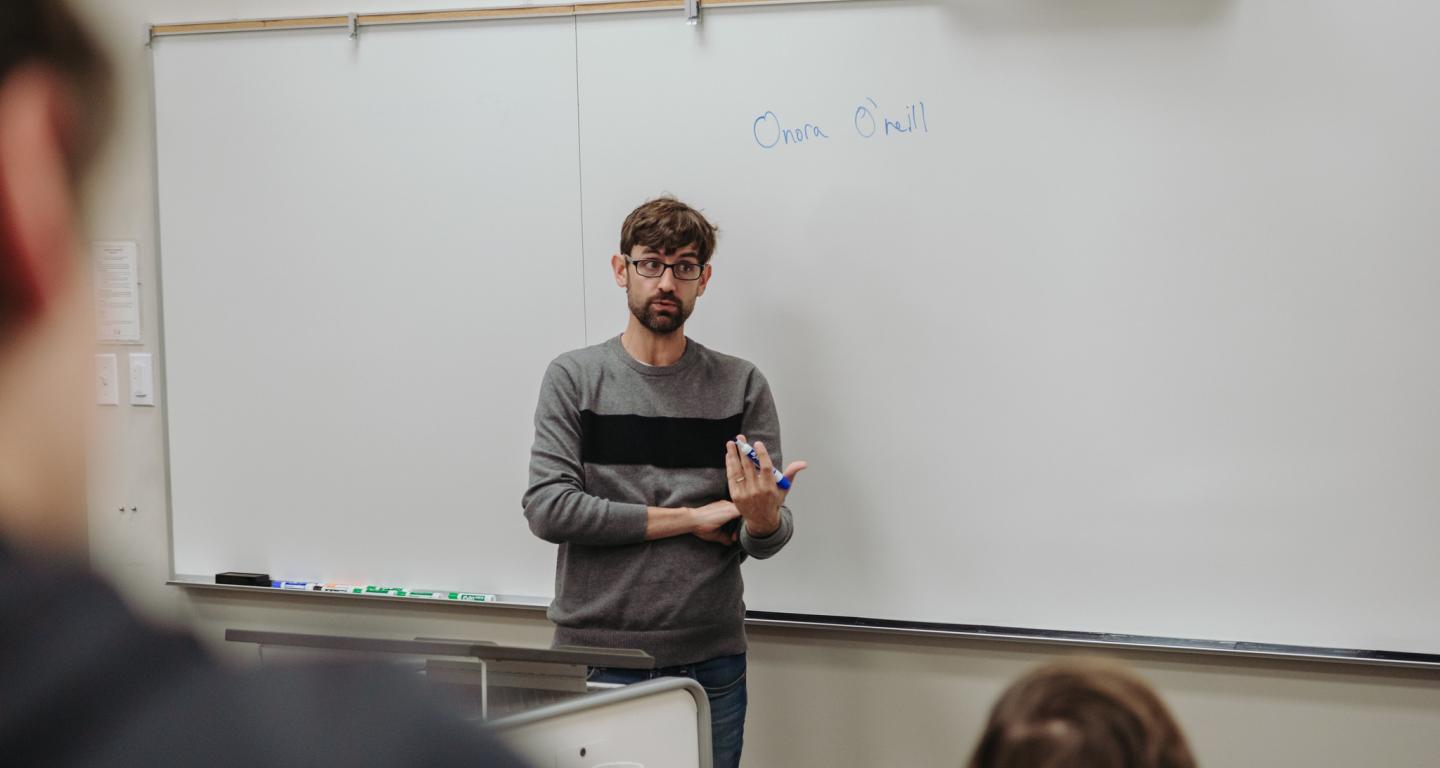 Philosophy vs. Psychology
Reviewed by Jacob Imm
Aug 09, 2023
Philosophy vs. Psychology: What's Best for You?
Choosing a college major can be challenging, but exciting, especially when deciding between intersecting areas of study like philosophy and psychology. Whether you're solely focused on your undergraduate journey or striving for your PhD, knowing what you want from your education is essential.
So what do the differences in education in philosophy vs. psychology entail, and which path is right for you?
In this guide, we'll briefly introduce each subject, examine various degree programs, and explore the many possible career pathways degrees in philosophy or psychology can open up. Ultimately, we hope to help you feel confident in your decision and achieve your future goals.
Where Do I Start? 
Are you interested in the existential question of what it means to be human, or are you more curious about how and why our brains process those ideas? 
Here's a basic rundown of both subjects to help you weigh the pros and cons of pursuing a philosophy degree vs. a psychology degree.
Philosophy: The Basics
What is philosophy? The term "philosophy" is derived from the Greek words philo (love) and sophia (wisdom), which together make "the love of wisdom." It is "the rational, abstract, and methodical consideration of reality as a whole or of fundamental dimensions of human existence and experience."
Essentially, philosophy is the process of thinking critically and comprehensively about ideas like time, existence, right and wrong, value, meaning, and even thought. Though there are multiple sub-branches, philosophy is generally understood to break down into four main branches:
Epistemology (the study of knowledge)

Metaphysics (the study of reality)

Axiology (the study of ethics and values)

Logic (the study of correct reasoning)
If you love asking questions, challenging ideologies, or contemplating which came first, the chicken or the egg, a degree in philosophy might be well suited for you.
Psychology: The Basics
What is psychology? Psychology is the scientific study of the mind and behaviors of humans and other animals. Derived from the Greek words psyche (breath, spirit, soul) and logia (study of), psychology offers us a look into the inner workings of the human mind and highlights how we process information as individuals and in groups.
Experts tell us there are five pillars of psychology:
Biological (neuroscience, sensation, consciousness)

Cognitive science (perception, cognition, memory, intelligence)

Development (learning, conditioning, lifespan, language)

Social and Personality (emotion, motivation, gender, culture)

Mental and Physical Health (abnormal psychology, therapy, health psychology)
There are many benefits of studying psychology, especially for anyone who thinks they'll enjoy working with people, studying mental processes, or investigating habitual human behavior.
If your interest has been piqued by both topics, choosing a liberal arts college like North Central College will allow you to explore a range of courses and degrees specific to your interests. 
Major Expectations
Depending on which university you attend, which major you settle on, and the type of degree within that major you decide to adopt, the necessary amount of coursework and commitment will vary. If it's down to philosophy vs. psychology for you, let's see what you can expect from pursuing either degree by looking at a sample of North Central College's offerings.
Philosophy: The Coursework
With two majors and two minors, North Central College's philosophy department is not lacking in diverse and valuable coursework.
In addition to liberal arts requirements, students obtaining a BA (bachelor of arts) degree are required to take a minimum of 32 major credit hours (philosophy) or 35 major credit hours (Philosophy: Law & Society track) with at least three philosophy courses at the 300-level or above.
Those earning a minor in philosophy or ethics must take 20 credit hours with one 300-level course. Each student will have a choice of classes they take, so long as they meet the requirements. 
North Central offers the following courses on the philosophy track: 
Logic and Critical Thinking

Philosophy Capstone Seminar

Ancient and Medieval Philosophy

Modern Philosophy

20th Century Philosophy

Ethics

Ethical Theory

Social and Political Philosophy

Philosophy of Mind

Philosophy of Science

Philosophy of Religion

Science and Religion: Conflict or Dialogue?

Knowledge and Reality

The Evolution of Daoism

The Global Buddha: Permeating Space-Time

Death and Dying

Religion and the Political Order

Philosophy of Law

Law and Order in Cross-Cultural Perspective

Business Law and Ethics

Freedom of Expression

Power and Statecraft

Constitutional Law

Rights, Liberties, and Justice

Social Life and Social Theory

Professional Ethics

Health Care Ethics

Environmental Ethics
Psychology: The Coursework
A psychology student could attain an associate's degree, bachelor's degree, master's degree, Ph.D., or PsyD degree. In addition to choosing among these degrees, each student has the ability to select an area they would like to specialize in, which can help advance their knowledge in a specialty that serves future subject-matter expertise.
At North Central College, for example, they offer a B.S. (bachelor of science), a B.A. (bachelor of arts), a psychology minor, and an industrial/organizational psychology minor.
Coursework for a bachelor's degree in psychology can include:
Psychology BS
Psychology: Science of Behavior

Statistics

Research Design and Experimentation

Careers in Psychology and Neuroscience

Psychology Assessment

Child Development

Psychology of Adolescence

Psychology of Adulthood and Aging

Lifespan Development

Behavioral Neuroscience

Drugs and Behavior

Learning

Cognitive Psychology

Personality 

Abnormal Psychology

Child Psychopathology

Social Psychology 

Cultural Psychology

Introduction to Computer Programming

Calculus

Internship

Senior Thesis
Psychology BA
A B.A. in psychology would share many of the same courses as the B.S. with some alternatives.
Educational Psychology

Industrial/Organizational Psychology

Clinical Psychology

Health Psychology

Seminar

Psychology in the Community
Additional Psychology Electives
Group Interaction

Business and Professional Communication

Globalization and Society

Principles of Microeconomics

Leadership for Change-Making

Conflict Resolution
What Are My Options Once I Have a Degree?
Both philosophy and psychology give you numerous options for career paths after you graduate. You may find it's best to explore where you want to go, then decide the best route to get there. Let's take a look at some of the most popular career paths for both majors. 
Philosophy: Potential Careers
What can you do with a degree in philosophy? Though it may seem audacious to classify oneself as a philosopher, the truth is that professionals with a philosophy degree excel at critical thinking, communication, analysis, argumentation, and other highly sought-after skills. This expertise can lend itself to a wide range of occupations, regardless of whether "philosophy" or "philosopher" falls into the job title. Here are some examples:
Lawyer – Many philosophy students go on to attend law school. The combination of using their argumentation and reasoning skills to tackle the ever-present ethical dilemma of justice makes for a career rooted in nobility and a fulfilling career of helping people. 
Clergy – What better place to question human existence than in the church? Some philosophy majors will go on to pursue advanced degrees in religious studies or divinity, which puts them in the perfect position to become spiritual leaders or researchers of religious concepts. 
Teacher – Depending on where you end your academic studies, philosophy majors are excellent candidates to teach at any level from high school through doctoral programs. Teaching gives you the chance to research, publish, and present advanced concepts and catalyze passion in young minds inside the classroom. 
Marketing & Advertising Manager/Executive – Ethics is one of the corporate world's most significant issues. Philosophy graduates may set their sights on concepts like ethical marketing, or the corporate strategy of communicating a company's transparent and fair practices to the target demographic, which is becoming increasingly important in today's online market. 
Psychologist – Those who major in philosophy often traverse the intersection of philosophy and psychology, using their critical thinking, listening, and reasoning skills to help their clients or continue researching their chosen specialization. Philosophy gives psychologists both the bird's- and worm's-eye views to solve complex problems. 
Though far from being a comprehensive list, these are just a few examples of the wide variety of career paths that embrace the "soft skills" acquired by pursuing a degree in philosophy.
Psychology: Potential Careers
Psychology majors occupy a large playing field with a choice between many different levels of degrees, even more specializations within the field, and an increased call for more health and social services by a growing number of organizations. 
Select examples of the divisions of psychology include:
Clinical Psychologist – These psychologists can help individuals, couples, or families through a variety of mental or behavioral challenges in a clinical setting. They can also work within agencies or healthcare facilities to provide care and support in larger group settings. 
Industrial-Organizational Psychologist – In this career field, the psychologist zeroes in on teams within an organization. They observe human behavior and behavioral patterns in office workplaces and utilize research to assist employers in supporting their employees with mental health and wellness strategies. 
Forensic Psychologist – As a forensic psychologist, you can expect to use your innate curiosity and eye for detail to help with civil and criminal proceedings in the judicial system—a perfect choice for a student with a criminal justice minor. 
Most psychology-related occupations demand rigorous scientific research, clinical studies, publication of findings, and the ability to diagnose mental and emotional disorders. However, the listening, speaking, and analytical skills gained by earning a psychology degree can easily transfer to many other careers.
Find Academic Fulfillment in Philosophy or Psychology
Regardless of your major, the vital thing to remember is that it's not just the curriculum that will shape your college experience. Find a college or university that helps you grow as a person, offers plenty of extracurricular activities, and values people in the pursuit of knowledge.
Explore your options, and remember that with either of these degrees and your best foot forward, the sky is truly the limit. 
Jacob Imm is the associate director of communication in the North Central College Office of Institutional Communication. He has 13 years of collegiate communications experience and has worked with hundreds of college students. He has a bachelor's degree from the University of Notre Dame and a master's degree from Northern Illinois University.
Sources:
Maden, J. (2023, April 20). What is philosophy? definition, how it works, and 4 core branches. Philosophy Break. https://philosophybreak.com/what-is-philosophy-definition-4-core-branches/ 
Encyclopædia Britannica, inc. (n.d.). Philosophy. Encyclopædia Britannica. https://www.britannica.com/topic/philosophy 
Follman, A. (2019, July 16) What you need to know about becoming a psychology major - US news. (n.d.) https://www.usnews.com/education/best-colleges/psychology-major-overview 
The Philosophy Foundation. What is philosophy? (n.d.). https://www.philosophy-foundation.org/what-is-philosophy
(2022, August 12). What is forensic psychology? [how to become a forensic psychologist]. Psychology.org | Psychology's Comprehensive Online Resource. https://www.psychology.org/careers/what-is-forensic-psychology/#:~:text=What%20Does%20a%20Forensic%20Psychologist,individuals%20in%20the%20legal%20system
McDermott, N. (2023, April 28). Types of psychologists. Forbes. https://www.forbes.com/health/mind/types-of-psychologists/ 
Bouchrika, I. (2023, April 25). Psychology careers: 2023 guide to career paths, options & salary. Research.com. https://research.com/careers/psychology-careers 
Bouchrika, I. (2023, April 20). Philosophy careers: 2023 guide to career paths, options & salary. Research.com. https://research.com/careers/philosophy-careers#:~:text=Specifically%2C%20careers%20for%20philosophy%20majors,of%20Labor%20Statistics%2C%202021)
Apalla, J. (2022, November 8). What can you do with a philosophy degree? [2023 guide]. MyDegreeGuide.com. https://www.mydegreeguide.com/what-can-you-do-with-a-philosophy-degree/#:~:text=A%20bachelors%20in%20philosophy%20can,%2C%20analysis%2C%20and%20communication%20skills
American Psychological Association. (n.d.-a). Clinical psychology. American Psychological Association. https://www.apa.org/ed/graduate/specialize/clinical
American Psychological Association. (n.d.-c). What is forensic psychology? American Psychological Association. https://www.apa.org/ed/precollege/psn/2013/09/forensic-psychology