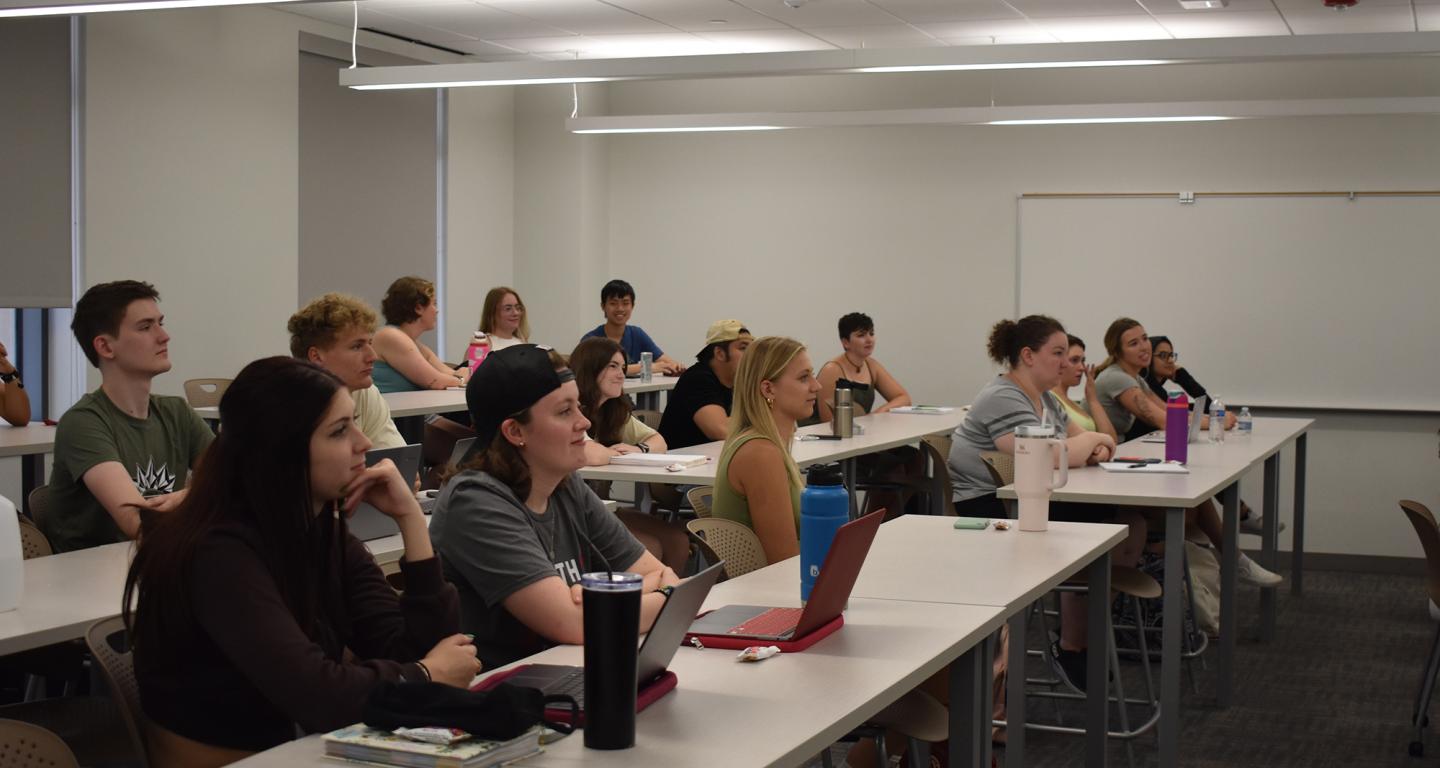 7 Marketing Degree Requirements
Sep 06, 2023
7 Marketing Degree Requirements
Have you ever been pulled in by an eye-catching pop-up ad on social media? Have you ever found yourself listening to a particularly interesting commercial? 
If you've been captivated by an intriguing advertisement or campaign—or, if you follow an entire brand—then you've experienced the power of marketing.
Organizations like businesses, brands and non-profits attract customers and clients through creative and strategic marketing. A marketing team or individual analyzes consumer trends and the marketing environment; they help organizations identify what their existing audiences want and how to appeal to new consumers. 
Touching many parts of the world we live in, marketing aims to connect people with valuable offerings such as products and services. By crafting thoughtful marketing materials, professionals in marketing communicate the value of a good or service to new and returning consumers, partners and society in general. 
Are you passionate about using creativity and communication to satisfy the needs and wants of consumers? Are you interested in utilizing analysis and marketing strategy to help organizations build brand awareness and showcase their products, services and content? 
If you answered yes to either of these questions, then a marketing program might be the right fit for you. Keep reading to learn about marketing degree requirements, including the courses required for marketing degrees. 
What Do I Need to Major in Marketing?
Because marketing is such a wide field, there are a variety of majors that are related to marketing concepts. For instance, you may be curious about marketing vs. advertising and how they differ. Here, we'll consider what makes a marketing degree unique.  
For instance, let's look at a business development vs. a marketing major. These two majors share a lot of similarities. In fact, they both include courses on key business principles like economics, accounting, strategy and globalization. 
However, a marketing program guides students to use these business principles in support of marketing efforts. As an example, to develop a services marketing plan for a company, a marketing professional would call upon their understanding of business principles to refine their marketing strategy to align with the goals and needs of the company.
In summary, other fields and courses of study share similar concepts with marketing. What's different about a marketing degree, though, is that it offers an opportunity to foster a variety of useful skills and knowledge.    
As Ali Follman affirms in U.S. News and World Report, "Marketing touches many areas of study, so students will be well-versed in advertising, communications, consumer behavior, public relations, and marketing strategy and research." A marketing degree is versatile, which helps students prepare for their marketing careers.
How Many Years Does it Take to Get a Marketing Degree?
The length of a marketing degree is similar to that of another undergraduate program. Although the time spent depends on your specific academic path, generally, a bachelor's degree takes about four years to complete. 
In addition to a bachelor's degree in marketing, some students may choose to enroll in a graduate program, such as a master of business administration degree or a master of science degree in marketing. 
Of course, pursuing a post-graduate degree would take additional time, but students may choose to obtain a master's degree to help them stand out as a job candidate—or to potentially earn a higher marketing degree salary. 
Next, let's go over what you'll learn during your time as a marketing major.
Does a Marketing Major Require a Lot of Math?
Commonly, when students are deciding what to major in, they want to have an understanding of what they'll need to study for their major-specific and general education courses—and that includes math. As a career-focused degree, marketing requires courses in business- and marketing-related math topics. Students gain knowledge in these concepts through courses like: 
Business and economic statistics

Financial accounting

Managerial accounting

Principles of microeconomics

Principles of macroeconomics

Corporate finance
Not only do classes like these contribute to a well-rounded education, but they also allow students to build a solid foundation in the business core knowledge to help them succeed as future marketing professionals.
Seven Marketing Degree Requirements
We've covered how a marketing program helps students prepare for a marketing job. Here, we'll take a closer look at the top seven courses required for marketing degrees. 
1. Principles of Marketing
Integral to building a foundation in marketing, this course teaches students all about marketing principles, from creating a marketing plan to social responsibility. Students learn about consumer behavior and its effect on the strategies used by brands to influence consumers to invest in their products or services. 
Some students build on their knowledge of marketing principles by taking a marketing elective in consumer behavior. Looking at social science and behavioral science, this elective dives deeper into consumers' wants and needs—and the solutions they go after.
2. Globalization and Society
Similar to principles of marketing, globalization and society courses explore the role businesses play in society. This course considers issues related to worldwide expansion and integration, using business analytics to investigate the influence of international business and international marketing. 
Students also learn about how various stakeholders, business management and employees, consumers and government impact one another.
3. Management and Organizational Behavior
In a marketing career, it is common that marketing professionals work with organizations in some fashion, whether that's as an employee for an organization or having an organization as a client. To become ready for their careers, then, marketing students need to hold an understanding of the structure and function of organizations. 
That is why management and organizational behavior is one of the marketing degree requirements. This course reviews operational factors of organizations in the world, like supply chain management. Students receive a glimpse into the framework of organizations, from human resources to a marketing manager. For both large and small organizations, marketing students will learn how companies and businesses use information systems to communicate internally and externally—and, in some cases, by using a management information system.  
Management and organizational behavior provides "behind-the-scenes" knowledge that is crucial in a variety of marketing jobs.
4. Marketing Research
The title of this course is straightforward: students learn about conducting and compiling market research to inform strategic decisions. In this course, students discover how a market research analyst procures and presents marketing analytics to clients.
5. Integrated Marketing Communication
To learn about integrated marketing communication, students assess how companies use the means of promotion, including public relations, digital marketing and more to reach consumers through comprehensive marketing campaigns. 
In this course, students practice using what they've learned to create marketing plans for brands. This opportunity to apply their knowledge of integrated marketing communication helps students prepare for the type of work they will do in a future marketing job.
6. Professional Selling
Part of marketing programs, a professional sales course offers instruction on cultivating and maintaining connections with customers and clients to expand a consumer base. Students will learn to establish long-lasting relations using effective conversation skills. 
Combining relationship-building expertise with business marketing and business communication strategies, professional sales courses give students the tools they need to help organizations continue to grow. 
7. Digital Marketing
A thriving field, digital marketing examines the continuing significance of communicating with consumers digitally. 
This course instructs students on how to become a digital marketer. Marketing students apply business marketing strategies in web-based communications, looking at e-commerce, email, mobile and social media marketing.

Digital marketing courses prepare students to think critically about the power of web-based marketing with specific products, brands and industries. Not only will students become familiar with effective strategies for digital and social media marketing, they will also learn to discern which strategies will have maximum impact when paired with certain products and companies.
Is a Marketing Degree Hard?
Now that we've reviewed seven common marketing degree requirements, you may be contemplating whether or not a marketing degree is hard. 
Like any other bachelor's degree, it comes down to you, your interests and your passions. What a bachelor's degree in marketing provides, though, is an opportunity to learn and practice the essential skills needed to advance in the field. With the marketing courses required to get these degrees, students foster the creative and analytical abilities "helpful to the many areas of marketing," per U.S. News and World Report. 
Additionally, U.S. News and World Report states that "students can find their niche throughout the coursework." While marketing degree requirements help students build expertise in marketing, they also prompt students to discover and strengthen their own interests.
So, even if you're not yet certain which direction you'd like to take in your marketing career, you can rest assured that the courses required for marketing degrees are there to help you progress as a student and a future professional. 
You may wonder, though: "Is a marketing degree worth it?"
Marketing jobs are necessary in nearly any industry, according to Xiaoye Chen, associate professor of marketing at North Central College. "Whether you go into internal branding, paid advertising, email marketing, social media or another marketing endeavor, a career in the marketing world is creative, strategic and rewarding."
If you want to explore how you can apply your creativity and strategy to work with brands, businesses, non-profits—and more!—then the next step is choosing the right marketing program to position you for success in your career.
Aim to Succeed
When searching for undergraduate programs, you will want to look for a marketing program that offers courses in both marketing principles and specific niches of the field so you have room to develop your passion. 
When considering marketing programs, you'll want to find a program that combines classroom learning with opportunities to gain experience as a marketing professional. At North Central College, for example, marketing major students acquire their Google Ads certification, a certificate program that offers professional experience in the ever-growing digital marketing field. 
You'll also want to look for chances to stand out as a professional while earning your degree. At some colleges, such as North Central, students are able to join clubs like the American Marketing Association, a professional association for marketing professionals. Through the American Marketing Association, marketing students can earn real-world experience. Students can even compete for the distinguished opportunity to present their marketing plans to corporate executives. 
Whatever you choose, you'll want to know that your program sets you up with the skills and knowledge to successfully launch your marketing career.
Hannah Brauer is a communications specialist in the North Central College Office of Communications. She has a bachelor's degree from Eastern Kentucky University, and she has four years of experience working with college students and collegiate communications.
Sources: 
Follman, Ali. (2019, July 16). "What You Need to Know About Becoming a Marketing Major." U.S. News and World Report. Retrieved May 9, 2023, from https://www.usnews.com/education/best-colleges/marketing-major-overview