Feature News
Backstage pass with a theatre major
Riley Wodka '24 has found flexibility and innovation at North Central
Oct 03, 2023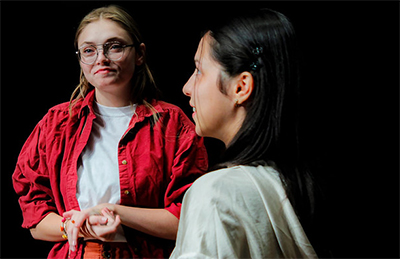 North Central College's department of theatre provides students ample opportunities to gain a diverse range of experiences and express their creativity, and the first production of the 2023 – 2024 season, "pool (no water)," is no exception.  
Senior Riley Wodka '24 is majoring in theatre: acting and theatrical design and technology at North Central. As part of several productions, she has already built a long list of acting and designing credentials. In "pool (no water)" Wodka has the rare opportunity to be both an ensemble lead and the sound designer.  
"I have never acted and designed in the same show before, so this was a whole new experience for me," she said. "It was a little scary at first, but I had a lot of support and advice from my professors and my family members." 
The play "pool (no water)" debuted as a collaboration between playwright Mark Ravenhill and Frantic Assembly, a contemporary dance company known for its experimentation. In North Central's production, students continue that experimentation — delivering their physical performance in combination with video projections to give audiences an innovative, stylized experience. They have the opportunity to showcase "groundbreaking theatre-making that isn't the norm for academic productions," said Dr. John Warrick, production director and professor of theatre.  
Wodka said, "I'm excited to be designing for the production, adding the tiny details that help build the world we are living in during the play."   
Participating in ground-breaking theatre is one reason Wodka chose North Central. Another was that she could also be a student-athlete. At many schools, it wouldn't be possible to major in theatre and be a student-athlete, due to the intense commitment each demands. When she began at North Central, Wodka was on the women's swimming and diving team. She found that the theatre and athletics departments were willing to work with her busy schedule — "to fit me personally," she said. 
After completing her degree, Wodka hopes to pursue acting in nearby Chicago. "I'm really interested in learning more about the city scene," she said. 
Productions like "pool (no water)" help students prepare for experiences they will have in their careers. As she looks forward to becoming part of the "real world" after college, Wodka said: "I'm excited to graduate, audition and make those connections."