---
College of Arts & Sciences
Department of Theatre
Theatre Department
At North Central College you can shine onstage or learn the ropes backstage. We nurture talents and interests in performance, dance, music, management and technical theatre. Our students act, sing and dance. Students also direct shows, design lighting and even produce plays and musicals they have written.
Major in Theatre or Musical Theatre
The centerpiece of North Central College's program is the Theatre Practicum. Theatre majors, minors and Musical Theatre majors are required to participate in multiple faculty-directed, main-stage plays. Your training in our state-of-the-art facilities will prepare you for professional and personal pursuits in performance and technical theatre.
We encourage theatre majors to specialize. You may concentrate your studies in such areas as performance, technical theatre, directing, or Playwriting through our array of course offerings or independent study options.
As a musical theatre major, you can continuously hone your craft while taking traditional performance classes. You may study voice or dance technique in upper-level courses while taking classes in contemporary acting styles, the business of theatre and acting on camera.

You don't have to be a theatre major to be a theatre student!
All students are invited to participate in North Central's theatre program. Anyone can audition for a show—first-year students are as likely to land roles as seniors; History majors are as likely to be scholarship recipients as theatre majors. Our faculty thrives on developing talent in anyone who brings a passion and our program is rich in diversity and openness.
Mission Statement 

The Department of Theatre is a community of artists/scholars/citizens dedicated to provoking and sustaining interest in theatre, as a source of insight into the human condition; through both skills and inquiry-based learning in our classrooms, and public performances on our stages. 
The Theatre program at North Central College is designed to engage students in a wide array of theory, technique, scholarship, and aesthetics that constitute the Theatre Arts. The programs serves: 1) majors and minors preparing for careers in theatre, and allied careers where knowledge of theatre production is required; 2) students who take academic courses to meet general education requirements or who find courses in theatre, musical theatre, and dance to be attractive components of a liberal arts education; and 3) those who participate in campus musical and non-musical productions as a way of enriching their lives. 
The department offers a broad spectrum of courses in acting, dance, design, direction, music, and production. The co-curricular program, supervised by the faculty, offers students opportunities for creative expression and skills practice through both the fully mounted main stage season and several student-directed productions.
Theatre, B.A.
For additional programs and courses in this department, see .
Core Requirements (18 credit hours):
Additional Requirements:
Nine additional hours of theatre.  will apply toward this requirement.
Theatrical Design and Technology, B.A.
For additional programs and courses in this department, see .
Core Requirements (18 credit hours):
Two Design Courses chosen from:
Nine additional credit hours chosen from:
Musical Theatre, B.A.
For additional programs and courses in this department, see .
Core Requirements (21 credit hours):
Theatre/Dance Courses:
Music Courses:
Note:
Students with a strong music background are strongly encouraged to either minor or double major in music.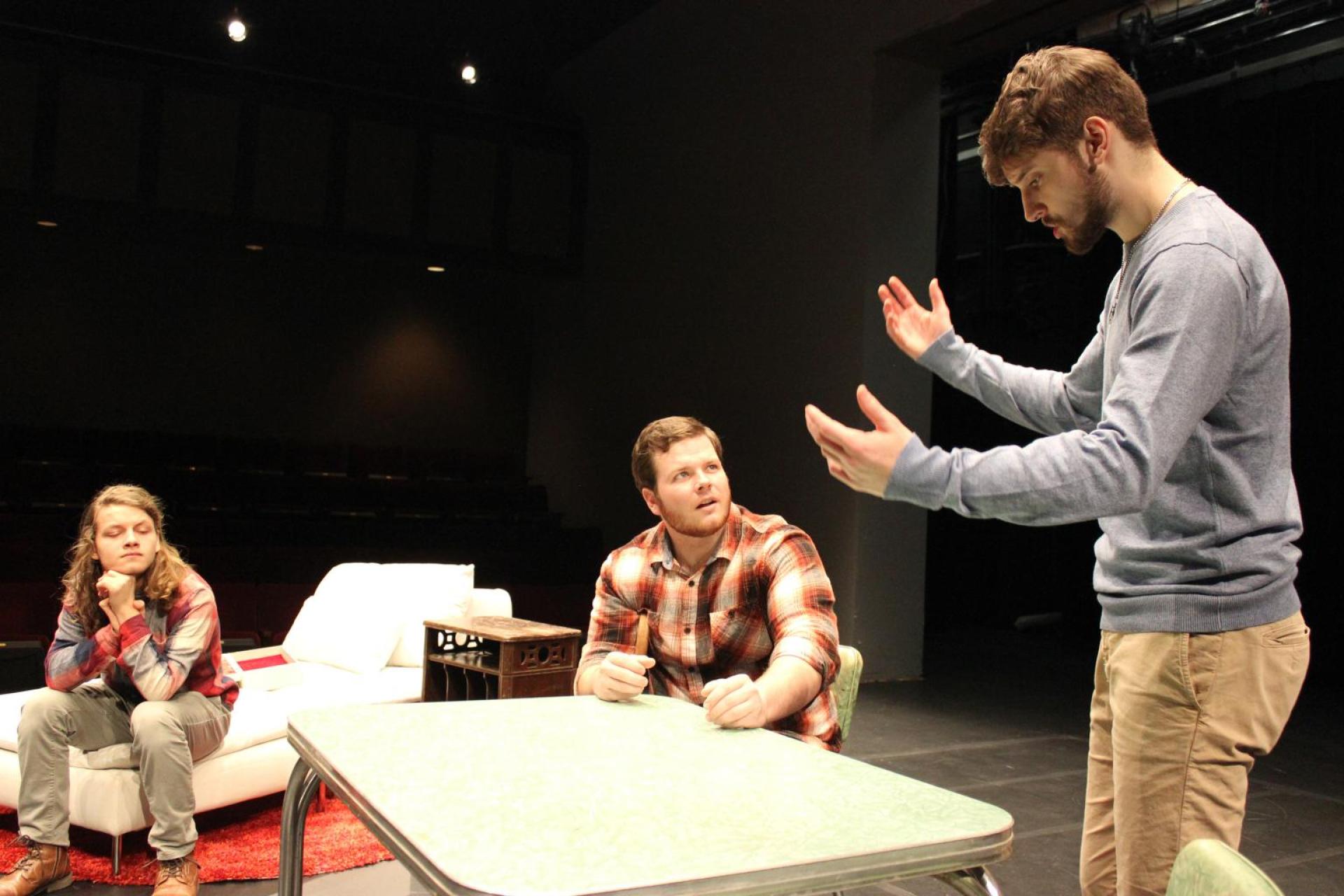 NOTE: This page contains all of the regular course descriptions for this discipline or program. Academic credit for each course is noted in parenthesis after the course title. Prerequisites (if any) and the general education requirements, both Core and All-College Requirements (ACRs), which each course fulfills (if any) are noted following each course description. Not all courses are offered every year. Check Merlin, our searchable course schedule, to see which courses are being offered in upcoming terms. 
Chicago's Professional Theatre
Take advantage of our proximity to one of the greatest theatre cities, and join classmates and faculty in attending theatrical performances in Chicago. See work ranging from Equity companies, professional touring shows, and the imaginative "storefront" theatre productions for which Chicago is well known.
Design and Technical Opportunities
Technical theatre students work closely with faculty to pursue their individual professional interests and develop the skills and portfolio necessary to work as theatre professionals. Unlike many other institutions, advanced students are given the responsibility of working as a designer on a full production with a departmental budget.
Guest Artists 
North Central College is committed to bringing in Chicago professionals each year to teach, direct, or design. It is imperative to your growth as an artist to continue learning new perspectives during your college career. This also allows you to build relationships and extend your range of networking.
Independent Study 
Working alongside a faculty member, you can create a specialized topic of interest that may not be offered as a course. Subjects range from commissioned playwriting and solo performance to costume design and European performance art. Independent studies place the learning in the students' hands. Hear alumnus Nick Wehrwein describe how independent study helped him achieve his dream.
Internships
Our excellent reputation and long-standing relationships within the Chicago theatre community enable several annual opportunities to apply for internships with prominent theatre companies. North Central College is one of the few institutions from which the Equity theatre companies of American Theatre Company, Chicago Shakespeare Theatre, and The Other Theatre Company regularly cast students as understudies, ensemble interns, or cast members. Students have also received internships at Steppenwolf Theatre Company, Goodman Theatre, Lookingglass Theatre, Drury Lane Theatre, First Folio Theatre, and TimeLine Theatre.
Master Classes and Workshops
You'll be able to meet professional actors, singers, dancers, technicians, agents, and casting directors. You will learn from these seasoned professionals in weekend workshops, one-day intensives, and advanced seminars. Ask questions, trade stories, and develop an understanding of what it takes to make it in the professional world.
Regional Auditions 
North Central College faculty actively support your professional development. They will assist you with one-on-one coaching of songs and monologues, provide advice on completing applications and design portfolios, and help to find summer internships and opportunites. Faculty also help prepare interested students for large annual regional auditions, such as the University/Resident Theatre Association (URTA) auditions.
Richter Grants
This program provides grants of up to $5,000 for for individual research projects and accompanying travel. Theatre students have received money to visit locations such as the following:
Ireland - to learn the regional dialect in preparation for work as a dialect coach
France - to study Ensemble Theatre and relate it to U.S. practice
London and New York City - to analyze the differences of musical theatre performance styles
U.S. Regional Theatre Festivals - to propose strategies for actor success at a "cattle call"
SEA Conference
Housed at North Central College, Self-Employment in the Arts (SEA) assists artists of all kinds in advancing their entrepreneurial skills and knowledge. Through SEA, performing artists learn key business concepts that help promote success. SEA also hosts an annual regional conference that focuses on career development for creative professionals, to which NCC students are provided a substantial discount.
Student Initiatives: The Company
The Company is a student-run organization that mounts a variety of activities annually, such as storytelling and snacks at the Pfeiffer Hall "Ghost Night," original student-produced One-Acts and Monologues, and improv nights. The Company receives college funding for student-proposed ideas. It is a wonderful opportunity to try out new work, or to experiment in a different creative capacity, within the supportive community of your peers.
Theatre Scholarships 
Scholarships are available to all students, regardless of major. Scholarships are merit-based, and vary in amount depending on the quality of your audition or design/technical portfolio and interview. If you receive a full theatre scholarship, you are required to work on one show per term in some capacity (cast or crew). You also must sign up for one technical term per year. This will allow you to obtain additional production experience. When you are not on tech term, you are expected to put in ten hours of production work (shop hours) per term. (This is part of, not in addition to, the shop hours required for courses such as THE 115 - Practicum.) Limited theatre scholarships with fewer requirements are available to students who are Music or Music Education Majors; these enable you to complete your obligations to both Music and Theatre. Participating in multiple aspects of production through the scholarship program gives you broader experience and deepens your knowledge as a theatre practitioner.
Senior Showcase 
North Central College hosts an annual showcase in Chicago featuring graduating Theatre Performance and Musical Theatre majors. This popular event is well attended by established local agents, casting directors, and other theatre professionals. Hear alumna Lauren Omelson describe how pivotal this opportunity was to her commercial success.
Student Directed Series
Students are selected from a competitive proposal process to direct a fully staged production that is mounted as part of North Central College's Theatre season. These students receive department support to direct their work in one of our state-of-the-art spaces, including original plays or work by emerging local playwrights.
Study Abroad 
If you wish to expand your education abroad, the Office of International Programs can help match you with one of over fifty programs worldwide. For instance, you may join North Central classmates in London and participate in an international exchange program to experience the theatrical culture of England.
Wellesley Girl
By Brendan Pelsue
Directed by Jason Gerace
September 20-22 & 27-29, 2019, The Theatre Meiley-Swallow 
Songs for a New World
Written and composed by Jason Robert Brown
As part of the Student Directed Series
October 18-20 & 25-27, 2019, Madden Theatre
A Midsummer Night's Dream
By William Shakespeare
Directed by Jacob Harvey
November 8-10 & 15-17, 2019, Pfeiffer Hall
The Toxic Avenger
Book and Lyrics by Joe DePietro and Music and Lyrics by David Bryan
Based on the film by Lloyd Kaufman
As part of the Senior Musical Series
February 14-16 & 21-23, 2020, The Theatre at Meiley-Swallow
Antigone
By Sophocles
March 20-22 & 27-29, 2020, Madden Theatre
Ordinary Days
Music and Lyrics by Adam Gwon
Directed by JC Clementz
April 17-19 & 24-26, 2020, The Theatre at Meiley-Swallow
Interested In Theatre Studies?
Visit:

Hear about our outstanding 

academic programs

, 

student life

, 

admission guidelines

 and 

financial aid

. Take a walking campus tour with a current student. During the school year, you can meet with faculty from all of our academic areas to ask questions and learn about our programs.

Audition for a Scholarship: Fine Arts Scholarships are available for new incoming students interested in participating in theatre. (Note: Theatre Scholarships are available for both Theatre Majors and non-Theatre Majors.)
Apply: The first step to becoming a North Central student is reading the application instructions specific to you. Find out everything you need to know about applying by selecting the group you belong to below.
See a Show: North Central applicants who are interested in seeing Theatre productions can email John Warrick for complimentary tickets. 
Madden Theater
171 East Chicago Avenue
The Madden Theatre is a versatile black box theatre located in North Central College's impressive arts facility, the Wentz Concert Hall and Fine Arts Center.  
Because of its flexible stage configuration, it features experimental work, new plays, and productions that emphasize student designs.
The Theatre at Meiley-Swallow Hall
31 South Ellsworth Street
Renovated and modernized in 2007, this former historical church building features our intimate 239-seat theatre with a thrust stage. 
Pfeiffer Hall
310 East Benton Avenue
Pfeiffer Hall first opened in 1926 as one of the largest theatres in Illinois.  It is a grand and illustrious theatre featuring large-scale musicals.  Its legacy is impressive too, with renowned speakers such as Dr. Martin Luther King appearing here throughout its history.
Wentz Concert Hall
171 East Chicago Avenue
Musical Theatre students who take part in choirs and choruses often perform in the Wentz Concert Hall, also located in North Central College's impressive arts facility.
Have any questions? Contact the Chair of the Theatre Department:
jawarrick@noctrl.edu
(630)-637-5624