Feature News
Soccer alum Olivia Hurt '23 combines her passions as a graphic designer for U.S. Soccer
Graphic design major created content for Women's World Cup at her 'dream job'
Oct 03, 2023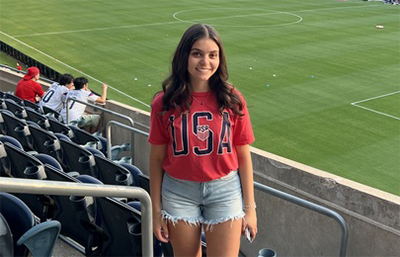 Weeks after graduating from North Central with a bachelor's degree in graphic design, Olivia Hurt '23 was hired as a graphic design coordinator at the U.S. Soccer Federation. Soon after, she was creating graphics for one of the premier global sporting events: the Women's World Cup.
It's a dream job for Hurt, and she was ready for it thanks to her experiences at North Central. She was a member of the women's soccer team, playing all four years and twice earning Academic All-Conference honors. As a student-designer with the College's sports information team, she created content for NC athletics, and one of her designs earned honors in a national design contest.
Tell us about your current role with U.S. Soccer.
My main goal and role as coordinator, graphic design is to bring the brand of U.S. Soccer to life through visual storytelling in the form of graphics. I create graphics for all departments as well as in-game graphics like starting lineup, halftime, final, etc. for each game as it's happening. The Federation then shares those graphics out on their social channels, where they are seen and shared by millions.
What is your favorite part about what you do?
I love being surrounded every day by people who love the game and who have taught me so much already about the working world. I love having new projects to work on for an organization with such high visibility on social channels. I've been a fan of U.S. Soccer and the players my whole life, so being able to create graphics for them has been a dream. I got to work on games during the Women's World Cup, and being a player myself, it was super fun.
How did your time at North Central prepare you for your career?
My professors taught me the skills I needed to be a successful designer and put me on the right track. As a student-designer, I gained valuable experience that jumpstarted my career by giving me a cohesive portfolio to show prospective employers. That ultimately helped me land my job.
Learn more about majoring in graphic design at North Central College on our web page.