Feature News
Feeling at Home, Halfway Around the World
Psychology major Lukas Gallo '24 came from Norway for new experiences
Nov 16, 2023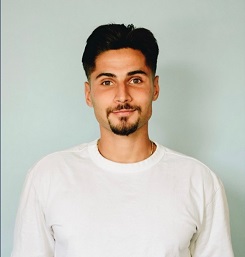 You might think a first-generation college student coming from Oslo, Norway to Naperville would feel like an outsider. Thankfully, for Lukas Gallo it's been the opposite—wherever he goes at North Central, he feels welcome. Especially when he needs a good chat.
Gallo is a psychology major, and some of the most important experiences he's had involved professors helping him adjust his view and find himself academically.
"Professor Emeritus Dr. Jon Mueller really opened up a lot of doors in my way of thinking through his way of teaching," Gallo said. "Dr. Timothy Woods has affected me through his very sympathetic way of interacting with students. That helped me feel extremely comfortable when it came to my academic development." 
Throughout his psychology studies, Gallo has appreciated how his professors help him realize his potential. He's particularly impressed with how they create a culture of respect for others and their diverse viewpoints.
"North Central is a place where the classroom sizes allow for open discussions and for people to hear different views," Gallo said. "Most organizations and professors are aware that students like me come from a different place that might do some things differently, and they usually listen to what those things might be by asking good questions." 
Gallo has also found a great community of fellow international students who support one another. But he says he really wanted to come to North Central for an education abroad with new experiences.
He's taken advantage of plenty of opportunities to get those new experiences, including being a peer advisor in the Center for Career and Professional Development and a regular attendee at Cardinal First events. There, too, Gallo has felt included and supported.
"Cardinal First has been a good place for me to come and talk to other students that I might never have talked to!" He added, "The organization has always made it very clear that they want to help with anything we might have questions about."
Learn more about majoring in psychology at North Central College.