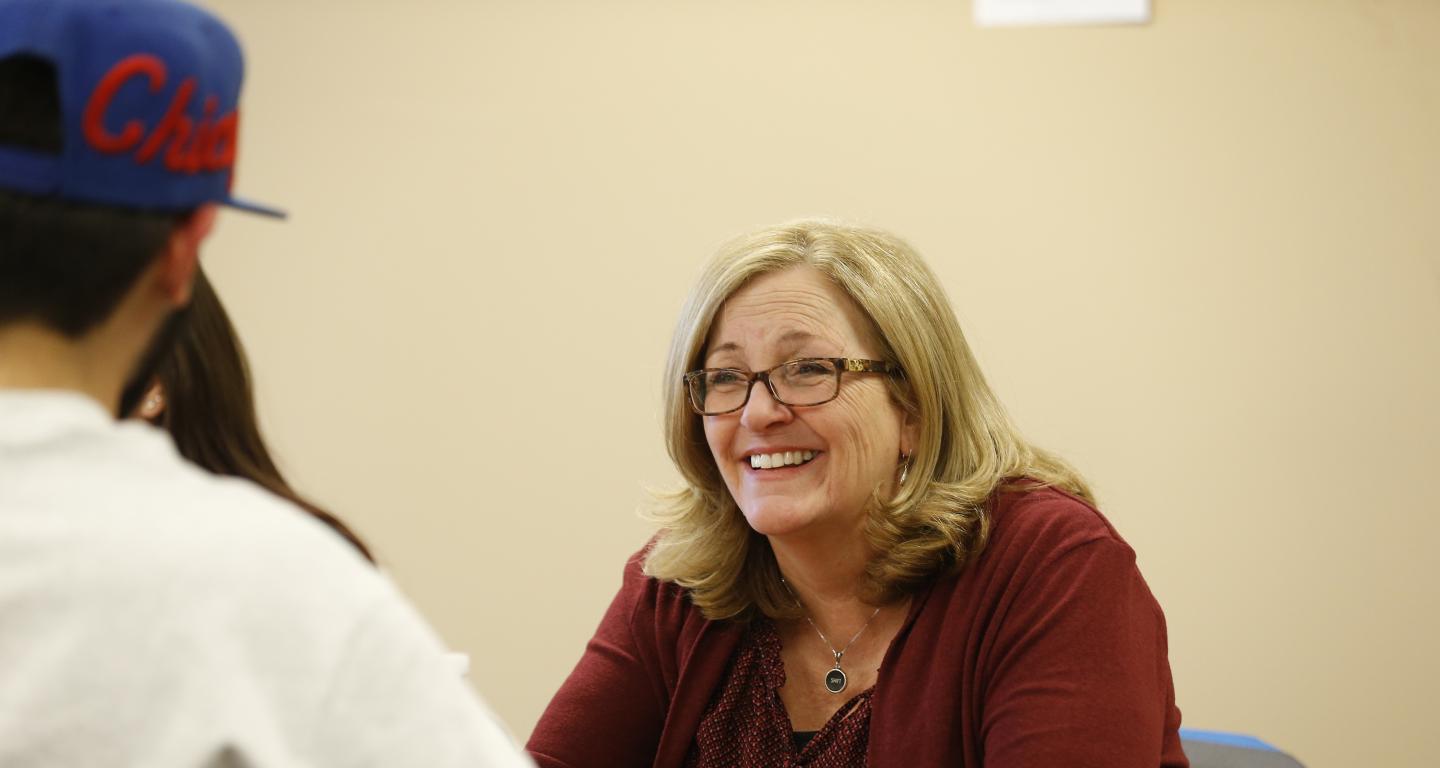 You will never be far from another first-generation college student at North Central College. We are especially proud of the many first-generation students among our faculty, staff and graduate assistants at North Central who were first-generation students. We encourage you to reach out to these accomplished individuals for support as you progress through your college experience.
Read some of our first-generation faculty's stories:
Dean of the College of Arts and Sciences; Professor of Political Science
"My experience as a first-generation college student was not particularly noteworthy. Like many first-gen students, though my parents did not attend college, there was a strong assumption that I would. When I arrived on campus, I attributed much of my hesitation and confusion to being a new student, irrespective of my parents' background. I assumed that every first-year student was feeling the same as I was, and in many ways they were. But having raised children essentially on college campuses and, most recently, helping my oldest child to select a college, I appreciate the advantage that students with parents who attended college can sometimes have.
The most vivid memory I have of being a first-generation college student is going home for Thanksgiving during my first year. As is the case with many adolescents, I had by that point grown tired of my parents, felt them to be overbearing, and could not wait to find my independence. That distance, however, particularly in an era with long-distance telephone rates, led to a tremendous feeling of sadness for me once I had a few weeks away from them. In other words, I really missed my folks and couldn't wait to get home to share all I was learning in college. Sitting at the dinner table that first day home, I remember the feeling in the pit of my stomach that I still cannot completely identify. I felt that even in such a short period of time, I had grown so much that I couldn't talk to them anymore. I think I felt a sense of importance that was not warranted -- a belief that I was somehow 'better' than they were. That wore off quickly as I came to appreciate the gift they had given me through their sacrifice and support. Over time, I found meaningful ways to share my work with them, as they continue to be curious as to what it is that I do.
As I think about the advantage my own children have in both choosing a college and setting forth on that journey, I am continually reminded that they only have this advantage because of my parents. Further, the gap in advantage is considerably narrower at many institutions now because of programs like Cardinal First, and for that I am deeply grateful. My research centers on inequality, so I am particularly energized by people, institutions and programs that are deliberate in attempts to dismantle systems of inequality and provide greater access and opportunity to those who have not historically enjoyed those aspects of life. While I was able to persist without such support, my route would have been richer and less stressful if I had it. I'm a proud first-generation college student, and a proud supporter of Cardinal First."
Assistant Professor of Psychology
"I grew up in the Chicago suburbs as part of a working-class family. My father was raised on a farm in rural southern Illinois and my mother is from Elgin, Ill. My father worked as a carpenter. My mother ran an in-home child care service then transitioned to working for a printing company. They both modeled the value of hard work, persistence and building relationships. My mother took classes at the local community college when she was running her child care service and always told me that no learning is ever wasted.
I started taking classes at the same community college when I was a junior in high school. My first class was Introduction to Psychology! I was fortunate to fall into a group of friends in high school who were all college bound. That social network created the expectation of going to college. A family friend took me along on a trip to her college while I was in high school. That was the one college that I applied to.  
I completed my bachelor's of music in music therapy in three years thanks to those classes that I started in high school. After working as a music therapist and establishing my focus in school settings, I sought opportunities for graduate school to enhance my professional skills. I completed both of my advanced degrees in educational psychology at Northern Illinois University while working full-time and raising my two children. My current scholarship focuses on research and evaluation in informal learning settings. I am grateful for the lessons that were modeled by my parents and supported by my early social networks.
My parents and peers taught me things that got me to college, but once I got there I had to stumble through new terrain. The Cardinal First program provides both practical information and a social network to help our students navigate these new experiences. I am proud to be a part of a program that shows our students what it means to be a part of the Cardinal family."
Associate Professor of Marketing
"It is a blessing and honor to be a first-generation college student. My parents dropped me off at the University of Illinois at Urbana-Champaign on a beautiful Sunday in August of 1986. I was so excited about leaving home. I was anxious to be on my own and to spread my wings a bit. I had an inflated ego but all of that changed once I hit U of I's campus. As a senior in high school, you have an established group of friends and the world is yours but the first year of college can be overwhelming. It can even be more intimidating when you are the first one in your family to attend college. I knew that my family was counting on me to succeed and that pressure made me fearful.
On the surface, fear may appear to be a negative force but I was able to channel that fear in a positive manner. In fact, I was able to use that fear as a source of motivation. I was not a perfect student but I was able to balance my time effectively. While I attended a number of social events, I found a couple of study spots that were tucked away from the public. I realized that I did my best work when I had peace and quiet. I also blocked off several hours of my day to make sure that I had enough time to study for each subject. I did not become a hermit but I was deliberate and purposeful about the manner in which I spent my time. I also had two incredible mentors, an assistant dean in my college and a professor in my department. They coached me through many important decisions, including studying in London and participating in a faculty/student research program. My time at U of I was exciting and full of fun. I met some great friends and participated in a number of activities but through it all, I kept my eye on the prize. I realized that I had to invest the time and energy to achieve the level of success that I wanted.
I am honored to be a part of Cardinal First. The program offers a wealth of support and a sense of community. Participating in Cardinal First greatly enhances a student's experience at North Central. "
Professor of Chemistry
"As a first-year student coming from a big city of 10,000 people and going to a very large school I was a bit overwhelmed. I just followed the masses and more or less did what my peers were doing. I was a good high school student but it was suggested that I take college Algebra as that was what was required for veterinary school. I couldn't really understand my professor during lectures so I didn't think he would miss me with 200 other people there. I still did all the homework and went to all the recitation sections and scored an easy A on exams. That was my 'blow-off' class and had I been assigned a good advisor I would have been in a higher-level math class. 
In the spring quarter, I needed another biology class and so I took Animal Biology (being pre-vet and all). Unfortunately, I did not know the difference between a 400-level and a 100-level class, so I took Bio 430 because a couple of my friends were taking it. Out of the 120 students in the class, only three of us were first-year students. I was the only one of the group to get a passing grade (a D!), as I was competing against mostly seniors and graduate students. I don't know why my advisor signed off on that course but he did. 
Poor advising was part of the reason that I transferred to a much smaller school for my sophomore year and it was a great decision. I got to interact with the faculty much more, had hands-on experiences with the instrumentation and took a lot of leadership roles in many different organizations. It really did change my life. 
One of the reasons I am teaching at a small institution such as North Central is that it gives me the opportunity to interact with students to a much greater extent than at a large institution. Cardinal First has student members that are probably not familiar with the way college 'works,' much as I was not. I'm eager to help out students with any questions they have. Although the student might think their question is a dumb one, believe me that the worst thing that can happen is for the question to go unanswered. I now have a child in college, and it is not just first-generation students that have surprising questions that need answering."