---
College of Arts & Sciences
Psychology and Neuroscience
Questions?
Mary Jean Lynch, Department Chair
Wentz Science Center (WSC), Room 218
630-637-5363
Are you curious about why people do the things they do?
Do you wonder how people can view the same situation and interpret it in completely different ways? Are you interested in understanding how the body and mind affect your mental health? Do you ask yourself why some things are so easy for you to learn, but other things are much harder?
The Psychology program an North Central College provides you with opportunities to examine these questions and many more. We help you build a sound background in the methods used to understand the causes and consequences of behavior. You will learn skills that will make you successful for life.
As a Psychology student you can work with our dedicated faculty on their research projects or on projects you design to explore your specific interests and gain valuable hands-on experience. You can collect data on campus in our Schwab Psychology Research Center, and find the perfect off-campus internship – or two or three – among hundreds of nearby social service agencies and businesses.
You will study the breadth of psychology with an emphasis on several key areas within it – developmental, social, biological, and cognitive/learning. Then as a capstone experience, you will explore at least one topic in depth through a senior seminar, an independent study or an internship.
The mission of the Psychology Department is to prepare students to function as competent, ethical individuals in their personal and professional lives. We expect the study of psychology to enhance our students' ability to think critically, to communicate effectively and to appreciate the scientific approach to understanding behavior.
The Psychology Department is also the home of North Central's Neuroscience program. For more information about Neuroscience, click here.
As a psychology or neuroscience student, you will have many opportunities to enhance your academic experience, apply your knowledge, and engage with your faculty and fellow students.
Research - create new knowledge
Enroll in a research practicum to assist a faculty member with his or her own research projects.
Work with a faculty member to design and execute your own independent study.
Present your original research at regional and national psychology conferences.
Apply for a Richter Grant to finance travel anywhere in the world your studies take you.
Internships - apply knowledge outside the classroom
Explore one or more different career paths in psychology before committing to a particular direction.
Examine a possible career path in more depth by applying theories and concepts to broader social issues and systems.
Engage in a pre-professional learning experience and link it to important issues and trends in the field.
For more information, contact Dr. Nicole Rivera.
Special Course Offerings - enhance your academic experience
Learn about the many career paths for psychology and neuroscience majors in our Careers in Psychology course.
Determine if graduate school is for you, begin the process of identifying possible degrees and programs, and start working on your graduate school applications in our Professional Psychology seminar.
Enroll in a senior seminar to explore topics such as eating disorders, bullying, illusions, memory disorders, psychology and the law, and military psychology.
Student Organizations - engage with your psychology peers to make a difference
Study Abroad -- expand your horizons. Learn more.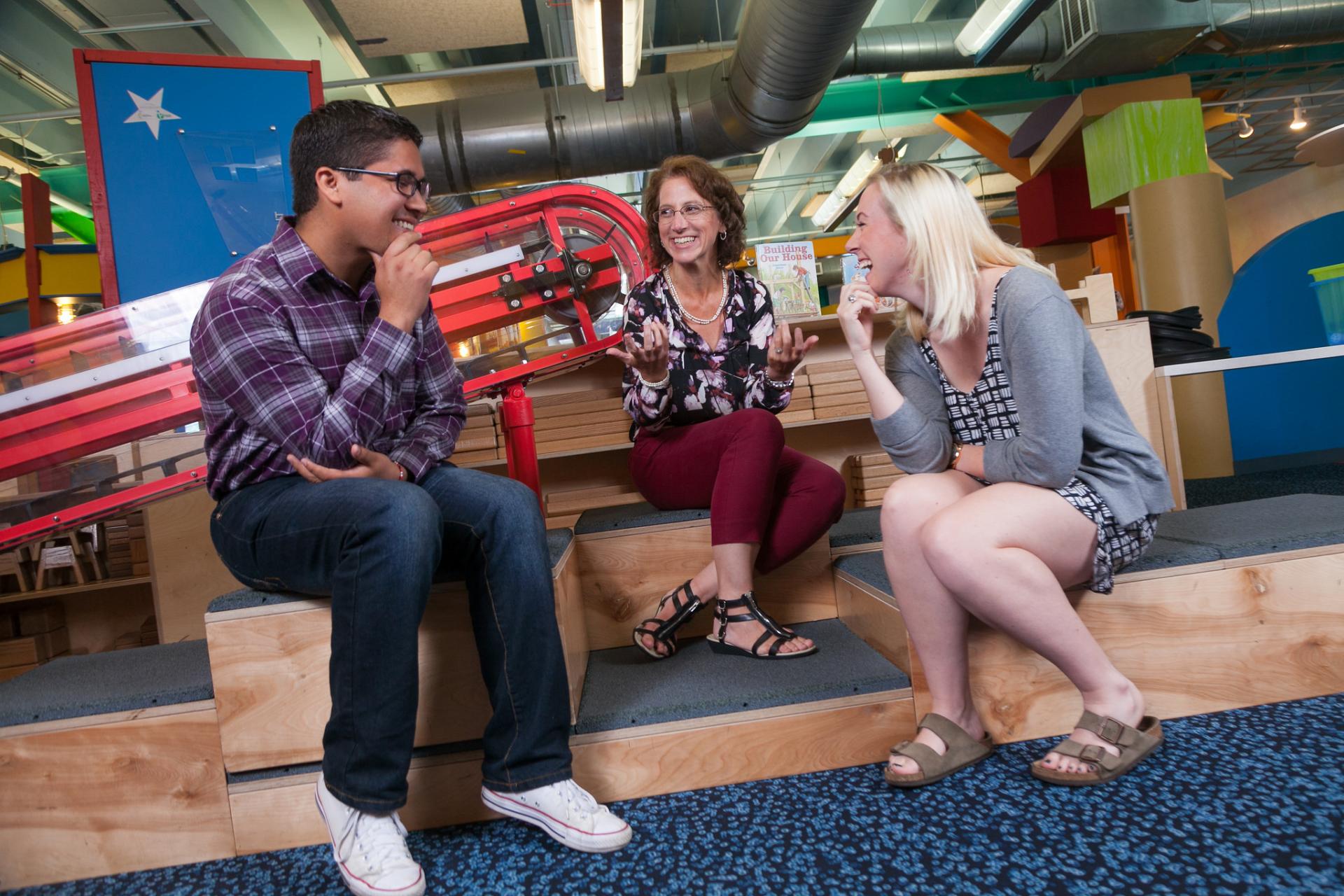 Dr. Nicole Rivera and her students conduct research at the DuPage Children's Museum.
Getting Ready for Semesters in Fall 2019 ...
-----------------------------------------------------------------------------------------------------------------------------------------------------------------
Many of the faculty in Psychology and Neuroscience were busy this summer wrapping up projects from last year and planning new ones for next year.  Here is a sample of what was happening in labs, breakout spaces, and offices in the Wentz Science Center and in the Naperville community.
Professors Azarbad and Keeney planned a full research agenda that utilizes our new treadmill equipment.  The TREAD (Treadmill Research on Exercise, Athletics and Disordered Eating) RESEARCH TEAM designed two different studies to be carried out this coming academic year.
Project COCOA will compare the effectiveness of a variety of interventions for reducing chocolate cravings.
Project BODY IMAGE will explore the effects of physical activity on body image.
The student researchers of the TREAD research team are Maggie Bailey, Jenna Bell, Lisette Herrera, Anya Jones, Anthony Mackar, Kelly McGovern, Ashley Papp, and Mikayla Strasser.
Dr. Chambers got her new sleep lab ready to begin collecting data in the fall about how sleep affects the consolidation of emotional memories. Her students examined how sleep habits impact physical performance.  The researchers on her team were Isabella Kwiecinski, Ashley Fagerson, and Aaron Spivey.
Dr. Gill spent the summer preparing the new animal suite and neuroscience research lab for neuroscience classes and her research about the effects of early environment on drug addiction.
Dr. Kelley continued his work on organizational justice.  He and student researchers Maureen Jones, Sonja Altmayer, and Megan Renteria examined how emotions affected evaluations of an employee or manager following a negative event.  Specifically, they were interested in examining how the emotion/event integration affected perceptions of hope and trust.
Dr. Lynch and members of her research team  worked on two research questions.
Do introverts prefer socializing with only a few people because they overestimate numbers of stimuli when the stimuli have social features (faces vs. emojis vs. circles)?  Laura DePasquale, Elainie Kothera, and Mary Johnson are organizing and scoring data collected during spring term.
Are introverts more sensitive to threatening social stimuli than extraverts?  A new study is being designed to see if introverts process other information more slowly when they perceive threat.  Mikayla Strasser is the lead designer for this "emotional Stroop task" with Laura, Elainie, and Mary assisting.
Dr. Rivera worked with two student researchers this summer – Julianna Grandinetti and Ovier Campbell on two museum projects.  They completed data collection for a survey of parents'/caregivers' beliefs about play and learning at the DuPage Children's Museum.  They are now piloting an interview protocol at the museum to ask children what they believe about play and learning.  As part of their summer work, they also visited the Discovery Science Center in Rockford.
Dr. Schacht and student researcher Abena Owusu collaborated with KidsMatter, INC and Naperville 203/204 schools to identify keys stressors impacting middle school, high school, and college-aged students.  They analyzed student stress and the use of drugs (specifically prescription medications) as a method of reducing stress. They presented their findings at the Society for Research in Adolescence and held an open forum in November with the City of Naperville to discuss their results.
Dr. VanHorn is continuing work on two projects.
Exploring Mechanisms of Time Perception examines whether we are all hard-wired with a survival mode that, when activated, affects our perception of time.  Student researcher Sydney Paquin has contributed to this project.
Mood, Memory, and Metacognition manipulates mood and measures how well people can predict what they will remember in the future.  Student researchers Marissa Post, Alexis Vosnos, and Fayana Simms have worked with Dr. VanHorn on this project.