College of Arts & Sciences
Psychology and Neuroscience
Questions?
Mary Jean Lynch, Department Chair
Wentz Science Center (WSC), Room 218
630-637-5363
mlynch@noctrl.edu
Are you curious about why people do the things they do?
Do you wonder how people can view the same situation and interpret it in completely different ways? Are you interested in understanding how the body and mind affect your mental health? Do you ask yourself why some things are so easy for you to learn, but other things are much harder?
The Psychology program an North Central College provides you with opportunities to examine these questions and many more. We help you build a sound background in the methods used to understand the causes and consequences of behavior. You will learn skills that will make you successful for life.
As a Psychology student you can work with our dedicated faculty on their research projects or on projects you design to explore your specific interests and gain valuable hands-on experience. You can collect data on campus in our Schwab Psychology Research Center, and find the perfect off-campus internship – or two or three – among hundreds of nearby social service agencies and businesses.
You will study the breadth of psychology with an emphasis on several key areas within it – developmental, social, biological, and cognitive/learning. Then as a capstone experience, you will explore at least one topic in depth through a senior seminar, an independent study or an internship.
The mission of the Psychology Department is to prepare students to function as competent, ethical individuals in their personal and professional lives. We expect the study of psychology to enhance our students' ability to think critically, to communicate effectively and to appreciate the scientific approach to understanding behavior.
The Psychology Department is also the home of North Central's Neuroscience program. For more information about Neuroscience, click here.
Psychology, B.A.
As a member of the social sciences, psychology seeks to understand the causes and consequences of human and animal behavior by employing the methods of scientific inquiry. Given this general orientation, the psychology program at North Central College provides students with a sound background in the methods used to understand behavior. Students receive an overview of several key areas within the discipline: Developmental, Biological, Cognitive/Learning, Personality/Abnormal, Social/Cultural Diversity and Applied. In addition, students explore at least one topic in depth through a capstone experience: senior seminar, senior thesis, internship or community engagement project. 
For additional programs and courses in this department, see .
Major Requirements
Perspectives
One course from each of the following:
Capstone
Four credit hours from one of the following:
Additional Requirements for the B.A. Degree
Students must demonstrate elementary competence in a foreign language. For more information, see the  within the Academic Regulations section of this catalog.
Psychology, B.S.
For additional programs and courses in this department, see .
Major Requirements
Perspectives
One course from each of the following:
Capstone
Four credit hours from one of the following:
Additional Requirements for the B.S. Degree
Psychology Minor
For additional programs and courses in this department, see .
Minor Requirements
A minimum of 24 credit hours, including:
Perspectives
Two courses from two different perspective categories:
Exploration
A minimum of eight additional credit hours of Psychology at the 300- or 400-level. 
Industrial/Organizational Psychology Minor
This interdisciplinary minor is designed to help students prepare for careers in Human Resources, management and other business-related areas.
For additional programs and courses in this department, see .
Minor Requirements
A minimum of 24 credit hours, including:
Electives
One course from two of the three following categories:
Leadership, Ethics and Values
As a psychology or neuroscience student, you will have many opportunities to enhance your academic experience, apply your knowledge, and engage with your faculty and fellow students.
Research - create new knowledge
Enroll in a research practicum to assist a faculty member with his or her own research projects.
Work with a faculty member to design and execute your own independent study.
Present your original research at regional and national psychology conferences.
Apply for a Richter Grant to finance travel anywhere in the world your studies take you.
Internships - apply knowledge outside the classroom
Explore one or more different career paths in psychology before committing to a particular direction.
Examine a possible career path in more depth by applying theories and concepts to broader social issues and systems.
Engage in a pre-professional learning experience and link it to important issues and trends in the field.
For more information, contact Dr. Nicole Rivera.
Special Course Offerings - enhance your academic experience
Learn about the many career paths for psychology and neuroscience majors in our Careers in Psychology course.
Determine if graduate school is for you, begin the process of identifying possible degrees and programs, and start working on your graduate school applications in our Professional Psychology seminar.
Enroll in a senior seminar to explore topics such as eating disorders, bullying, illusions, memory disorders, psychology and the law, and military psychology.
Student Organizations - engage with your psychology peers to make a difference
Study Abroad -- expand your horizons. Learn more.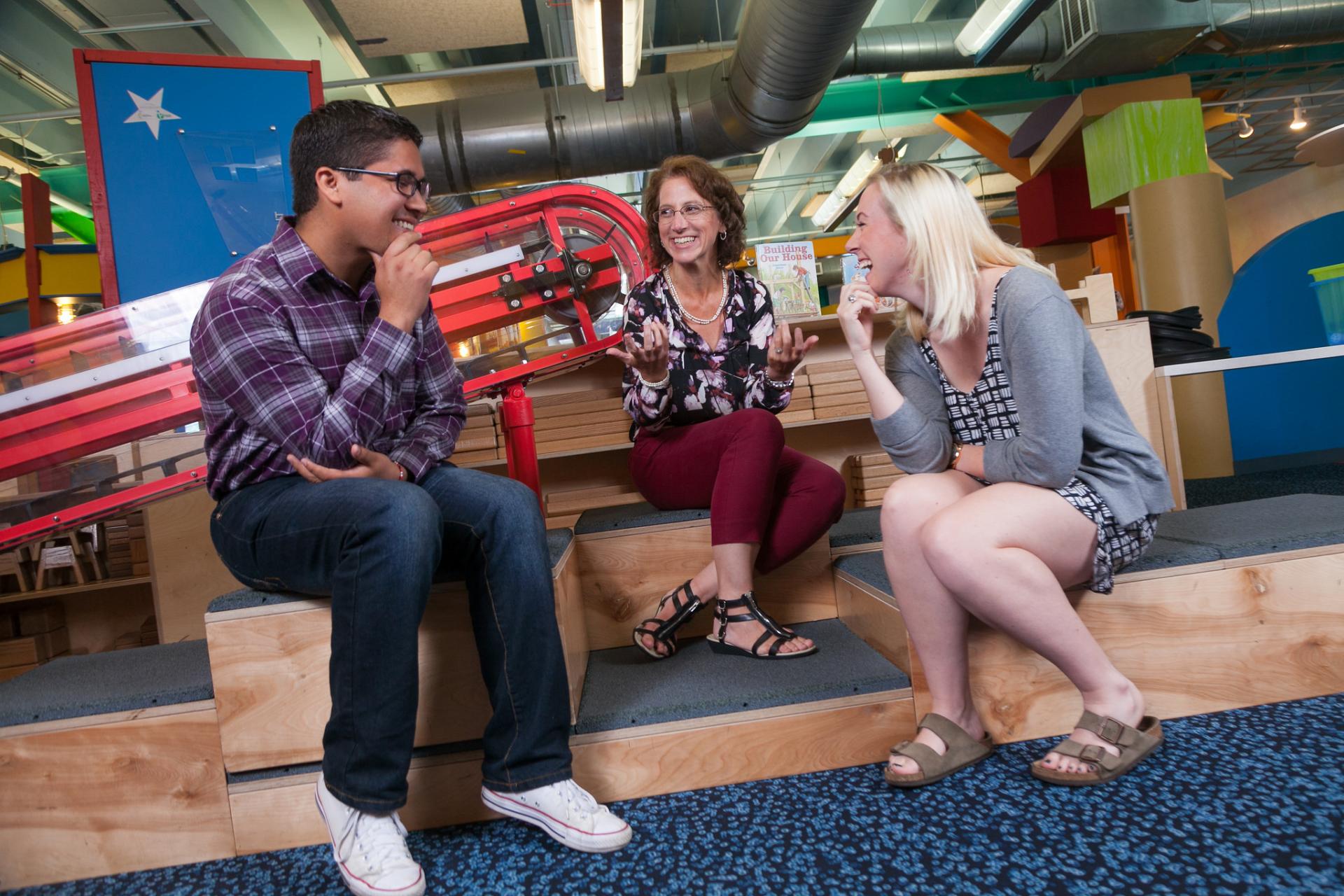 Dr. Nicole Rivera and her students conduct research at the DuPage Children's Museum.
Department Statement of Inclusivity
The NCC Department of Psychology and Neuroscience embraces the idea that our individual differences can deepen our understanding of one another and the world around us, rather than divide us. We are firmly committed to making our classrooms and laboratories inclusive learning communities that support diverse thoughts, perspectives, experiences, and identities. We encourage people of all ethnicities, genders and gender identities, religions, ages, sexual orientations, disabilities, socioeconomic backgrounds, regions, and nationalities to share their rich array of perspectives and experiences, and to work to honor and respect all members of the community. Let us all work together to create a safe and equitable campus community. If you do not feel that the environment is inclusive at any time, please contact one of members of the department, and we will work with you to address the situation.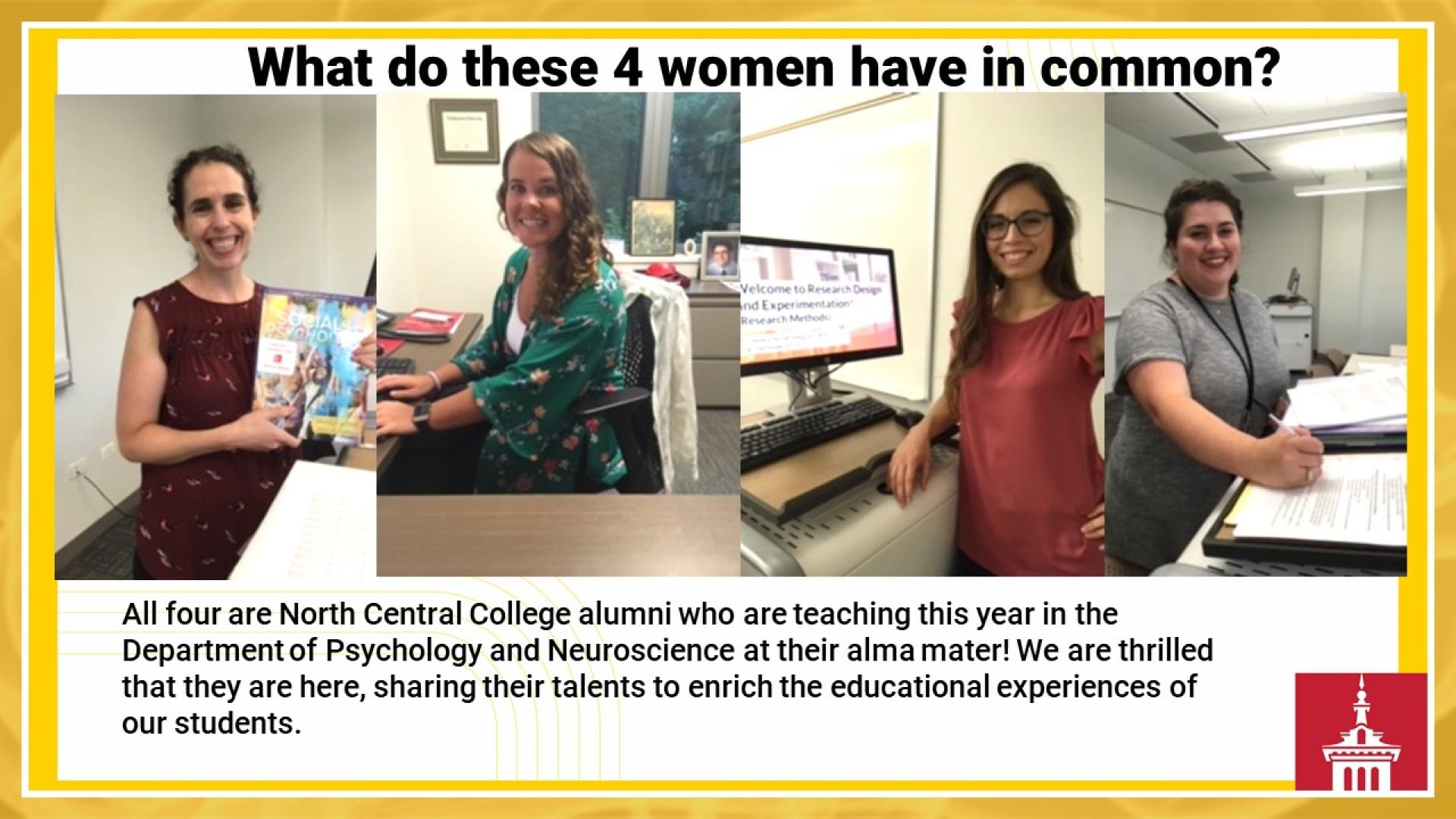 Deb Zeitlin ('01) has taught Child Development, Social Psychology, and Statistics at North Central. Add this sentence to the end of her description -- Deb recently completed her doctorate in Occupational Therapy through Spalding University in Louisville, Kentucky, and is scheduled to teach Child Development in the spring.  After earning her BA in Psychology, she earned her MA in Psychology (with a focus in Cognitive) from Southern Illinois University. Deb worked at Washington University at St. Louis, but then returned to the Chicago area to earn her MS in Occupational Therapy at Rush University.  She has worked as an occupational therapist at the Pediatric Place/Rainbow Center and Krejci Academy in Naperville and at Treehouse Pediatrics in Woodridge.  Currently, she is the staff occupational therapist for the School Association for Special Education in DuPage County (SASED).  Before teaching at North Central, Deb taught Introduction to Psychology, Social Psychology. and Women's Studies.  She is currently teaching Social Psychology and enjoys creating a small community within each of her classes. 
"Going to school at North Central College was meaningful to me since my mom also graduated from NCC. As a child I spent many afternoons in the CAGE watching my mom take notes and work on her papers.  When I graduated with my psychology major and chemistry minor, I had no idea where the world would take me, but I felt prepared to begin.  Now, as a faculty member I see myself in many of the students.  I see students wanting to change the world and I'm hoping to get them one step closer to their dreams too."
Jacey Keeney ('13) received her doctorate in Clinical Psychology, with an emphasis in Health Psychology, from Rosalind Franklin University of Medicine and Science. Her program included a year-long pre-doctoral internship at Penn Medicine, Princeton House Behavioral Health in Princeton, New Jersey. Her MS degree is also from Rosalind Franklin University, where she was a TA for courses in lifespan development and adolescent psychology. Jacey has taught many different courses at North Central -- Psychology: Science of Behavior, Child Development, Psychology of Adolescence, Stress & Coping, Clinical Psychology, and Health Psychology. Currently, she is a clinician at True North Clinical Associates in Naperville, IL and Downers Grove, IL. This year Jacey is scheduled to teach Child Development and Abnormal Psychology in the fall and Stress & Coping and Health in the spring.  
"My time at North Central College prepared me both academically and professionally for a career split between academia, clinical practice, and research. It was as an undergraduate student at NCC that I was first exposed to the importance of understanding the science behind your implementation, as well as lifelong learning and growth. I am so honored to have had the opportunity to come 'full circle' and give back to an institution that has supported me since the day I stepped on campus."
Annie Wegrzyn ('16) is our most recent alum-instructor.  Annie received her North Central BA in Psychology (with minors in Studio Art and Spanish) and recently completed her MA in Community Psychology at DePaul University. She is working on her doctorate which will focus on response to sexual assault.  Annie began her teaching career as a preceptor and a certified Psychology tutor at North Central and is now teaching a Community Psychology course at DePaul.  This semester she is scheduled to teach Psychology: Science of Behavior.
"During my time at North Central, I had the privilege of working with numerous psychology faculty members who were both exceptional educators and supportive mentors. They truly care about their students and about providing them a quality education. My experiences with the psychology faculty sparked my interest in teaching in psychology and continues to shape my own approach to instruction. I am excited to be back at North Central in this new role!"  
Michelle DePasquale ('14) began her teaching career at North Central as a preceptor and Psychology tutor.  She received her MA degree in Justice Studies at the University of New Hampshire, where she was a teaching assistant for a research methods course and a special topics course.  Since returning to the Chicago area, she has taught our Professional Psychology seminar (a course she proposed and designed as an undergraduate independent study), Psychology: Science of Behavior, Social Psychology, Personality, and one of our capstone seminars, Psychology of Sexual Assault. Currently, she teaches in a local elementary school and is scheduled to teach Personality in the fall and the seminar in the spring.
"My experience at NCC in the psych department made me into who I am today. The faculty I met and the relationships I built set me up for a lifelong love of learning and academia. Never in my wildest dreams did I think I would someday work with the very faculty who inspired me to teach."