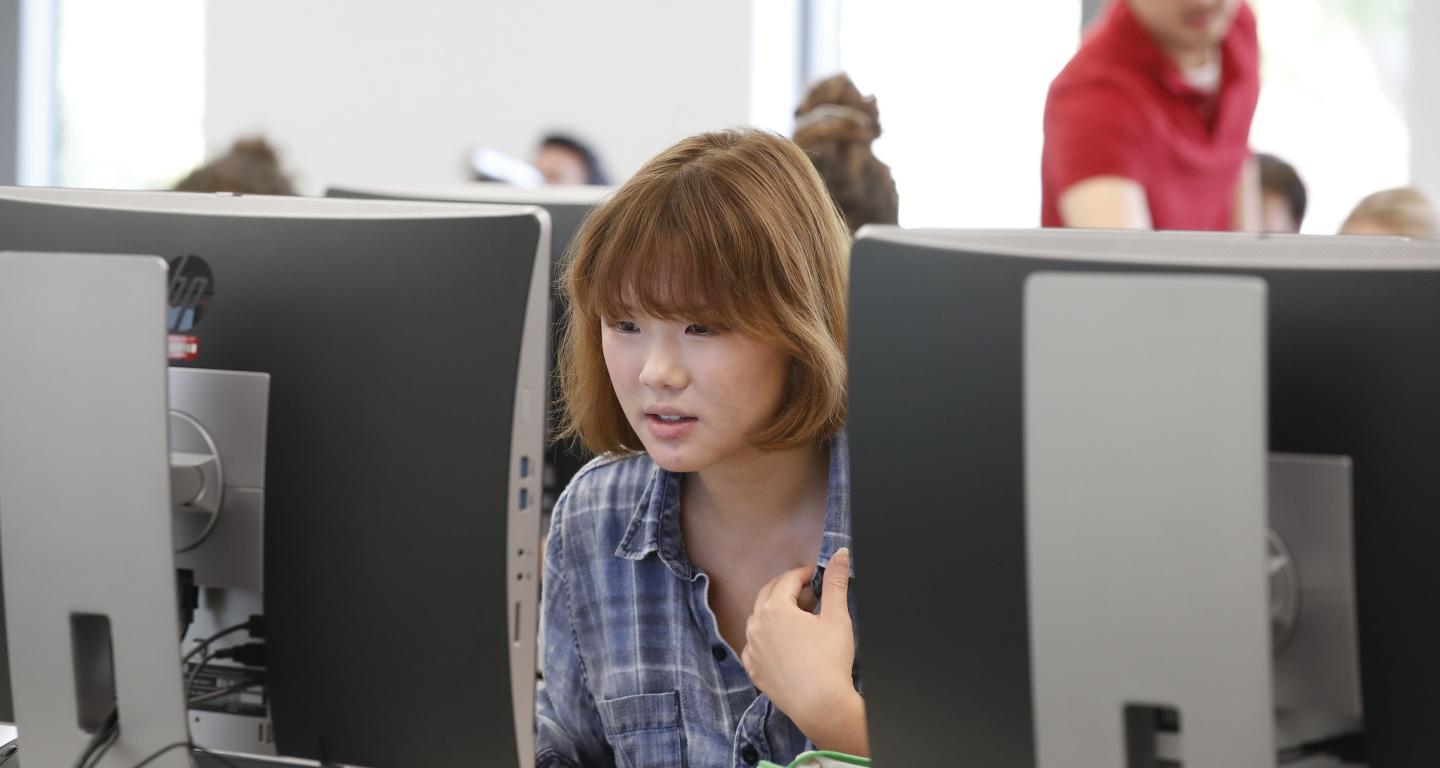 Five ways to visit a college … when you can't go to campus
Jun 23, 2020
Five ways to visit a college ... when you can't go to campus
For many high school seniors, D-Day looms. The day you'll need to make up your mind on a college and sign on the dotted line, committing to enroll in your school of choice with a signed letter of intent and a deposit of several hundred dollars.
Thankfully, some colleges and universities recognized how hard it is to make such an enormous decision while coping with a global pandemic and extended their traditional May deadline into June or July.
But that still doesn't make the decision easy.
So what's a senior to do?
Take a deep breath.
For most students, this would be a stressful time even under the best of circumstances. Trying to figure out which college will offer the best education, the best professional network, and the best "fit" is no small feat … never mind the often-overwhelming financial implications of the biggest investment they might ever make.
But throw COVID-19 into the mix and the pressure ratchets up about 1,000 percent. What will classes look like next fall? Will they take place on campus or online … or at all, for that matter? What if the virus hits again before widespread testing and vaccines are available? What if your family loses its income and can't swing the tuition bills?
But we're not done with anxiety-inducing questions yet. Even apart from the longer-term questions … what if you haven't visited campus yet? What if you were planning to make your final decision only after checking out the campus, and perhaps staying overnight? How will you choose, with those options now off the table?
Most students need to decide, and soon. So here are a few things you can do in lieu of visiting campus. (If you're a high school junior wondering how to build a strong college application despite having no classroom time, no extracurricular or volunteer experiences, and no part-time job – don't worry. There are steps you can take, too.
5 steps you can take today
It's worth noting that most of the ideas below rely on Internet access. But the unfortunate reality is that many people aren't lucky enough to have wifi at their fingertips. If you're one of those people, ask around your community. Many libraries and other not-for-profit organizations, though closed, are offering free WiFi hot spots in their parking lots. Illinois public WiFi sites are mapped out online; other states have done the same. And some companies like Comcast are offering free Internet access to qualifying customers.
1 – Ask about your options.
College and university campuses are closed nationwide, but many of their staff members are working from home – and admissions officers are working harder than ever. Reach out to them! They understand that this is a difficult time for many families, and they want to hear from you Aren't we all eager to hear from people outside our household?! If it would help you and your family to delay your decision, ask if they'll extend your deadline. Admissions Community Cultivating Equity and Peace Today, or ACCEPT, is maintaining a list of those institutions who have pushed back their deadline. If your school isn't on the list, ask for an exception.
Or see if you can delay enrollment for a semester or a year. Find out if there are other routes open to you; maybe the college is developing systems you haven't considered. Start the conversation, because one thing's for sure: There's no harm in asking. And if you don't ask, you'll never know.
2 – Take a virtual tour.
Most colleges and universities offer a virtual tour on their website. These vary dramatically in quality, but they're certainly better than nothing and some are extremely helpful. Check out North Central College's tour, for example. Even if you've already been to campus, a virtual tour can refresh your memory about what you liked, what you didn't like, and what you wondered about.
3 – See what's happening on the online campus.
Many institutions have developed virtual alternatives to the programs they would normally offer in person. For example, North Central College's admissions team has assembled a whole page devoted to these programs. These include admitted student days, open houses, and Q&A sessions with current students and faculty. Some colleges will even let you sit in on a class that's being offered remotely. If you haven't heard about any of these programs at the schools you're considering, check out the college's website. But don't be surprised if you can't find them on the site – colleges are scrambling to post all this information, and some are more successful than others. If you don't see anything for admitted students, ask your admissions counselor how to find it.
4 – Make some new friends.
Think of it this way: If you were living in a normal world and were preparing to visit the school, what would you be trying to find out? What questions would you ask? Who would you want to talk to?
If you've visited the college before, try to reconnect with someone you liked – maybe a professor, maybe a student tour guide, maybe the secretary who helped you find the admissions office … and then ask them your questions.
If you haven't been to campus yet, ask your admissions counselor for the names and contact information of some folks you can talk to.
5 – Get social.
Check out your colleges' social media posts and see what kind of engagement they get from other students. You can find North Central College's array of social media offerings on their social landing page. Find out if your entering class – the class of 2024 – has established its own group. Read student blogs. Listen to the campus radio station, if there is one.
And through it all, try to remember that while this is a huge decision, the odds are good that you'll make the choice that's right for you. And most experts agree that success depends a lot less on the college you choose … and a lot more on what you put into the experience while you're there.
If you're looking for a college that understands and cares about its students, consider North Central College. With more than 65 programs and a top 10 ranking among America's best colleges in the Midwest according to US News & World Report, it's a great place to learn how to exceed your personal best.
Lauren Ford works with North Central College's marketing and communications office. An award-winning writer, she also runs her own communications firm, which serves a variety of not-for-profit organizations across the United States. She earned her bachelor's degree from Connecticut College and her master's from the University of Chicago.