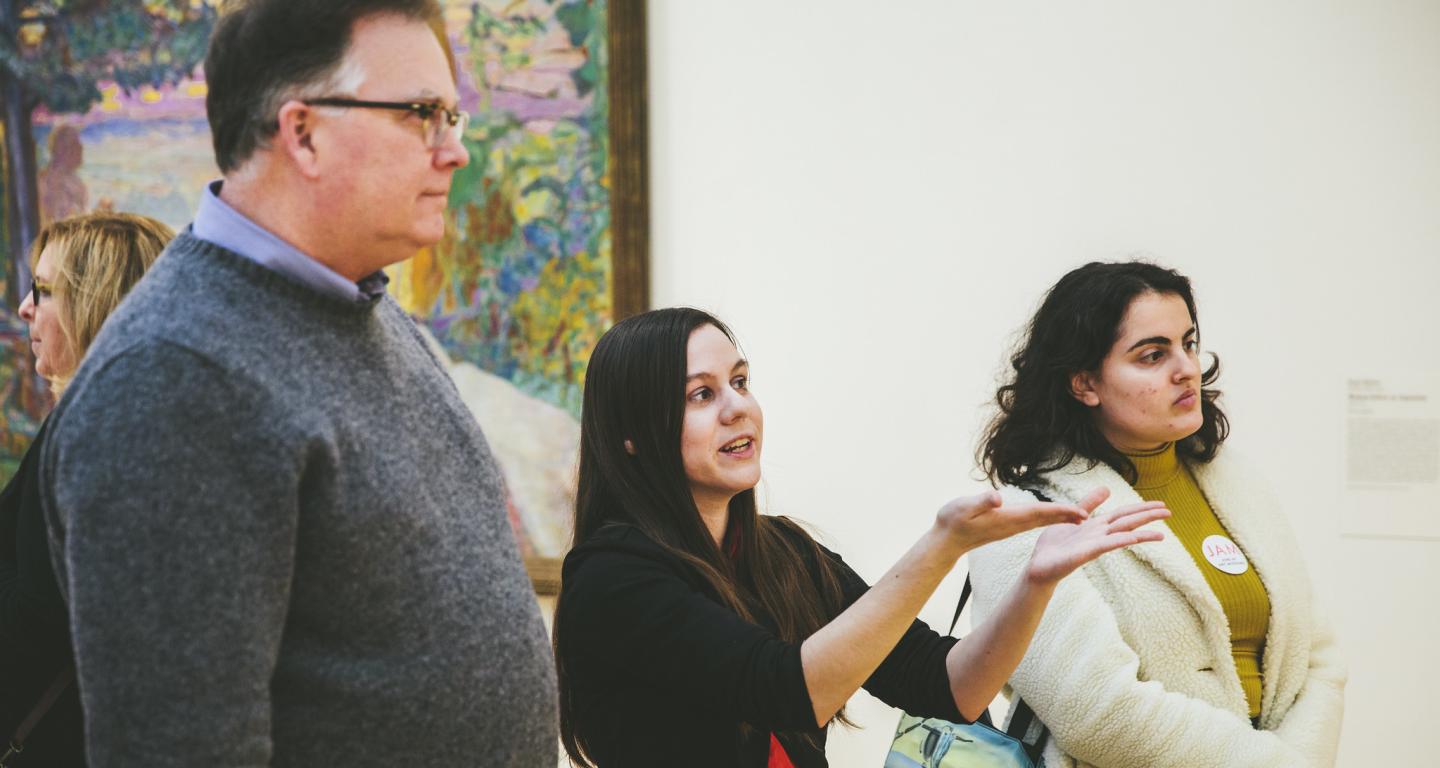 How to Find a Job After College
Jul 12, 2021
How to Find a Job After College: Tips and Tricks
Job hunting after college can be a daunting task at any time – but in the midst of a pandemic, it's even tougher. So it's more important than ever to do all you can to increase the odds you find your dream job.
The good news is that while some aspects of the job search are out of your hands (Covid-19, anyone?), others are very much in your control.
One of those aspects is earning a college degree. You're more likely to find a job if you hold a college degree than if you don't, and you're more likely to earn more money, according to the U.S. Bureau of Labor Statistics.
When should you start looking for a job?
In a word: NOW. Most students start their search a few months before college graduation, or soon afterward. And if that's you, don't worry; it's not the end of the world. But starting sooner rather than waiting will make finding a job after college a lot easier.
"We want students to think about how they can graduate with a job, not just how to get a job after (college)," says Barbara Fouts, assistant director of career development and internship coordinator at North Central College. "We want (college) students to graduate with a diploma in one hand and at least one job offer in the other."
Sounds great, right? To achieve that, you need to give some serious thought to what kind of jobs you'd enjoy, which organizations you'd like to be a part of, and where in the world you hope to live. You'll need to create a powerful resume and recent college graduate cover letter, and fine-tune your interview skills, and more.
You get the idea: There's lots to do. Start early.
6 tips for an effective job search
1) Visit your college's career development center.
The first item on any job search tips list is to visit your college's career center. "Research shows that (college) students who work with career services are more likely to find a job, and more likely to be satisfied with that job," says Haydee Nunez, director of North Central College's career development center. "I know it can be stressful to start the job search process when you're still taking classes and maybe working a part-time job. But it's absolutely worth it."
And, Fouts adds, it's never too soon: "We can help you even if you're a first-year (college) student who hasn't declared a major yet. I can't tell you how often students tell me, 'I wish I had come to see you earlier.'"
Many college and university career centers will work one-on-one with students to identify their skills and interests, research on the job market and companies, craft recent graduate resumes, and conduct practice interviews. Some colleges, like North Central, also provide free access to premium online tools like Handshake and Big Interview. North Central's career development staff also offers a wide range of programs and services throughout the academic year; this year, those include an online All-majors Job and Internship Fair, for example.  
In other words, as a college grad, your connection with career services isn't a one and done situation. "You're not alone," says Nunez. "We're here to help you every step of the way. You don't need to do this by yourself."
2) Think about what you want to do…but don't pigeonhole yourself.
Many people, whether students or parents or members of the general public, assume that a person's major dictates what they do for a living. Not so. The reality is, your major doesn't matter as much as your skills and interests. That's why English majors effectively go into sales and biology majors work in business. And most people successfully change jobs multiple times throughout their lives – and often change careers as well.
Employers may look for certain specific skill sets that apply to the particular position you're applying for, and you may have mastered those skills as part of your major course of study.
If so, that's great! But employers also typically want to hire people with broader skill sets that transcend specific jobs. According to Indeed, these include communication, leadership, teamwork, and interpersonal skills.
Employers recognize that if a college graduate or job candidate already has these broader skills (and knows how to learn and is willing to work hard), then they can teach them the narrower, more specific skills fairly easily.
Not entirely sure what you want to do? Welcome to a large club. You can start zeroing in on some good choices by – you guessed it – talking to your friendly neighborhood career counselor.
Or, for a more DIY approach, consider the advice of Stanford University professor and author Dave Evans, who recently spoke with National Public Radio: "(Make) a 'good-time journal,' a daily record of all your activities, annotated with notes on how engaging each was and whether it gave you energy or drained you.
This becomes the data that informs what you like to do — and the insights you glean go far beyond the subjects you've liked in school."
3) Be an early bird.
Start your job hunt as early as possible.This is one area of life where you really want to be proactive. Ideally, your resume, interview skills, and so on will be ready to go by the time you start your senior year – or at least in time for your first job fair.
Keep in mind that the recruitment season for many industries begins in the fall for December and May college grads. Another recruitment cycle will begin in the spring…but if companies have already filled their spots by then, they won't be actively looking for job candidates or college graduates then. (These are just general guidelines.
Some industries have different recruiting timelines. Talk to your career counselor to find out about the recruiting schedule for the fields that you're interested in.)
"This is all part of developing a career management plan, which is one of the top skills that employers look for," says Nunez. "In fact, this skill is so important that North Central requires all students to complete a career readiness seminar that breaks out job-search tasks by class year."  
Timeliness matters in other contexts as well. If you spot an appealing job posting, Monster.com advises applying within 48 hours of its posting.
Then make a note to follow up on your target job about a week later, confirming that the hiring manager received your resume (after all, it could have been lost or misplaced) and offering to answer any questions he or she may have.
Don't worry. A potential employer won't think you're a pest – they expect professionals to do this sort of thing, and your initiative shows them that you're interested in the job opening.
Career coaches advise being just as vigilant about following up after a job interview. Write a thank-you note within 24 hours, then check in a few weeks later to ask if they have any additional questions you can answer. If you haven't heard from them, inform your counselor or any alumni who are working for their company.
4) Land an internship, if at all possible.
"Internships are gold on a resume," says Fouts. She says that students who complete at least one internship in college generally find jobs faster, receive more job offers, and earn a higher salary in their first job.
Paid internships and unpaid internships can give you practical experience in a field you're interested in, and they can also be useful in helping you rule out possible career paths.
You might have always thought a particular field was perfect for you ... then find out during an internship that you can't stand working in that environment.
It's much better to learn that before you graduate because it's easier to develop a new plan, line up additional internships, and change course while you're still in school.
Of course other professional, leadership, and work experience is valuable and important too. Whether you've done student teaching, started a student organization, or volunteered with a local nonprofit, be sure to include it on your resume.
5) Get out there
In other words, network. Only about 20 percent of jobs are advertised, according to Learn How to Become. That means you'll learn about the other 80 percent only through word of mouth. Talk about your job search with everyone you can think of, including your family, extended family, friends, acquaintances, and neighbors. Also, ask them to suggest the names of additional people they think you should talk to – hopefully they'll even introduce you!  
Ask your professors for suggestions, and join your college's alumni association. (And don't forget to add that membership to your resume.) Attend job fairs at your college and, if possible, professional meetings in your field. All the while, continue to work toward expanding your network by asking for names of other people to speak with.
And don't forget to network through social media. It's especially critical to create a complete profile with LinkedIn, which is widely recognized as THE professional networking site. Invite everyone in your network to connect with you. Also, join job and industry-related groups.
"Now is the time to double down," says Nunez. "Networking has always been important. You still need to do it in the pandemic, but you'll do it on a different platform. You might not offer to meet for coffee, but a phone call instead. Your online presence is important, and you need to monitor your digital brand and footprint. Employers are actively searching on LinkedIn and Indeed."
And while it may feel a little strange to reach out to people you've never met … try not to worry about it. It will probably get easier to do as you get used to it and see how responsive people are. (Keep in mind that many people will feel flattered by the attention.) "You're just asking them for advice, recommendations, maybe an informational interview. You're not asking for a job (offer)," Fouts reminds every college student and recent grad. "And we can coach you about what to say on the phone, or what to write in a LinkedIn message."  
6) Put down the phone
Whenever you write to a potential employer or hiring manager – whether you're sending a resume, completing a job application, or sending a confirmation email--do it on a computer, not on your phone. Every communication with an employer needs to look professional … and it's a lot easier to catch typos and format them correctly when you're working on a big screen. Some job seekers even write their emails in Word, then copy and paste the text into their email or online application.
How long does it take to find a job after college?
The answer depends on what field you're in, where you're planning to live, and what's going on in the economy at that moment. If you're interested in a fast-growing field, and you live in an area that employs lots of people in that field, then you may find yourself in the enviable position of holding several job offers before you graduate.
But many people find it takes longer. Most experts estimate that the average search takes between three and six months … and that doesn't include the time you spend early on, doing the hard thinking and other prep work discussed above. So whether you're a current student or a recent college graduate, it's time to get moving.
What if I still haven't found a job?
What if your job search takes longer than expected, or all your friends already seem to have found their dream jobs? It can be demoralizing but keep in mind that this happens to most of us at least once or twice in our lives, so you're in good company. Now is the time to stay positive and active, so you're ready with an answer to the question, "What have you been doing since graduation?"
Here are a few ways to continue boosting your marketability and morale as a job seeker (Be sure to put these on your resume and LinkedIn profile as well.):
Learn if you can use your college's career services after graduation as an alumnus or alumna. As discussed earlier, this programming can be invaluable in all sorts of ways.
These services are free to North Central alumni; other colleges will charge grads. But it's worth asking, especially if you don't have experience with online interviews and your alma mater can connect you with software like Big Interview.
Educate yourself
You don't need a master's degree to engage your brain (though pursuing an advanced degree can be a great next step, if it's right for you and you can afford it). You'll find all kinds of online course offerings out there, and lots of them are free. Bachelor's degree holders often use options like Coursera, MIT's open courseware, or Yale's open courses. Learn a new language with Duolingo or consider Lynda's job hunting course.

Find out if anything is offered at your local library, and remember that TedTalks can be a great place to find inspiration. While you're at it, stay up-to-date on your field, its primary employers, or any job opening you can find through social media feeds, professional journals, and networking groups.
 
Volunteer for an organization or cause that you care about.
You'll undoubtedly develop some new skills, but you'll also expand your network. Bonus: You'll make the world a better place.
 
Create a personal website and blog about your chosen field.
Be sure to add to your email signature.
 
Find a "for now" job at a local restaurant or retail shop.
You'll make some money while also demonstrating your work ethic.
 
Finally, consider whether you've narrowed your job hunt too much.
Are there types of jobs that you haven't considered, but that you'd enjoy and be good at? Are there industries or employers you could explore further? Can you look for a job opening in other areas of the country?
Fouts reminds students that they don't need to find the perfect job right away; they're just starting their journey along their career path. She encourages students and recent college grads to consider any and all career opportunities – including the unexpected and unplanned. "Your first entry-level job isn't your forever job," she says. "It's just your first step, and it will lead to other positions."
Nunez agrees. "We advise every student to be active, because competition is increasing. Be flexible, because markets are constantly responding to changes in the world. And be patient, because these days especially, employers are trying to figure out what their future will look like...  and recruiters are processing a higher than usual volume of candidates."
An award-winning writer, Lauren Ford runs her own communications firm, which serves a variety of not-for-profit organizations across the United States. She earned her bachelor's degree from Connecticut College and her master's from the University of Chicago.