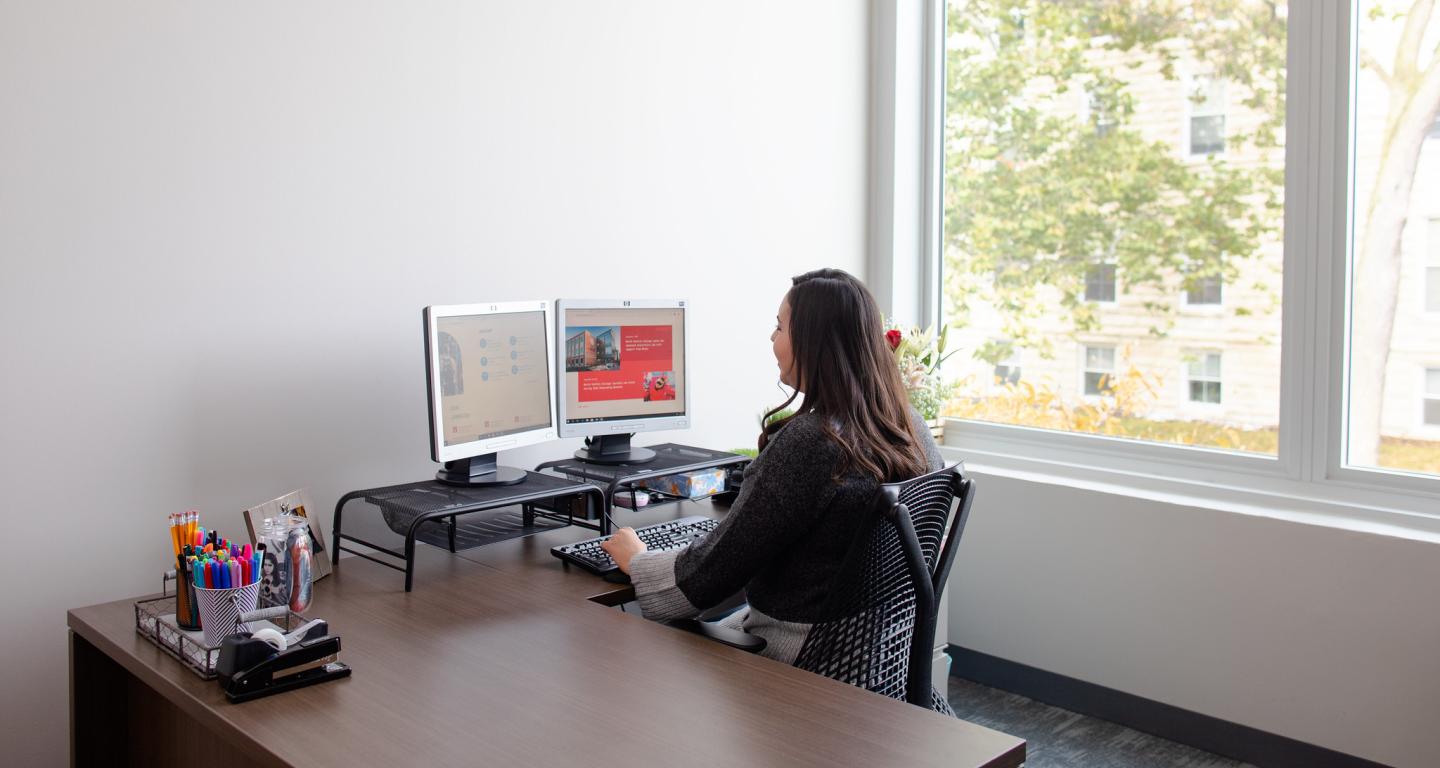 Writing a Recent Graduate Cover Letter
Oct 15, 2020
How to write a cover letter as a recent graduate
If you're a recent college graduate and looking for your first professional job, it's crucial to carefully construct your resume––and then write the perfect cover letter to go with it.
It's important to give your cover letter as much attention as your resume because industry experts say that a cover letter is just as important when you are considered for job opening. Carefully written, your letter should market your most relevant skills and experiences so that you position yourself in the best light possible for recent graduate jobs.
An entry level cover letter is key to sharing your relevant experiences with a hiring manager. You want them to know about your college resume, details of those experiences, and how you fit with their company. You want to make sure they know that your skills and experiences match what they're looking for, whether you're a graduate in business, STEM or creative majors.
You can also use your cover letter to explain a specific experience or to add in an anecdote that also reveals your personality. For example, you can explain that you're willing to relocate for the position or provide other valuable information about yourself and experiences that your resume can't.
Begin with an outline of the details you want to include. Take time to consider what you've accomplished, your best skills and abilities, and what makes you standout. After all, the goal is to write a compelling letter that connects your qualifications with the job description and impresses your prospective employer.
Perhaps check the resources of your alma mater to get started on how to find a job after college, and the writing process for resumes and cover letters. Many colleges and universities have online advice and opportunities for personal counseling to assist you. You will also find extensive resources for entry level cover letter templates and sample cover letters.
How should you begin to write your letter?
Begin by making a list of honest answers to the topics listed below. This will help you kick-start an outline for a cover letter that will land you your dream job!  
List your unique qualities and strengths.
Think about what attracts you to this employer.
How will you use your talents in this position?     
What skills and abilities did you develop from a summer job, internship and on-campus employment?
What accomplishments are you most proud of?
How can you provide examples of transferable skills, like communication skills, a strong work ethic, teamwork and interpersonal skills? Remember, employers also are looking for analytical skills, problem-solving skills and technology skills.  
Think about what class assignments and projects have resembled "real world" experiences.
What student organizations have you been active in? Did you just show up for meetings or did you hold a leadership position? That's an important distinction.
Did you study abroad? Do you have international experience and fluency in another language?
Have you done an internship that is relevant? What skills did you learn during this internship and how are they applicable?
Now that you have your inventory of selling points about yourself, you can begin to write an effective cover letter. You should never write more than three or four paragraphs that give the reasons why you are qualified for the opening. You don't want to repeat your resume, just point out some highlights. Explain why you are interested in the position, include professional information, and show that you have an understanding of the organization. Then finish with a strong closing paragraph that includes your availability for an interview.
What sections should my cover letter include?
Your cover letter should include these sections, common to standard letter formats:
Heading: Date, your address, home and cell phone numbers, email address, and address of the employer.
Introduction: greeting, add name of specific person if possible
Opening paragraph: Give the name of the position you're applying for and how you heard about it. Tell the potential employer why you are qualified. Include two or three examples that you will expand upon in the letter. These topics should come from your resume. Here is some sample content from a letter template accessible at Indeed.com: "I was excited to find the above open position at [company name] and would like you to consider me for the job. As you can see from my resume, I have [relevant recent experience, including number of years/months and brief description of what you did]."
Two to three body paragraphs: Your letter should specifically pertain to the job application. Give compelling reasons and specific examples about why you are qualified for the job. Do not just list your skills, the cover letter is meant to expand upon the lists in your resume. Use keywords in your letter that are cross-referenced in the job description and align the language. List additional experiences and education that matches the job requirements and demonstrates your qualifications for the position. Your cover letter should be formal and professional. However, you can adapt your cover letter to fit the style of the business. Check the company's website and social media to help you determine the appropriate tone to use.
Closing:  Emphasize again why are you perfect for the open position.  Include your availability for an interview, and how the hiring manager can reach you. Here is an example from Indeed.com: "Thank you for your time and consideration. Feel free to contact me [best time to contact or "anytime" if you have no preference] at the above number if you would like to schedule an interview."
How to ensure your letter is successful
Make sure you've formatted your cover letter in the right way.
Study the information about the job opening carefully and refer your qualifications to the specific position.
Research the employer and use your networking skills to speak to people who might have connections to the company.
Do an informational interview with people in your network to understand more about the company and possible tips for your job search.
Proofread, proofread, proofread! If your letter contains typos and grammatical errors, you may get passed over immediately. Careless errors demonstrate that you don't have attention to detail and aren't focused on adequate communication skills.
If you have written several cover letter drafts, double-check to make sure you're referencing the right position and correct organization.
Ask multiple people to proofread your letter and offer suggestions.
Before you send it off:
Verify the contact information and address for the employer. Then make sure your own contact information is correct, again! Do you have a link to a personal website or portfolio? If so you could add it.
Again check the spelling of the hiring manager's name before you send the letter.
Choose the right file format, such as .doc or PDF formats. To select a file format for your cover letter, click on File, Save As, and find the "Format" field. From a drop-down menu, you can select .doc or PDF.
Jenny Foss of themuse.com offers these insights from hiring managers who read cover letters:
Think about engaging the reader. Do you have a theme or a point to make that will make you stand out?
Are you relaying your excitement for the job and the company? A hiring manager can tell if you've done your homework.
A cover letter allows you to really emphasize why you're applying for the position and why you're unique among dozens of other applicants.
If you're passionate about the company's products or services, this is your place to share that enthusiasm.
Explain how your skills and talents can meet the needs of the employer. This will show that you've tailored your application to this job and that you're a good match.
Give your letter some personality.
Make sure you connect your skills and experience to the job description so your employer knows you can make an impact on day one.
 
Cover letters for recent graduates in business majors
As you prepare a recent graduate resume and sample cover letters, ask several faculty members at your college or university for feedback.
"Everyone has a different perspective and I encourage business students to talk with instructors who've been in their desired field," said Ryan Decker, assistant professor of economics at North Central College and a former executive at PwC in the area of Financial Transactions Transfer Pricing. "Find faculty who've actually reviewed resumes and cover letters and interviewed candidates in your desired line of work."
For a business major, having work experience and/completing an internship is a huge plus, said Decker. "It's also about crafting the language in such a way that it speaks to your skills and how they are applicable to the job you are applying for," he said. "If you do not have prior work experience, you should focus on their extracurricular activities such as organizations and clubs. But always important to highlight your unique attributes and experience to stand out from the crowd."
 
Here's a sample of how to market yourself as a recent graduate in a business major:
"I interned at Company X and spent eight weeks in their customer service program. My responsibilities included working with customers, entering information in a database, and answering inquiries. I am confident the skills learned from this experience will help me succeed in this position. In addition, I have taken several courses in business communications and marketing. I also have advanced technology skills, including programs like Salesforce."
Recent graduate cover letter examples for a creative major
If you're hoping to enter a field that uses a major in a creative field or major, your cover letter should be the first place a potential employer or hiring manager sees your creativity.
Think about how you might express your individuality and/or your writing and storytelling skills. How can you engage the reader and provide a glimpse of your skills?
There are many approaches, and a website like themuse.com can get you thinking about the best approach for you. You could consider telling a personal anecdote or explaining your passion for writing, designing, theatre, directing, or public relations upfront.
If you've been active with your school publication, here's an example of how you can market your skills:
"One of my responsibilities has been to proofread and edit the articles written by student reporters about campus events and local news. This experience not only helped me improve my editing skills, but also required me to develop skills in leadership, time management, communication, and teamwork. In addition, my coursework sharpened my writing skills and research and analytical abilities. I feel confident that my editorial experience and academic work will make me a valued employee of your public relations firm."
Recent graduate cover letter examples for a STEM major
If you're a recent graduate or still in school, ask for help reviewing your cover letters from faculty who've worked in a STEM (science, technology, engineering, mathematics) field you're entering. They can give you some important insights into a job interview and what hiring managers are looking for.
"I always tell my students to first work with our campus career services professionals to get help with writing cover letters and resumes," said Frank Harwarth, professor of engineering at North Central College who spent three decades working in the industry. "Then I will often review them before the students submit them to a company."
 
In your letter, Indeed.com recommends explaining why this position is a great fit for you and how this position is in line with your future career aspirations. Highlight the accomplishments on your resume that match with the requirements in the job description. If you've performed research, explain your relevant experience, qualifications, and skills. Use data and facts to quantify your qualifications, if you can.
 
Here's an example of a cover letter to market yourself  in a computer field:
"From the job description, this position requires a background in many types of programming and software used in web design. This includes C, C++, Visual Basic, and Java, and you'll see that I have extensive course work and first-hand experience with these programs. My student job experience as a troubleshooter in the campus information technology office helped me further develop my skills.  Additionally, I worked as an intern for [a software company] last summer. This experience provided additional exposure to both PC and Mac platforms and a variety of software. The skills I've developed would be a great asset in helping your IT department in this position."  
In closing, here are a few final tips.
Do:  
Write a strong opening statement that explains why you want the job and why you're qualified for it.
Be succinct - a hiring manager wants to gain the key points quickly.
Share an experience that shows you can tackle the employer's challenges.
Don't:
Try to be funny - you can fall flat and give the wrong impression.
Send a generic cover letter - customize every letter for the opening
Include too much insincere flattery and praise- your tone should be professional.
Laura Zahn Pohl is an editorial director in higher education with more than 17 years of experience as a content writer, publications editor and speechwriter. An honors graduate of the University of Iowa School of Journalism, her experience includes corporate communications and freelance reporting for the Chicago Tribune, Daily Herald and Kalamazoo Gazette.