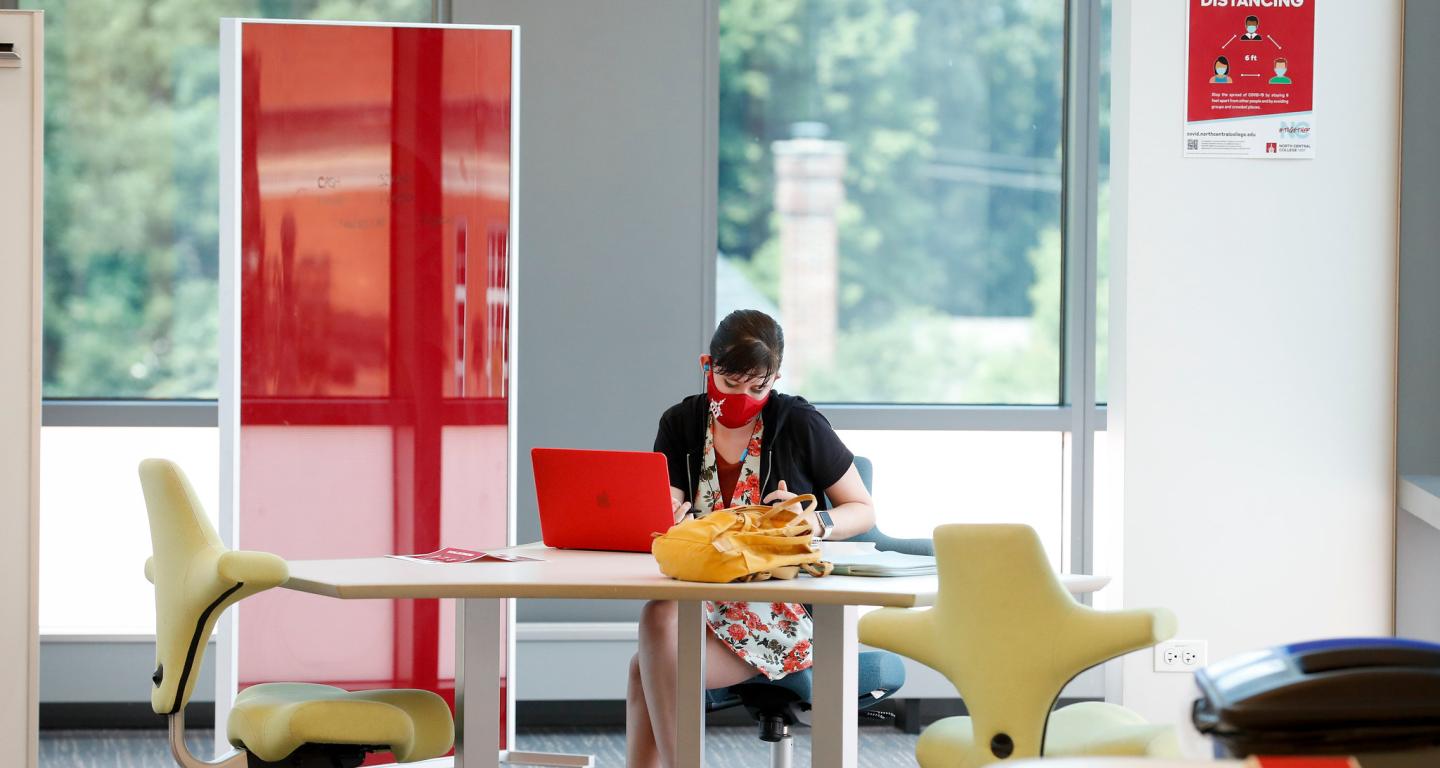 How to Create a Personal Website
Nov 02, 2020
How to create a personal website for students and recent graduates
The job market has changed a lot in recent years. Employers are looking for more and in different places, than they ever have before. You can't just walk into an interview with a resume and be done with it. They will want to know more about you than a list of locations and grades on a page, and they know where to find that information. You have to be careful about what you have on your social media accounts, and you need to Google your name to make sure nothing embarrassing pops up.
It's not just about what you don't want a potential employers to see, but what you do. Remember that employers are people just like you and ask yourself: what's a better way to keep your attention? A list on a sheet of paper? Or a web page? Just like when you filled out your online college application, you need a way to differentiate yourself from other candidates. A personal website might just be what you need.
Personal websites are getting more and more popular as either an addition to or a substitute for a resume. They're interesting, relatable and give you a chance to show off your skills even more than the usual interview materials. When you are thinking about how to find a job after college, you'll still need to spend plenty of time learning how to write a "recent graduate" resume, as well as writing a recent graduate cover letter. But this final piece of the puzzle may be what gets you the career opportunity you're looking for.
So let's find out what a personal website should look like and whether it's right for you.
Should I have a personal website for my resume?
This might be the first time you're hearing about or even thinking about a personal website or resume website. Before you get too upset about yet another thing on your job seeker checklist, know that you're not alone. Personal web pages are an untapped resource that many on your side of the equation haven't taken advantage of.
Jacquelyn Smith of Forbes writes, "According to Workfolio, a … company that develops applications for professional visibility, 56 percent of all hiring managers are more impressed by a candidate's personal website than any other personal branding tool—however, only 7 percent of job seekers actually have a personal website."
Those numbers are pretty eye-catching, but they might not be enough to move you. After all, you know yourself, and you may feel like your personal brand can only really come across in person, so there's no need to spend time shopping for a website builder.
There's a new reality you have to account for, though, and it's not going anywhere anytime soon. COVID-19 has made it almost impossible to do in-person interviews anymore, and even without the virus, a lot of employers may be more interested in virtual interviews that save time.
Does that mean you have to trust in a bland personal brand website? That you can't win over a hiring managers with your unique charm anymore?
Adam Fontana, director of web and digital strategy at North Central College, says that's far from the truth. "You know the saying, 'First impressions are everything?' The shift to digital doesn't negate this, and if anything, makes a candidate's digital presence more crucial than ever," Fontana said.
In other words, your online presence may seem impersonal, but it may actually say more about what makes you stand out than one half-hour conversation ever could.
So is it expected that you have a personal site to share for any job you might apply for? Not necessarily. As Angelique Evans wrote in The Muse, whether you need a personal website really depends on what kind of work you're looking for.
"If you're a media, digital, or creative professional—absolutely. Same goes if you want to otherwise establish yourself as an expert in anything and don't already have your own professional blog," said Evans. "If you're in a traditionally non-creative field with structured recruitment and hiring methods, such as accounting or law, a personal website might not help you as much professionally. But if you have a side hustle or hobby and you're active in the online community, then a personal site can be helpful to grow that online influence, too."
You have to use your judgment. Having a personal website, as long as it's designed well, is never going to hurt you. Only you can decide whether it's worth your time and energy to spend part of your job searching time putting a personal web page together.
How can I create a personal website?
Odds are you've seen and heard plenty of advertising by companies selling personal website templates--that is, if you ever listen to podcasts, watch television, or stream video. It's okay if you didn't pay that much attention because we can save you some time.
The industry leaders are leaders for a reason; their services work, they're affordable, and they can afford to market themselves. If you have the ability to build your own site and create a custom domain, odds are you already have. For the rest of us, you should start with companies like Wordpress, GoDaddy, Wix, Squarespace, and Weebly, which is particularly good for building mobile sites.
Each one will offer you a display website with a lot of information about what they can do for you and reviews from their satisfied clients. It can get a little overwhelming, but the most important things to focus on are their pricing plans, contract lengths, and examples of their work.
If a vendor offers you a free trial, it's a good way to get a look at what it's like to use their site-building tools and how easy they are to understand. For example, you can start working on a Wordpress template for free anytime.  If you're not picking up how to use their professional website quickly, move on to another. Ease of use is what you go to them for, and building a website is supposed to be easy. The tough part is in the finer details.
The basic plan each site offers should be plenty for your purposes, so be wary of upcharges or spending too much. Remember that if for some reason your personal site doesn't do everything you need it to, you can always upgrade your plan later, but odds are you won't need to. A flashy site loaded with features is not nearly as important as one with a simple template that's easy to use and shows attention to detail, which is what these vendors focus on.
As Fontana put it, "You don't have to be a designer (unless you are applying for a design role), but a candidate's approach to how they organized their website in terms of navigation gives me insight into how they might approach client-centric problem-solving and project organization. Clear navigation tends to come from consideration of the user, combined with an ability to organize content."
What should a personal website contain?
Once your web vendor has taken you through the steps of building a site with their product, the choices move on to you. You will have a lot of options to include on your personal website, but what's most important to include? Step one is to favor function over form--the site has to work and be easy for people to follow. After that, you have to start thinking of yourself as the product. Personal branding and highlighting your best qualities is a crucial part of building your personal website, but can also take some time and though. A potential employer needs to be able to take a good look and know who you are and what you can bring to the table in just a few minutes.
A great organizing format comes from Michal Tomek on kickresume.com: "When thinking about your personal website, use the marketing AIDA (Attention, Interest, Desire, Action) as a guideline. In the end, you are becoming the marketing and sales department of YOUR NAME, INC. You have to promote and sell your skills, experience, knowledge, as well as your desire for a new challenge.
In other words, your visuals and design should be simple but distinctive so that anyone looking is immediately drawn in and wants to see more. The site should have a significant amount of rich content on every page, so the user keeps reading and doesn't exit to another site. You should emphasize your value enough that an employer feels they need to hire you because you have so much going for you, and you're such a good fit for their opening. Most importantly, you should have contact information presented clearly, so it's easy for an employer to get in touch and hire you.
That's a general framework to follow, so let's move on to specifics. Jacquelyn Smith points out some absolute musts for every personal website page: "A focus. Contact information. A professional headline. A brief bio. Your resume. (A) professional summary/objective. Samples of your work. Results. Links. A blog. Videos and other relevant multimedia. Testimonials."
As you can see, this is what you've always wanted if you felt a one-page resume was too restrictive. Your focus is self-explanatory--you're focused on showing off your skills and qualifications with the goal of getting a job.
Contact information should be presented clearly and comprehensively. If there is any way to reach you that you're comfortable with, include it here. Don't put your home address on your site, but at the very least, include your phone number and email address. The footer of the page is a good place to keep this data, as it'll show up on every page of the site. Again, be cautious with Twitter or Instagram. Only include links to your social media profiles if you're sure there's nothing illegal or unprofessional on them.
A professional headline can be like the objective in your resume. Mention the role you have now, or if there's a job title you consider as defining for you, which can be "undergraduate student" or something like "public relations assistant."
A brief bio or "About Me" can be its own page on the site, where you list what you're interested in and what you do in your spare time. It's important for employers to know this stuff, as there's more to you than your work and school experience and it can help them see you'll be a fit for their work environment. Remember this section should be pretty short, written in a formal tone, and include things they can't find on your resume because you're including that, too.
The resume can take up a page for itself, but you should also include a link to download it. Your professional summary is a quick description of what your skills are, what kind of work you're looking for, and why you're a good fit for that sort of job.
From here you really get into the meat of the site and what employers are most looking for. A portfolio full of evidence to back up your claims of being perfect for the role. Work samples can take many forms. For creative types it's easy: if you're a writer, upload your files, or an artist, put some pictures of your artwork on the site. But even if something isn't a fascinating read or pleasant to look at, you should include it in a form that gives your employer a chance to evaluate it. A communications plan, a research paper, a lab experiment, or something you've built--it's all fair game in your personal portfolio.
As a student, you're actually in a great position to do this because your projects and assignments are fresh in your mind and right there on your hard drive or network drive to be included. The important thing is to be critical and creative. Don't upload or include pictures of everything you've ever done, but really think about what's most impressive. Ask your professors or bosses for their opinion to help you decide on just what to include to create a great personal website.
"Hopefully, you have a couple awesome projects from current or previous jobs, internships, classes, or even side projects," said Aja Frost of The Muse. "But if you don't, hiring managers say it's okay to share something you're proud of—even if it's something you just did for yourself … Oh, and what if you don't have those jaw-droppingly impressive projects to show off? (Even) a flop can make for great material." That is if you can write what you learned from the failed project that made you better in the future.
Video is always more compelling than documents or static pictures, so if you have recordings of yourself presenting a paper or project, or if you want to make a profile video about yourself, a few of those can be very beneficial. Along those same lines, many website builders include the option to have a blog on your site. Blogs are a good chance to display your expertise and opinions while displaying that you stay up to date on current trends in the field you want to work in.
Finally, it's important to include a section on results. Ideally, these would be job-based projects that brought in a tangible benefit for your company, like getting a contract with a client or creating a campaign that results in a profit or more exposure. School projects are simpler to document, but saying you got A's on your assignments time after time will only get you so far, so if at all possible try to include something you've done as part of a job.
Testimonials are also vitally important. Ask your bosses or professors for a sentence or two describing what makes you valuable and why they think someone should hire you. Reviews from customers or clients can be even more valuable, just make sure you have permission from anyone you ask for this kind of help.
Once your site is finished, make sure to show it to someone you trust before you give the URL to employers. Ask for their honest opinion, especially on how easy it was for them to get around the site and find out what they wanted to know because that'll be most important to the person making the hiring decision.
"When I have the ability to dig through a candidate's website, I like to see how they approach organization, layout design, and their communication strategy," said Fontana. "I want to hit a candidate's website and walk away with answers to these 3 questions: Does this candidate approach their website with consideration to the user, in terms of organization, layout, and ease of navigation? After 10 seconds on the homepage, do I have a clear understanding of what a candidate is attempting to communicate? And does the website presentation represent the candidate's ability to potentially communicate with our client/customer-base?"
For some good personal website examples, check out this list from The Muse, a trusted source for career search resources, which divides them into different types and gives you an idea of the range of what is out there on the job market.
And for more job search resources, be sure to visit the Career Development site from North Central College, where they can help you with writing resumes and cover letters as well as prepping for interviews and career fairs.
Jacob Imm is a communications specialist in the North Central College Office of Marketing and Communications. He has 10 years of collegiate communications experience and has worked with hundreds of college students. He has a bachelor's degree from the University of Notre Dame and a master's degree from Northern Illinois University.