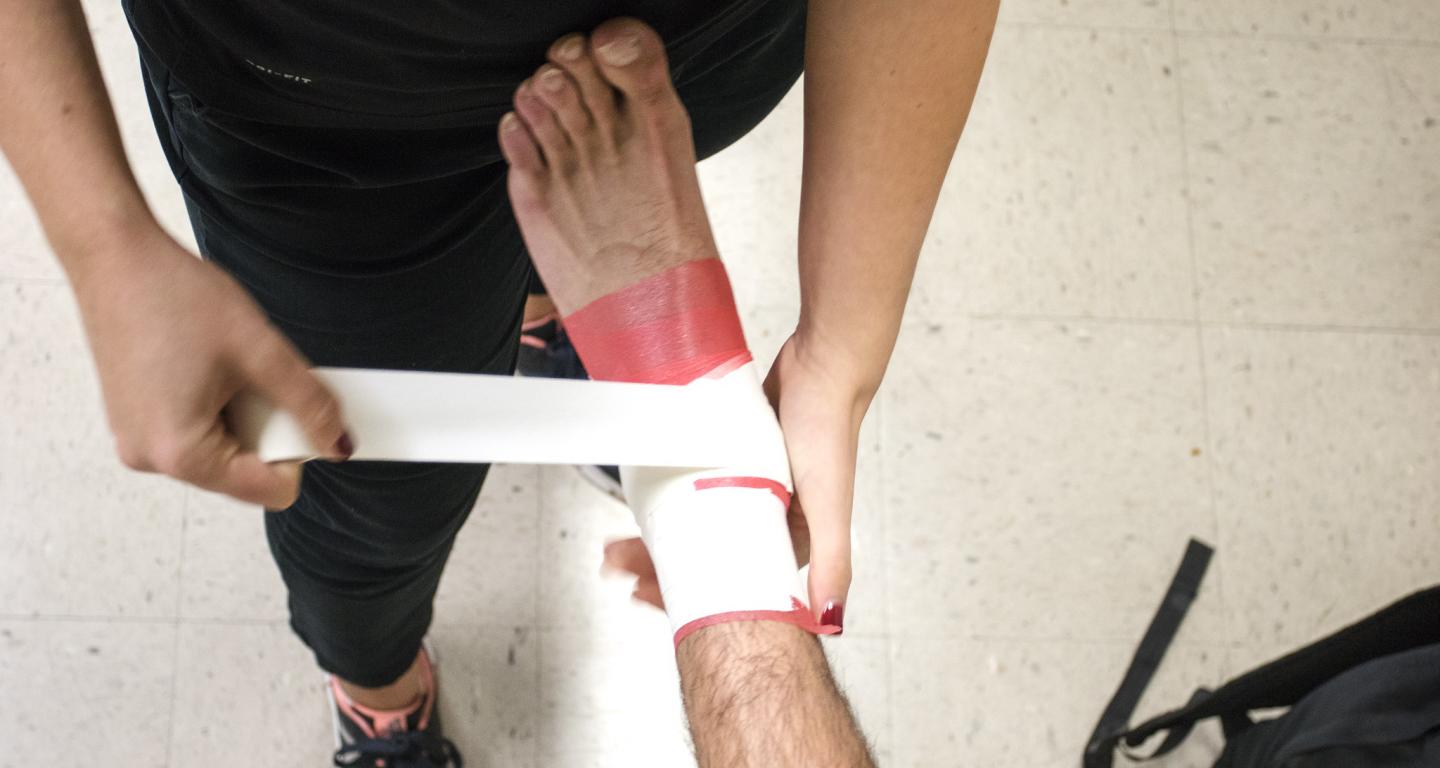 Top 14 Athletic Training Interview Questions
Jul 20, 2021
Top 14 Athletic Training Interview Questions
You have worked hard to earn your degree, gained experience at a job or internship, and gotten licensed and certified. So what can you do with an MS in athletic training? Well, now it's time to apply all your knowledge and take the next step in your career as an athletic trainer. This is an exciting and challenging time in your life. It's time to start interviewing! I'm sure you already know what to do before the interview but anticipating the questions the interviewer could ask may ease anxieties. The more prepared you feel, the more confident you will be.
How much do athletic trainers make? How in-demand are athletic trainers? The U.S. Bureau of Labor Statistics projected the athletic training profession will grow much faster than the average for other occupations, increasing 16 percent from 2019 to 2029. A new awareness of the long-term effects of injuries, especially sports-related, has created this demand for sports medicine and the athletic training profession. Athletic trainers also help patients that are not athletes, such as military personnel and performers.
As healthcare professionals, athletic trainers (ATs) examine, treat, and rehabilitate injuries and medical conditions. ATs also work in injury prevention, emergency care, and educate patients in nutrition, wellness, and fitness. When in an interview, try to steer the focus in a direction that will prove you are the best fit for this job. Create your questions, answers, and resume in a way that will assist you in convincing the interviewer to look no further. What you choose to focus on during the interview process may be different for different institutions. What you decide is best to highlight when you are pursuing a job at a college or university may be different than what you choose to highlight for a position at a hospital.
After you've learned how to become an athletic trainer, gotten your degree and finished your certifications, it's time to prep for the job search. Be sure to prepare your resume before applying for positions in athletic training. Make multiple versions of your resume based on each job position you are pursuing. Research each potential workplace and the responsibilities of jobs you are applying for. Highlight your education, achievements, and extracurricular experience based on those responsibilities and relate them to the work you will be doing as an athletic trainer. For example, if you interned at a fitness center, you will definitely want to highlight that on your resume.
Talk About Your Experience and Qualifications
Kendall Selsky, associate professor of athletic training and director of the athletic training program at North Central College, provides some background on what you can expect from the interview process for athletic training programs:
"ATs have skills that are required in many settings: decision-making abilities with strong legal, ethical, and moral grounding; excellent communication skills in written and oral formats, empathic and patient-centered approach; as well as an ability to handle stress and potentially conflict; and a strong emphasis on collaboration. An interview process will include multiple levels of interview to establish whether the candidate has these skills."
Incorporate the experience and qualifications mentioned on your resume into your answers during the job interview. Always look for opportunities to share what you can add to this position. Make it personal. Talk about the difficult injuries, unique patients, and athletic training education you received as an athletic training student.
Everyone gets nervous during an interview, but you can find ways to relax. Do not allow the hiring manager to make you nervous. Remain calm and positive throughout the interview. Make eye contact and be honest. The interviewer should feel your enthusiasm for athletic training. Here are a few interview questions you may receive if you are interviewing for an entry-level job after earning your bachelor's degree:
Questions
Question 1: What are your strengths?
Tip: Use your accomplishments to back up your claims by connecting them to your strengths.
Question 2: What are your weaknesses?
Tip: How honest is too honest? You should always be authentic in an interview. Do not pretend you are perfect—I guarantee that will not get you the job. Own up to a flaw that maybe isn't all that bad and share the steps you are taking to correct it.
Question 3: Why should we hire you?
Tip: This is the perfect opportunity to show how confident you are. Ask yourself, what are they looking for in an athletic trainer? Think about how you can convince them to hire you over all the other candidates.
Question 4: What was the most challenging course you took while completing your athletic training program?
Tip: Interviewers may ask questions about your college athletic experience to break the ice, or you may not have much professional experience for the interviewer to ask about. Don't be afraid to admit you struggled in certain areas and take responsibility for the grades you may not be so proud of. Share how you have grown from this challenging coursework.
Question 5: How do you evaluate a patient's readiness to resume physical activity?
Tip: Highlighting your decision-making skills can convince the interviewer you will make the right decision in what could be a difficult situation. A mock interview may help prepare you to walk the interviewer through your evaluation.
Question 6: What techniques and equipment do you have experience working with?
Tip: As a recent graduate, you will want to highlight your hands-on learning during this interview question. Did you get clinical experience? Highlight the techniques, equipment, and key accomplishments from those experiences and follow them up by connecting them to your strengths.
Question 7: How do you motivate an injured athlete?
Tip: ATs work with many people; coaches, student-athletes, professional athletes, physicians, parents, and more. Avoid a one-size-fits-all approach. You cannot successfully provide care to individuals with that philosophy. If the interviewer asks you how you motivate your patients, you should acknowledge that every patient is an individual. Provide multiple answers based on the different types of patients you have worked with in the field. This question is an opportunity to showcase your empathy as an athletic trainer.
Question 8: During a performance or game, how do you assess an athletic injury?
Tip: Watch out! This question could come as a hypothetical question. Don't be afraid to ask for more details. Take your time, ask questions, and stay calm.
Question 9: How would you help a patient understand their injury?
Tip: This question is all about educating your patient on their injury. Highlight your communication skills, and make sure to let the interviewer know the importance of educating your patients.
Questions Specific to Your Experience
Athletic trainers receive extensive professional training as part of their degree programs, even before they enter the job market. That is why degree standards are shifting in the athletic training profession. According to the National Athletic Trainers' Association (NATA), more than 70 percent of athletic trainers have at least a master's degree already, and that number is going to rise dramatically when master's degrees become required. So here are a few more direct and experience-related interview questions you may hear if you are interviewing for an athletic training position after earning your master's degree:
Question 10: How would you share a difficult diagnosis with a patient or their loved ones?
Tip: Strong interpersonal skills are essential to highlight during an interview. The interviewer will want to be sure you can properly communicate and handle difficult situations. From the beginning to the end of the interview process, you should keep in mind who you are interviewing with.
Question 11: Have you ever misdiagnosed an injury? How did you fix your mistake?
Tip: Be honest and admit to your mistakes but focus on your growth and success. There is always something to learn from a mistake.
Question 12: Can you talk about your experiences working with other health care practitioners and physicians?
Tip: ATs work with medical experts in many settings, including a medical or educational institution, fitness center, or a professional sports team. Keep in mind the position you are applying for when choosing which experiences you highlight.
Question 13: Why did you leave your last position?
Tip: Stay positive. It can be difficult to navigate through questions concerning your previous job. Make it clear that you are at the interview seeking better opportunities and bigger challenges. Be prepared to explain why that is not possible with your previous employer. 
Question 14: What is your greatest accomplishment working as a certified athletic trainer?
Tip: Behavioral interview questions can get you off your game because they focus on past experiences. All the research you have done may cause you to want to focus on the future with this institution, but it is important to reflect on your past experiences with enthusiasm. This question allows you to do a little bragging and stand out from the other candidates.
If you think a master's degree in athletic training could be for you, consider North Central College. The curriculum and clinical experiences will prepare you to be a curious, engaged, ethical, and purposeful leader in the industry. Our expansive alumni network, expert clinical preceptors, and dedicated faculty can help you realize your athletic training goals. To learn more about North Central College's MAT program, visit their web page. 
Kamari Jordan served as a graduate assistant in the Office of Marketing and Communications at North Central College, where she created content for web and print while working toward a master of arts in liberal studies. She was also a graduate intern for the City of St. Charles, Ill. Kamari received a bachelor's degree in communication and media arts from the University of St. Francis (Ill.).