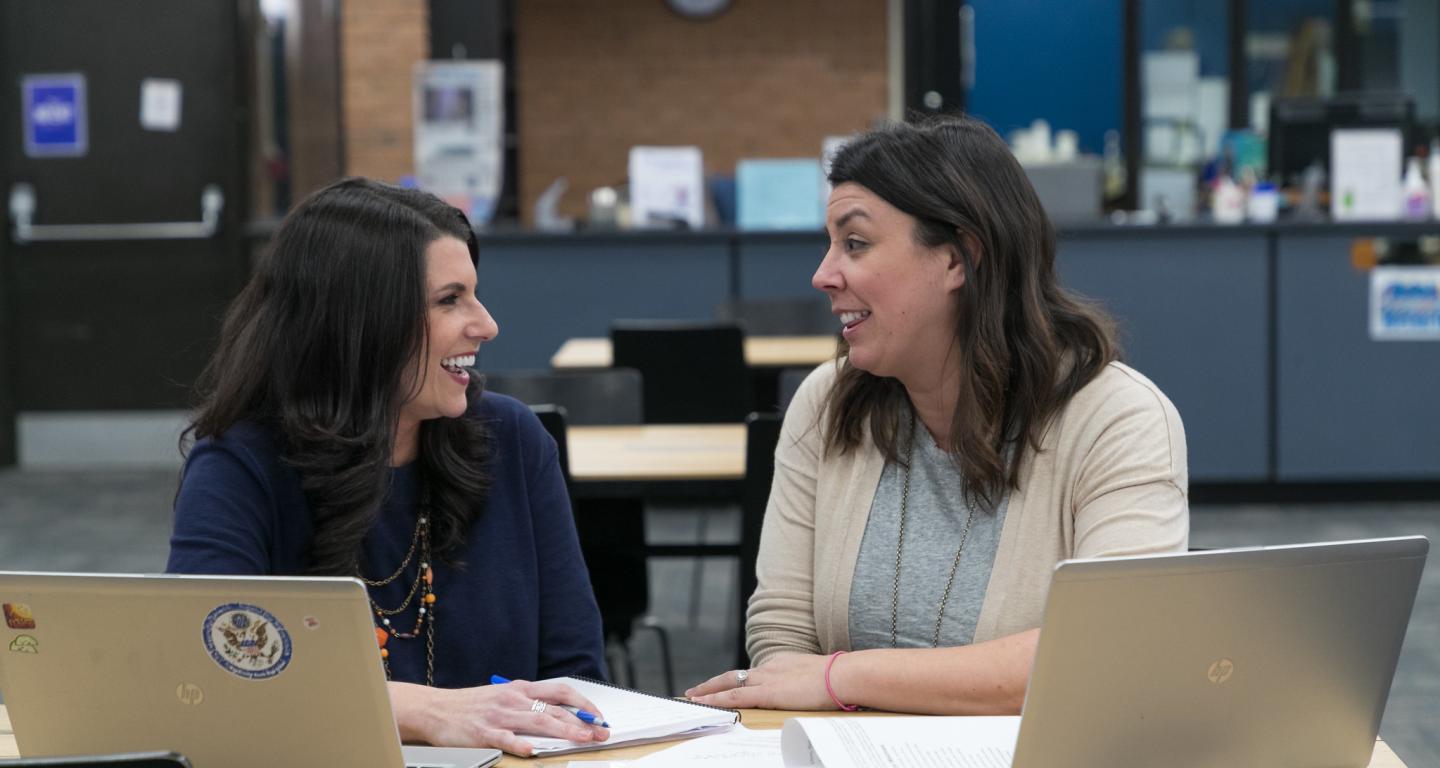 Common Internship Interview Questions & How to Prepare
Reviewed by Jacob Imm
Mar 16, 2022
Common Internship Interview Questions

& How to Prepare
According to the Job Outlook 2022 report from the National Association of Colleges and Employers (NACE), hiring managers choosing between two similar candidates "deem having an internship with its organization or within its industry to be the most influential factor." 
In other words, completing an internship program can give you a leg up, and a successful interview is the first step toward landing one. 
While the interview process varies between fields and roles, preparation is the key to success. This guide will help you prepare for five of the most common internship interview questions. 
1. The "Goals" Question
Hiring managers will often begin internship interviews with a question like, "How does this internship position align with your career goals?" 
Preparing Your

Answer
When employers ask an internship candidate a common question like this, they're looking to gauge three things: 
Your interest in the industry 

Your understanding of the company  

How much thought you've put into your future 
Spend time ahead of the interview doing research and thinking about where you see yourself in the next two, five or even ten years. A well-thought-out answer might look something like this: 
"(Example Industries') vision of a fossil fuel-free future aligns closely with mine. I see myself as a proponent of environmentalism, and within the decade, I hope to be leading the charge toward a greener future by developing revolutionary solar technology." 
2. The

"Experience" Question
Understandably, interviewers want to know about any relevant training or education you've undergone. Expect an interview question like, "How will your past experience help you in this internship position?" 
Preparing Your Answer
The purpose of an internship program is to gain work experience, so you might feel as though you've got nothing to offer pre-internship. But remember: Employers know potential interns have minimal "real-world" experience. They're not looking for perfection, but they still want to understand what you bring to the table. 
Think back to any previous school or work experiences. Even soft skills from unrelated fields can be relevant. For instance, you might answer this common question by saying: 
"In my sophomore year, I worked at a call center over the summer. There, I learned about time management and improved my interpersonal skills. I'll be able to leverage this experience to communicate with our clients promptly and professionally." 
3. The "Leadership"

Question
To encourage you to expand on your experience, a hiring manager may say something like, "Tell me about a time when you entered a leadership role." 
Preparing Your

Answer
Here, interviewers are looking to gauge your ambition and how you work under pressure. Think back to a time you took charge of a situation in: 
School 

Work 

Extracurricular sports 

Family affairs 

Your friend group 
But, instead of simply describing a past situation, explain how you would do things differently now to show critical thinking and growth. For example: 
"During a group project in my third-year chemistry course, I took on the role of leader, as it was clear some of my partners were hesitant to step up. Because I wanted to succeed, I took on more than my fair share of the project. In hindsight, I wish I had been more assertive in assigning tasks to my partners. I've since learned that being a strong leader means delegating work to my teammates." 
4. The "Scenario"

Question
Scenario questions vary from industry to industry, but they're usually a problem-based situation and a variation of, "Suppose X happens; what would you do?" 
Preparing Your

Answer
Employers know you don't understand their internal systems or policies. Instead of imagining constraints, answer how you would solve the problem in an ideal world. You may uncover a potential fix for one of their age-old issues and prove yourself as an excellent candidate. 
Suppose that a marketing firm asks you a question like, "How would you handle a client that is displeased with your work?" You might respond with: 
"First, I would schedule a meeting with them to understand why they're unhappy. From there, I would work alongside their team to revise the campaign and solidify a new deadline. Finally, I would offer them a 10% discount on their next campaign. I'm not sure if that's an option here at (Example Marketing Firm), but that's what I would do if I were in charge!"
5. The "Teamwork"

Question
Most interviews include a question along the lines of, "How do you work in a team?" or "What is your work style?" 
Preparing Your

Answer
Questions about teamwork shine a light on two things: how you are as a coworker and how you are as an employee. Your answer should tell your employer how they can best support you and how you treat your colleagues. 
Here's an idea of how you might respond: 
"On a team, support and communication are extremely important to me. For example, if someone asks me for help with a task, I won't just fix it for them—I'll try to understand their issue and work to revamp the process. In the same vein, I'm always open to feedback from my coworkers and managers so I can improve my own work." 
General Interview Tips
Because it's impossible to guess the exact questions you'll encounter, it's wise to prepare for a wide variety of scenarios. Below are some tips that will help you in nearly any internship interview:
Answer honestly – Honest answers benefit both you and the hiring manager. Don't tell your employer what you think they want to hear; instead, tell them the truth. Otherwise, you may find yourself in a job that doesn't align with your goals or skill set.
Prepare your own questions – An interview is a two-way street, and you should ensure your needs are met, too. You may want to ask about opportunities for growth, or what a typical work day looks like.
Dress the part – Business casual is typically enough for an interview. Still, you should always research a company's dress policy beforehand.
Set Yourself Up for a Successful Internship
Ultimately, before you can complete an internship, you have to conquer the interview process—and preparedness is your pathway to success.
Schools like North Central College understand how important it is to prepare students for the interview process and beyond. That's why students and alumni can take advantage of internship and job information online or visit the Office of Career Development for resources like sample questions, internship cover letter examples and one-on-one support.
For more advice on internship prep, check out our guides answering, "What is an internship?", "What is the difference between an externship vs. internship?" and how to write an internship cover letter.
Jacob Imm is the assistant director of communications at North Central College Office of Marketing and Communications. He has 11 years of collegiate communications experience and has worked with hundreds of college students. He has a bachelor's degree from the University of Notre Dame and a master's degree from Northern Illinois University. 
Sources:
Gray, K. (2022, January 7). Internship Experience the Most Influential Factor in Tough Hiring Decisions. National Association of Colleges and Employers (NACE). Retrieved January 18, 2022, from https://www.naceweb.org/talent-acquisition/candidate-selection/internship-experience-the-most-influential-factor-in-tough-hiring-decisions/