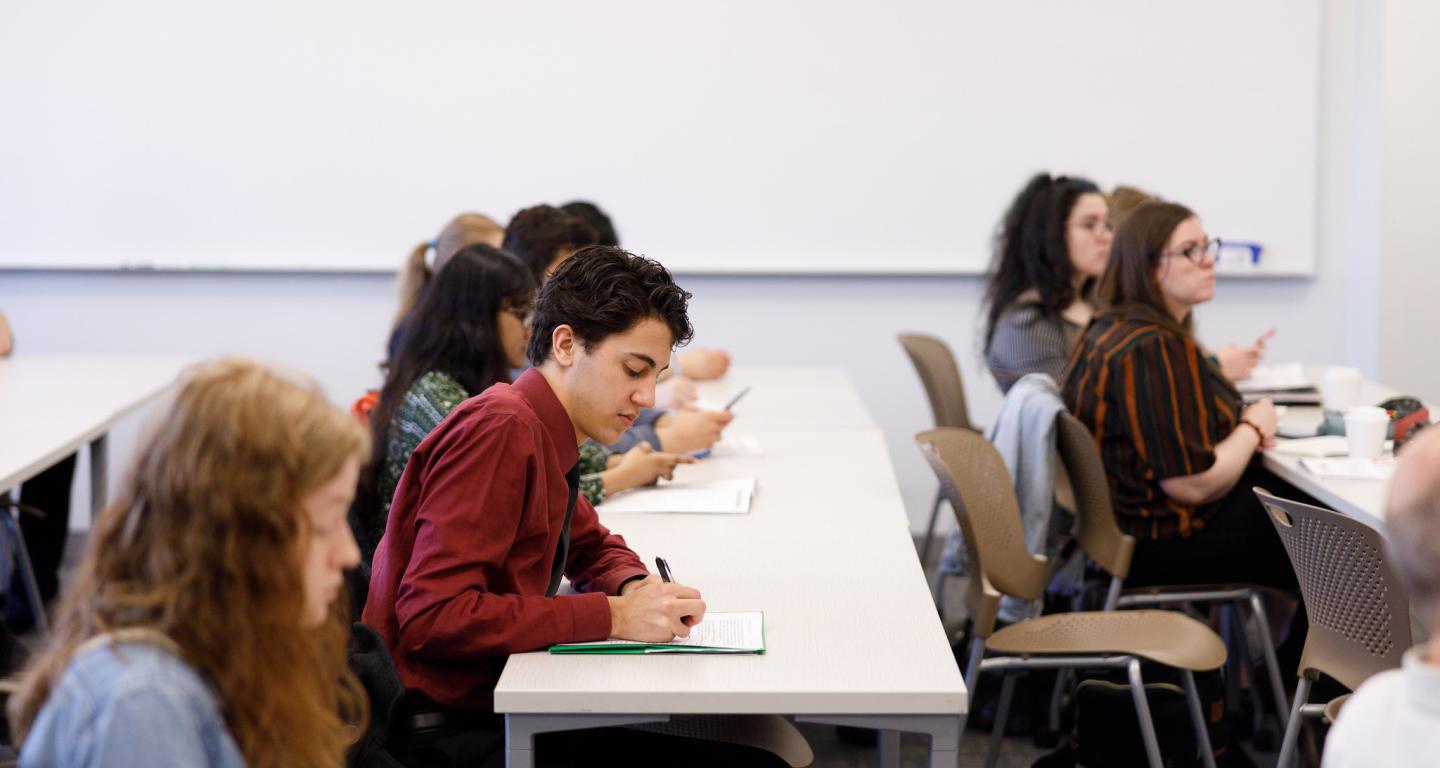 Criminology vs. Criminal Justice
May 27, 2022
Criminology vs. Criminal Justice: What's the Difference?
While criminology and criminal justice are related, they are two different fields of study. If you are thinking about pursuing a criminology or criminal justice career, it is important to know what makes them unique. Keep reading to learn how criminology and criminal justice are defined, their education requirements, and the fulfilling careers they prepare students for in the workforce. 
What is criminal justice?
What is criminal justice? While criminology studies crime and the sociological and psychological behaviors of criminals, criminal justice studies the justice system and those who work in it. In other words, while criminologists study those accused of committing a crime and why to come up with solutions to address issues involved in the crime, individuals in the field of criminal justice enforce these ideas and solutions. In the United States, the three main components of the criminal justice system are law enforcement, courts, and corrections.
When it comes to law enforcement, career paths include becoming a police officer, FBI agent, DEA official, or a U.S. Marshal, to name a few. The individuals in these roles are directly involved with the crimes and criminals themselves. They are among those who act as society's first line of defense and work to prevent or minimize crime. 
Just as vital to the criminal justice system are the courts and corrections. The primary responsibility of the courts is to determine whether the individual accused is guilty or innocent, along with ensuring there is a fair trial. The courts seek skilled professionals, such as attorneys, judges, and interpreters, to name a few, to help ensure there is equal justice under the law. Once there is a verdict, the individual accused will be relinquished to the corrections system to ensure the sentence is carried out, whatever it may be. 
If you're wondering, ​​is criminal justice a good major? The answer is yes, if you have an interest in the criminal justice system. Students majoring in criminal justice will learn about the ins and outs of the criminal justice system, including the history of its structures and its role in society today. What can you do with a criminal justice degree? After earning your degree, you will be prepared for several roles to tackle crime and enforce the law. 
What is criminology?
If you are interested in exploring the biological, psychological, and social causes of criminal behavior, pursuing a criminology degree might be for you. Students who major in criminology will acquire in-depth knowledge of criminal behavior theories, the effect of crime on individuals and society, and the criminal justice system. 
Depending on your college or university of choice, you will also receive hands-on learning experiences to solidify your knowledge and skills. For instance, at North Central College, learning goes beyond the classroom. Students in the criminology program can enhance their studies in a variety of ways, such as conducting research and presenting their findings at the College's Rall Symposium for Undergraduate Research, networking with industry experts, joining the College's Criminal Justice Association student organization, and much more. 
Additionally, students in North Central College's criminology program are also required to participate in civic engagement opportunities to put their knowledge, skills, values, and motivation into action. "Learning requires students to be active participants in the field. Working with community partners lets students take what they are learning in the classroom and apply it to whatever aspect of the criminal justice field interests them most," stated Raleigh Blasdell, associate professor of sociology.
Utilizing research on best practices in criminology education, the degree program has a solid curriculum to help students develop a well-rounded perspective and skill set that will prepare them to accomplish their goals. The program has a diverse offering of required and elective courses that include:
Community and City Life

Community Psychology

Crime, Law, and Society

Criminal Justice System

Drugs and Behavior

Gender: Patterns/Privileges/ Possibilities

Intersections of Crime

Law and Order in Cross-Cultural Perspective

Law, Politics, and Society

Policing and Corrections

Power-Based Personal Violence

Race/Ethnicity: Conflict and Change

Social Class: Get Ahead/Fall Behind

Rights, Liberties, and Justice 

Youth Justice, Crime, and Law
Looking at the list of required and elective courses above, students explore a wide range of subjects, including psychology, criminal law, and sociology, among many others that tend to overlap in both criminology and criminal justice. Requirements are designed to include necessary core coursework for students interested in either discipline. Students are able to tailor their degree depending on where their interests lie. By working alongside expert faculty and having access to unique opportunities beyond the classroom to enhance their learning, students become prepared for a wide range of roles. 
Which is better, criminal justice or criminology?
When it comes to criminal justice and criminology, both play an essential role within the justice system. Each field helps deliver justice for all and keeps society safe and functioning. Ultimately, one does not trump the other when it comes to being 'better,' but where your interests and passions lie. 
To better visualize which career route is for you, there are a number of things you can do. "Get involved in your local criminal justice community! Find opportunities to volunteer, job shadow, do police ride-a-longs, and simply talk to people working in different areas. This not only provides not only hands-on learning experiences but also provides excellent opportunities for networking," stated Blasdell. Additionally, students should also feel welcome to build professional relationships with their professors. Through these relationships, you can learn more about their experiences and start to grow your professional network. Some career paths for those interested in criminology or criminal justice include:
Attorney or Lawyer

Judge and Hearing Officers

Intelligence Analyst

Private Investigator

FBI Agent

Forensic Psychologist

Special Intelligence Analyst

Police Officer

Fire Investigator

Criminal Justice Professor

Security Manager

Corrections Manager

Probation Officer

Immigration or Customs Enforcement Agent
If you are interested in taking your education a step further, you can choose to attend graduate school. With a master's degree under your belt, you will stay competitive when advancing into specific leadership, management, or more specialized roles, such as a forensic psychologist. It will also give you a better understanding of processes and trends within the justice system.
Is a degree in criminology worth it?
Earning a criminology degree is an incredibly rewarding decision for those interested in learning about the inner workings of crime and criminal behavior and making a difference in society. There will always be a need for highly skilled and trained professionals in the field to help society understand, control, reduce, and even prevent crime. According to the U.S. Bureau of Labor Statistics, a career in criminology offers a comfortable salary, with the median pay of $86,110 per year for sociologists. There is also a favorable job outlook, with employment expected to grow five percent from 2020 to 2030. 
If you would like to learn more about majoring in criminology, take some time to explore college and university websites and the different programs offered. Students enrolled in North Central College's criminology program work alongside expert faculty in the field and have access to many resources beyond the classroom. North Central College will help you discover the right path for you as a student and your career. 
Kara Kots is the North Central College's Office of Marketing and Communications social media specialist. She contributes her content, writing, and communication skills in this role. 
Sources:
Criminology. North Central College. https://www.northcentralcollege.edu/program/criminology. Accessed March 21, 2022. 
12 Jobs You Can Get with a Criminology Degree. Indeed. https://www.indeed.com/career-advice/finding-a-job/jobs-you-can-get-with-a-criminology-degree#:~:text=A%20criminology%20degree%20would%20help,conduct%20their%20investigations%20more%20efficiently. Published February 22, 2021. Accessed March 23, 2022.
Criminal Justice vs. Criminology. CareerProfiles. https://www.careerprofiles.info/criminal-justice-vs-criminology.html. Accessed March 23, 2022.
15 of the Highest-Paying Criminal Justice Jobs. Indeed. https://www.indeed.com/career-advice/finding-a-job/highest-paying-criminal-justice-jobs. Published February 22, 2021. Accessed March 28, 2022. 
Reasons to Be a Criminologist. Chron. https://work.chron.com/reasons-criminologist-6331.html. Published February 16, 2021. Accessed March 29, 2022. 
Sociologists. U.S. Bureau of Labor Statistics. https://www.bls.gov/ooh/life-physical-and-social-science/sociologists.htm#tab-1. Accessed March 29, 2022. 
Highest Paying Criminal Justice Jobs. College Values Online. https://www.collegevaluesonline.com/rankings/highest-paying-criminal-justice-jobs/. Accessed March 29, 2022.