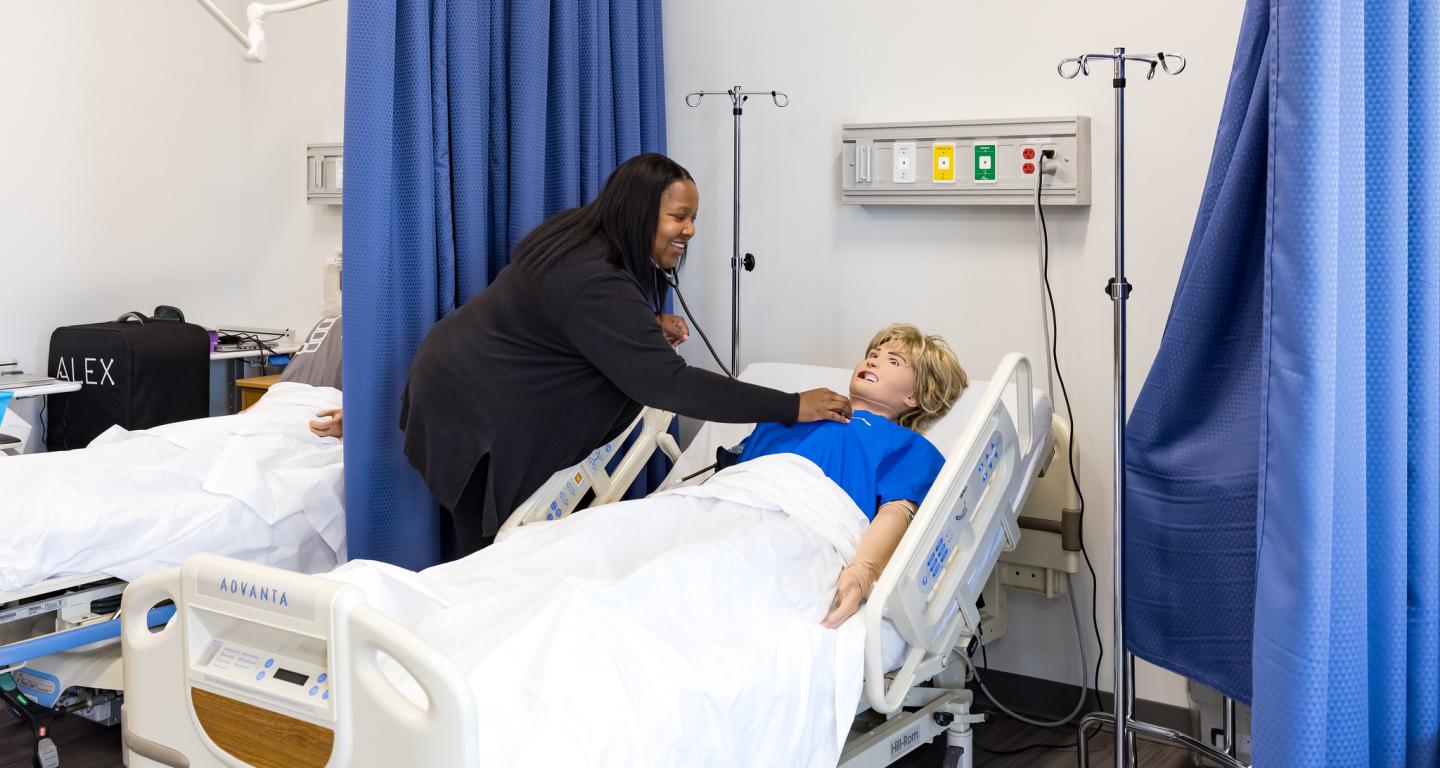 What is an Applied Health Science Degree?
Reviewed by Jacob Imm
Aug 31, 2022
What is an Applied Health Science Degree?
Do you want to find new opportunities in the healthcare field? Are you looking for options to earn a degree online so you can advance in your career? If so, read on to learn how completing a bachelor's of applied health science can prepare you for graduate school and/or more responsibility in your current profession. The applied health major will prepare you to gain leadership skills and build on your existing healthcare associate's degree for new career opportunities. That means possibly increasing your salary, taking on more responsibility, applying to graduate school, and entering a related health career field.
What is applied health science?
The applied health science major will allow you to combine your work experience and previous education with more advanced courses to earn a bachelor's degree. At North Central College, the applied health science major is geared to a student who has previously completed an associate in science (A.S.) or an associate in applied science (A.A.S.) degree at a community college or other institution and has a certification within their respective healthcare field. You can pursue your dream of earning a bachelor's degree and get it done in two years. 
Why study applied health sciences?
An applied health science degree can be your path to a better career. The applied health science program is perfect for career-minded individuals looking for a four-year degree that equips them with the skills needed to excel in the modern healthcare workplace—and perhaps move into health administration. If you find yourself asking, "Is health science a hard major?" make sure to read up on the difficulties and intricacies of the degree program before committing to the field of study.
This is your pathway to earning a bachelor's degree and even moving on to a graduate program, such as a master's in occupational therapy--and many more. Are you an occupational therapy assistant, physical therapy assistant, or emergency medical technician looking for more opportunities? This degree is for you! 
At North Central College, the two-year Applied Health Science online program has been designed to be completed in two years (four semesters and one summer) and is delivered in a 100 percent online model. This program was thoughtfully created to meet you where you are and push you to advance. You can capitalize on your current work experience and apply your knowledge to new and deeper concepts. You will graduate with a bachelor's degree, prepared for success in a graduate health science program and/or advancement within your current profession.
The curriculum is unique to the healthcare field and is centered around giving students a fully comprehensive approach to applied health sciences. You will take courses from health professionals and educators in topics like community health, healthcare ethics, wellness, research methods, evidence-based practice and medical literature review, social science, and other interdisciplinary electives (psychology, communication, ethics, leadership, or additional science courses, for example). 
"Many hospitals and health care systems and their human resources departments require a bachelor's degree for promotion and continuing advancement," said Kristin Paloncy-Patel, assistant professor of health science and program director of the health science program at North Central College. "There are an untold number of dedicated healthcare professionals currently in the workforce—many with families and other obligations—who face roadblocks toward career advancement because they don't hold the requisite degree. North Central's Applied Health Sciences program was designed specifically for those individuals. It will enable them to remain in the workforce while being part of a transformative and interprofessional learning experience where they'll cultivate new skills and advance their knowledge and expertise."
A bridge to occupational therapy 
The applied health major can be your "bridge" to a certain graduate program. "We have developed this degree completion major to offer paths to 'bridge' options," said Paloncy-Patel. "At North Central College, we've established a bridge with occupational therapy. If students meet the necessary standards, they can move to the next step, which is acceptance into our graduate-level OT program. And we're looking at more options like this in the future."
What is the outlook for applied health science majors in health professions? 
According to the U.S. Bureau of Labor Statistics, employment in occupations in the healthcare industry is projected to grow 16 percent from 2020 to 2030, much faster than the average for all occupations. With the addition of about 2.6 million new jobs, the field of healthcare is projected to add more jobs than any other occupation category. This growth relates to our aging population, which will lead to greater demand for healthcare.
The median annual health science salary for healthcare practitioners and technical occupations was $75,040 in May 2021, which was higher than the median annual wage for all occupations of $45,760.
According to Explore Health Careers, the number of allied healthcare providers is likely to grow as jobs in the healthcare industry, but an increasing number of those jobs will require completion of bachelor's and graduate degrees.
The allied health professions can be classified into two categories: technicians (assistants) and therapists/technologists. Technicians are trained to perform procedures, and their education takes less than two years. They work under the direct supervision of technologists or therapists. Cardiovascular technicians, ophthalmic medical technicians, and medical assistants are examples of careers in this category.
Health science careers options
A health science degree can provide an entrée into a variety of health professions, according to health science scholars quoted in US News. The list below provides just a sample of the many career options in the field. Of course, some listed here--such as medicine, physical therapy, and occupational therapy--require clinical training and graduate education beyond a bachelor's degree.
Community health education or public health worker

Nurse

Physician assistant 

Patient care advocate

Pharmacy sales representative

Physical therapist

Occupational therapist

Registered radiologic technologist

Research assistant

Registered dietitian

Doctor

Health information management
What are the requirements for admission?
Applying for this degree is easy, by completing this application here (link). Applicants for the applied health science program must have:
Completed an Associate degree in Science (A.S.) or an Associate degree in Applied Science (A.A.S.) degree AND

Obtained a certification within their respective healthcare field.
What skills will you learn? 
You can build upon the base of knowledge you have obtained

Explore opportunities to deepen expertise related to healthcare delivery and systems

Engage in a strong interdisciplinary curriculum featuring courses in ethics, research, psychology, and leadership

Apply foundational knowledge of health and body systems

Advance in the mastery of subjects through a transformative experience emphasizing evidence-based practice and cultural competence

Participate as a relationship-centered professional within an interprofessional collaborative team
Enhance your studies in a variety of ways
Build upon the base of knowledge you've previously obtained through education and on-the-job experience.

Explore opportunities to deepen your professional expertise related to healthcare delivery and systems.

Apply foundational knowledge of health and body systems—using up-to-date technologies.

Advance your mastery of subjects through a transformative experience emphasizing evidence-based practice and cultural competence.

Participate within an interprofessional collaborative team to prepare for the future demands of the healthcare field. 
"North Central College's comprehensive applied health sciences major has been designed with working professionals in mind," said Paloncy-Patel. "It fills a gap that has long existed for health care workers looking to sharpen their skills and reach the next level of their careers without having to put their lives on hold."
Jacob Imm is the associate director of communication in the North Central College Office of Marketing and Communications. He has 12 years of collegiate communications experience and has worked with hundreds of college students. He has a bachelor's degree from the University of Notre Dame and a master's degree from Northern Illinois University.
Sources: 
https://www.northcentralcollege.edu/program/applied-health-sciences
https://www.northcentralcollege.edu/profile/kapaloncypatel 
https://www.bls.gov/ooh/healthcare/home.html
https://www.usnews.com/education/best-colleges/articles/what-you-can-do-with-a-health-science-degree
https://explorehealthcareers.org/field/allied-health-professions/