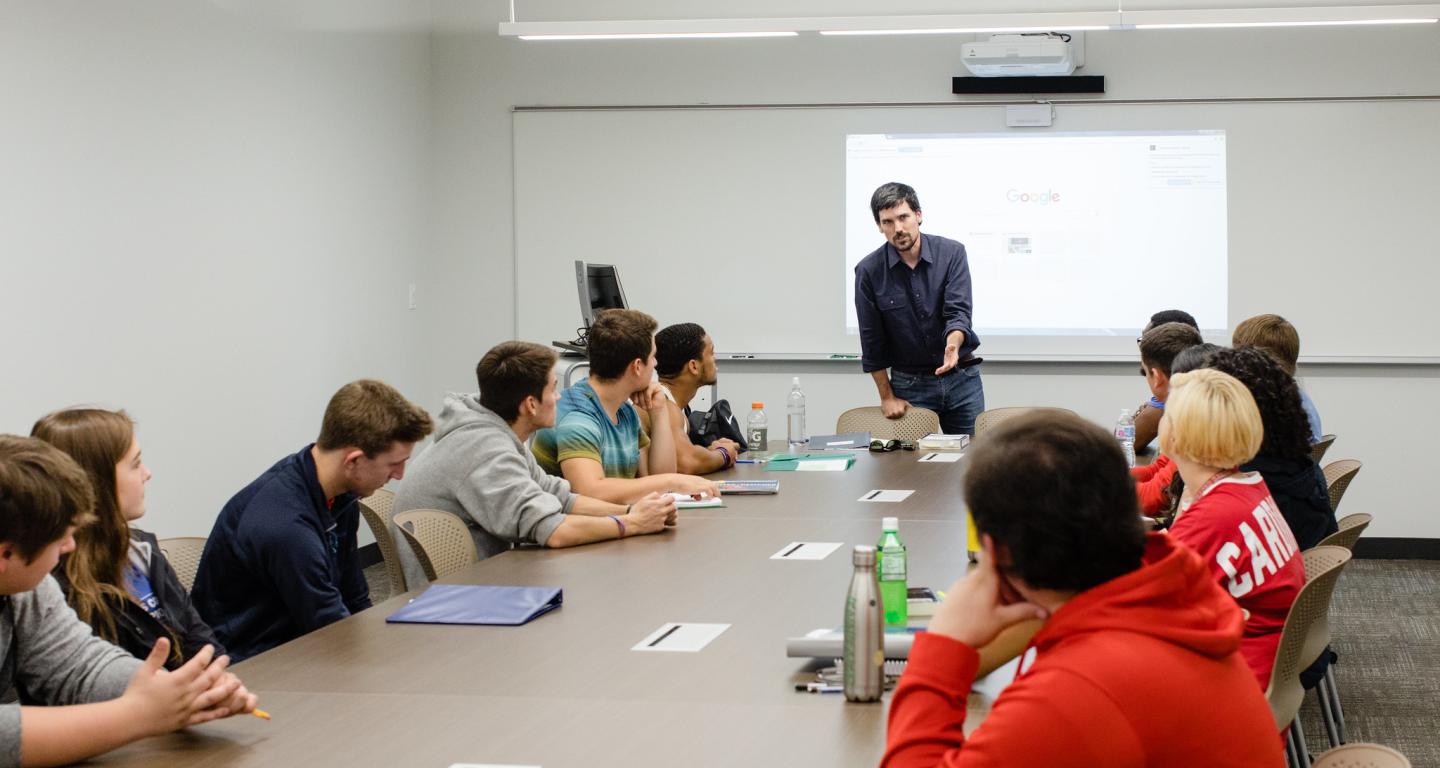 Is Finance Degree Worth It?
Reviewed by Jacob Imm
Sep 07, 2022
Is a Finance Degree Worth It? 
As a student, you might hear conflicting information about whether a certain degree is "worth it" or not. Rising tuition costs, increasing loan interest rates, student debt, and crowded job markets are all reasons that some people might point to why you should or shouldn't pursue a particular line of study within higher education. 
Ultimately, the answer to questions like "is a finance degree worth it" depends on you. We are here to tell you securing a finance degree could land you a fulfilling, well-paying job, so many people find it very worthwhile.
When you're making important life decisions, information is crucial. That's why we've put together this guide. Here's what you should consider before deciding to major in finance, the pros and cons of a finance degree, and what you'll be qualified to do in the finance industry after graduation. 
Things to Consider Before Majoring in Finance 
As with any major, there are several factors that you should consider before enrolling in a finance program. 
Understanding what's in store—should you choose to pursue a finance degree—can help you focus on the best courses to take and the most effective way to spend your time in college.
To that end, here are three questions you should ask before you enroll.
What Courses Are Included in a Finance Degree Program? 
First, you should look into the overall subject matter of a finance degree. Finance is a broad and interdisciplinary college degree, so for most finance degree programs, students study subjects such as:
Accounting – Finance degree programs include coursework that acquaints students with an overview of accounting practices as they apply to finance. While the subject of accounting is covered in a finance degree, an accounting degree has a different path than finance. Discover the differences between a finance degree vs. an accounting degree to decide which is right for you.
Business – Finance and business are overlapping fields, so be prepared to take courses on various business subjects while you pursue a finance degree.
Economics – As a finance major, you'll take classes that ask you to engage with economic functions, ideas, and principles on macro and micro levels. 
Statistics – Statistical theory and practical application are fundamental aspects of finance. Courses in this subject, as well as other branches of mathematics, feature heavily in finance degree programs.   
Generally, you'll augment these courses with relevant studies in mathematics, marketing, and business management, among others. 
Is Finance a Difficult Major? 
Next, you should consider the difficulty of the degree and the amount of studying it requires. 
So, simple question: is a finance degree hard? The truth is, all college degrees can be hard work. Finance in particular requires a lot of mathematics. There's also a lot of vocabulary and ideas you will need to learn that will likely be new to you. Always be willing to ask questions and look for help if you get stuck.
That said, with above-average earning potential and a growing job market for finance positions like financial analysts according to the Bureau of Labor Statistics (BLS), the payoff is strong motivation to choose finance and stick with it. 
What Skills Do Finance Majors Need?
Lastly, it's paramount that you identify what skills help finance students succeed. Knowing which qualities and talents make a successful finance student can help you answer the question: is a finance degree worth it for you?
In general, anyone who decides to pursue a finance degree should be a self-starter who enjoys learning and working hard. Just a few of the specific skills that can give you an edge in a finance degree program include: 
Analytical thinking

Verbal and written communication

Problem-solving
What Can You Do With a Finance Degree? (Career and Salary Overview)
Because a finance major covers numerous topics, a degree opens up a world of professional job opportunities. Finance majors go on to work in positions in a variety of industries, from banking to government. 
Potential careers for finance majors include:
Financial analyst – These analysts help organizations and people make decisions that maximize profits. According to the U.S. Bureau of Labor Statistics (BLS), the median salary for this role is $81,410 per year.
Financial advisor – Personal financial advisors help individuals plan for a future of financial security. According to the BLS, these professionals earn a median annual salary of $94,170.
Financial manager – With some experience, you can become a financial manager and support the long-term financial goals of a business. According to the BLS, the median annual salary for a financial manager is $131,710.
Budget analyst – Budget analysts work with businesses to monitor spending and stay within a set budget. According to the BLS, the median salary is $79,940/year.
Additionally, a bachelor's degree in finance allows you to pursue financial internships and graduate school opportunities. Make sure to read up on what you can do with a finance degree for a comprehensive list of related careers.
Do You Need a Finance Degree to Work in Finance? 
While a bachelor's degree isn't technically required for many jobs within finance—including those listed above—it certainly isn't going to hold you back at all. In fact, successfully completing an accredited finance degree program can help you:
Stand out while job hunting

Bolster your on-the-job knowledge 

Broaden your skill set and dexterity
The Pros and Cons of Earning a

Finance Degree

 
There are many advantages to earning a finance degree. However, finance may not be a suitable choice for everyone. For that reason, the relative worth of a finance degree is ultimately a question of whether or not finance is a good degree for you.
To that end, let's look at the pros and cons of majoring in finance.
Advantages of a

Finance Degree
A finance degree opens numerous professional opportunities. The likelihood of employment post-graduation is often one of the primary indicators individuals survey when determining whether or not a degree is "worth it."
So, is a finance degree worth it? For many people, the answer is yes. Their reasons include:
Salary

– Many

finance

jobs pay above-average salaries for workers in the United States. According to the

BLS,

the average U.S. salary in 2021 was just over $58,000. Meanwhile, the median annual salaries for many jobs that

finance majors

go on to can be up two times that. 

Experience

– Financial expertise is needed in all industries, and studying it can benefit you personally

and

professionally

.

Other opportunities

– A

finance degree

gives you plenty of transferable knowledge, setting you up to work in a range of industries and settings. 
Another advantage of a finance degree is the flexibility that the career offers. For example, remote and/or hybrid positions are already popular across the industry and will likely become more ubiquitous across companies.
Drawbacks of a

Finance Degree

 
A finance degree requires a time commitment that's not necessarily for everyone and includes a wide-ranging course of study that not everyone will prefer. It's worth noting the following about finance degrees:
The learning never stops

–

Finance

is an ever-changing field, so you must remain engaged, active, and participatory at all times—stay curious so you don't miss anything. 

They can be high-pressure jobs

– In some

finance

jobs, your work will deal with a great deal of money and thus very high stakes. That can lead to intense workplace pressure and long hours.

May require additional education

– If you want to be a Chartered Financial Advisor (CFA), you'll have to complete three exams following graduation. According to the

CFA Institute,

about 50% of people who take the exam pass it on their first try.
Frequently Asked Questions 
If you're wondering, is a finance degree worth it, there's a likelihood you have several other questions about what studying finance involves. Keep scrolling for the answers to some common questions about finance degree programs.
How Long Does it Take to Earn a

Finance Degree

? 
Most undergraduate finance programs take three to five years to complete. Finance majors graduate with a Bachelor of Business Administration degree, or a B.B.A.
Are

Finance

Grads in Demand?
All of the finance jobs listed above, like financial analysts, advisors, and managers, are expected to grow steadily in the coming years. For example, financial analyst jobs are estimated at 6% growth according to the BLS, while financial manager jobs are expected to enjoy a 17% increase per the BLS.
Why Should I Choose

Finance

Over Another Business Major?
One of the biggest benefits of majoring in finance is that it's a multidisciplinary field that includes a range of business topics, from accounting and economics to investing and portfolio management.
As a result, students are exposed to knowledge, ideas, and skills from across business subjects. This leads to a well-rounded education that can prepare you for countless other careers. 
See First-Hand if

Finance

is Worth It 
The best way to find out if finance is worth it for you is to do your due diligence. If you're interested in a finance program, start by planning a campus visit to learn more.
Once you've decided that finance is the career you want to pursue, you'll get the most out of a program that gives you real-world experience. To that end, schools like North Central College prepare you for the realities of the workforce and help you land internships and jobs.
Jacob Imm is the associate director of communication in the North Central College Office of Marketing and Communications. He has 12 years of collegiate communications experience and has worked with hundreds of college students. He has a bachelor's degree from the University of Notre Dame and a master's degree from Northern Illinois University.
Sources: 
Upgrad. Top 12 Crucial Finance Skills That Employers Value in 2022. (2022, February 3.) Retrieved August 28 2022, from https://www.upgrad.com/blog/finance-skills/ 
U.S. Bureau of Labor Statistics. (2022, April 18). Occupational Outlook Handbook: Financial Analysts. U.S. Bureau of Labor Statistics. Retrieved May 19, 2022, from https://www.bls.gov/ooh/business-and-financial/financial-analysts.htm  
U.S. Bureau of Labor Statistics. (2022, April 18). Occupational Outlook Handbook: Personal Financial Advisors. U.S. Bureau of Labor Statistics. Retrieved May 19, 2022, from https://www.bls.gov/ooh/business-and-financial/personal-financial-advisors.htm
U.S. Bureau of Labor Statistics. (2022, April 18). Occupational Outlook Handbook: Financial Managers. U.S. Bureau of Labor Statistics. Retrieved May 19, 2022, from https://www.bls.gov/ooh/management/financial-managers.htm
U.S. Bureau of Labor Statistics. (2022, April 18). Occupational Outlook Handbook: Budget Analysts. U.S. Bureau of Labor Statistics. Retrieved May 19, 2022, from https://www.bls.gov/ooh/business-and-financial/budget-analysts.htm
U.S. Bureau of Labor Statistics. (2022, March 31.) May 2021 National Occupational Employment and Wage Estimates United States. Retrieved August 28, 2022, from https://www.bls.gov/oes/current/oes_nat.htm 
CFA Institute. (2022). CFA Exam Results Since 1963. Retrieved August 28, 2022, from https://www.cfainstitute.org/-/media/documents/support/programs/cfa/cfa-exam-results-since-1963.ashx  
U.S. Bureau of Labor Statistics. (2022, April 18). Occupational Outlook Handbook: Financial Analysts. U.S. Bureau of Labor Statistics. Retrieved May 19, 2022, from https://www.bls.gov/ooh/business-and-financial/financial-analysts.htm  
U.S. Bureau of Labor Statistics. (2022, April 18). Occupational Outlook Handbook: Financial Managers. U.S. Bureau of Labor Statistics. Retrieved May 19, 2022, from https://www.bls.gov/ooh/management/financial-managers.htm