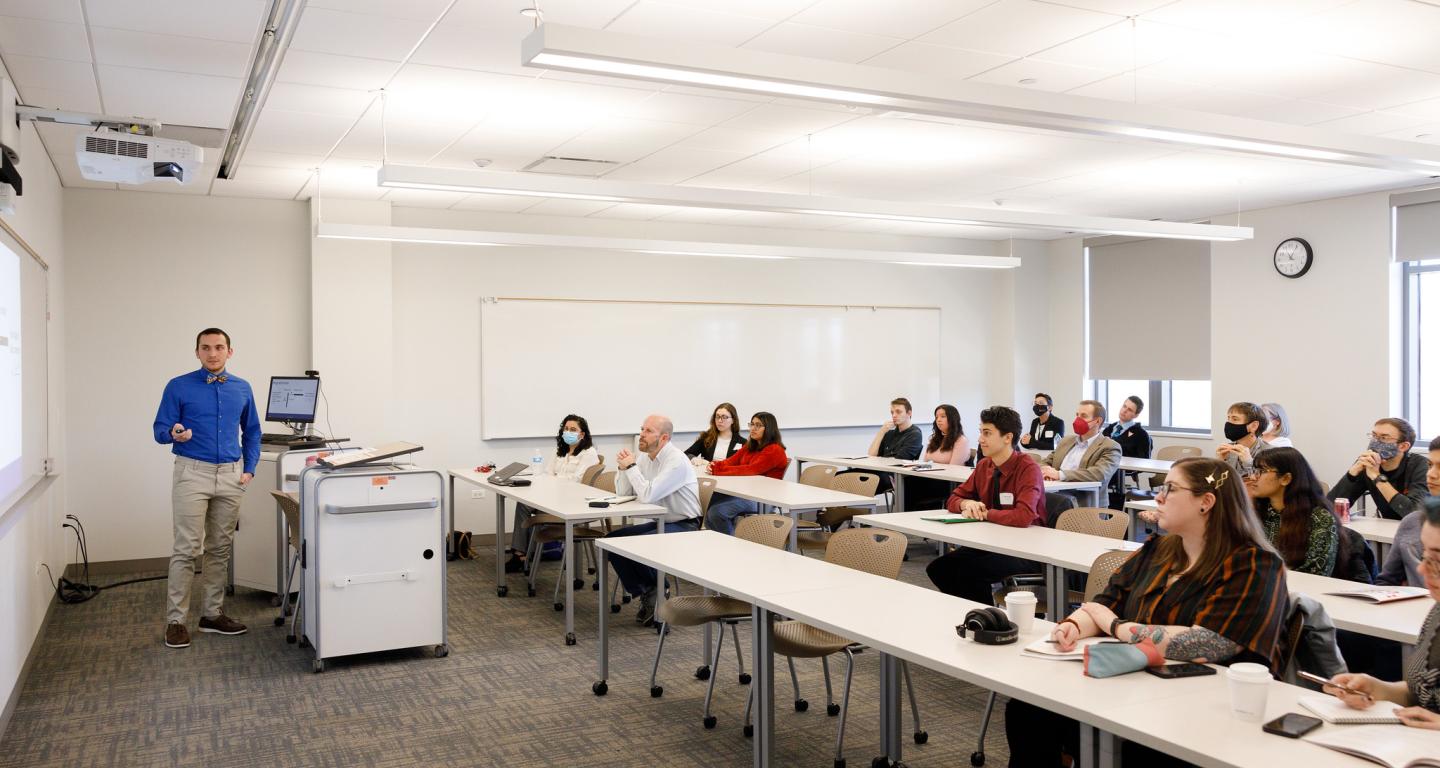 How to be a Paralegal
Oct 12, 2022
How to Be a Paralegal
After getting a bachelor's degree in ethics, what job can you get with an ethics degree? A few options include a human rights officer or paralegal. Do you have an interest in the field of law? Maybe you enjoy watching courtroom dramas or reading legal thrillers. Perhaps a friend or family member you admire is a lawyer, and you are curious about what they do. You could be intrigued because you have a passion for righting wrongs and seeing that justice is carried out, or you simply have enjoyed competing on your school's mock trial team. Not everyone who works in the legal field is an attorney who argues cases in court. Clerks, court reporters, language interpreters, law librarians, and judges are all involved in—and can have a great impact on—the field of law.
If you are considering a legal career, a profession you may not have considered before is working as a paralegal. A paralegal works in a law office and supports a legal professional with tasks like legal research, maintaining client relationships, scheduling, and legal writing. Paralegal work provides an interesting variety of tasks and responsibilities to people who can manage multiple projects, pay close attention to detail, and have excellent interpersonal communication skills. 
According to the U.S. Bureau of Labor and Statistics, the paralegal field is growing faster than the average for all professions, and more than 40,000 paralegal positions are expected to open each year over the next decade. Read on to learn more about how to get into this expanding field.
What is a Paralegal?
A paralegal, sometimes referred to as a legal assistant, can work for an individual lawyer or support a full law firm. The general duties of a paralegal include preparing legal documents, performing legal research, collecting evidence to be used in legal cases, and communicating with clients. In short, they provide crucial legal support. Paralegal professionals can work generally across many areas of the legal field or can have a legal specialization such as family law or criminal law. Although corporate paralegals are not allowed to provide legal advice, but they work closely with lawyers and clients, and the quality of their work can significantly impact important legal decisions and procedures.
The role of a legal assistant offers the opportunity to influence how contracts are written and how court cases proceed. Paralegal experience provides exposure to the field of law and is a good choice both for those interested in a permanent career as a paralegal and those considering pursuing law school. Gaining paralegal experience is a good way to learn more about legal proceedings and can help a student determine if they would like to continue their education beyond a bachelor's degree and work toward becoming an attorney.
What are the Roles and Responsibilities of a Paralegal?
Wondering how to become a paralegal? A paralegal's main responsibility is to support a lawyer or law firm so that they can manage multiple clients and cases. This support can come in the form of creating daily schedules, taking phone calls, and organizing documents and files. It can also include writing contracts, researching legal precedents for ongoing cases, fact-checking, and even interviewing clients and witnesses. 
As Ilana Kowarski writes in U.S. News and World Report, "Paralegals are often responsible for organizing and updating files on various legal clients and may work to obtain affidavits and other formal statements that can be submitted as evidence in court cases. They may also handle scheduling for a legal office, act as a liaison between lawyers and their clients, and track deadlines and ensure that they are met." 
Paralegals can find work in a variety of exciting settings. Some work in small family law practices, others in large corporate offices. Paralegals can also work at non-profit organizations, real estate agencies, financial institutions, and more. Because corporate paralegals are not required to be licensed or certified in most states, the duties of a paralegal can vary widely and depend largely upon the employer. Some paralegals may serve a number of different functions regularly, while others may specialize in highly refined capacities. With such a wide range of duties and so much responsibility, the work of a paralegal can be both demanding and rewarding.
See related: What is Ethics? 
Skills Needed in a Paralegal Job
Good at multitasking
Successful paralegals tend to be strong when juggling multiple tasks and responsibilities while maintaining accurate details. They may support multiple attorneys at once or work on multiple cases with many clients, so they have to be able to jump from one project to another as the situation demands. 
Precise
Because of the nature of legal work, becoming a paralegal will require you to be precise and avoid errors. A small mistake can have severe consequences in the legal field, especially within legal documents and contracts. 
Great editing skills
Enthusiasm for copy editing and strong grammatical skills are also recommended for this profession. According to Autumn Nelson of the American Bar Association, "The paralegal is often the last person to provide feedback on any documents submitted to the court, client, opposing parties, or opposing counsel. Having an eye for catching even the smallest spelling, grammar, or formatting mistakes is a great quality in a paralegal."  
Quick learner
Learning quickly and willingly is another important skill needed in the paralegal field. Paralegals may need to research areas of law they are not familiar with when new cases or projects are taken on, or they may need to support other lawyers or firms when their offices are short-staffed. Continuing education in legal studies can help a paralegal become more specialized in an area they find rewarding or progress in their own careers and earn higher salaries.
Strict ethics
Those in the paralegal profession must also be able to adhere to strict ethics. Paralegals may be privy to sensitive information about their clients, court cases, and important legal documents. They must be responsible and keep this information secure and private. They must also be able to determine what information should be considered confidential and decide how to handle and protect confidential materials. This requires strong analytical reasoning.
Salary Expectations
According to a survey by NALA: The Paralegal Association, in the year 2020, the average annual salary for paralegals surveyed was $68,240. Typical salaries can vary by the number of years of experience, earned credentials, type of workplace, and more. It is common for salaries to increase as employees accrue job experience and additional education. Paralegal employees may also earn higher incomes when they take on additional responsibilities, such as supervising newer employees or supporting additional attorneys. For example, paralegal supervisors can expect a median salary of about $80,000, according to Salary.com. And paralegals who earn a master's degree, which can give them better insight into the detailed workings of the law, are often able to specialize in a certain area and work more independently. Specialized paralegals earn a median salary of $93,800.
How to Be a Paralegal
So, how do you become a paralegal? There are many pathways to a paralegal career.
Associate degree program in paralegal studies
The quickest route is an associate degree program in paralegal studies. Some community colleges even offer certificate programs in this area. Typically, an associate's degree program takes about two years of full-time study to complete. Once you have earned an associate's degree or certificate in paralegal studies, you can begin applying for jobs as a paralegal. However, you may wish to continue your education in order to better position yourself for jobs with more responsibility and higher pay.
Bachelor's degree in any related field
Like with any legal professional, the right legal education can affect your paralegal career. Earning an associate degree in paralegal studies is a quick route into the industry, but it is not required to become a paralegal, and many people earn a bachelor degree before taking on their first paralegal jobs. In most states, if you have the skills needed to perform the role, you will be able to get a job as a paralegal with a bachelor degree in any related field. Some states require you to get a paralegal certificate, so research whether your state requires you to become a certified paralegal. Depending on the area of specialization, a paralegal may need to obtain professional certifications such as:
National Association of Legal Assistants (NALA)
Certified Paralegal designation
National Federation of Paralegal Associations Certified Legal Assistant designation (NFPA)
Furthermore, for a paralegal to work in certain fields, such as criminal law or immigration law, they might also need to complete some specialized coursework. In most cases, an aspiring paralegal with a bachelor's degree will hold an advantage over applicants with only an associate degree. A bachelor's degree usually takes four years of full-time study to complete. This also allows you to study additional or related fields that will help you in a paralegal job, like legal studies, ethics, writing, or even a foreign language. A bachelor degree is also necessary if you are considering eventually becoming a lawyer. You would need to complete this step before being admitted to law school.
Post-baccalaureate certificate or a master's degree in paralegal studies
Another option is to receive a post-baccalaureate certificate or a master's degree in paralegal studies. This could be a good option for a paralegal who wants to advance their career but does not want to become a lawyer. It is also a smart choice for a person who already has a bachelor degree in an unrelated field and who wants to change careers. Although a master's degree is usually not necessary to work as a paralegal, it could help a candidate stand out among other applicants or negotiate for a higher salary because of the degree holder's proven record of high-level work in the field of paralegal studies. As mentioned above, these higher degrees can lead paralegals into specialized or managerial roles with median salaries up to about a third higher than paralegals.
Internships
Internships are another valuable resource for those looking to become paralegals. Internships, which can be paid or unpaid, allow someone who has not completed their education to gain hands-on work experience in a particular field. In a paralegal internship, you might work alongside current paralegals, assisting them with their day-to-day duties. They can also mentor you, providing feedback on your strengths and areas for improvement or helping you make connections within the industry which can be helpful to you as you search for your first paralegal job. When interviewing, you'll be able to draw on your internship experiences to position yourself as the best candidate for the job.
Join a paralegal association
It can also be helpful to consider joining a paralegal association. A national association like NALA can help connect you to other aspiring paralegals, paralegal students, law firms, paralegal practice, and other legal professionals. This is a great way to find mentorship and learn about job opportunities.
Ready to Begin a Paralegal Education Program?
If you've read this far and have been convinced to seek a career as a paralegal, your next step is to find a great school to begin your studies. You'll want a paralegal program or an equivalent that gives you the preparation and expertise you need to excel in the field.
A program like Leadership, Ethics, and Values at North Central College is a great choice. North Central incorporates collaborative learning environments and innovative teaching practices into the college experience and assists students with locating and applying for internship experiences. The North Central Leadership, Ethics, and Values Program or the accompanying minor in ethics will help you develop writing and ethical reasoning skills that are in demand for those entering legal professions and top ethics degree jobs like arbitration and mediation, as well as top dispute resolution jobs, and even professions in international law, such as human rights officers. 
Laura Kendall Zimmermann is the assistant director of admission at North Central College. She received her bachelor's degree in psychology at Augustana College in Rock Island, IL, and a post-baccalaureate certificate in copyediting from the University of Chicago Graham School. She has more than 15 years of professional experience, including copy and substantive editing. She is currently pursuing master of arts in professional and creative writing at North Central College.
Sources:
https://www.northcentralcollege.edu/program/ethical-leadership
https://www.northcentralcollege.edu/program/ethics
https://nala.org/paralegal-info/
https://www.nala.org/wp-content/uploads/2021/07/2020UtilizationSurvey-FINAL-Summary-of-Findings.pdf
https://www.americanbar.org/groups/litigation/committees/solo-small-firm/practice/2021/top-five-skills-to-look-for-when-hiring-a-paralegal/
https://onlinemasteroflegalstudies.com/career-guides/become-a-paralegal/is-paralegal-a-good-career/
https://www.usnews.com/education/best-colleges/articles/how-to-become-a-paralegal-a-guide-to-paralegal-education
https://www.becomeaparalegal.org/how-to-become-a-paralegal/
https://www.bls.gov/ooh/legal/paralegals-and-legal-assistants.htm
https://www.isba.org/public/guide/lawrelatedcareers
https://www.online-paralegal-programs.com/master-of-legal-studies-worth-it/
https://www.salary.com/tools/salary-calculator/paralegal-legal-assistant-team-leader
https://www.salary.com/tools/salary-calculator/paralegal-specialist