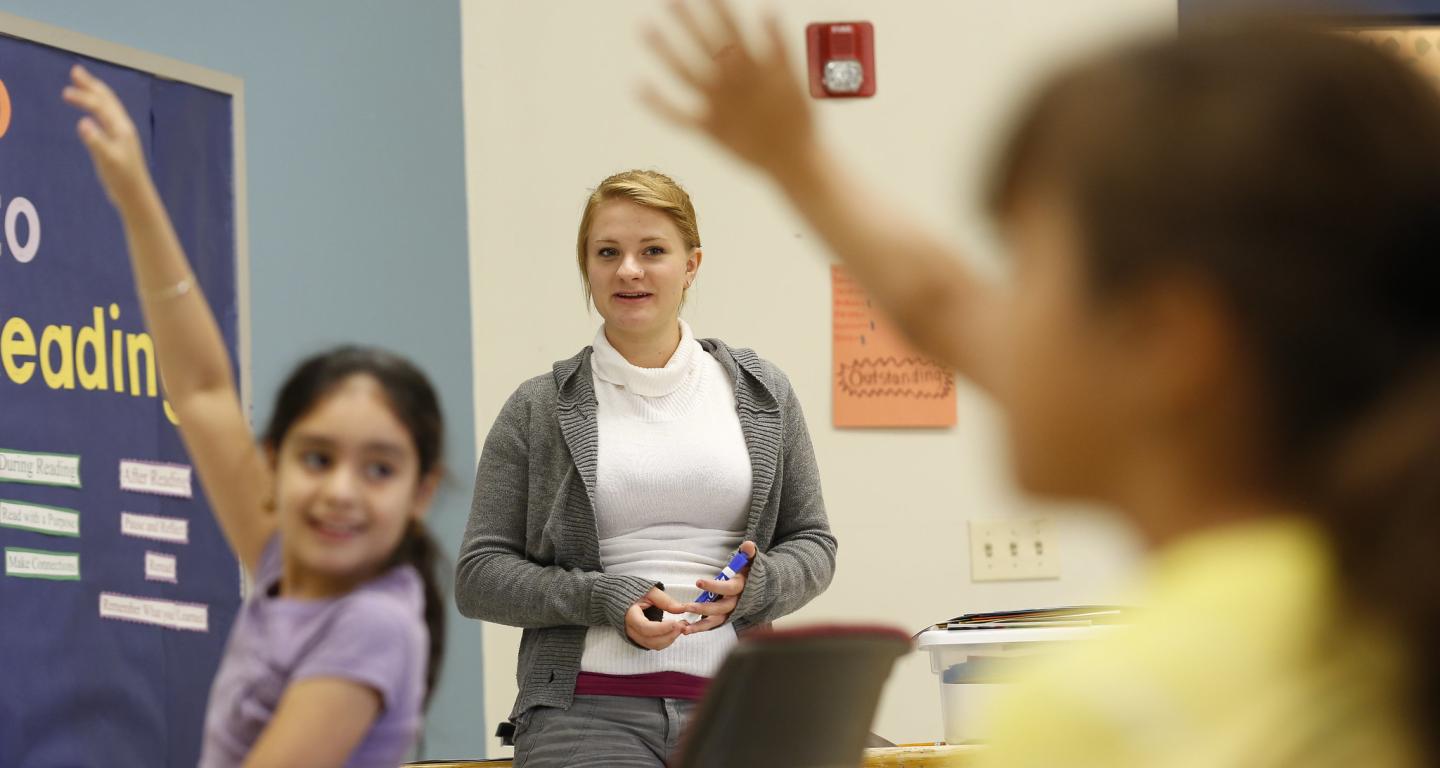 What is the Average Special Education Teacher Salary?
Reviewed by Jacob Imm
Jul 20, 2023
What is the Average Special Education Teacher Salary?
Salaries within the education field have been gradually climbing for more than a decade according to Indeed.com. As of December 2022, the average salary of a special education teacher in the U.S. was $57,568—but a host of factors can slide that figure higher or lower, whether that's the types of students you're teaching or where you're located.
So, what is special education? Special educators help and nourish students who have a challenging time in a traditional classroom setting. If you're inspired by enriching career paths associated with becoming a special education educator, it's important to familiarize yourself with the factors which may influence your earning potential. Below, we touch on what you can expect from this unique career path and how to embark on a journey where both you and your students can grow together.
Level of Experience
One of the most decisive factors affecting the average teacher salary for a special educator is how well-versed they are in running a special needs classroom. According to data acquired from more than 12,000 reports, special education teachers earn the following on average:
Early career (less than 1 year of experience) – $53,726
1 to 2 years of experience – $52,893
6 to 9 years of experience – $60,440
Advanced career (over 10 years of experience) – $66,799
As of today, there aren't many higher educational tracks dedicated to special education (though there are some excellent programs available). Because of this, institutions hiring special needs educators generally look for classroom experience in the absence of a special education teaching degree.
Public vs. Private Institutions
Private school systems are generally associated with a higher salary range, but interestingly enough, the trends skew differently for special educators.
The median salary for special education teachers at a private vs. public school differs as follows:
Private school – $51,300
Public schools – $59,720
State and Location
Another factor that can greatly influence special education teachers' earnings today is location. Because public and private schooling systems in the United States differ considerably from state to state, city to city, and community to community, the value placed on education—whether conventional or for students with disabilities—varies widely.
For instance, New York teachers made more than $87.5k on average between 2019 and 2020 (though it bears mentioning that the cost of living in New York is significantly steeper than in other states). The state of Mississippi, on the other hand, compensates its teaching fleet significantly lower than peers in the Empire State—amounting to roughly 53% less pay.
If you're considering a career as a special educator, know that one of the benefits of this path is that it draws the highest salary in the following U.S. states:
New York

California

Massachusetts

Washington, D.C.

Connecticut

New Jersey

Maryland

Washington

Alaska

Pennsylvania
It's also crucial to note that school settings are not the only place you can make fulfilling use of your special education degree. Wondering, "What can I do with a special education degree besides teaching?" Healthcare facilities can be another rewarding setting (personally and economically) in which to teach special needs students, and they tend to compensate even more competitively than many schools.
Student Age
Some educators prefer to teach specific age groups, whether that's very young children just beginning their schooling or older adolescents who struggle in traditional classrooms.
On average, special education professionals receive slightly higher compensation the older their students are:
High school special education teacher salary – $64,590
Middle school special education teacher salary – $63,250
Elementary school or kindergarten special education teacher salary – $61,960
Do Special Education Teachers Earn More Than Conventional Teachers?
The day-to-day work required of educators that work with special needs students is very different—specialized—compared with that of a traditional early childhood or high school classroom teacher.
However, teachers who work with students that have disabilities generally tend to receive a lower base salary: In 2020, USA Today reported that traditional kindergarten through 12th grade-level educators bring in a median salary of $64,524.
There are, however, exceptions to these trends. If you're committed to the special education field but earning a top-tier living is important to you, you can pursue a highly profitable career route as an elementary special education teacher in the following metropolitan areas:
New York City, where educators in this sector earn $75,770 on average
Los Angeles, where educators in this sector earn $81,680 on average
Waterbury, CT, where educators in this sector earn $94,380 on average
A Closing Note on Finding Your Ideal Career Pathway
Whatever brought them to their profession in the first place, special education professionals are extraordinarily passionate individuals. Being an educator is an incredibly rewarding field, and while the pay associated with being a classroom teacher can vary, early-career professionals are better positioned to enjoy greater security and a higher base salary by pursuing a specialty degree in the subject.
If you think special education is the right field for you, the next step is to learn how to become a special education teacher. Whether it's an undergraduate special education program for those just starting out or a specialized program to refine their area of expertise, do your homework before settling on a school program that can help you leverage your teaching talents to get closer to your financial goals. Learn more about North Central College's undergraduate programs today.
Jacob Imm is the associate director of communication in the North Central College Office of Institutional Communication. He has 13 years of collegiate communications experience and has worked with hundreds of college students. He has a bachelor's degree from the University of Notre Dame and a master's degree from Northern Illinois University.
This article was updated on July 20, 2023.
Sources: 
Estimated average annual salary of teachers in public elementary and secondary schools, by state: Selected years, 1969-70 through 2019-20. National Center for Education Statistics. (2020, September). Retrieved December 21, 2022. https://nces.ed.gov/programs/digest/d20/tables/dt20_211.60.asp?current.asp
Special Education Teacher Salary in United States. Indeed. (2022, December 17). Retrieved December 21, 2022. https://www.indeed.com/career/special-education-teacher/salaries
Here's how much every US state pays its teachers and how much they spend on each student. Business Insider. (2021, May 1). Retrieved December 21, 2022. https://www.businessinsider.com/teacher-salary-in-every-state-2018-4
Special Education Teacher Salary. Best Accredited Colleges. (n.d.) https://bestaccreditedcolleges.org/resources/special-education-teacher-salary
Byrnes, H. (2020, September 10). Teachers and salaries: Which states pay educators the best? New York, California and Massachusetts are some. USA Today. Retrieved December 21, 2022. https://www.usatoday.com/story/money/2020/09/10/states-where-teachers-are-paid-the-most-and-least/113660742/