Feature News
Coming home
Since transferring to North Central, Olivia Rosenberg '25 has found belonging and opportunity
Oct 26, 2023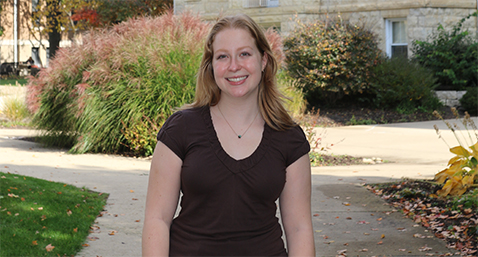 Olivia Rosenberg '25 transferred from a Big Ten institution to North Central College in 2022. Since becoming a Cardinal, she has made the most of her experience on campus. From joining the radio station to writing for the college's communication office, Rosenberg has found opportunities to grow both personally and professionally.
You transferred to North Central from a larger institution. How has North Central been a better fit for you?
From my first tour of campus, I knew immediately that North Central was better for me. To me, being at a large school felt isolating and impersonal, so coming to North Central was such a welcome change. I found myself connecting to more professors and classmates within the first weeks of classes here than during my entire time at the Big Ten school.  
What's your major? What do you hope to do after graduation?
I am a double major in communication studies and sociology, which I hope to incorporate into a career that gives me motivation every day. I am passionate about communicating with people and learning more about them.  
Who's a faculty member who has influenced you and why?
Dr. Mara Berkland, professor of communication, has helped me realize more of my potential and encourages me to think more critically. She pushes her students to be better scholars and writers.
As a North Central student, what opportunities have you had to learn outside the classroom?
As the student worker in the College's Office of Institutional Communication, I am learning about working as a communications professional and gaining great real-world experience. 
I am also the public relations director and treasurer for Sonata Problem a capella, and I am both the public affairs and news director at the College's student-run music radio station, WONC-FM 89.1. I had the opportunity to interview North Central's new president, Dr. Anita Thomas, in her first appearance on WONC! 
What would you tell someone who's considering coming to North Central?
I would tell a prospective student to take advantage of all the opportunities that come your way. Join a club, meet new friends, connect with your professors. You never know what doors will open for you.
Learn more about majoring in communication studies and sociology at North Central College.