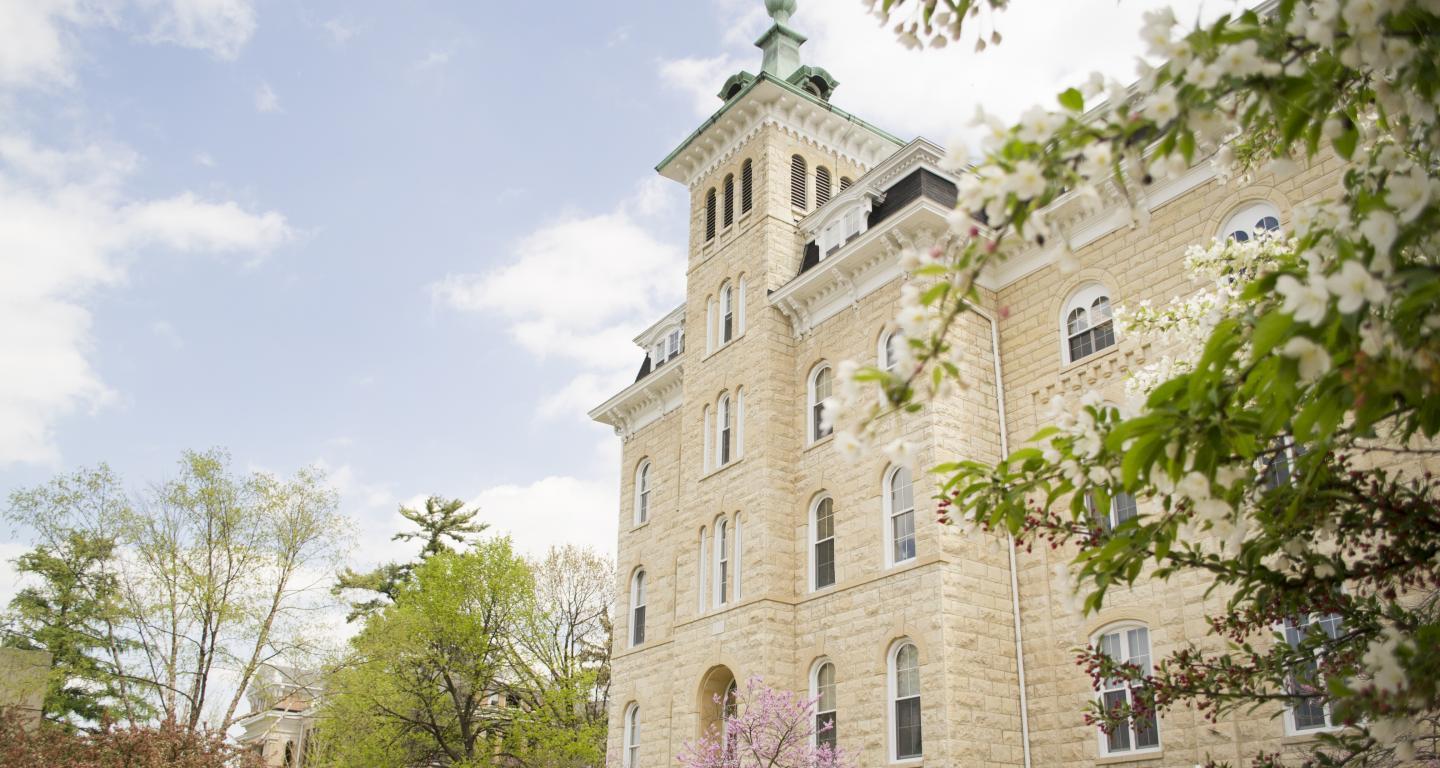 College of Arts & Sciences
Communication Studies
Why pursue a communication studies degree at North Central College?
Communication professionals are successful in hundreds of career paths. Typically, their skills are emphasized in roles like social and digital media, public relations, marketing, advertising, human resources, writing, politics, fundraising, sales and more. Majoring in Communication Studies provides you with the skills to understand how we communicate. This program is designed to provide you with excellent oral and written communication skills.
At North Central College you will learn how to analyze verbal messages in one-on-one and group settings. As an expert communicator, you can persuade, dissuade and interpret flawlessly. With plentiful career opportunities, a Communication Studies major is sure to provide the skills needed to impress any employer.
IF YOU ARE INTERESTED IN
Making speeches and presentations, running meetings and trainings and communicating with people in a variety of professional contexts.
Developing persuasive storylines for products and services
Producing messaging campaigns and building brand awareness
then a degree in COMMUNICATION STUDIES might be for you.
Why study communication at North Central College?
In the Classroom
Coursework topics:
Argumentation and Debate
Business and Professional Communication
Communication Theory and Research
Freedom of Expression
Global Media in a Digital Age
Group Interaction
Intercultural Communication
Interpersonal Communication
Persuasion Theory
Public Relations
Public Speaking
Rhetoric and Public Discourse
Beyond the Classroom
As a Communication Studies major, you can:
Apply for internships and jobs through robust faculty and alumni networks or the Center for Career and Professional Development.
Get published in the award-winning Chronicle news magazine and ncclinked.com news website.
Go LIVE on the air at the student-run radio station WONC, named the best college radio station in the country in 2015.
Study abroad to complement your degree.
Conduct research and present your findings at professional conferences or at North Central's own Rall Symposium for Undergraduate Research.
Join PRSSA, the public relations club, which works on real-world client-based projects.
Receive individualized coaching with our nationally ranked speech and debate team.
Achieve high honors at regional and national speech competitions.
Join the National Communication Association's official honor society Lambda Pi Eta.
Communication Studies, B.A.
Communication studies focuses on the intersection of theory and practice in a variety of contexts.  Students are led to understand, to use, and to critique communication as it is presently practiced in society and to develop critical thinking regarding communication strategies and analysis.
For additional programs and courses in this department, see Communication and Media Studies.
Core Courses
(or  First Year Seminar: Speaking)
Electives
Two courses from the following:
Advanced Electives
One course from the following:
Foreign Language
Students must demonstrate elementary competence in a foreign language. For more information, see the  within the Academic Regulations section of this catalog.
Eight credit hours from the following:
Applied Communication Minor
Applied communication focuses on communication practice in a variety of contexts. Students are led to understand, to use and to critique communication.
For additional programs and courses in this department, see Communication and Media Studies.
A minimum of 20 credit hours, including:
Applied Communication Concentration
Communication skills can enhance any field of study, and this streamlined program allows students of any major the opportunity to further develop those skills.  Students take courses from a tightly focused selection of skills-intensive courses that stress practice, repetition, and self-analysis.  Students will learn to communicate more effectively in a variety of contexts and with diverse audiences.  Upon successful completion of the program, students earn a formal transcript designation to indicate to future employers that they have achieved a level of proficiency in communication.
For additional programs and courses in this department, see Communication and Media Studies.
Students must take three courses from the following:
Note:
The Applied Communication Concentration is designated only for students who are not majoring/minoring in one of the communication programs.
Speech Communication Internships and Jobs
A North Central education integrates career preparation with rich academic study. Our faculty encourages you to refine and apply your knowledge in an interconnected world. Here you'll learn to think independently and work globally to solve problems and lead.
Internships
Recent graduates in speech communication include:
Morning news reporter, Fox News Chicago WFLD TV, Chicago

Production assistant, ESPN 1000, Chicago

Marketing and promotions intern, Emmis Communications, Chicago

Client success coordinator, Eclipse Telecom, Chicago

Associate attorney, Law Offices of Todd M. Friedman, Northbrook
Careers
Recent graduates in speech communication include:
Management consultant

Marketing project manager

Financial client service associate
Invest in your future
Choosing the right college is a big decision. Don't make it alone. North Central's admission and financial aid team is here to help you design a financial aid solution that works best for you and your family.
Merit scholarships, grants, loans, campus employment - these are just some of the resources available to you. Over 95 percent of students and 100 percent of all eligible students receive aid. Let our team partner with you in finding the best value for your education.
Learn more about financial aid and costs for North Central College
Apply to North Central College
The first step to becoming a North Central student is reading the application instructions specific to you. Find out everything you need to know about applying by selecting the group you belong to below.