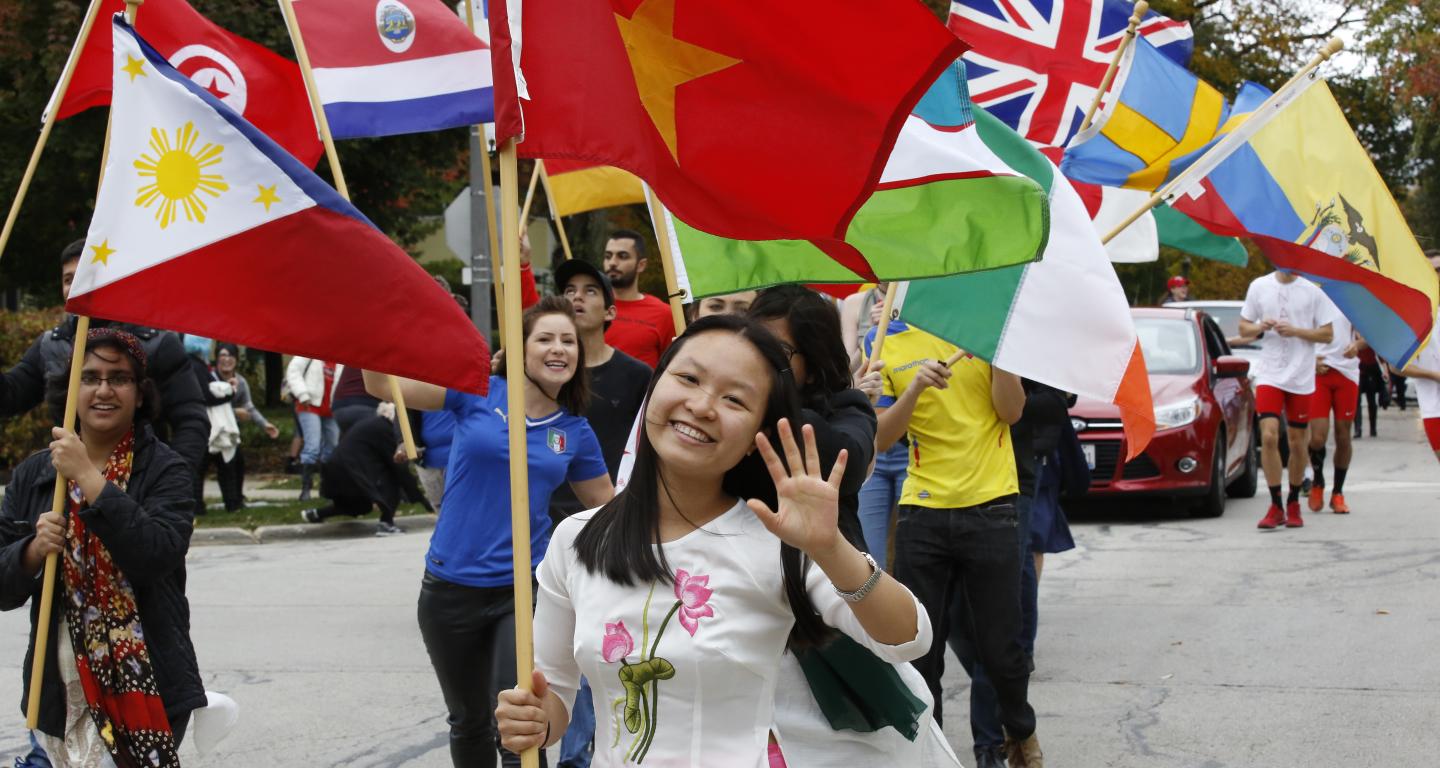 Admitted International Students
Congratulations on your offer of admission! In order to accept your offer, you will need to:
Pay your tuition deposit ($100)
If you will live on campus, pay your housing deposit ($100) and complete your Housing Application & Roommate Questionnaire
Deposits can be paid by cash, check made out to North Central College, wire transfer or credit card via flywire, or credit card using the Credit Card Payment Authorization Form. Contact your admission counselor with any questions.
Class Registration
In order to achieve your highest level of academic achievement, North Central provides academic advising support to all students!  Your academic advisor will help you develop an academic and co-curricular plan that prepares you to achieve your educational and life goals.  You will learn about campus resources, academic opportunities, and program and College graduation requirements.  You will be contacted by your academic advisor in late May and course registration will begin shortly after. Please be sure to check your North Central email in anticipation!
Transcripts
Make arrangements to have your official final transcripts, including any current course work, sent to North Central before your first term at North Central begins. If you do not, a hold will be placed on your account preventing you from registering for future terms.
Housing
Living on campus is an exciting part of your college experience and our campus community is ready to welcome you!
First-Year students please complete the Residence Life Housing Application and Roommate Questionnaire.  Please return complete applications to jevelasco@noctrl.edu.  Once you have submitted your housing deposit and completed the Residence Life Housing Application and Roommate Questionnaire, you will be notified of your placement in June/July (Fall starts) or December (Spring starts).
Transfer students please complete the Residence Life Housing Application.  Submit completed applications to your admission counselor at inadm@noctrl.edu.
Be sure to contact your roommate/s and introduce yourself!
For detailed information about what to pack for arrival and check-in, meal plans, the residence hall calendar and more, check out a sample Housing Packet.
Meal Plans
Think about what meal plan option you will choose at orientation.  All meal plans cost the same. 
Medical History and Immunization Records
Get any necessary immunizations and have your doctor complete your Immunization Form for North Central's Wellness Center.  You will need your college ID number to complete the forms.  Call the Wellness Center with any questions, +1-630-637-5550.  They're happy to help!
Note: Please be aware the State of Illinois has very specific immunization requirements as outlined in the medical forms. If these requirements are not met, you will not be able to register for your second term classes.
Please contact your admission counselor with any questions about these requirements.  Although you can get missing immunizations after arriving at North Central, it is usually much less expensive for you to get the required immunizations before you leave home.
Health Insurance
Purchase required health insurance through GeoBlue. The monthly rate for August 2019 through July 2020 will be $123.05. (The 2020-2021 brochure and rates will be available in June 2020.)
Purchase insurance for all months you will be in the U.S. using this link. Use the address: North Central College, 30 North Brainard Street CM#276, Naperville, IL 60540. Blank fields asking for ID numbers can be left blank. Print and bring your receipt and medical card to orientation.
Student Athletes
International student athletes who will be participating in intercollegiate sports will need to submit additional medical forms and purchase an additional insurance policy as well. Contact your coach for details. Let your admission counselor know if you are interested in participating in any athletics or other student activities on campus, so you can arrange to start practice or rehearsal on time. The medical forms are updated each June for the following academic year on the Athletics website.
Arrival and Airport Pick-Up
Arrange for your flight to arrive at Chicago O'Hare International Airport (ORD) on:  
Monday, August 17, 2020 for Fall (August) Entry
Friday, January 8, 2021 for Spring (January) Entry
and provide your admission counselor with your flight details no later than Wednesday, August 7, 2020 (December 15, 2020 for Spring entry).  This ensures the Center for Global Education staff can meet you at the airport and bring you to campus (students who will be living on-campus).
Students arriving on other dates will need to arrange their own transportation to campus and will be able to check in at the Center for Global Education and move into campus housing on Monday, August 17, 2020.
Please be aware that F-1 visa regulations do not allow for arrival in the U.S. more than 30 days prior to their program start date.  This means that:
- students arriving in the U.S. to start orientation on Tuesday, August 18, 2020 cannot enter the U.S. in F-1 status before Monday, July 18, 2020.
- students arriving in the U.S. to start orientation on Friday, January 9, 2021 cannot enter the U.S. in F-1 status before Thursday, December 10, 2020.
Please be sure to book your flights to allow at least three (3) hours between connecting flights if your first entry to the U.S. will be at an airport other than Chicago O'Hare.  (An example of this would be if you were to fly into Miami or Los Angeles to change planes before flying to Chicago.)  You will have to go through immigration and customs when you first land in the U.S.  Allowing less than three hours between flights could mean that you miss your connecting flight in the case of delays going through immigration.
Paying Tuition and Fees
Consider how you plan to pay your first term tuition. Your electronic invoice will be available to you in your Merlin account; as part of our efforts to be environmentally friendly, North Central does not issue paper invoices.  North Central has partnered with flywire to offer convenient international payment options for students with non-U.S. bank accounts.
Applying for an F-1 Student Visa
The process of applying for a student visa can take up to three months. If you will need an F-1 student visa to study at North Central, please submit the following as soon as possible to ensure that an I-20 Form (Visa Eligibility Document) can be issued:
A color copy of your passport identification page.
Documentation of sufficient financial resources. This includes:

A completed and signed 2020-2021 Declaration of Finances & Affidavit of Support Form (students entering in August 2020 or January 2021) and
A Bank Letter for each sponsor that includes an original signature on bank letterhead with the bank's contact information. It must be dated no earlier than January 15, 2020 for August entry (no earlier than April 15, 2020 for January entry) and include the name of the account holder and the amount in the account. It must also specify the type of account (e.g., savings, checking, time deposit, etc.) and the currency of the account. Please be sure the amount in the account is at least equal to the amount pledged to the student by the sponsor, and that the account is in the sponsor's name. North Central accepts original letters or color scans of original letters. Review a sample bank letter format.

A Transfer Verification Form and copies of your current I-20 form and I-94 record, if you are currently in the U.S. in F-1 status. Please note: Your SEVIS record must be transferred to North Central before you leave the U.S. if you are traveling internationally between programs.  Please contact your admission counselor regarding any international travel plans.
Once we receive your documentation, your I-20 will be sent to you with tips for paying your SEVIS fee and applying for your visa. 
Welcome Week and International Student Orientation
International Student Orientation is required of all international students who are new to North Central.  Orientation is currently scheduled for:
Tuesday, August 18, 2020 - Friday, August 21, 2020 (Fall Semester)
Friday, January 8, 2021 (Spring Semester)
During orientation you will have the chance to get your student ID, tour campus, meet with your academic adviser, open a bank account, visit a local store (to purchase items you just couldn't fit into your suitcase), participate in social events, and more.  It's a lot of fun! In the weeks prior to arrival, you will receive more information about what the Center for Global Education has prepared for you. 
Please note that international student orientation is required for all new international students - even those who have attended another U.S. institution in the past. 
Students starting in Fall 2020 should tentatively plan to be on campus for the week of Tuesday, August 18th through Friday, August 21st.  (Weekend events scheduled for August 22nd-23rd are optional - but most students choose to participate in these as well).
Check out the International Pre-Orientation pages online to get a head start!
We look forward to welcoming you to the North Central community!