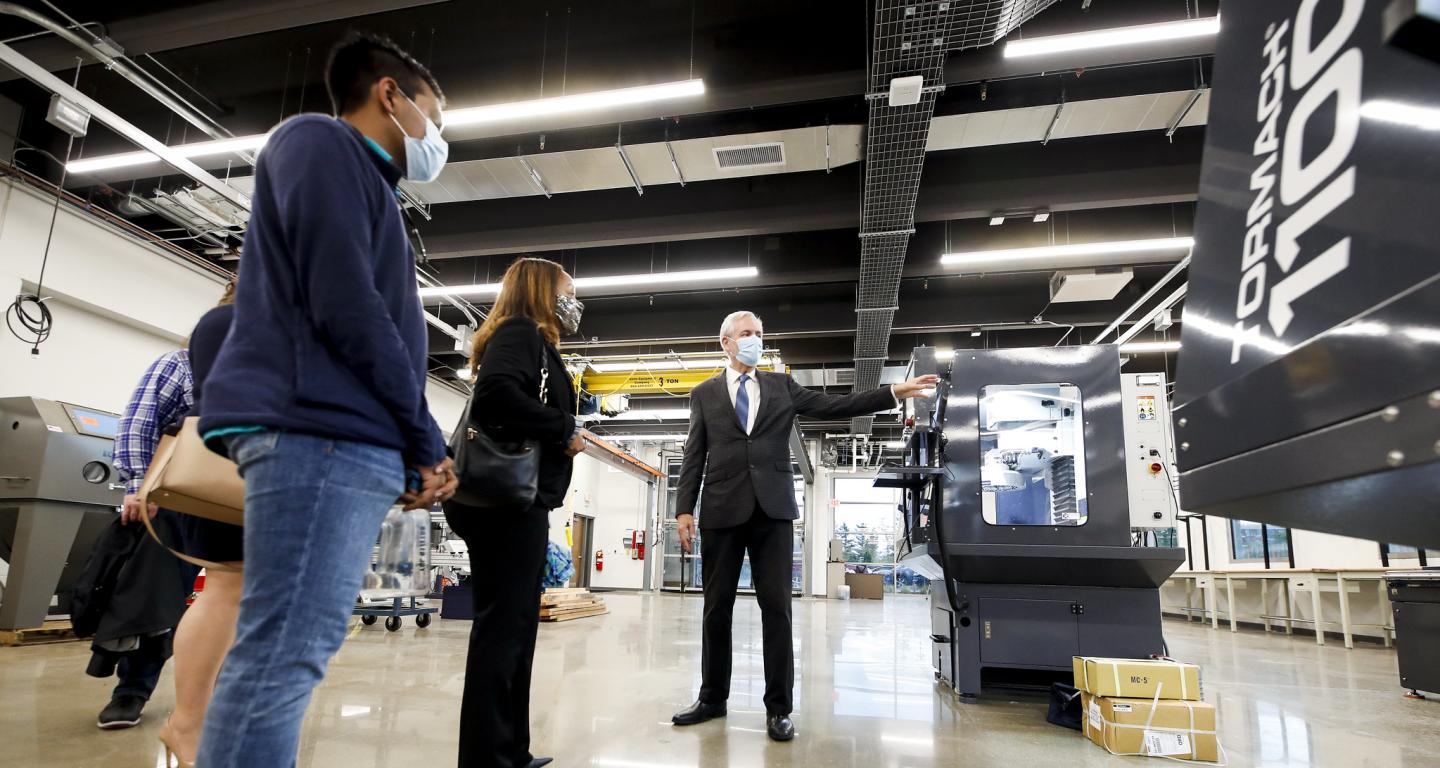 Civil vs Mechanical Engineering
Dec 01, 2021
Civil vs Mechanical Engineering
Sometimes there seem to be as many branches of engineering as there are engineers. Aeronautical engineering … biomedical engineering … computer engineering … environmental engineering... materials engineering... structural engineering …. the options seem almost endless. 
Two of those fields tend to get confused a lot, probably because they have so much in common: mechanical engineering and civil engineering. But while it's true that you'll learn to design and construct products in both fields … It's also true that there are important differences between the two specialties. It's important to understand those distinctions as you consider your college and career options.
Civil vs Mechanical Engineering: What Are the Similarities?
Whether you're a civil or a mechanical engineer, you'll spend your time transforming concepts and designs into products. You'll develop and create all kinds of items, and you'll use your math, problem-solving, and teamwork skills to do it. You'll analyze and test data to predict whether a product will function properly and whether it will be cost-effective. You might manage projects and teams, ensure that projects meet specifications and regulations, and troubleshoot challenges when things don't go according to plan.
Whichever engineering discipline you choose, you'll need to spend plenty of time in school. An associate degree won't be enough to land you a job as an engineer; you'll need a bachelor's degree at minimum, and a graduate degree if you want to advance or specialize. You may need to pass a licensure exam and acquire on-the-job experience, as well.
Differences Between Civil Engineers and Mechanical Engineers
Before discussing what are the differences between the two, let's first discuss  what they are. So first, what is mechanical engineering? Mechanical engineering is the field of engineering that deals with objects and systems in motion. Students aiming for a mechanical engineering degree are taught to build, design, fix, and maintain contraptions, machines, and other mechanical systems. What is civil engineering? Civil engineering has to do with building environments or structures, such as bridges, roads, and other infrastructures that benefit the community. Railroads, subway systems, airports were all designed by civil engineers. 
So what are the key differences between civil engineering and mechanical engineering? 
Projects: Much of the answer boils down to what you'll produce and the types of projects you'll work on. Civil engineering projects are associated with ground contact. Civil engineers focus on buildings and infrastructure such as bridges, tunnels, roads, rivers, dams, and harbors; mechanical engineers design and improve virtually any physical component, structure, or assembly as well as manufacturing processes and associated equipment. 
Education: There are differences in the coursework you'll need to prepare for these fields as well. Both civil and mechanical programs are heavy on math, especially calculus and linear algebra. And both cover things like physics (especially mechanics, heat, and electromagnetism), basic engineering principles, and computational mechanics. 

But civil engineering curricula may also include fluid mechanics, hydraulics, civil engineering technology, and geology, as well as structural design, dynamics, and analysis. Mechanical engineers often also study subjects like computer science and programming, electromechanics, mechanical systems and design, control systems, manufacturing processing, and robotics. 
Colleagues: Mechanical engineers may work primarily with other professional engineers, including aeronautical engineers, aerospace engineers, biomedical engineers, chemical engineers, electrical engineers, environmental engineers, industrial engineers, materials engineers, petroleum engineers, and structural engineers. Civil engineers often interact with teammates in other fields, such as architects and construction industry professionals.   
Licenses: The fields have separate licensure exams to pass as well. Civil engineers need to pass the Principles and Practice of Engineering exam. In contrast, most mechanical engineers do not pursue licensing since it is generally not required. They may choose to complete the Fundamentals of Engineering/PE Exam in certain situations.
What Makes a Great Engineering Program?
How do you choose from among the many engineering programs offered at colleges around the country? Every accredited engineering program will include the science, math, and engineering content you'll need to master your licensing exam, so when you're choosing your college destination, you'll need to dig a little deeper than course offerings. 
Continual innovation: Keep in mind that civil and mechanical engineering fields are constantly changing, so you'll need a program that isn't stuck in the 1950s.

Frank Harwath

, chair of

mechanical and electrical engineering

at North Central College, notes that his department's curriculum was developed in the 21st century and is regularly updated to incorporate the latest technologies being used to solve problems in engineering – and that gives students a real advantage. "Legacy engineering programs often retain elements that are no longer relevant, such as mechanical drawing, basic CAD, and solving complex problems by hand," he says. "By using the latest tools, we can cover more ground and spend more time teaching subjects not addressed in programs at most other schools. For instance, we provide instruction in metrology and industrial statistics, so that students can understand the issues associated with high volume/high quality manufacturing systems. We also provide opportunities for students to use computer-controlled manufacturing equipment like high power lasers, CNC machining equipment, and large format 3D printing." 
Liberal arts foundation: But it's not all about mastering the technical side of things. You should also look for programs that develop non-technical skills – so-called "soft skills." You'll need these not only to land your first job after graduation, but to advance in your field for decades to come. Those skills include communication (in writing and speech), solving complex problems, and approaching broad issues with an understanding of their societal, ethical, and practical contexts and perspectives. "We challenge students to think, learn, communicate, and act," says Harwath. "Our focus is on allowing students to try things, fail, and try again. Engineers need to be complete people who can work with others in many different fields, often from different places around the world. They wear many hats and need to be masters at communicating technical issues in everyday language."
Practical experience: Finally, be sure to look for a program that offers plenty of opportunities to gain real-world experience before you graduate. At North Central College, for instance, many students work part-time or receive paid internships at major corporations around the country and national laboratories. Engineering students can also conduct research with North Central faculty during the academic year and summers, and spend senior year researching at a national laboratory through the

U.S. Department of Energy's SULI (Science Undergraduate Laboratory Internships)

program. They present their original research findings at local, regional, and national conferences such as the National Conferences on Undergraduate Research, North Central's own Rall Symposium for Undergraduate Research, and Argonne Symposium. 
Can a Mechanical Engineer Work as a Civil Engineer?
Since there are so many similarities between these two fields, it's common for engineers to cross over from one specialty to the other. You'll need to obtain any relevant licenses in your new field, and probably complete additional coursework as well. 
One way to make things easier is a program like the accelerated master's degree program North Central College offers in partnership with Illinois Tech. In this arrangement, North Central undergraduate students seek admission to a graduate master's degree program at Illinois Tech's college of engineering. Then they are allowed to take upper-level and graduate courses at Illinois Tech while still enrolled at North Central as an undergrad. This gives students a head start on their graduate degree while also providing a vast range of elective courses to choose from as an undergraduate student. Graduate degree options include civil engineering, aerospace engineering, nuclear engineering, chemical engineering, and more.
Job outlook
As a rule, engineers earn a good living. Of course, how much you make will depend on where you live, the employer you work for, how much experience you've accumulated, and what degree or degrees you've earned. But according to Indeed.com, a mechanical engineer's annual salary averages about $95,000, while civil engineers earn an average of $87,000 each year. Some mechanical engineering jobs you can take up include aerospace engineer, automotive engineer, biomedical engineer, construction engineer, etc.
If you still have more questions about mechanical engineering such as, "Is mechanical engineering hard?", "What can you do with a mechanical engineering degree?", or how to become a mechanical engineer, read our linked guides. 
To learn more about which branch of engineering might be right for you, visit North Central College and tour its impressive labs and other facilities.
Lauren Ford works with North Central College's marketing and communications office. An award-winning writer, she also runs her own communications firm, serving various not-for-profit organizations across the United States. She earned her bachelor's degree from Connecticut College and her master's from the University of Chicago.  
Sources:
https://www.me.columbia.edu/what-mechanical-engineering
https://www.usnews.com/education/best-graduate-schools/top-engineering-schools/articles/what-you-can-do-with-a-mechanical-engineering-degree