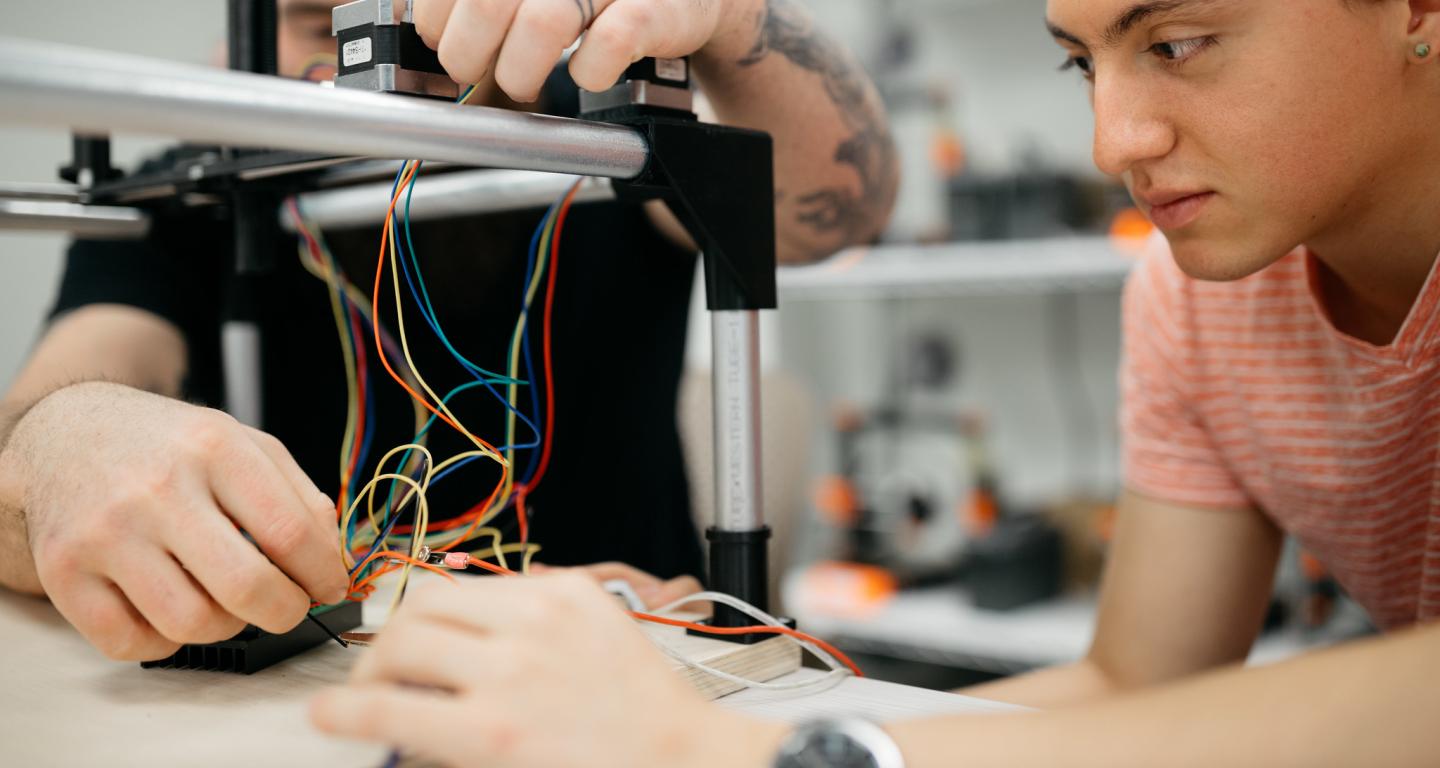 How to Become a Mechanical Engineer
Dec 10, 2021
What are the Qualifications Needed to Become a Mechanical Engineer? 
For most entry-level mechanical engineering jobs, you will need a bachelor's degree. To become a mechanical engineering graduate, you'll want an academic degree program that combines classroom courses with practical applications and simulation, mechanical engineering technology, problem-solving, teamwork, and an emphasis on developing communication skills.  
"A mechanical engineering student needs hands-on experience from day one in the engineering method—using the latest engineering design and simulation software, like making parts on 3D printers and programming in Python," said Frank Harwath, professor of engineering at North Central College. "For example, in our program students immediately dive into the details of materials, manufacturing processes, sensors and actuators, embedded processors, and robot control systems. Rather than concentrating on textbook examples and memorization, it's important to practice the same skills that a professional engineer uses in their career: solving problems, working in teams, writing reports, and making presentations." 
The mechanical engineering degree program at North Central College combines these important components to prepare engineers who are ready for the challenges of the 21st century.   
Engineering principles and creative thinking are both critical in the work of mechanical engineers. You'll want to be comfortable using advanced math––such as trigonometry and calculus—as well as having a strong mechanical acumen to apply engineering concepts to design projects using computer-aided design. You'll need research techniques and an understanding of technological applications to identify problems and find ways to solve them. Mechanical engineering graduates must think outside "the box" to find the best solutions. And good communication and leadership skills will help you work with your colleagues; many projects require the combined efforts of multiple professionals.
How to Gain Mechanical Engineering Experience During College
As you evaluate academic courses to earn your mechanical engineering degree, you'll want to find a program that gives you technical skills along with other opportunities. For example, you'll want to understand industrial statistics for issues associated with high volume and high-quality manufacturing systems. You'll also benefit from learning to use and program computer-controlled manufacturing equipment, like that available in the Manufacturing Processes Lab at North Central College.  
"It's critical to gain direct experience using the latest processes available in industry," said Harwath. "Our students design parts using the materials required for the application. They create parts in steel, copper alloys, fiberglass composites, or engineering polymers. They can then evaluate the performance of their designs in the actual application." 
Gaining experience in a simulated or real work environment as an engineer intern will allow you to experience working on an actual assembly floor to learn the proper techniques for managing engineering issues in a manufacturing plant. 
Added Harwath: "Students need to try things, fail, and try again. Engineers need to be complete people who can work with others in many different fields, often from different places around the world. Today's engineers must wear many hats and be masters at communicating technical issues in everyday language." 
You should begin building upon your classes in mechanical engineering by gaining experience during your bachelor's degree program. That's because on-the-job training and supervised experiences are valuable aspects of becoming a successful mechanical engineer.  
Look for internships and participate in research or other hands-on projects. Many schools incorporate internships into their required curriculum. Experience is a key to your preparatory education and professional development in mechanical engineering technology. And gaining hands-on experience in the latest technologies—either on campus or through an internship —will boost your qualification for a career position.
How Many Years Does it Take to Become a Mechanical engineer?
Becoming a mechanical engineer takes both a bachelor's degree and an engineering license to get started. However, depending on the type of jobs and expertise you want to pursue, you can continue your growth for many years after. 
First, Earn a four-year degree
A bachelor's degree in mechanical engineering, which usually takes four years to earn, ensures that students have the fundamental technical knowledge for obtaining a license and getting started with a job in the field.  
Next, Earn an Engineering License
In the United States, mechanical engineers who serve the public must hold a state license. To become a licensed engineer, apply for a license after completing your bachelor's degree and then passing the Fundamentals of Engineering (FE) exam offered by the National Council of Examiners for Engineering and Surveying. After working for four years, you can progress further in your career by taking the Principles and Practice of Engineering (PE) exam to become a Professional Engineer (PE). Some states require continuing education in order to maintain licensure.   
Continue Growing By Earning Optional Certifications
Certain fields of mechanical engineering may require certifications, such as those granted by the American Society of Mechanical Engineers. These fields include: 
advanced control systems design 

advanced materials mechanics 

stress analysis 

convection heat transfer and  

dynamic systems   
Even though these are optional, earning certifications show that you are qualified for specific fields and/or are qualified for career advancement.  
In addition, Green Business Certification Inc. (GBCI) offers recognized, third-party credentials in Green Design and Sustainability—a growing field for engineering professionals. The GBCI credentials ensure a high level of knowledge and competency.   
Other organizations that offer certifications include:  
Association for Facilities Engineering 

National Fire Prevention Association 

Green Building Certification Institute 

Project Management Institute 

Engineering Management Certification International 

Associated Air Balance Council 
Earn a Master's Degree
An additional two years of earning a master's degree in mechanical engineering will help you advance in your career and specialize in a certain field. A graduate degree provides more in-depth education in robotics, nuclear energy, biomedical engineering, aerospace, or automotive industries. You will build on what you learned as an undergraduate and the experience you've gained in your work.   
Earn a Doctoral Degree
If you want to continue your career in mechanical engineering into advanced research, theory, management, and/or higher education as a professor, you can enroll in a university program to earn your doctoral degree. The time requirements for doctoral degrees vary widely, but generally, you would need three to five years to earn a Ph.D.  
Mechanical Engineering Occupations
Many different industries offer mechanical engineering jobs. A mechanical engineering degree program will prepare you for careers in traditional (automotive) and cutting-edge (biomedical, smartphone) industries. Your career path might go beyond a mechanical engineering field into high-level management positions that require engineering knowledge. For example, your mechanical engineering career path could include project management in engineering, construction, and manufacturing settings, areas that offer high-paying and challenging work for mechanical engineers.  
Civil engineering offers another career option for mechanical engineers, who play an important role in the design and assessment of infrastructure—like roads and bridges. 

Transportation systems engineers focus on rail, light rail, monorails and subways, and related machinery. 

Mechanical design engineers help improve quality assurance and quality control and determine the lifecycle of products and devices.  

Biomedical engineers apply engineering principles to healthcare, focusing on designing important mechanical devices like artificial limbs and improving hearing and vision, among other medical needs.  

Laser-assisted materials processing engineers specialize in using laser energy for manufacturing and high-volume materials processing. 

Micro-electro-mechanical systems engineers design and create products on a microscopic scale. 
A number of mechanical engineers are employed in the machinery manufacturing industry; they design computer and electronic products, machines, and devices of all sizes. Mechanical engineers also help resolve design problems and integrate systems to create efficiencies. They support areas like quality control and assurance programs to assess and improve manufacturing and other mechanical processes, for example. 
In the public sector, mechanical engineers play a role in civil defense. For example, the advanced technologies in weapons, controls and communications systems in the military require engineering expertise. 
Mechanical Engineering Salaries and Career Outlook
Mechanical engineering is a growth occupation, and the Bureau of Labor Statistics (BLS) estimated the growth rate for mechanical engineers to be at about 9 percent during the decade ending in 2026. The leading areas for future growth include robotics engineering, automobile research, and energy systems. 
Here are a few examples of entry-level salaries:  
Controls Engineer - $65,000 

Manufacturing Engineer - $62,000 

Aerospace Engineer - $63,000 

Project Manager, Engineering - $65,000 

Automotive Engineer - $68,000 

HVAC Engineer - $59,000 
Mechanical engineering is evolving rapidly on many fronts, from design sophistication via increasing reliance on computer modeling, to manufacturing automation and improved materials, to ever-increasing quality driven by embedded processing and sensor technology. "Mechanical engineering is keeping pace with the progress of the 21st century, and when it's enriched with a strong core of liberal arts learning, like in the engineering programs at North Central College, it allows us to create more innovative solutions to better society," added Harwath.
If you need help understanding what mechanical engineering is, or have more questions about mechanical engineering like, "Is mechanical engineering hard?", "What are the differences in civil vs mechanical engineering?", or what to do with a mechanical engineering degree, read our linked resources!
Laura Zahn Pohl is an editorial director in higher education, with 18 years of experience as a content writer, publications editor and speechwriter. An honors graduate of the University of Iowa School of Journalism, her experience includes corporate communications and freelance reporting for the Chicago Tribune, Daily Herald and Kalamazoo Gazette. 
Sources:  
https://universityhq.org/how-to-become/mechanical-engineer-careers/ 
https://www.learnhowtobecome.org/mechanical-engineer 
https://www.northcentralcollege.edu/engineering/mechanical 
https://www.northcentralcollege.edu/21st-century-engineer?_ga=2.113154051.629876189.1635453804-971785791.1582739945