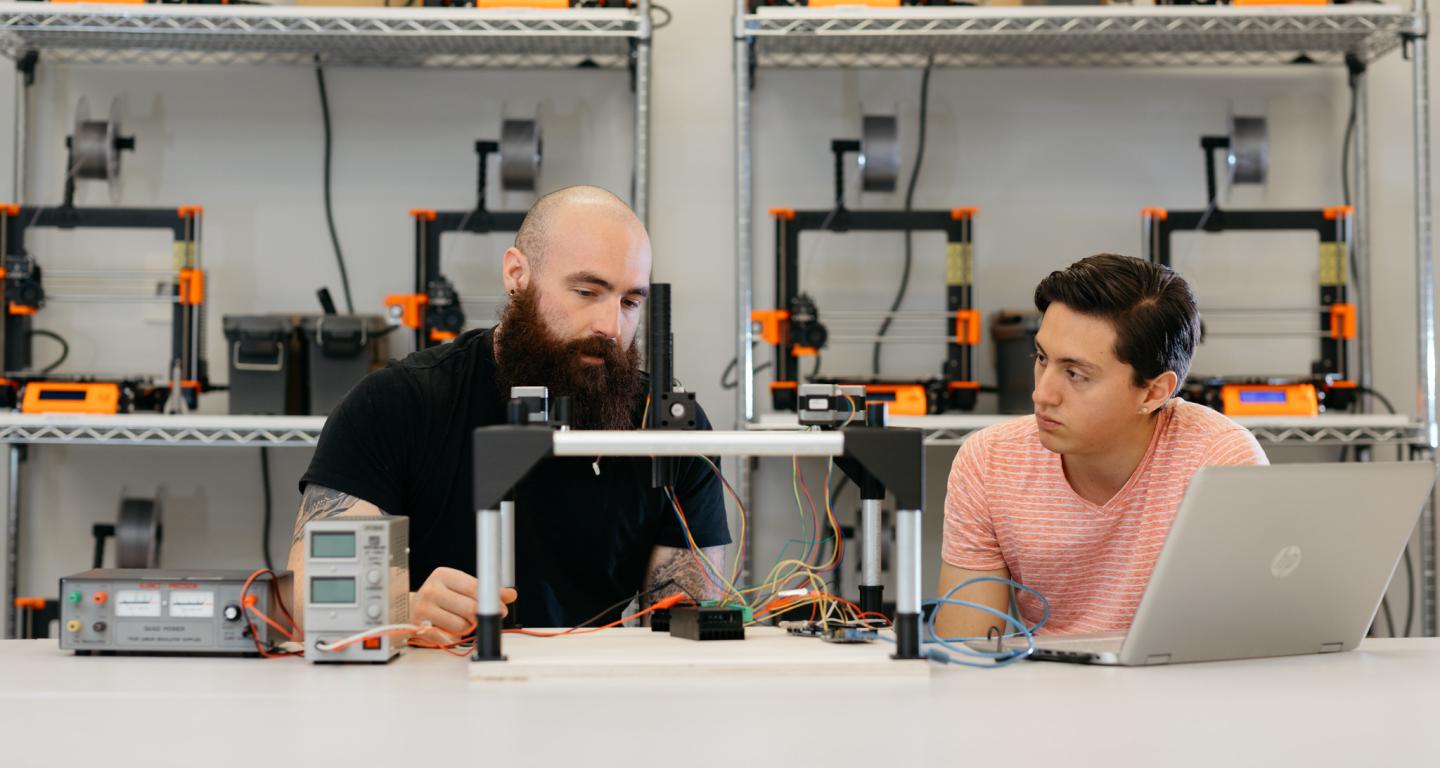 What to do with a Mechanical Engineering Degree
Dec 08, 2021
What to do with a Mechanical Engineering Degree
Are you interested in pursuing a degree in mechanical engineering degree? You've come to the right place! This article will discuss the different career paths you can take with a mechanical engineering degree, as well as its career outlook, current salaries, and relevant statistics to help you see if it's the right choice for you.
Employment Prospects Within Mechanical Engineering
If you're considering mechanical engineering as your major, you're in luck. According to the U.S. Bureau of Labor Statistics, the employment of mechanical engineers is estimated to grow seven percent from 2020 to 2030. Additionally, there will be over 20,000 openings for mechanical engineers over the next decade. Overall, the mechanical engineering field offers a stable career path with job opportunities growing at an average rate compared to other industries. 
mechanical engineering Skills for your CV
When applying for mechanical engineering roles in the workforce, specific skills are crucial to list on your CV (curriculum vitae) to stand out to employers. Like most fields, you should strive to develop both hard and soft skills relating to your field and the specific role you're interested in earning. Hard skills demonstrate a deep understanding of the industry, such as having particular abilities or capabilities to present in a measured way. On the other hand, soft skills are personal traits that allow you to be your best self, whether you're working alone or as a team.
Some useful skills to list on your resume include:
Analytical thinking

Attention to detail

Computer skills

Creativity

Interpersonal skills

Mathematics

Mechanical skills

Problem-solving skills

Project management

Teamwork

Troubleshooting
It's important to remember that both types of skills are important to possess. Employers will look to hire someone well-versed in the field and capable of working effectively and harmoniously with a team. 
What is the Salary for a Mechanical Engineer?
In May 2020, the median annual wage for mechanical engineers was $90,160, according to the U.S. Bureau of Labor Statistics. This median annual wage conveys that half the workers in mechanical engineering earned more than that amount and half earned less. When looking further at mechanical engineers' salaries in the United States, the lowest ten percent earned less than $58,410, and the highest ten percent earned more than $141,060.
In addition, mechanical engineers may have the opportunity to receive a bonus or commission, depending on the role. Salaries can also be different depending on where you are located and how many years of work experience you have in the field. Lastly, your current skill set and education can also affect your total pay. Using websites such as PayScale or Indeed can help find specific salaries.
Where Can You Work with a Mechanical Engineering Degree?
For many mechanical engineer roles, you'll work in an office setting, but you can find almost any situation you can imagine. A good amount of your work will tend to be done on a computer, interacting with advanced computer systems and mechanical systems. You may also find yourself visiting a worksite to test a product, scout locations for future projects, or fix a problem that needs to be solved. On the job, you will likely connect with and collaborate with other engineers and professionals throughout the workday to discuss current and upcoming projects. While work schedules may vary by role, most mechanical engineers typically work 40 hours a week, with some working over that amount. Some engineers travel extensively around the world, others have gone into space. It's really up to you.
Top Industries for Mechanical Engineers
While mechanical engineers can find employment in virtually any field, they're mainly sought out by employers from industries such as:
Aerospace

Automotive

Chemical

Computer technology

Construction

Defense

Design

Electronics

Information technology

Materials and metals

Pharmaceuticals

Research and development

Robotics
In addition to the more engineering-focused industries, mechanical engineers can also find employment in others, including education, finance, management, law, government, medicine, research, and sales.
How be a Mechanical Engineer
Earning a bachelor's degree at a college or university is the best first step to take in launching your mechanical engineering career. Why? Getting a bachelor's degree will allow you to acquire the necessary knowledge and skills, as well as receive a thorough introduction to the field from coursework, research opportunities, and internships. 
Additionally, having the opportunity to obtain practical experience by working in labs with advanced technology and equipment will aid in your success in the field. 
What Can You Do with a Bachelor's in Mechanical Engineering?
There is a lot you can do as a mechanical engineering graduate. By earning your degree and building a solid foundation, you can find various job opportunities. You can work in design and manufacturing, energy and the environment, robotics and mechatronics, automotive or mechanical design, depending on where your interests lie. Potential employment opportunities available to you with a bachelor's degree in mechanical engineering include:
Jobs directly related to mechanical engineering--
Aerospace engineer

Automotive engineer

Biomedical engineer

Construction engineer

Entrepreneur

Manufacturing engineer

Management consultant

Mechanical engineer

Production engineer

Project lead

Project manager

Process engineer

Product designer

Quality engineer

Structural engineer

Technology specialist

Thermal engineer
Careers where a mechanical engineering degree can be used--
Clinical technologist
Project manager
Entrepreneur
Project lead
Technology specialist
Management consultant
Acoustic engineer
Patent lawyer
Land-based engineer
Water engineer
Through the courses you take and the learning experiences you gain, you will possess a broad set of intellectual and technical skills to prepare you for mechanical engineer jobs in several industries. At North Central College, students in the mechanical engineering program get hands-on experience from day one in the engineering method by working in state-of-the-art labs, using the latest engineering design and simulation software, and more.
"Our mechanical engineering program provides a well-rounded skill set that is appropriate for all entry-level mechanical engineering positions. The additional elements we provide will make them very desirable since their backgrounds include hands-on experience in manufacturing, quality control, and project management," said Frank Harwath, professor of engineering and director of the engineering program at North Central College.
How to Advance Your Mechanical Engineering Career
Whether you have years of work experience or just recently graduated, there are strategies you can incorporate to help you reach the next level of your career. Similar to most fields, an effective way to advance your career in mechanical engineering is by broadening your education. Going back to school for a graduate degree will help you gain greater insight, experience and credentials to bring back to your profession. Likewise, you will have the opportunity to learn new skills or build upon existing ones. It is also a great way to form new relationships and grow your professional network. 
Some schools, like North Central College, offer accelerated master's programs where you can work on a bachelor's degree at one institution while earning credits toward a graduate degree at a partner institution. This type of program can result in getting a bachelor's degree and a master's degree in as few as five years. North Central's program also offers a scholarship for admitted applicants. 
Another way to advance your career is to find an established mentor in the field. Having access to a mentor can be advantageous in many ways, primarily to provide guidance and share advice. If you have trouble finding a mentor, check with your career development office or human resources department for a mentoring program. You can also try a simple ask on a social media networking platform, such as LinkedIn. 
What Can You Do with a Master's in Mechanical Engineering?
Earning a master's degree in mechanical engineering can help you qualify for additional employment opportunities. If you're interested in obtaining a larger role, such as a project coordinator or manager, you could be eligible for types of jobs like these with a graduate degree.
In addition to increasing your eligibility for better mechanical engineering jobs, you will likely have a reasonably significant increase in compensation.
What Can You Do with a Doctorate in Mechanical Engineering?
If you earn your bachelor's and master's degrees and are hungry to learn more, a doctorate in mechanical engineering may be an excellent option for you. While having a Ph.D. is not required for the field, it does help if you have a passion for teaching and would like to work in academia as a professor. Those who earn a doctorate in mechanical engineering can also perform high-level research for a college, university, or independent private laboratory.
Additionally, those willing to put in the time and hard work to earn a doctorate in mechanical engineering will benefit financially. In an ever-changing field, mechanical engineering graduates will likely be at the top of their field, continuing to expand their knowledge and strengthen their skills. They will accumulate even more hands-on experience with cutting-edge tools and technology. For those wanting to receive a job in management or research, having a doctorate will put them ahead of others. 
If you would like to learn more about majoring in mechanical engineering, take some time to explore different College websites and the type of programs they offer. For instance, students enrolled in North Central College's mechanical engineering program have access to resources beyond the classroom and work alongside expert faculty in the field. You can count on North Central College to help you discover the right path for you as a student and in your career. 
If you have more questions like, "What is mechanical engineering?", "How do you become a mechanical engineer?", "Is mechanical engineering hard?", or "What's different about civil vs mechanical engineering?", read our linked blogs!
Kara Kots is the social media specialist in North Central College's Office of Marketing and Communications. There, she contributes her content, writing, and communication skills. 
Sources:
Mechanical Engineers (Summary). U.S. Bureau of Labor Statistics. https://www.bls.gov/ooh/architecture-and-engineering/mechanical-engineers.htm. Accessed October 22, 2021.
Mechanical Engineers (Pay). U.S. Bureau of Labor Statistics. https://www.bls.gov/ooh/architecture-and-engineering/mechanical-engineers.htm#tab-5. Accessed October 22, 2021.
Is a Ph.D. in Mechanical Engineering Worth It? Best Accredited Colleges. https://bestaccreditedcolleges.org/articles/is-a-phd-in-mechanical-engineering-worth-it.html. Published October 20, 2021. Accessed October 25, 2021.
Average Mechanical Engineer Salary. PayScale. https://www.payscale.com/research/US/Job=Mechanical_Engineer/Salary. Accessed October 25, 2021.
What types of industries can mechanical engineers work in? Career Explorer. https://www.careerexplorer.com/careers/questions/39/what-types-of-industries-can-mechanical-engineers-work-in/. Accessed October 25, 2021.
What Does a Career in Mechanical Engineering Look Like? The Best Schools. https://thebestschools.org/careers/career-guide/mechanical-engineering/. Published June 15, 2021. Accessed November 1, 2021.
What to Do With a Mechanical Engineering Degree. U.S. News & World Report. https://www.usnews.com/education/best-graduate-schools/top-engineering-schools/articles/what-you-can-do-with-a-mechanical-engineering-degree. Published December 10, 2020. Accessed November 1, 2021.
Engineering (Mechanical). North Central College. https://www.northcentralcollege.edu/program/engineering-mechanical. Accessed November 1, 2021.
Tips to Advance Your Career as a Mechanical Engineer. Engineering Management Institute. https://engineeringmanagementinstitute.org/advance-engineering-career-tips/. Published March 25, 2019. Accessed November 3, 2021. 
Important Job Skills for Mechanical Engineers. The Balance Careers. https://www.thebalancecareers.com/list-of-mechanical-engineer-skills-2062433. Published February 28, 2020. Accessed November 3, 2021. 
What Can You Do With a Mechanical Engineering Degree? Best Colleges. https://www.bestcolleges.com/careers/science-and-engineering/mechanical-engineering/. Accessed November 3, 2021.
WHAT CAN I DO WITH A MECHANICAL ENGINEERING DEGREE? Online Engineering Programs. https://www.onlineengineeringprograms.com/faq/what-can-you-do-with-a-mechanical-eng-degree. Accessed November 3, 2021.