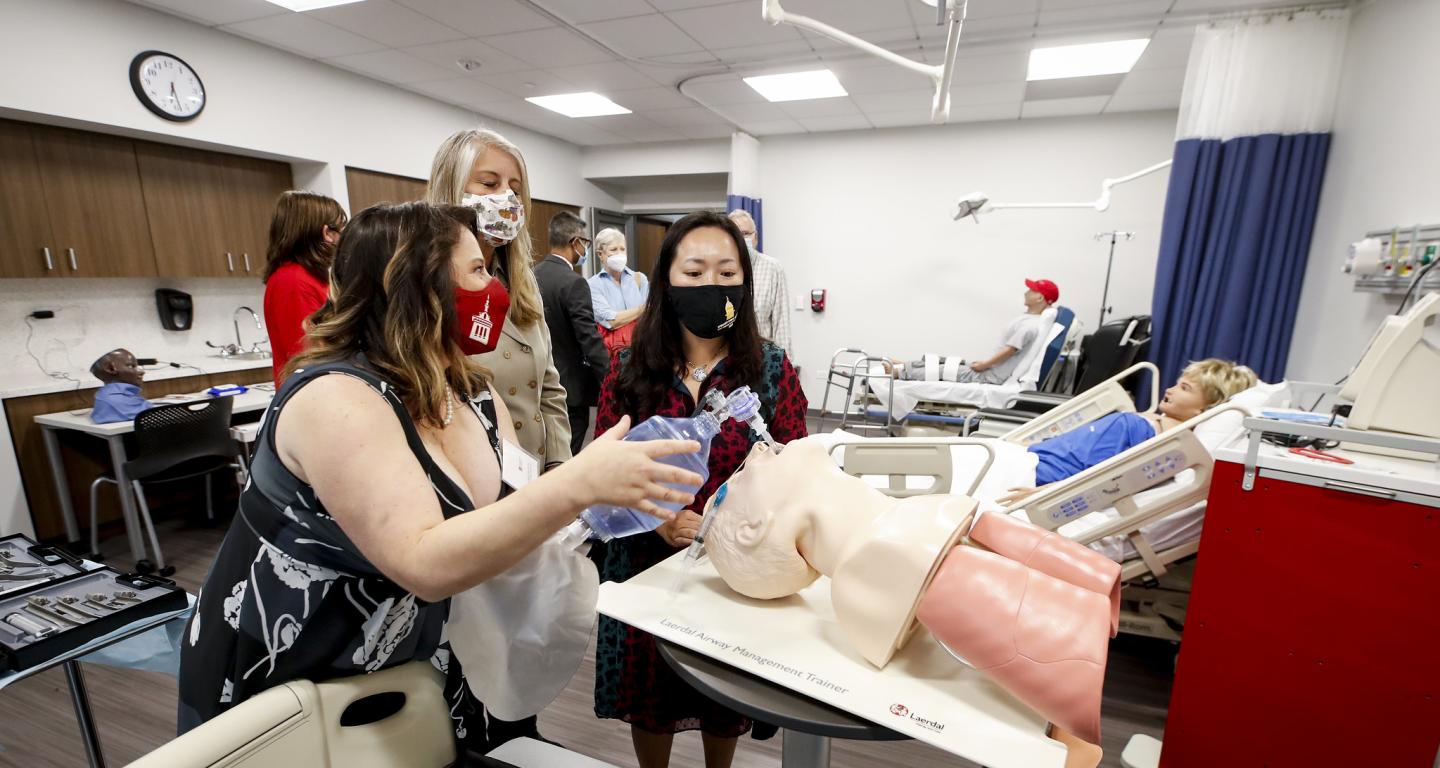 What To Do With Health Science Major
Feb 23, 2022
What to do with a health science major
Working in health science has always been critically important work, drawing interest from students looking for challenging work, who care about those in need, and want to make a positive, significant impact in the world. Recent events have only increased awareness of the need for capable, devoted people in the areas of medical care, research, and healthcare administration. 
If you want to answer that call, you may be interested in a health science degree. Health science is a field that can lead to a wide range of rewarding career opportunities and involves more skills and knowledge than you associate with the doctors and nurses you see when you go to the hospital or get a check-up.
Need to know more about what a health science degree program is, wondering "What can you do with a health science degree?", "What jobs can I get with a health science degree?" or whether or not it's the right major for you? This guide is the perfect place to start.
What Is Health Science?
When you hear the words health and science, your first thought is probably something like, "Whatever it is that doctors know that makes them smarter than everyone else." There is a lot more potential in health science and health field majors than most of us tend to consider. 
According to Kristin Ann Paloncy-Patel, assistant professor of health science at North Central College, "Health science is an interdisciplinary degree program that introduces the student to the broad health care field and is intended for students wishing to pursue careers in healthcare; including those that want to be clinical or those that want to be involved in healthcare but not necessarily treat patients/clients." 
The study of health science covers a broad spectrum of ideas and subdivisions both within medicine and adjacent to medical care. 
While approaches vary from school to school, a degree in health science could include studying how hospitals, clinics, laboratories, and health insurance companies operate as businesses. You could look at health as policy, and the many ways it factors into government and within municipalities. Health science students can also get into very specific areas of health like communicable diseases, different kinds of disorders, working with those in need of ongoing care in areas like speech pathology, occupational therapy, prosthetics and orthotics, or nutrition. 
So while it may not be as immediately well known as a pre-med program or a degree in a natural science like biology, a health science major is tremendously versatile when it comes to the number of things it teaches and allows you to potentially pursue as a career.
Let's get a little more direct, then, and look at what you are most likely to take as part of a degree in health science. In her article for U.S. News and World Report, Ilana Kowarski writes, "Programs in this discipline usually require coursework in health-related social science fields such as epidemiology, sociology and psychology, according to health science faculty. Health science degrees also typically include coursework in nutrition and exercise science, and they frequently call for many public health classes."
At the bachelor's degree level, health science is like any other major. You will have general requirements to fulfill and other classes to take to get a foundation of collegiate knowledge and expertise before you start to specialize in primarily health-related classes. 
Who Should Get a Health Science Degree?
Now that you have a little better understanding of what health science is on the college level and the subjects it includes, let's look at what those in the field have to say about the typical makeup of a health science major. Bear in mind that, especially due to the broad nature of the field, anyone can succeed in health science with the proper amount of skill, dedication, and support. It does, however, lend itself to certain characteristics.
Key things to consider are:
Why you want to work in health science

What are the kinds of tasks you feel most comfortable with
In Kowarski's article, she talked with Gary Liguori, dean of the University of Rhode Island's College of Health Sciences. Kowarski said, "(Liguori) encourages prospective health science students to ask themselves if they have a desire to work in a service profession, since that sort of humanitarian motivation is essential for a career (in the health profession). He adds that prospective health science students should also consider whether they enjoy solving problems, working on teams and analyzing data, since these skills are typically needed in the health care sector."
You should also carefully think about how comfortable you are spending time as a student, as the health science field can go hand in hand with more years of school than the typical profession. Paloncy-Patel said approximately 85% of health science majors go on to graduate study, some right after getting their undergraduate degree and others after working for a few years.
While you may need more time in school to get where you want to go, flexibility is another trait that fits well with those who pursue health science. Paloncy-Patel stresses that the major is good if you know specifically which area of healthcare you want to pursue in graduate school, as it tends to leave plenty of room in your undergraduate schedule for necessary prerequisites. 
If you are not as clear, however, Paloncy-Patel said that "the health science major is broad enough and does not require specializations, (such) that it allows (a) student to enjoy the subjects they are learning … and then earn a degree that can actually lead to many options for jobs within health care," meaning clinical, administrative, or public sector careers.
In other words, you will have plenty of options and the freedom to pursue them how you want—but you won't be guided by the hand on a typical career path, either.
Health Sciences Jobs and Career Paths
Your interest is likely piqued, but you are still wondering just exactly what jobs you can get with a health science degree and whether it will be worth the effort. There are quite a lot more health professions than what comes to mind. The healthcare industry goes beyond medical assistants and doctors and includes careers such as health services, healthcare administration, support services, and more. 
The bad news is that the demand for healthcare in the U.S. is not likely to decrease anytime soon, but the good news is that health science has a lot of potential for growth. In All Allied Health Schools, Mary McCarty said, "According to the U.S. Bureau of Labor Statistics' employment projections for 2020-2030, healthcare is projected to add the most jobs in all industries due to (the need for healthcare) of the 'baby boomers,' longer life expectancies, and more people with chronic conditions. While the employment projections in healthcare focus more on the front-line healthcare professionals, there is an opportunity for those with a health sciences degree to create (a different path) within the industry."
That is where the versatility of the health science field becomes important. You can definitely find a great career in a quality place to work, because you will have useful skills and a sought-after degree. Creativity, forward-thinking, and self-advocacy will be hugely important, as well.
Tammy Wynard, assistant professor of health science at North Central College, said that a health sciences major equips students with tools that make it easy to stand out, specifically expertise in science "but also understanding the importance of how to work inter-professionally with others and understanding the health care system. I also think a willingness to work on communicating orally is a key skill across disciplines where health science students will work."
Career opportunities in health science are always evolving to fit the needs of patients and clients, so no one way to classify them is permanent. In her article for All Allied Health Schools, Anne Giorgi groups the roles in the field of allied health, meaning health care beyond the typical roles of physicians, into five health services categories that are common in most places: 
Diagnostic Services
These are careers in specialties like lab technicians and technologists, who are called on to administer and assess tests using X-rays, magnetic resonance imaging (MRI), computed tomography, or CT scans, sonograms and other exams that help the doctor get a closer look at what's wrong with a body and properly treat it.
The U.S. Bureau of Labor Statistics (BLS) says health science jobs in diagnostic services are growing; radiology technologist positions are due to rise by 9% by 2030. BLS reports the median salary for the position at $61,900 per year annually.
Many of these positions are available for those with an associate degree, but some require a bachelor's degree.
Therapeutic Services
Careers in this field are generally about helping patients and clients outside the hospital, providing ongoing care to help them live their lives normally and successfully. It includes positions in counseling, health education, and especially athletic training, physical therapy, and occupational therapy.
Occupational therapy is the practice of teaching people how to live their everyday lives and perform routine physical tasks after injuries or while dealing with chronic health conditions. OTs go through every part of a patient's environment—where they live, who they interact with, what their daily routine is--to make sure their situation is conducive to healthy function. 
Occupational therapy positions will rise 17% in the next decade according to BLS, who reports the average salary for an OT is $86,280.
You will need a master's degree to work as an occupational therapist and even as a physical therapist, but many schools have excellent bachelor's degree programs that transition nicely into those master's programs. Some, like North Central College, also offer dual admission programs designed to get you both a bachelor of health science and a master's degree in a shorter amount of time so you can get your career in occupational therapy started even sooner.
Support Services
Support services include the unsung heroes of healthcare—aides and every kind of assistant, from an occupational therapy assistant to a medical assistant to a veterinary assistant. Support service staff are both the face and the backbone of every healthcare operation: they're the first people most patients and clients meet as well as the ones who do the behind-the-scenes work to keep everything running. This field is expanding, too, as aides and assistants do more and more, including taking patient information, managing files and medical records, taking patients' vital signs, and readying laboratory samples.
The position of a physician assistant is more complex and involved. According to North Central College's degree web page, a physician assistant is "a trained professional who provides diagnostic, therapeutic and preventative health care services under the supervision of physicians and surgeons."
With more being asked of their positions, these roles are growing, expected to rise 18% by 2030 according to BLS. The average salary for a medical assistant is $35,850, but can vary depending on location in the country and what type of facility you work in. Medical assistant jobs can be found with a diploma or associate degree. While it is a newer field, bachelor's degree pre-professional programs that lead to a graduate health science program for a physician assistant are becoming increasingly common.
Health Informatics
This field is all about providing vital information technology support to health care, helping to maintain and develop the advanced computer systems needed to keep accurate records, analyze laboratory data and help doctors administer care. This area is more about IT than medicine, but detailed knowledge of and affinity for health science concepts is vital to work in health informatics.
A typical position in this field would be as a health information specialist, a job set to grow by 9% nationally by 2030, according to the BLS. BLS calculates the national average salary for this position at $44,090. You can find an entry level position in informatics with an associate or bachelor's degree, and if you seek to move up into leadership roles, you should then pursue a master's degree.
Biotechnology Research and Development
The development and advancement of health care come from research. This field is not about treating patients and clients but analyzing their bodies and physical processes to find newer, better ways to treat disease and injury. Going into research means you should be big on biology, anatomy, heredity and epidemiology, and you should generally be creative and very open to new ideas.
While growth for biotechnology research jobs like biochemists and biophysicists is slower than others in the healthcare field at 5% expected growth by 2030, according to BLS, the average salary is higher at $94,270 per year nationally. You will also need more schooling than for other careers, as most of these health science major jobs require a Ph.D., though you can sometimes find your way to an entry-level job with a bachelor's or master's degree.
Below are some of the specific jobs you can work in as a health science major:
Medical field--
Physical therapy assistant

Occupational therapy assistant

Respiratory therapist

Physical therapist

Occupational therapist

Physician assistant

Anesthesia technician

Surgical technician

Medical equipment technician

EKG technician

Speech language pathologist

Pharmacist

Audiologist
Non-medical field--
Medical claims reviewer

Pharmaceutical representative

Medical equipment sales representative

Medical researcher

Medical service manager
WHERE DOES A HEALTH SCIENCE MAJOR WORK?
There are many places that a health science major can choose to work in. Some of the common locations a health science major might find opportunities are:
Hospitals

Private clinics

Community health care centers

Manufacturing businesses

Governments

Non profit organizations

Medical laboratories

Pharmaceutical companies
Start Your Career in Health Science
Now that you know more about your choices for a career in health science, hopefully, you are ready to look for a place to study the subject. Finding the right school is very important, so you should consider a health science program like the one at North Central College. 
According to the health sciences program page, North Central "provides a strong foundational knowledge of the core concepts in most medical-related health science jobs and prepares students to further their higher education or pursue medical school." The health science program boasts an experienced faculty from numerous backgrounds in the field, the chance to go to conferences, do undergraduate research with faculty, work as a peer educator at North Central's Dyson Wellness Center, and much more.
Find out more about North Central College and get your career started today. 
Jacob Imm is the assistant director of communications for the North Central College Office of Marketing and Communications. He has 11 years of collegiate communications experience and has worked with hundreds of college students. He has a bachelor's degree from the University of Notre Dame and a master's degree from Northern Illinois University. 
Sources:
Ilana Kowarski, U.S. News and World Report. https://www.usnews.com/education/best-colleges/articles/what-you-can-do-with-a-health-science-degree 
Anne Giorgi, All Allied Health Schools. https://www.allalliedhealthschools.com/health-science/ 
North Central College, Health Science degree program page. https://www.northcentralcollege.edu/program/health-science
UW Flexible Option. https://flex.wisconsin.edu/stories-news/what-can-you-do-with-a-health-sciences-degree/