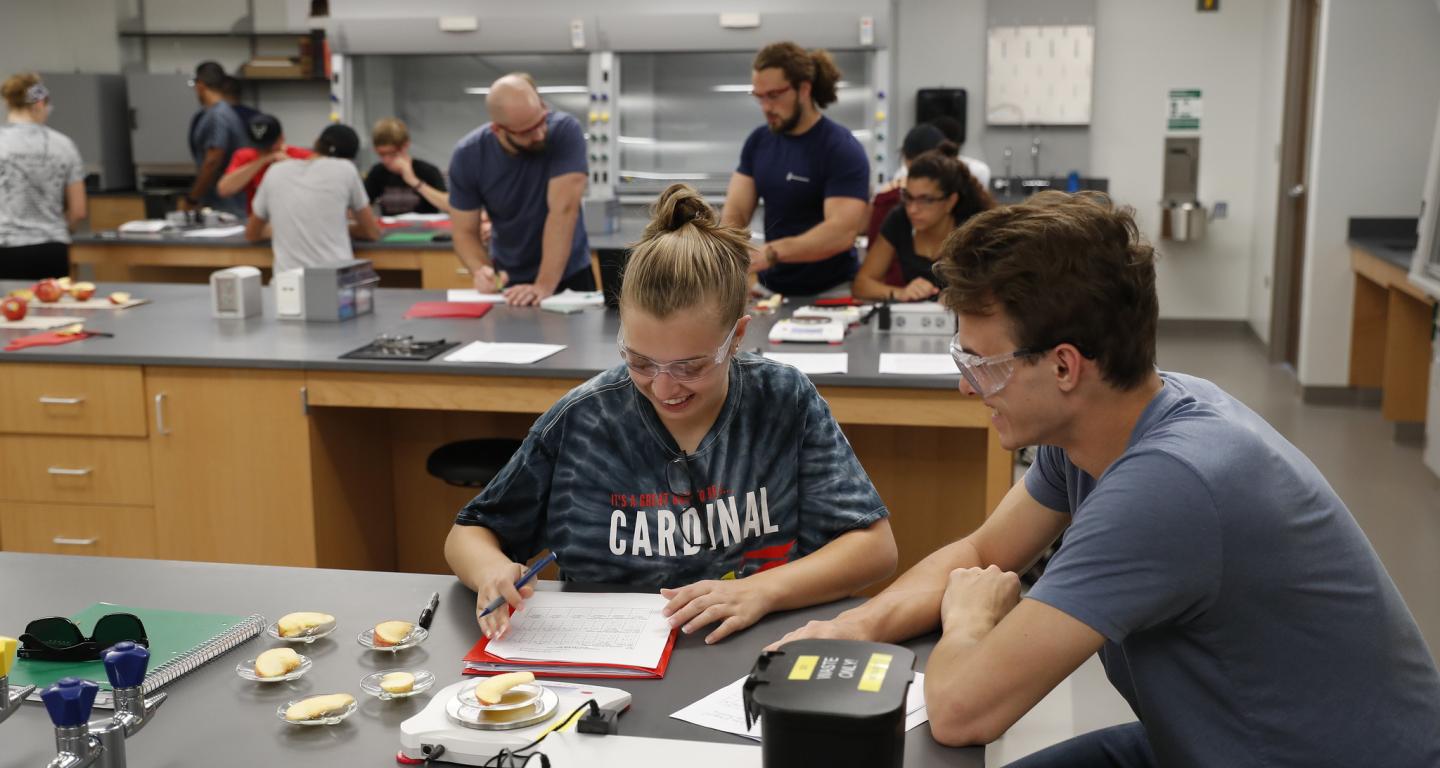 How to Become a Biochemist
Reviewed by Jacob Imm
May 06, 2022
How to Become a Biochemist
Planning complex lab experiments. Directing lasers at atoms and molecules. Discovering new applications for life-saving drugs. These are all regular occurrences in the field of biochemistry and biological science.
Much like a biophysicist and any other related field, becoming a biochemist takes patience and dedication, but biological chemistry is a rewarding career that blends logic with creativity, offering opportunities to change the world through biological processes, applied research, and scientific experiments.
If that kind of future appeals to you, you might be wondering how to become a biochemist. This guide will give you a step-by-step breakdown of the process—from the present moment and graduate school all the way to the workforce.
Step 1: Develop an Understanding of Biochemistry
When ideas about a promising future enter your head, it's easy to get swept up in the excitement and commit to a career path on the spot. But before you start joining extracurricular programs and applying to colleges, it's essential to understand the answer to the question, "What does a biochemist do?"—and if the field is right for you.
Biochemistry is a scientific field that combines biology and chemistry in equal measures. Through these two lenses, biochemists work to understand the "chemistry of life." They study the chemical processes and reactions that occur within and around living things and any living organism.
Of particular interest to biochemists are the chemical compounds that play important roles within organic life forms: proteins, lipids, carbohydrates and nucleic acids. In their ongoing quest to understand these substances, biochemists may spend their days:
Developing and carrying out basic research and experiments

Recording the short- and long-term effects of new drugs or hormones

Analyzing biomolecules through fluorescent microscopes

Reading and writing research papers and technical reports

Using advanced computers to model molecules

Giving presentations about their ongoing research
Step 2: Start Preparing for College
If all of this talk of experimentation and advanced technology has piqued your interest, it's time to take action and start working toward a future in biochemistry.
No matter your age, you can start to satisfy your curiosity about biochemistry right away. You don't need to wait until your first year in a biochem program to explore the field; there are various ways to prepare long before sending off your first college application.
Ways to Explore Biochemistry Pre-College
Your path toward biochemistry greatness can begin right now, both in and out of school.
Outside of the classroom, you can look for extracurricular science clubs and take learning into your own hands. For example, you may want to keep an eye out for:
Science fairs

Online courses

Biochemistry books from the library

YouTube videos

Shadowing opportunities
In high school, taking as many biology and chemistry classes as possible allows you to learn about the broad range of topics under the umbrella of biochemistry. Other courses—such as math and physics—will also be relevant, as biochemistry frequently overlaps with other scientific disciplines.
The experience you gain during class hours (and beyond) will not only improve your college application, but they'll also provide you with many of the skills you'll need to succeed in biochemistry.
Useful Skills for Future Biochemistry Students
With that said, even if you don't join a club or pore over biochemistry textbooks, you can still foster general competencies that will help you in a college-level biochemistry program.
Biochemists rely on an assortment of hard and soft skills. Regardless of the industry or position you see yourself in, it's worthwhile to learn about important topics like:
Mathematics (especially calculus)

Data analysis

The scientific method

Communication (written and verbal)

Critical thinking

Computer literacy

Lab safety
Any chance you have to practice these skills will give you a leg up when you finally enroll in a college program.
Step 3: Earn an Undergraduate Degree
Entering college is the first "official" step in becoming a biochemist. When choosing your major, you have a few options. Wondering, "What is a biochemistry major?" We've got you covered!
Because biochemistry is a branch of both biology and chemistry, earning a degree in either discipline can eventually land you a role as a biochemist. However, enrolling in a dedicated biochemistry program is the best way to pick up specialized skills and terminology.
Regardless of the major you select, most undergraduate programs are designed to be completed in around four years (though taking three to five years is common).
The other choice you have to make is deciding between a bachelor's of arts (B.A.) or a bachelor's of science (B.S.). Schools like North Central College offer both a B.A. and B.S. in biochemistry, but other institutions may favor one or the other.
Whether you choose a B.A. or a B.S., you'll take a range of biology, chemistry and other courses, such as:
General Chemistry

Organic Chemistry

Calculus

Animal Physiology

Infectious Disease

Materials and Surface Analysis

Introduction to Bioinformatics

Spectrometry and Spectroscopy
Completing an Internship
To complement in-class learning, many biochemistry programs will encourage (or require) an internship. Internships are highly recommended in any scientific field, as they allow you to:
Practice skills in the "real world" – Even though any reputable science program will have a lab for you to practice in, nothing beats the on-the-job training of an internship.
Network – Meeting professionals in your field of choice is a fantastic way to secure a job in the future, even if it's not at the same company.
Strengthen your resume – Having an internship on your resume makes you more hireable, as employers know you already have real-world experience.
Whether or not an internship is required for graduation, it's worth pursuing one during college.
Step 4: Pursue an Advanced Degree (Optional)
Post-graduation, your bachelor's degree in biochemistry will allow you to apply for numerous entry-level jobs. However, if you hope to undertake individual research or work in senior positions, a master's or Ph.D. may be necessary.
A master's degree generally takes two years of full-time study, while a Ph.D. can require a commitment of four to six years.
If you're open to the time and effort of earning an advanced degree, you can reap several benefits. You'll open yourself up to more specialized knowledge, additional career options and an increase in earning potential.
Step 5: Apply for Biochemistry Jobs
Finally, it's time to start applying for jobs. Because biochemistry is all around us, your biochemistry degree opens the door to numerous exciting career opportunities. These include:
Biochemist – Many biochemists start working in labs with a bachelor's degree, though some hold a master's or doctoral degree. As per the US Bureau of Labor Statistics (BLS), professional biochemists earn a median salary of $94,270 per year.
Medical scientist – To work as a medical scientist, you'll almost certainly need a Ph.D. or a medical degree. But once you have it, you'll push the boundaries of health science, developing new drugs while earning a median salary of $91,510 per year according to the BLS.
Biological technician – A more entry-level position, biological technicians assist scientists in the lab. The median salary is $46,340 a year per the BLS.
Why Become a Biochemist?
Now that you know how to become a biochemist, you may be wondering why you should choose biochemistry as a career path. There are countless reasons to pursue biochemistry, and many will be personal. Still, we'll give you some common incentives for becoming a biochemist.
You Can Improve Lives
From improving medical science to orchestrating agricultural advances, biochemists make life-changing contributions every day. Depending on your chosen industry, while working as a biochemist, you might:
Develop a new drug that treats an incurable disease

Come up with a safer way to process food

Synthesize an elusive protein for the first time
Few careers have the potential to touch so many lives at once.
You Can Better Understand the World Around You
From a young age, we all have questions about life and how it works. Biochemistry gives you the tools to understand some of life's most fascinating secrets.
The first time you peer into a high-performance microscope is unforgettable. Seeing the building blocks of life first-hand—then proceeding to study them at the highest level—allows you to glean information that few people ever will. 
You Can Earn a Respectable Salary
While not every biochemist will make six figures, the top 10% earn more than $169,860/year according to the BLS. Even the bottom 10th percentile earns a median annual salary of $52,640.
Of course, money isn't everything. But when you can pair a lucrative wage with a career that ignites your passion, you're certainly on the right track.
Become a Biochemist and Expand Your Horizons
Ultimately, if you hope to unravel the mysteries of life, you'd be hard-pressed to find a discipline more fitting than biochemistry. As an ever-changing field that remains on the cutting edge of technology and science, biochemistry promises to be a rewarding, exciting career path.
If you want to improve your chances of finding a biochemist job after graduation, seek out a school with a dedicated biochemistry program, like North Central College. By focusing equally on chemistry, biology, and other essential topics, you can prepare yourself for the fast-paced world of biochemistry.
Looking to learn more about the field before you dive in? Be sure to check out our informative guides on majoring in biochemistry, what biochemists do and understanding molecular biology vs. biochemistry.
Jacob Imm is the assistant director of communications in the North Central College Office of Marketing and Communications. He has 12 years of collegiate communications experience and has worked with hundreds of college students. He has a bachelor's degree from the University of Notre Dame and a master's degree from Northern Illinois University. 
Sources: 
U.S. Bureau of Labor Statistics. (2022, January 27). Biochemists and Biophysicists: Occupational Outlook Handbook. U.S. Bureau of Labor Statistics. Retrieved March 17, 2022, https://www.bls.gov/ooh/life-physical-and-social-science/biochemists-and-biophysicists.htm
U.S. Bureau of Labor Statistics. (2021, September 8). Medical Scientists: Occupational Outlook Handbook. U.S. Bureau of Labor Statistics. Retrieved March 17, 2022, from https://www.bls.gov/ooh/life-physical-and-social-science/medical-scientists.htm
U.S. Bureau of Labor Statistics. (2022, January 11). Biological Technicians: Occupational Outlook Handbook. U.S. Bureau of Labor Statistics. Retrieved March 17, 2022, from https://www.bls.gov/ooh/life-physical-and-social-science/biological-technicians.htm
U.S. Bureau of Labor Statistics. (2021, March 31). Occupational Employment and Wages, May 2020: 19-1021 Biochemists and Biophysicists. U.S. Bureau of Labor Statistics. Retrieved March 17, 2022, from https://www.bls.gov/oes/current/oes191021.htm#st