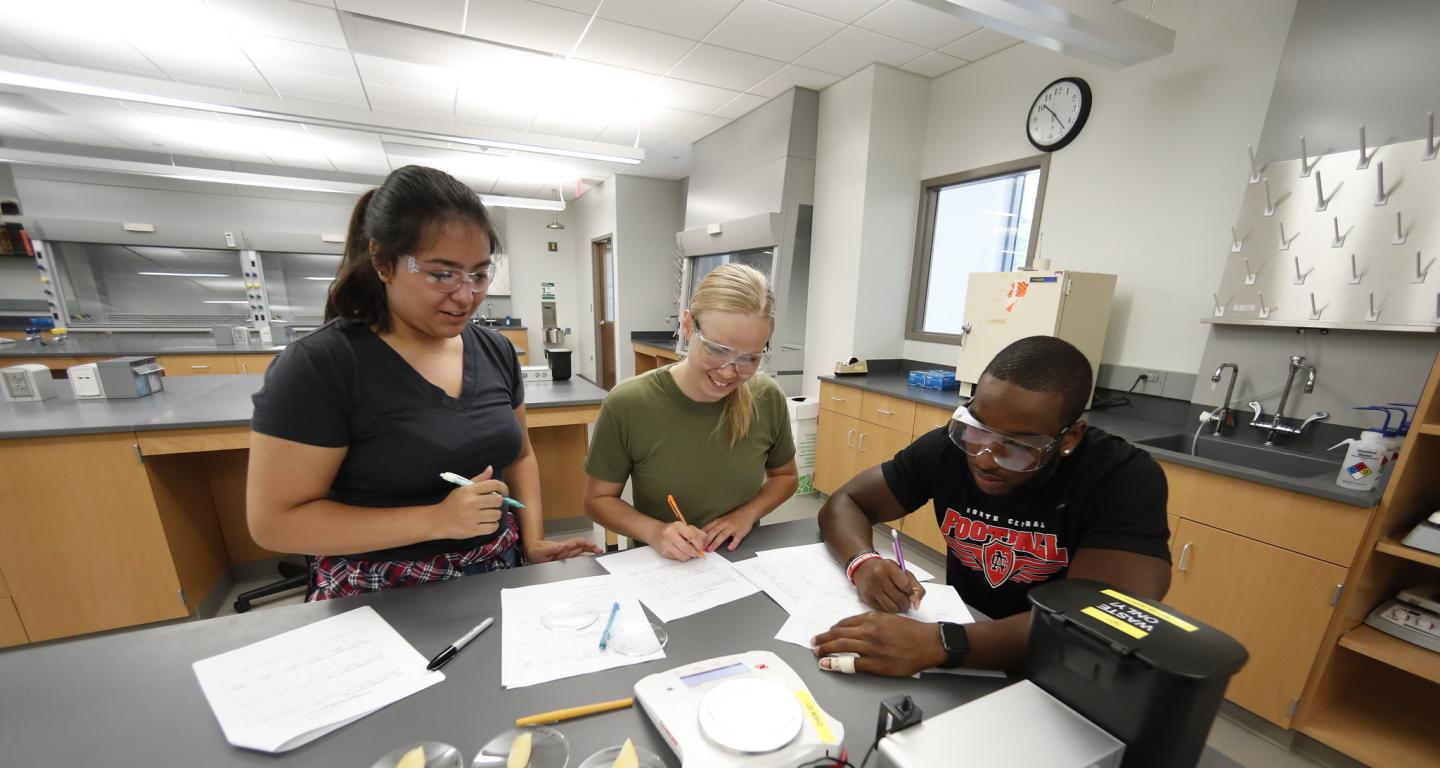 What Does a Biochemist Do
Reviewed by Jacob Imm
May 13, 2022
What Does a Biochemist Do?
Have you ever wondered what goes on behind the closed doors of a biochemistry research facility? What do those clinical biochemist scientists in white lab coats do all day?
Well, wonder no more.
Under the fluorescent lights of the laboratory, these biochemists work to discover the keys to life itself through health science, organic chemistry, and molecular biology. They often enjoy a front-row seat to revolutionary advances in medicine, safety and more.
In this guide, we'll be flinging the doors of the biological chemistry lab wide open, giving you an inside look into the roles and responsibilities of a biochemist.
Biochemistry as a Discipline
So, what does a biochemist do, exactly? Before you can understand how these clinical biochemistry scientists spend their time, it helps to comprehend biochemistry as a field.
As the name suggests, biochemistry is a melting pot of chemistry and biology. It's the study of chemicals as they relate to living organisms and biological processes.
When you think of chemicals, your first instinct may be to picture cleaning products or the latest medicines. But in reality, chemical compounds are natural, and they're everywhere—including inside our bodies and any and all living things. Carbohydrates, proteins and fats are all made up of molecules, and biochemists work to explore the complex relationship and chemical reactions between these compounds and life.
In their quest to understand these chemical processes, biochemists perform two kinds of scientific research:
Basic research – This is "pure science" at its finest. Conducting an experiment without a set purpose is considered basic research; the only goal for their research findings is to advance human knowledge.
Applied research – Biochemists working for food or pharmaceutical companies often have a more structured goal. For example, they may hope to find a drug that lowers cortisol levels without major side effects. Conducting an experiment to solve a specific problem is known as applied research.
The Everyday Responsibilities of a Biochemist
Using advanced technology to perform basic and applied research, biochemists take on various responsibilities. Their exact duties will depend on their role and the industry in which they work.
With that said, according to the U.S. Bureau of Labor Statistics (BLS), biochemists typically:
Plan and carry out research projects

Draft academic papers outlining their projects

Analyze DNA sequences

Synthesize proteins and fats

Determine the short- and long-term effects of substances (drugs and hormones)

Write applications for government funding
To accomplish these tasks, biochemists leverage high-powered computers, lasers, x-rays and fluorescent microscopes. Most biochemists work in labs, though many can be found in offices, in the field or teaching at universities.
Responsibilities for Senior Biochemists
In addition to the above duties, biochemists in supervisory positions will also act as managers and overseers of fundamental research. A senior biochemist may find themselves:
Hiring interns and university students

Managing lab teams

Performing quality control

Reviewing research

Presenting findings to other departments (in corporate settings)
Those working in advanced positions will have several years of experience and may also carry a graduate degree.
The Skills Biochemists Rely On
Senior or not, biochemists must be well-versed in a handful of skills and topics to complete their duties. Such hard and soft skills include:
The fundamentals of biology

The fundamentals of chemistry

Math (including calculus)

Various areas of physics (including electromagnetism and heat)

Using specialized computer software

Academic writing

Interpersonal communication

Time management
While working biochemists will expand on these skills (and more) in their day-to-day work, they'll receive their foundational training in college. Post-secondary biochemistry programs exist to help future scientists practice the above skills and excel in the lab.
Popular Industries for Biochemists
Aside from general research and development, biochemists engage in more specific projects when part of high-profile industries. As per the BLS, common industries for biochemists include:
Pharmaceuticals – One of the primary applications for biochemistry is medicine. Everything from natural cell development to cancer is related to our chemistry, so it should come as no surprise that biochemists are at the forefront of medical research and breakthrough drugs.
Education – With their double understanding of chemistry and biology, many biochemists go on to teach science at the high school or college level. These professors and teachers encourage the next generation of biochemists by presenting research and assisting students with novel experiments.
Engineering – Because biochemists often work closely with engineers to design and carry out experiments, some end up employed in engineering. Additionally, there's the specialized field of biochemical engineering—biochemistry with a focus on technology.
Biochemistry Career Paths
Within these industries (and others), there are various occupations for biochemistry graduates to explore. Below, we'll examine several potential job titles for biochemistry students, touching on responsibilities and up-to-date salary estimates.
Biochemist
Of course, with a biochemistry degree, you can work as a biochemist. Depending on your employer, your typical responsibilities could include:
Planning and developing research experiments

Working with high-powered lasers and microscopes to conduct said experiments

Creating 3D computer models of molecules

Presenting your findings to colleagues and executives
More specific duties might involve researching biofuels (in the petrochemical industry) or ways to eliminate environmental polluters (in environmental science).
In a biochemist role, you can earn a median salary of $94,270 per year according to the BLS.
Agricultural and Food Scientist
Agricultural and food scientists contribute to one of the most important aspects of human existence: food. They generally split their time between the lab and the field, working to advance safety and efficiency, both in terms of individual foods and agricultural establishments.
These scientists tend to focus on one of four subjects (or a combination of several):
Food – All types of food can benefit from improved preservation, packaging and distribution techniques.
Domestic farm animals – Whether they explore animal reproduction, genetics, disease or development, these scientists work to improve the quantity and quality of livestock animals.
Plants – Food scientists specializing in plants work to increase crop yield sizes and manage pests.
Soil – There wouldn't be healthy plants without high-quality soil. Agricultural scientists who deal in soil are interested in farming and forestry, and how they affect soil composition.
The median annual salary for agricultural and food scientists is $68,830 according to the BLS.
Medical Scientist
As a medical scientist, your goal will be to help humans live longer, healthier lives. Through long-term research and clinical trials, you'll test hypotheses that may ultimately help save lives.
Most medical scientists hold a doctoral or medical degree. The typical duties of these highly-trained biochemistry grads involve:
Finding ways to cure or prevent diseases

Developing medical equipment

Determining the optimal potency of drugs and other substances
Medical scientists in the U.S. earn a median salary of $91,510 per year according to the BLS.
Biological Technician
This entry-level role is centered around aiding biochemists and medical scientists in the lab. Another common term for this position is "laboratory assistant." The day-to-day tasks of a biological technician include:
Cleaning and maintaining lab equipment

Preparing samples

Documenting the work of other scientists

Writing preliminary reports on findings
Biological technicians earn a median salary of $46,340 per year according to the BLS.
Microbiologists
Though microbiology focuses more on biology, there is overlap. As such, biochemists can often find work as a microbiologist.
The "micro" in the job title refers to the tiny living organisms that these scientists study, such as:
Algae

Bacteria

Fungi

Parasites

Viruses
All of these microorganisms play a role in human and animal health, so the field offers a biochemistry graduate plenty to discover. Microbiology also involves some of the other skills you'll learn in biochemistry, including conducting experiments, working with advanced lab technology and writing about ongoing research.
The median salary for a microbiologist is $84,400 a year per the BLS.
What You'll Need to Work as a Biochemist
Wondering how to become a biochemist? To work in any of these promising careers, you'll need at least a bachelor's degree in biology, chemistry or—ideally—biochemistry. If you're also wondering, "What is a biochemistry major?," we've got you covered! Whether you choose a bachelor's of arts (B.A.) or a bachelor's of science (B.S.), you'll learn many of the essential skills needed to work in biochemistry. It is also important to understand the difference in molecular biology vs. biochemistry before choosing your career path.
To complete your undergraduate degree, you'll take various math and science courses. Most undergraduate programs are designed to be finished in four years, but some students choose to complete their degree in as little as three years or as many as six.
While a bachelor's degree is often enough to get your foot in the door, many positions require an advanced degree. You can further improve your prospects by earning your advanced degree from a respected institution. This means looking for graduate schools with:
Higher rates of retention and graduation

Professional, highly-ranked faculty members

Smaller class sizes

Examples of successful job placements
Keep in mind that earning a master's degree usually takes at least two years, while a Ph.D. can take around five or six.
Find Out What a Biochemist Does First-Hand
No matter where you think a career in biochemistry might lead you, reading about the field can only take you so far. The best way to experience the intriguing world of biochemistry first-hand is to enroll in a college program.
Schools like North Central College offer dedicated biochemistry programs, allowing you to explore every facet of the discipline with engaged professors and state-of-the-art facilities.
If you want to discover more about biochemistry before sending out applications, be sure to check out our comprehensive guides on majoring in biochemistry and how to become a biochemist.
Jacob Imm is the assistant director of communications in the North Central College Office of Marketing and Communications. He has 12 years of collegiate communications experience and has worked with hundreds of college students. He has a bachelor's degree from the University of Notre Dame and a master's degree from Northern Illinois University. 
Sources: 
U.S. Bureau of Labor Statistics. (2022, January 27). Biochemists and Biophysicists: Occupational Outlook Handbook. U.S. Bureau of Labor Statistics. Retrieved February 21, 2022, https://www.bls.gov/ooh/life-physical-and-social-science/biochemists-and-biophysicists.htm
U.S. Bureau of Labor Statistics. (2021, March 31). Occupational Employment and Wages, May 2020: 19-1021 Biochemists and Biophysicists. U.S. Bureau of Labor Statistics. Retrieved February 21, 2022, from https://www.bls.gov/oes/current/oes191021.htm#st 
U.S. Bureau of Labor Statistics. (2022, January 27). Biochemists and Biophysicists: Occupational Outlook Handbook. U.S. Bureau of Labor Statistics. Retrieved February 21, 2022, https://www.bls.gov/ooh/life-physical-and-social-science/biochemists-and-biophysicists.htm
U.S. Bureau of Labor Statistics. (2021, September 8). Agricultural and Food Scientists: Occupational Outlook Handbook. U.S. Bureau of Labor Statistics. Retrieved February 21, 2022, https://www.bls.gov/ooh/life-physical-and-social-science/agricultural-and-food-scientists.htm
U.S. Bureau of Labor Statistics. (2021, September 8). Medical Scientists: Occupational Outlook Handbook. U.S. Bureau of Labor Statistics. Retrieved February 21, 2022, from https://www.bls.gov/ooh/life-physical-and-social-science/medical-scientists.htm
U.S. Bureau of Labor Statistics. (2022, January 11). Biological Technicians: Occupational Outlook Handbook. U.S. Bureau of Labor Statistics. Retrieved February 21, 2022, from https://www.bls.gov/ooh/life-physical-and-social-science/biological-technicians.htm
U.S. Bureau of Labor Statistics. (2022, January 5). Microbiologists: Occupational Outlook Handbook. U.S. Bureau of Labor Statistics. Retrieved February 21, 2022, from https://www.bls.gov/ooh/life-physical-and-social-science/microbiologists.htm