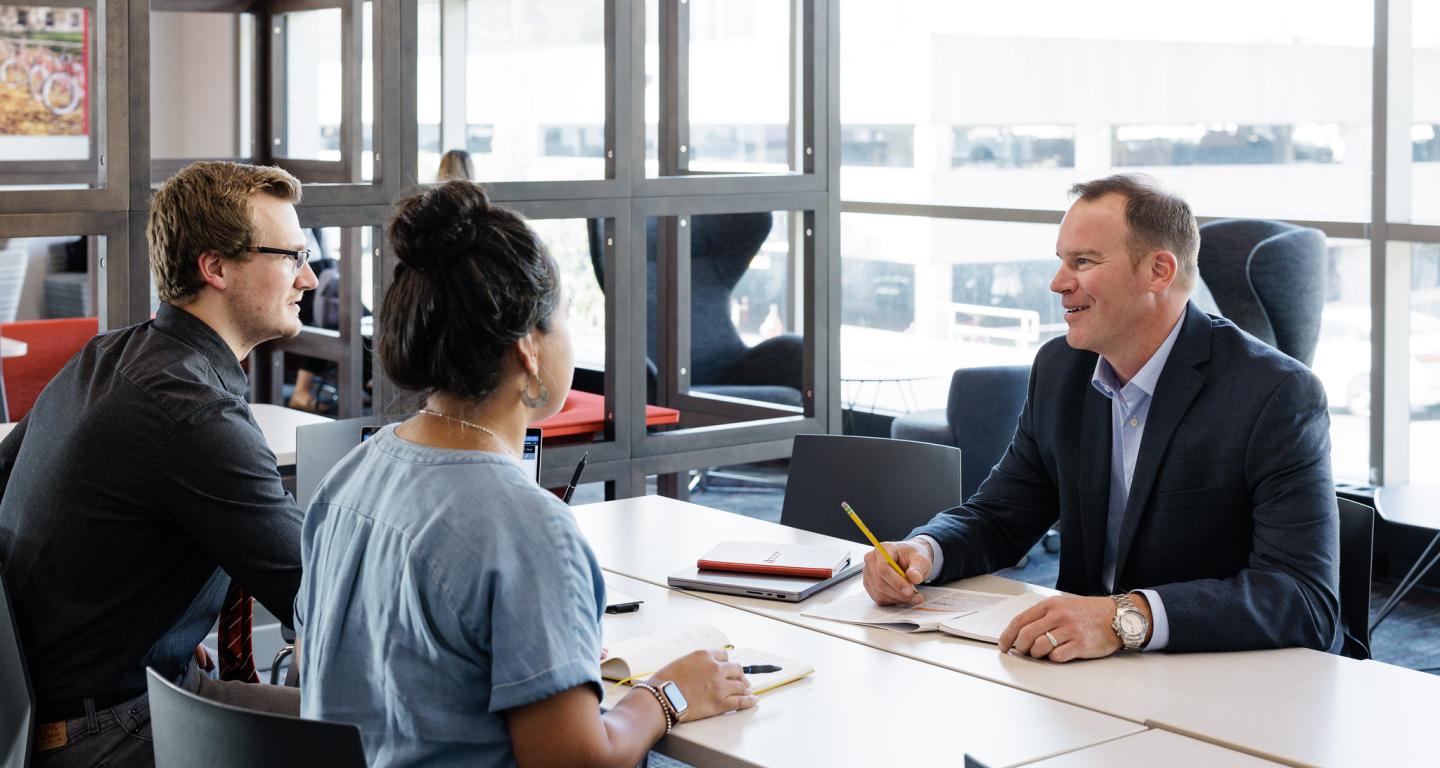 What is an Arbitrator
Reviewed by Jacob Imm
Jan 20, 2023
What is an Arbitrator?
Imagine working as a judge, presiding over high-profile cases and helping two parties reconcile their differences. Now imagine that type of work without the long days in court, the lengthy schooling process or the black robes.
That image in your head? That's an arbitrator.
What are arbitrators and what is dispute resolution? Arbitrators are dispute resolution specialists that work outside of the United States court system. These professionals help make decisions for people or businesses that—whenever possible—satisfy both sides.
With that said, there's more to the arbitration process than acting as a judge. In this comprehensive guide, we'll explore what arbitrators do and what it takes to become one. We'll also take an in-depth look into an arbitrator's responsibilities, qualifications and skill sets.
What is Arbitration?
Arbitration is a way of handling a conflict without going to judiciary court proceedings. In an arbitration hearing, an arbitrator oversees a legal dispute between two parties—whether they're companies or individuals—and listens to both sides of the story before coming to a conclusion.
In short, arbitrators offer a practical alternative to legal arguments. Because lawsuits are often costly and time-consuming, arbitration can be an attractive alternative to a drawn-out public trial.
However, although arbitration proceedings are an alternative to litigation, the decision is still binding. Parties can appeal the ruling like in court, but in general, the arbitrator's word is final.
It's worth noting that arbitration falls under the umbrella of alternative dispute resolution (ADR). ADR is a category of conflict resolution that encompasses similar non-judicial processes, such as:
Mediation

Conciliation

Negotiation
Arbitration proceedings are the highest form of these alternative dispute resolution practices, as it produces a final and binding decision.
What Do Arbitrators Do?
So, what is an arbitrator expected to do? An average day in the life of an arbitrator could include:
Meeting with two opposing parties to understand their needs and concerns

Interviewing plaintiffs and witnesses

Studying laws and policies to guide their decision

Poring over personal or professional documentation

Preparing documents or agreements for the parties to sign
Some arbitrators work alone, while others deliberate alongside other arbitrators to come to their decision.
Notably, something that arbitrators generally do not do is facilitate a collaborative environment that helps both parties come to a decision. When you bring in an arbitrator, you're asking a neutral third party to make a decision for you; you're not looking for a go-between that can help you set up an agreeable resolution. 
However, some arbitrators do incorporate mediation and negotiation tactics into their work, so your results may vary.
Where Do Arbitrators Work?
Arbitrators typically work in offices and enjoy employment in various high-profile industries. According to the U.S. Bureau of Labor Statistics (BLS), arbitrators can be found working in:
Government (local and state)

Healthcare

Insurance firms

Labor organizations

Family services
Arbitrators can also work for dispute resolution firms or start a business and take on clients of their own.
Ultimately, arbitrators can work anywhere there's conflict. In other words, you'll find them within practically any business setting. The only stipulation is that, before an arbitrator can become involved in a case, both sides must consent to arbitration.
How Much Do Arbitrators Earn?
In general, arbitrators earn a decent wage. However, it's worth noting that your salary will depend on your experience level, the cost of living in your chosen location and the industry in which you work.
According to the U.S. Bureau of Labor Statistics, arbitrators (along with mediators and conciliators) earn a median salary of $49,410/year, but an average salary of $62,350/year.
Because the arbitration process is the "highest level" of dispute resolution, arbitrators may earn more than mediators and conciliators. As such, arbitrators are more likely to take home salaries closer to the top end of the BLS' listed salary range—$110,350 per year.
This well-paying career is also in demand; the arbitrator job category is growing at a rate of 10& as documented by the BLS.
What Skills Should an Arbitrator Have?
Arbitrators may have the opportunity to earn a lucrative salary, but they work hard for it. A successful arbitrator has to develop skills like:
Dispute resolution

Critical thinking

Interpersonal communication

Confidence

Strong reading and writing capabilities

Time management

Active listening

Additionally, all arbitrators need to be familiar with the laws, regulations and policies that impact their line of work. Family arbitrators must be well-versed in family law, business arbitrators should be up-to-date on economics and business law, and so on.
How Do You Become an Arbitrator?
The road to becoming an arbitrator can take several years of schooling and work experience. It may not be a short path, but it's certainly a rewarding one.
Here's a step-by-step look at the process of working in arbitration.
Before College: How to Prepare
If you're already thinking about a career in arbitration service and you've yet to begin college, you're in an excellent position. Even though the journey of becoming an arbitrator technically starts in college, you can start preparing before you even send out your first application.
Some of the ways to set yourself up for success in dispute resolution include:
Taking high school courses that cover law, ethics or psychology

Reading books on dispute resolution

Watching online videos about arbitration

Talking to arbitrators in your community
Although you'll learn everything you need to know in a dispute resolution program, it pays to enter your first year of college with an understanding of the basics.
Step 1: Complete a Bachelor's Degree
Most arbitrator roles require at least a bachelor's degree, so your journey truly begins here. Ideally, you'll enroll in a program that relates to conflict resolution. Some of the most relevant degrees include:
Psychology

Business

Communications

Pre-law
However, any degree can be acceptable if you want to arbitrate in that field. For example, a finance degree would help you understand the ins and outs of financial and commercial disputes.
Keep in mind that a bachelor's degree is the minimum requirement. If you want to work as a high-level arbitrator, your post-secondary journey could also include an advanced degree in law, business or another field in which you want to work.
Step 2: Enroll in a Dispute Resolution Program
While at college, you may have the opportunity to enroll in a program that's geared specifically toward future arbitrators. Some institutions offer these specialized dispute resolution programs that explore the language and theories used in arbitration.
The best dispute resolution programs go beyond the classroom to give you hands-on experience. Through practicums and internships, these programs provide real-world opportunities to help resolve disputes within your college or community. 
Ultimately, enrolling in a dispute resolution program can improve your odds of being hired.
Step 3: Gain Work Experience
After you complete your schooling, you'll need to work your way up to an arbitrator position. Most arbitration roles require several years of relevant work experience. There are generally two paths to gaining the necessary experience:
Working as a lawyer or judge – Because an arbitration hearing is closely linked to litigation, many arbitrators start with careers in the judicial system.
Becoming an expert in a chosen field – Some arbitrators learn everything they can about a particular area of business, then work as arbitrators in that field.
Step 4: Train Under a Professional Arbitrator
Once you have experience in law or business or another field you want to specialize in, you'll need direct experience with arbitrating. In many cases, you must begin your training under the supervision of a professional arbitrator.
By watching and learning through several real-world cases, you can gain the knowledge and connections needed to work as an arbitrator.
Alternatively, you can pursue a more formal approach to training by taking additional courses from an arbitration organization. There, you'll study under a professional arbitrator and further hone your craft in a classroom environment.
Step 5: Earn Your Certification (Optional)
Although arbitrators don't need a license to work, some states require certifications to preside over certain cases, according to the BLS. Achieving this type of certification typically takes between 20 and 40 hours. Even if a position doesn't explicitly require licensure, a license can improve your resume and increase your chances of landing the job.
Depending on the kind of arbitration agreement you do, you may also need to be certified in another domain. For instance, to arbitrate an accounting dispute, you may need certification as a public accountant.
Take Your First Step Toward Becoming an Arbitrator
Overall, arbitration service is a fascinating field where every day is different. Arbitration is just one of the many dispute resolution jobs available to you. By resolving conflicts from outside the court system to the private domain, you can help people and their businesses save time, reduce expenses and come to decisions that benefit everyone.
If the idea of becoming an arbitrator appeals to you, it's time to start looking into the first step: Education.
As you search for colleges, look for options with dedicated support for future arbitrators. For example, schools like North Central College offer dispute resolution programs that instill practical and theoretical knowledge of arbitration. Best of all, many dispute resolution programs include internships that can lead you directly to a fulfilling career in arbitration.
If arbitration seems like almost the right fit, consider looking into how to be a mediator instead. In the end, no matter which type of alternative dispute resolution you practice, you'll be helping hundreds of people by keeping conflict to a minimum.
Jacob Imm is the associate director of communication in the North Central College Office of Marketing and Communications. He has 12 years of collegiate communications experience and has worked with hundreds of college students. He has a bachelor's degree from the University of Notre Dame and a master's degree from Northern Illinois University.
Sources: 
U.S. Bureau of Labor Statistics. (2022, March 31). Occupational Employment and Wages, May 2021: 23-1022 Arbitrators, Mediators, and Conciliators. U.S. Bureau of Labor Statistics. Retrieved August 21, 2022, from https://www.bls.gov/oes/current/oes231022.htm
U.S. Bureau of Labor Statistics. (2022, April 18). Occupational Outlook Handbook: Arbitrators, Mediators, and Conciliators. U.S. Bureau of Labor Statistics. Retrieved August 21, 2022, from https://www.bls.gov/ooh/legal/arbitrators-mediators-and-conciliators.htm