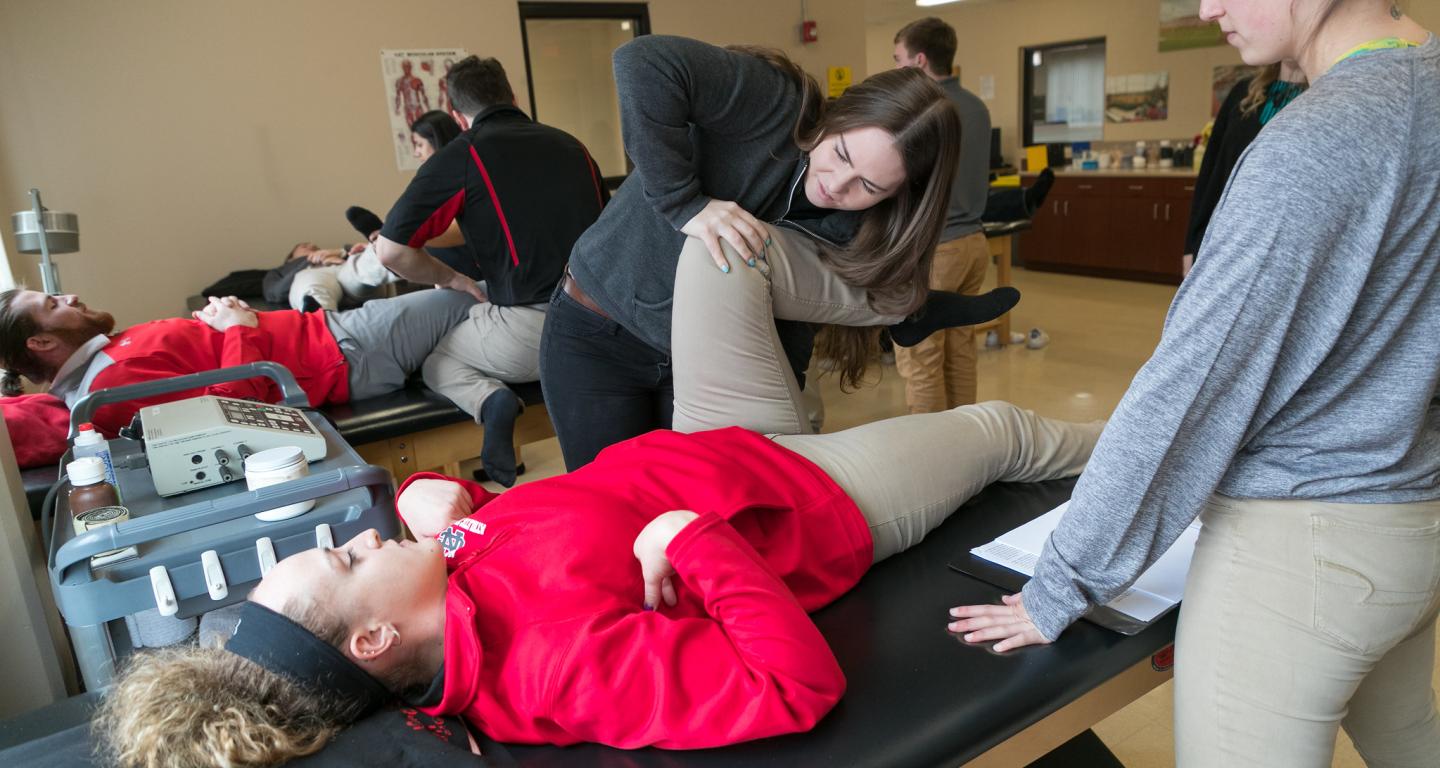 How to Become an Athletic Trainer
Jul 17, 2023
How Do You Become an Athletic Trainer?
Athletic training is a rewarding field that combines highly sought after fields: health care and athletics. Athletic trainers are often thought of as working for a collegiate or professional sports team and running out on the field of play whenever an athlete goes down with an injury during a game. There is a whole lot more to the job than just knowing how to treat an athletic injury on camera, but it shows how high-profile, pressure-packed, and exciting the job can be.
If you like working closely with people, you enjoy being around a sports team or other jobs that take a lot of physical effort, and you really get into understanding how the human body works, athletic training might just be the right career path for you. So what does it take to get into the field, and what do you have to do in school to reach your goals?
Let's explore the answers and discover how to become an athletic trainer together.
Bachelor's Degree
A strong athletic training education, as you might imagine, is the first step you need to take. Not only do you have to take classes with qualified professionals to learn everything you need to know, but you cannot get certified to work as an athletic trainer without a bachelor's degree. Recent updates to certification requirements (see below) have made it necessary to have a master's degree to be an athletic trainer, whereas even in the last few years it was possible to get certified with a bachelor's degree only.
Either way, you'll need to start with a bachelor's degree.
 
The academic path to a future as an athletic trainer is pretty straightforward, and differs from the process to become a physical therapist, exercise physiologist, personal trainer, or other similar position. You will want to start by majoring in one of a small number of subjects that deal directly with the intersection of sports, health and science. Danielle Smyth, writing for Chron, cites a piece from Study.com that "recommends ... degrees in exercise science, kinesiology, athletic training or sports medicine."
 
When shopping for colleges, look for those key majors as part of their athletic training degree offerings, and don't be surprised if you don't find all of them. These four degree titles are names that can be used to mean the same thing and some schools have bachelor's degrees in one of those areas and master's degrees in others. North Central College, for example, offers a degree program in exercise science that is part of the department of kinesiology, but not a degree in kinesiology.
 
There are differences between the majors, but for prospective certified athletic trainers the most important thing is that your major offer the courses you need to move on with your education and learn the skills and technical information you'll be using every day. Generally, you want to make sure you get courses in biology, anatomy and nutrition, and any one of the majors listed above should ensure that.
 
The National Athletic Trainers' Association (NATA) helps future athletic trainers stay up-to-date with what is required to be an athletic trainer, including what you should learn as an athletic training student. The NATA also keeps an official document on competencies, the things every professional athletic trainer should know and be able to do in their position. The competencies document gets into detail on what your courses should cover to qualify you as an athletic trainer:
Evidence-based practice
Injury prevention and health promotion
Clinical examination and diagnosis
Acute care of injury and illness
Therapeutic intervention
Psychosocial strategies and referral
Athletic health care administration
Professional development and responsibility
 
Because you'll more than likely need an advanced degree to work as an athletic trainer professionally, the most important thing to check is what your potential graduate school needs you to do. Master's degree programs in athletic training will have their own specific prerequisites you'll need to finish in order to apply. For example, North Central College's program requires these courses:
Biology: 3-4 credit-hour course with a lab
Chemistry: 3-4 credit-hour course with a lab
Physics: 3-4 credit-hour course with a lab
Psychology: 3-4 credit-hour course
Human Anatomy and Physiology:

Two-semester sequence or 3-4 credit course in Human Anatomy and 2-4 credit course in Human Physiology

Statistics and/or Research Design: 3-4 credit-hour course
Exercise Physiology: 3-4 credit-hour course
Biomechanics or Kinesiology: 2-4 credit course
Master's Degree
The first thing you have to make sure of before you pursue a master's degree is that you're entering an accredited athletic training program according to the Commission on Accreditation of Athletic Training Education (CAATE). Checking out the CAATE is a good idea, as they certify schools as well as provide the certification you will need to go from being one of many aspiring athletic trainers to a licensed athletic trainer from an accredited program.
 
Once you have finished your bachelor's degree and are ready to move on to your master's degree program, you'll find that the experience changes from undergraduate to graduate study in athletic training. You will spend less time getting formal instruction during an advanced athletic trainer program, so you can spend more time on clinical experience and researching.
 
So, what to do with an MS in athletic training? This profession is very much a hands-on field, and just like professional sports, it takes years of practice at the highest level to become a successful athletic trainer. The best programs will provide you with plenty of opportunities to work with clients in numerous settings. This will not only prepare you to work in many settings, it'll give you a chance to find where you feel most comfortable.
 
North Central College, for example, offers the chance to do clinical education work for
Hospitals
Medical clinics
High schools
Colleges and universities
Industrial settings
Performing arts productions
When you are in class, your master's program should give you a fuller picture of what you'll need to know and do for your clients. You will learn about how to make a clinical diagnosis of a sports related injury. You'll discover more than you ever thought possible about exercise, nutrition, and how to advise people on maintaining a healthy lifestyle. You'll also find out about the psychology behind physical activity and how to counsel clients on the mental part of their health.
 
Kendall Selsky, associate professor of athletic training and chairperson of the department of kinesiology at North Central College, provided examples of courses offered in a master's of athletic training. In the North Central program, she teaches courses in "upper extremity/head and neck evaluation, the therapeutic interventions sequence, and organization and administration of athletic training." Other North Central courses include Principles of Musculoskeletal and Medical Assessment, Diagnosis and Management for Athletic Trainers, Principles of Nutrition and Strength and Conditioning for Athletic Training, and Psychosocial Aspects of Athletic Training Practice.
 
An athletic training master's program should also spend a significant amount of time and effort preparing you for the Board of Certification (BOC) exam, the test you will take from the CAATE you must pass in order to be licensed as an athletic trainer.
 
Wondering about the next steps after you have your master's degree? Be sure to read our helpful guides, "What to Do With MS in Athletic Training" and "How Much do Athletic Trainers Make?"
Certification and Licensure
The CAATE makes the requirements simple for you. From their website: "Students who want to become (a) certified athletic trainer must earn a degree from an accredited athletic training curriculum."
 
Selsky gave a little more detail about the process. "To become an athletic trainer, one must graduate (with a degree) from a CAATE-accredited athletic training education program (now, primarily at the graduate level), sit for the Board of Certification exam, and if applicable, apply for licensure within their state," Selsky said. "Continuing education credits are required by the BOC to maintain certification (as an athletic trainer)."
 
State requirements can include various other things from being a certain age to filling out forms and paying fees. Use search engines to find the athletic training association or similar professional organization in the state you want to practice in, and check their website to see what the requirements are.
 
Once you are certified, you will also need to take courses in continuing education to maintain your license. Athletic training techniques and practices are frequently expanding to include new research on everything from how the body functions to experiments in new ways to rehabilitate an injured athlete. As those changes come about, you will need to stay up-to-date, practice what's new, and take opportunities to reexamine your own values when it comes to how you do your job.
 
A professional organization like the NATA can be a great resource for finding continuing education programs you can attend, both online and in person. They can also help you look for positions and give you tips on the best way to get them. For more on that subject, check out our top 14 athletic training interview questions to ask potential employers.
Take the next step
Now that you know more about what it takes to become an athletic trainer, you need to find the right school to prepare you for success. As we've talked about, you need a school like North Central College.
North Central offers an undergraduate program in exercise science that flows perfectly into their master of athletic training program, so you can get all your education in one place. The faculty at North Central combine extensive professional experience with cutting edge knowledge and expertise. They will guide you through every step of the process as you pursue your future in athletic training services.
If you're interested in North Central College's programs, you can find more information on their website. When you're ready to take the first step toward a career in athletic training, start your online college application right here.
Jacob Imm is an associate director in the North Central College Office of Institutional Communication. He has 13 years of collegiate communications experience and has worked with hundreds of college students. He has a bachelor's degree from the University of Notre Dame and a master's degree from Northern Illinois University.
Updated on July 17, 2023.