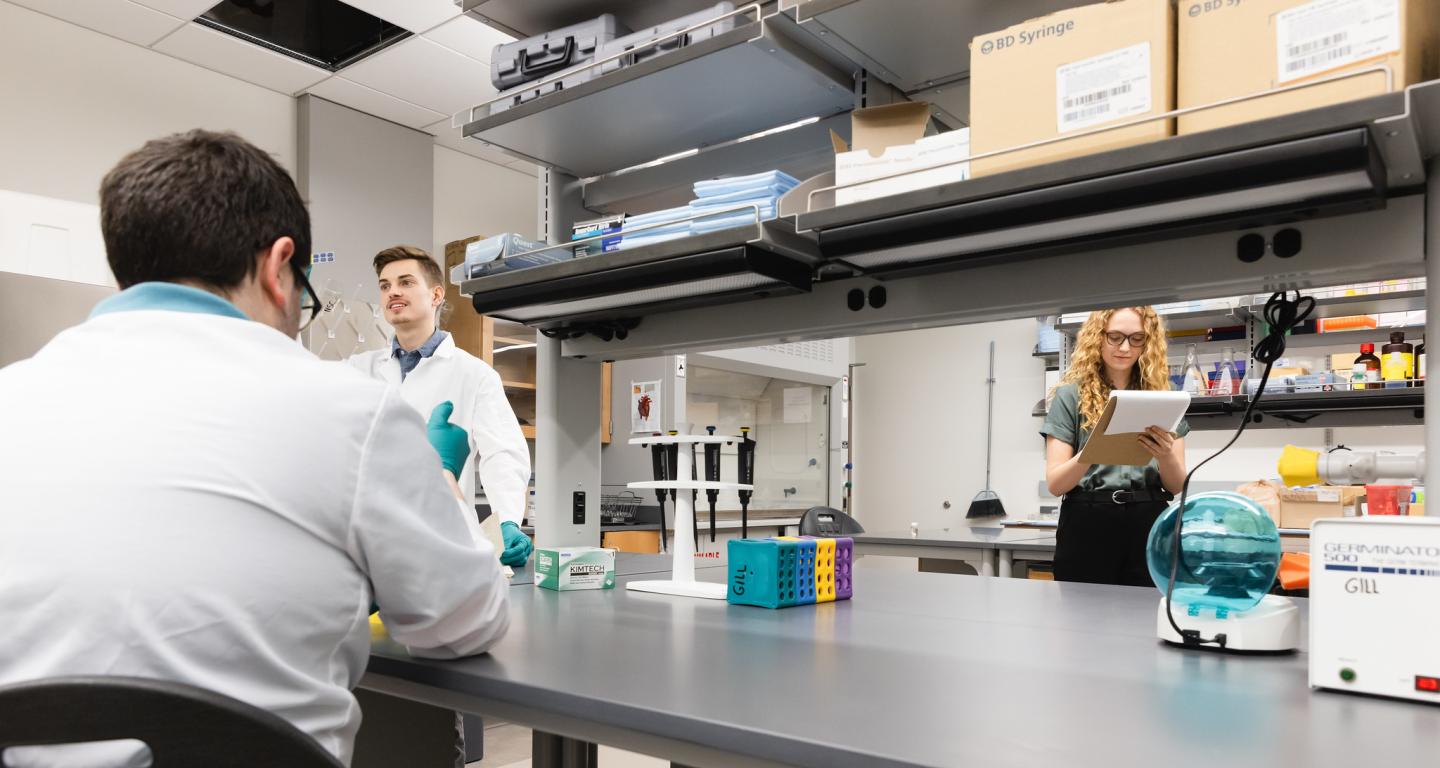 What Is A Neuroscientist?
Reviewed by Jacob Imm
Jul 17, 2023
What is a Neuroscientist? 
The term "neuroscience" has only been around since the 1960s, but the field has grown tremendously over the past 60 years. Developments in technology have provided cognitive neuroscientists with innovative and exciting ways to perform their valuable work. 
But what is a neuroscientist? And what knowledge, skills, and tools do they use in their work? 
The simplest explanation is that cognitive neuroscientists are specialized biologists that focus on the nervous system. They rely on a range of other sciences, like molecular biology, chemistry, and psychology to investigate the inner workings of the human brain.
Interested in learning more about this exciting field? Keep reading for more information, plus the steps you can take to become one. 
What Does a Neuroscientist Do? 
Neuroscientists are medical scientists who work to understand the nervous system. The central nervous system includes the brain, spinal cord, and nerve cells, all of which are paramount to basic human functions. 
Neuroscientists perform clinical research with the goal of learning more about the human nervous system. In practical terms, the typical daily responsibilities of a neuroscientist include:
Developing and carrying out clinical trials

Preparing and studying cell samples

Utilizing specialized equipment to monitor brain activity

Reading and writing in academic journals
While very similar to neurology, modern neuroscience covers a vast array of topics relating to the central nervous system. Discover more about the differences in neurology vs. neuroscience to decide which field is best for you.
What Skills Do Neuroscientists Rely On? 
Neuroscientists study complex systems and often make groundbreaking discoveries. As such, they need a diverse set of science-centric knowledge. Nearly every branch of science is required to fully understand the nervous system on a mechanistic level. 
In other words, neuroscience is a multidisciplinary science that incorporates:
Chemistry

Biology (molecular, developmental, and otherwise)

Physiology

Anatomy

Psychology

Mathematics
In addition to grasping these disciplines, a behavioral neuroscientist should also possess a high degree of computer literacy and critical thinking skills. They should also be able to communicate effectively through writing and have a strong aptitude for logic and rationale. 
What are the subfields of neuroscience?
If you are considering pursuing a career in neuroscience, there are some specialties you may want to look into. These include:
Developmental neuroscience: Focuses on how the brain develops and changes over time.
Molecular and cellular neuroscience: Focuses on the study of the molecules, proteins, and genes that influence how neurons work.
Neurogenetics: Researches on inherited neuron changes, including certain genetic diseases
Sensory neuroscience: research on how the nervous system processes sensory information and interprets it.
Neurophysiology: This field describes the study of the nervous system itself and how it functions.
Behavioral neuroscience: This field focuses on how the brain processes behavior in animals and humans.
Cognitive neuroscience: This field explores how the brain controls thought, language, memory and how it solves problems.
Clinical neuroscience: This focuses on the prevention, diagnosis, and treatment of neurological disorders and injuries and the rehabilitation of affected patients.
How Do I Become a Neuroscientist? 
Neuroscience is an exciting field. It requires a comprehensive understanding of complex scientific concepts, extensive schooling, and a medical residency if you're entering clinical neuroscience. 
What Kind of Education is Required? 
The first step is to earn a bachelor's degree from a reputable college. Chron notes that a neuroscience degree is ideal, though fields like biochemistry or psychology are also relevant. Bachelor's degrees usually take four years to finish. 
Usually, those who want to become a cognitive neuroscientist or behavioral neuroscientist pursue higher education, so enrolling in a graduate program can increase your chances of landing a job. A master's degree in neuroscience can take two to three years, while a Ph.D. program can take four to six years in graduate school—that's on top of the four years you'll have already spent on your bachelor's degree.
If you plan to work in the medical field, an M.D. is also worthwhile. Having a medical degree in addition to your neuroscience program doctorate will allow you to augment your research with clinical work and may make you a more competitive employment candidate.
What Licenses Do I Need? 
To work in the field as a clinical neuroscientist, you'll have to undertake a medical residency. You'll also need to pass the United States Medical Licensing Exam (USMLE) if you hope to work with patients. 
The USMLE is a three-step exam process that most students begin during their second year of medical school, according to Kaplan. The exam prepares you to practice anywhere in the U.S.
How Do I Land My First Job? 
After graduating and obtaining the necessary licenses, you can start looking for work. Many neuroscientists work as researchers in government roles, at universities, or in private companies.
If all goes well during your residency, you may be able to secure a job within the same organization. Alternatively, you can apply to positions that make use of a neuroscience degree, such as:
Speech-language pathologist

Neuropsychologist

Audiologist
While the United States Bureau of Labor Statistics (BLS) doesn't list average salary figures for neuroscientists, the career falls under the domain of medical sciences. The BLS lists the median annual salary for a medical scientist at $95,310.
Where Should I Study Neuroscience?
As a neuroscientist, you'll need to master a variety of knowledge subsets and skills in the sciences, mathematics, and beyond. That means that the faculty and facilities at the school you choose are of the utmost importance. So, is a neuroscience degree worth it?
The more opportunities you have for hands-on, high-level learning, the better your chances of success after you graduate. 
When you pursue a neuroscience program at an institution like North Central College, you gain access to a state-of-the-art laboratory and the chance to learn from world-class instructors. If this field entices you, connect with North Central College today.
Jacob Imm is the associate director of communication in the North Central College Office of Institutional Communication. He has 13 years of collegiate communications experience and has worked with hundreds of college students. He has a bachelor's degree from the University of Notre Dame and a master's degree from Northern Illinois University.
Updated on July 17, 2023.
Sources: 
Knowledge One. 5 Milestones in the History of Neuroscience. https://knowledgeone.ca/5-milestones-in-the-history-of-neuroscience/ 
Chron. What Are the Requirements For a Neuroscientist? https://work.chron.com/requirements-neuroscientist-27373.html 
Kaplan. All About the USMLE Step 1. https://www.kaptest.com/study/usmle/all-about-the-usmle-step-1/#
Take the Next Step on Your Journey to Medical Licensure. United States Medical Licensing Examination. (2021, September 15). Retrieved May 18, 2022, from https://www.usmle.org/