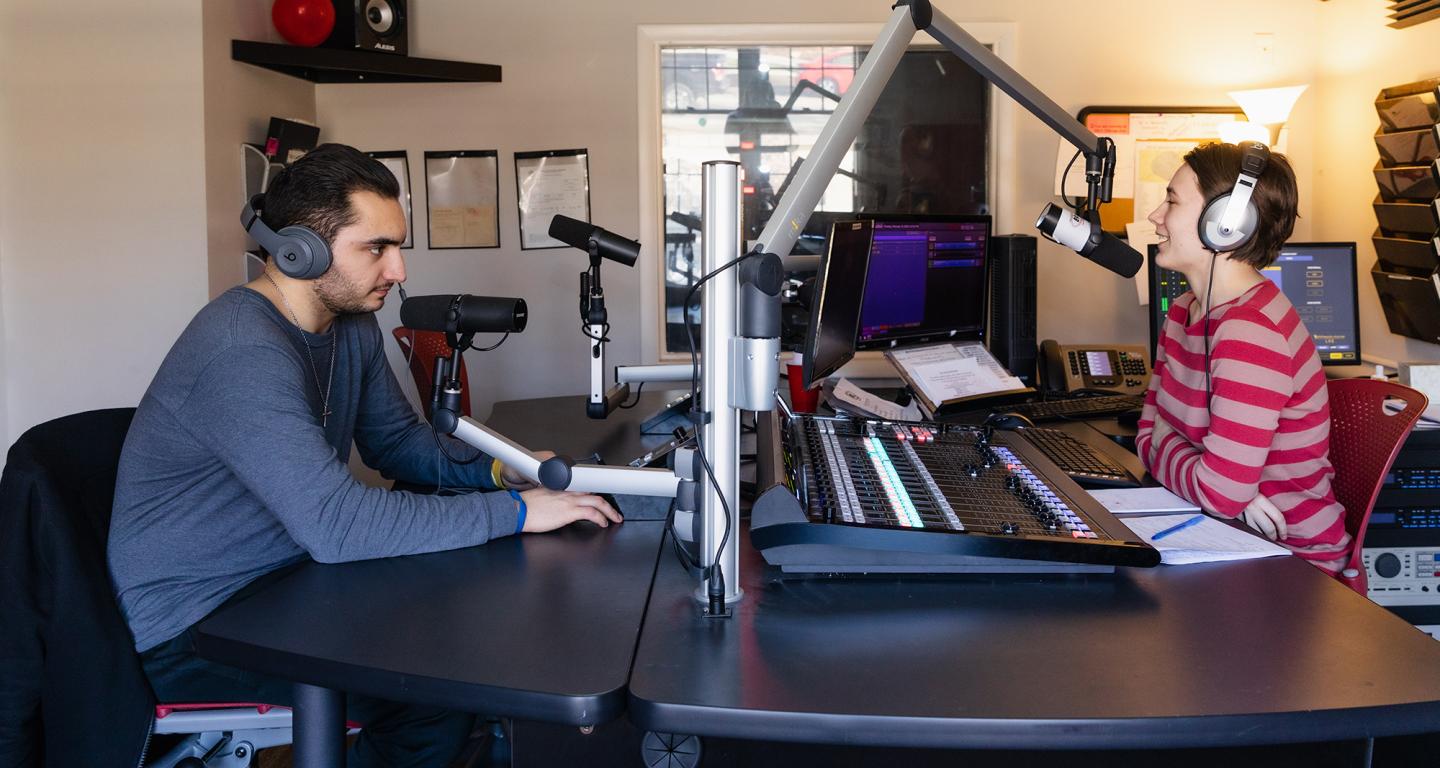 What Can You Do with a Communications Degree?
Jul 20, 2023
What Can You Do with a Communications Degree?
Communication is so fundamental to the human experience you may not even think much about the meaning of the word. It's something we do every day, all the time, and communication is such a vital part of our interpersonal relationships the word is almost a cliché.
Even though we start communicating before we can even talk, there is a lot more to know and learn when you study communication. There are numerous kinds of communication besides our daily conversations, from mass communication to health communication to business communication. 
That's why it's important to every company, national university, government body, healthcare organization, and any other kind of business to have talented, trained communication professionals. That demand makes a communications degree a great way to open up varied and rewarding career opportunities.
In this article, we'll look closer at what you can do after graduating from a communication program, how you will benefit from a communication degree, and ultimately help you answer the question, "Is a communication degree worth it?" 
What can I do with a communications degree?
Given how many industries depend on strategic communication to operate, you may have more trouble narrowing down what you want to do with your communications major than finding a job.
Communications degree jobs involve relaying key information that a business needs to get across to everyone invested in it—clients, customers, employees and of course the general public. It's really about storytelling, and there are as many ways to tell those stories as there are people to hear them. Your specialty could be technical communication, strategic communication, corporate communication, health communication, or even a field that hasn't emerged yet. The possibilities are endless.
So what is the career outlook with a communications degree—and where do you start? There are some careers that a bachelors degree in communication studies or media studies commonly lead to. According to Laura Tucker of Top Universities, here are 10 well known, fulfilling areas you can get into with a communications degree:
1. Social and digital media
A social media position can take many names, whether it be a social media manager, a digital media specialist, or some equivalent. In this position, communication majors can take a skill you may use to relate to friends, keep current with trends and stay informed and turn it into professional success.
Social and digital media work involve creating content to help promote a company's products, services and people, strategizing when and how often to post to get the best engagement, using images and video to represent a brand, and tracking the success of your social campaigns to help your company decide what to post.
The average annual salary for a social media manager in the United States is $50,344.
2. Public relations
Public relations work involves managing and advancing a company's image, ensuring that they're seen favorably by the public. It involves a lot of interaction with the media, as the press is the widest-reaching and most influential way to craft a public image. Careers generally start with a public relations specialist position where you will work on drafting and editing press releases, pitching stories and communicating with local and national media, watching a lot of news on TV and social media and reading periodicals to track trends in the media, and most importantly helping to manage crisis communication for your company.
Before moving up to a position as a director of public relations or public relations manager, you will likely start as a public relations specialist. The average annual public relations specialist salary is $47,736.
3. Marketing and advertising
Marketing is commonly associated with communication as a field, and is actually a distinct major at the college level. Marketing communication is different in that it is focused on creating demand for products and services, focusing on consumers' needs and how your company can best fill them. A marketing or advertising position involves doing research to see what people are buying and what your company's competitors are doing, writing, editing and designing graphics, and partnering with your colleagues in sales, public relations and product development to create campaigns that familiarize the pubic with your brand.
Most large companies have marketing departments with positions at multiple levels including marketing director and marketing specialist. The most common position, a marketing manager, makes an average annual salary of $69,590.
4. Human resources
Human resources (HR) departments are the engines that run every professional organization. They have the important task of recruiting, hiring, training, compensating and supporting the company's workforce.
Strong communications skills are vital to work in HR, as it involves a lot of interpersonal communication with employees to address their health and wellness needs and keep the organization informed of what forms they need to fill out, important deadlines for benefits and payroll, and changes in company policy. HR specialists also help employees manage conflict constructively, determine the appropriate manner to discipline misconduct, and do research to make sure employees are compensated properly.
The average annual salary for a human resources specialist is $46,972.
5. Writing and publishing
Writing is a huge part of every communications career, and is a straightforward career path for a communications major is to make writing into a career. There are of course any number of venues to write in professionally, though increasingly it's important to know how to write in a style conducive to online readers. Blogs and other forms of inexpensive, self-managed websites have made it easier than ever to find a way to publish and monetize your work. Formal positions in editing for news organizations and book publishers have a little more of a challenging standard to meet, but offer stability and the opportunity for progression and growth. 
The average annual salary for an editor is $59,425.
6. Media
Just as a big part of many communication careers is working with the media, your expertise can easily be applied to the other side of the equation, as well. Working in the media as an anchor, reporter or producer, your job is about hunting down the stories the public will most want to know, asking relevant questions to the people involved, and combining words, sounds and images to present the information clearly and engagingly.
The average annual broadcaster salary is $50,595.
7. Meeting and event planning
Event planning makes great use of organizational communication skills, as it combines careful strategic thinking with coordination between numerous different people. You need to anticipate the size of your events, find and coordinate with venues, calculate and cater to your guests' needs based on the expected number of attendees, as well as partner with colleagues to promote your events so that you get a good turnout.
An event planner makes, on average, $41,179 per year.
8. Politics
There is always plenty of work to find on political campaigns and in elected officials' offices, as it takes a veritable army of people to do the work of each. You could be charged with reaching out to voters to raise money or encourage them to go to the polls, or you may canvas them to find out how they have voted. You can also find creative work helping to create advertising campaigns and materials. If you do join a politician's staff after they're elected, you may even help with responding to constituents and drafting legislation to respond to their needs.
In this case, you could expect your annual salary as a legislative assistant to be an average of $53,409.
9. Fundraising
Politicians are by no means the only people who need to raise money, and there is great demand for those trained in the delicate art of persuading people to part with their hard-earned pay for a cause. Fundraising combines elements of event planning, marketing, public relations and human resources, and all with an extra emphasis on making good impressions fast and making people feel wanted and appreciated.
Across numerous fields, the average annual fundraiser salary is $44,145.
10. Sales
Sales can be unfairly maligned at times. While being solicited to buy a product you don't need or have no intention of buying isn't always the most fun thing to do, businesses would not run without people to represent goods and services and getting customers to buy. At its best, sales is truly about helping people get what they need and make educated decisions that also benefit the company doing the selling. In order for that to happen, you need expertise in persuasion, audience analysis, active listening, and improvisation, all of which you can learn from a good communications degree program.
Common entry-level communications jobs like a sales development representative carries with it an average annual salary of $49,179.



Is a communications degree useful?
According to the National Communication Association, communication graduates can be assured that "communication will help them become a valued asset in a variety of contexts—from organizations to politics, from families to multinational corporations. They also understand that effective communication can bring people together across cultural contexts, and they know how to communicate with care and respect for others' beliefs, making them an essential asset in an ever-connected world."



Is communications a hard major?
It's common to want to know how difficult majors will be when deciding between them, but this is not a simple question. You may hear myths or assumptions that get passed on by college students that certain majors are too hard for anyone while others are unusually easy. Communications is sometimes associated with the latter, but this idea bears further thought.
To begin with, any major can be made difficult if you don't take it seriously. Time management and disciplined study habits are important in every subject, and without them any degree program can become a challenging task. Secondly, every person has their own strengths and preferences. Just as some of us are good with words and interacting with people but freeze up in front of a math test, others have an easy time working with numbers or memorization but are scared to death when it's time to do a little public speaking. 
A big advantage when you study communication is that it can work for anyone. If you are already comfortable interacting, relating to and persuading others, you have an advantage. But more than almost any other field of study, the best way to improve as a communicator is simply to do it. Make no mistake—there is plenty of studying to be done in communication, whether it's different aspects of the communication model, how we think as humans, the different motives and techniques of communication, and so on. But at its core it's an experiential major where you can't help but practice and get better as you learn. 
And if you struggle, the good news is that communication is both the challenge and the solution. Just by describing your problems so someone can listen and offer feedback, you'll already be making progress.
Is communications a good career?
Mike Profita of The Balance wrote about how communication features into every area of work, thereby giving graduates an opening into virtually any field. He displayed the pervasive importance of strong communication skills when he said, "(Communications) majors learn how to assess the needs and preferences of readers, viewers and listeners. They have the creativity to devise innovative strategies for conveying their messages. (A student who is) in the communication major learn to plan, organize and execute projects, programs and events. They must be attentive to detail but at the same time understand the big picture."
In other words, every career comes down to communication, which is why at least a class or two in the subject is required at the majority of universities. Whether you just take what's required to graduate or you make communications your major, make sure you find a school with a great program.
Look for a school like North Central College. As Steve Macek, professor of communication and chair of the department, says in the description of the communication studies program, "This program is designed to provide you with excellent oral and written communication skills. You will learn how to analyze verbal messages in one-on-one and group settings. As an expert communicator, you can persuade, dissuade and interpret flawlessly. With plentiful career opportunities, a communication studies major is sure to provide the skills needed to impress any employer."
Find out more about North Central's program and get your career in communications started today.
Jacob Imm is the associate director of communication in the North Central College Office of Institutional Communication. He has 13 years of collegiate communications experience and has worked with hundreds of college students. He has a bachelor's degree from the University of Notre Dame and a master's degree from Northern Illinois University.
This article was updated on July 20, 2023.
Sources:
"What Can You Do With a Communications Degree?", Top Universities. https://www.topuniversities.com/student-info/careers-advice/what-can-you-do-communications-degree 
"Why Study Communication," National Communication Association. https://www.natcom.org/academic-professional-resources/why-study-communication 
"Best Jobs for Graduates With a Communication Degree," The Balance. https://www.thebalancemoney.com/best-jobs-for-communications-majors-2059631