Feature News
Erica Johnson '24 honored with two prestigious awards
"I've never doubted there would be someone here to help me succeed and learn."
Nov 06, 2023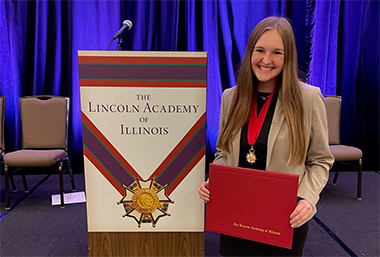 Erica Johnson is a high jumper on North Central's track and field team. She is also a high achiever in the classroom and beyond, taking advantage of many opportunities to get involved and gain valuable experience during her time on campus.
A senior from New Lenox, Ill., Johnson is North Central's 2023 Lincoln Laureate and recipient of the 2023 Reverend Dr. Howard Mueller Alumni Board Student Involvement Scholarship.
The Laureate award program honors one student from each of Illinois' four-year, degree-granting undergraduate institutions who embodies "leadership and service in the pursuit of the betterment of humanity and … overall excellence in curricular and extracurricular activities." At an event on November 4, 2023, Johnson and other Lincoln Laureates from across the state were honored with a Lincoln Academy of Illinois medallion, a certificate of honor and a $1,000 award.
The alumni board scholarship provides financial assistance to a student who exhibits leadership abilities through their involvement on campus and a commitment to "Cardinal Pride" in the classroom and the community. The scholarship honors Rev. Dr. Howard Mueller '58 for his lasting positive impact on the North Central community as a student, faculty member, alumnus, and friend.
Johnson chose North Central as much for the academics as for the chance to be a student-athlete. She is in North Central's College Scholars Program, balancing rigor in the classroom with year-round training for competition in both indoor and outdoor track and field.
Like many first-year students, Johnson began her college journey uncertain about a major. Her first industrial/organizational psych course sparked her interest, and she made up her mind during her sophomore year, when Dr. Karl Kelley, professor of psychology and Harold and Eva White Distinguished Professor in the Liberal Arts, invited her to collaborate on a research project. She decided to major in human resources management, while pursuing minors in industrial/organizational psychology and ethical leadership.
"I want to make workplaces more psychologically healthy – especially in terms of leadership development and culture," Johnson said. After graduation, she plans to attend graduate school.
Kelley has been an important mentor. He pointed Johnson to an internship opportunity, served as the advisor for her senior thesis, and nominated her for the Lincoln Laureate.
"You can tell the faculty and staff here truly care about you — not just in the classroom, but also outside. They ask about your life and want to be able to provide opportunities for you to grow and succeed," Johnson said.
A first-generation college student, Johnson is active with Cardinal First. She also has served as an orientation staff leader and first-year mentor, and she's a Leadership, Ethics, and Values Fellow, a Career Center advisor, inducted into five honor societies, a member of the interdenominational worship group FOCUS, and the president of the community service organization BREAKAWAY.
"North Central has so many existing student organizations — and opportunities to create your own around something you're passionate about," Johnson said. "I feel so supported in this community. I've never doubted there would be someone here to help me succeed and learn."
Learn more about majoring in industrial/organizational psychology at North Central College and finding out how to better humanity like Erica has.