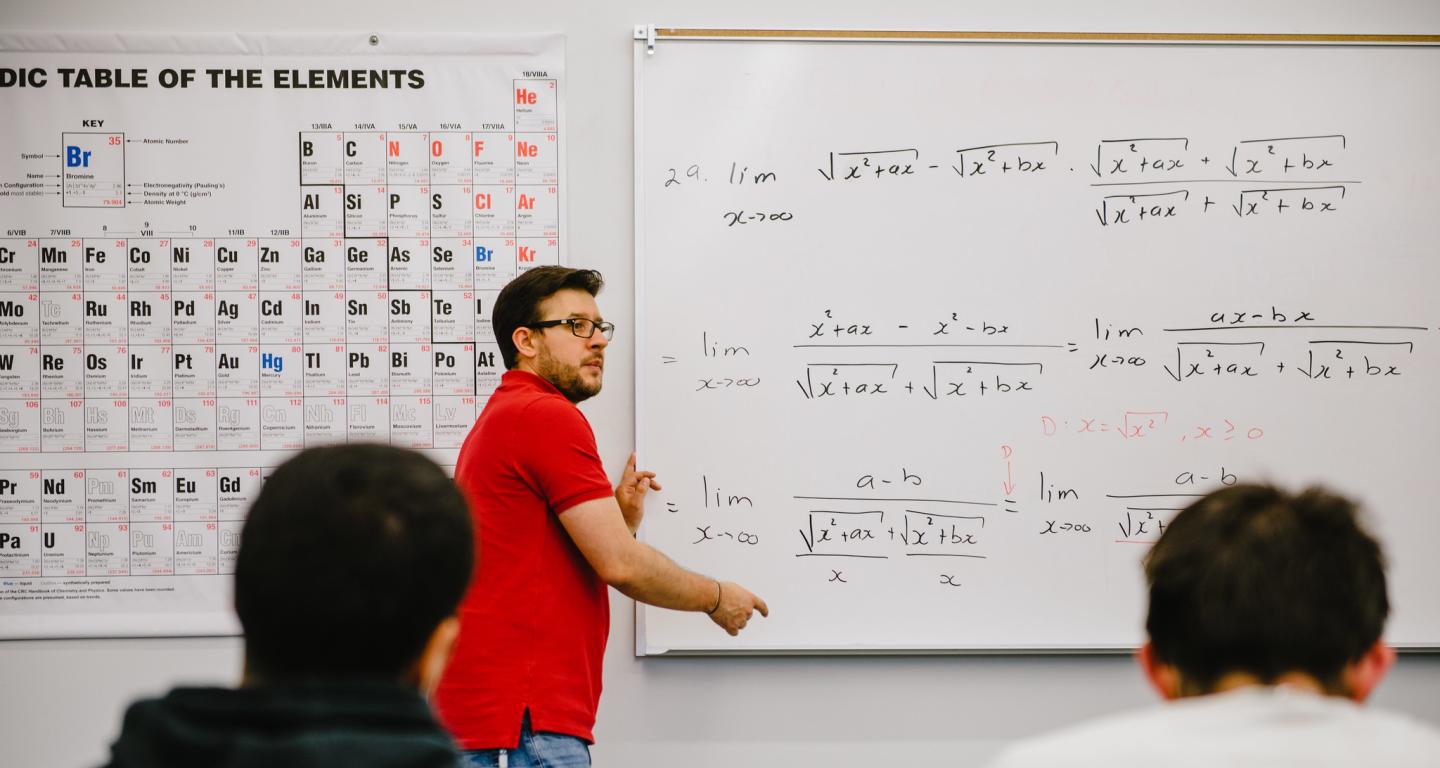 How to Become an Actuary
Oct 01, 2021
What does it take to become an actuary?
If you're looking for an exciting profession with job growth, a great salary, and benefits right out of college, consider whether actuarial science might be the career for you. 
First, make sure you can answer the question, "What does an actuary do?" so you can assess if this career is a good fit for your talents and interests.  
So, what is actuarial science? As an actuary, you will most likely work in the insurance industry and evaluate financial risk. You'll become an expert in evaluating the likelihood of events that could occur in the future using your analytical math skills. You might evaluate how to reduce the likelihood and impact of undesirable events.  This is all part of managing risk, which requires you to have strong analytical skills, computer science, business knowledge, and an understanding of human behavior. Managing risks in today's world is a complex task! 
Next, look for an actuarial science degree program that suits you and your career goals as an aspiring actuary. A large university may have hundreds of actuarial science majors, while a smaller program may have a few dozen. You should evaluate the differences of these programs and decide what makes the most sense for you as you prepare for the actuarial profession.
How many years does it take to become an actuary?
The good news is that you can complete your actuarial degree at most institutions in four years and graduate with a lucrative job offer waiting for you. Actuarial employers often make their job offers to seniors before graduation. Regardless of where you attend college, you will most likely need to complete an internship and pass two preliminary exams before graduating.
At a smaller actuarial science program within a private college like North Central College, you will gain personal attention, close mentoring, and more personalized preparation for certification exams. You can expect to receive actuarial career services support while obtaining internships and a full-time actuarial position. 
Dr. Marco V. Martinez, associate professor of mathematics at North Central College, is known for his mentoring of students. He wants to ensure that he's preparing all students for success, whether they come from first-generation families and/or represent other demographic groups. "Our students do the work, but we guide them," Martinez said. "And I know my students—if they're struggling, I try to guide them." 
His students benefit from the caring community of a small program and the additional mentoring of seniors who are majoring in actuarial science. "We try to find common ground when we pair up these students, like first-gen with first-gen," he explained. 
Actuarial student "ambassadors" visit their high schools to talk about their educations and future plans as actuaries. They share that the job market for actuaries continues to grow, whether the U.S. economy is booming or slowing. 
How hard is it to become an actuary?
In addition to a four-year bachelor's degree, the foundation of your education to become a qualified actuary lies with preparation for the professional exams. Be aware that the exam preparation process begins early in your college career as an actuarial science student, and it takes a lot of hard work, dedication, and motivation. According to Be an Actuary.org, you'll need to figure on studying about 100 hours for every hour that you'll be taking the exam. In other words, a three-hour exam roughly takes 300 hours to master the material. 
As you compare degree programs at colleges and universities, inquire about the exam process and what type of preparation is offered, like a summer seminar.
Exams
Your first actuary exam will likely be either the Financial Mathematics Exam or the Probability Exam, either of which you can take after your sophomore year. The purpose of these three-hour exams is to assess your knowledge of probability or financial math and the application of these tools to problems encountered by actuaries. You will need a thorough command of calculus and probability and a very basic knowledge of insurance and risk management. 
Once you thoroughly understand the syllabus materials and tackle the practice questions, register and take your first exam. The exams are offered on a regular basis throughout the year.
There is no shortcut to success in the exam process. It takes a lot of hard work, dedication, and motivation to get through the many hours of independent study that are required to prepare for each exam. While everyone studies differently, the typical candidate studies about 100 hours for every hour of the exam. For example, exam P/1 is a three-hour exam. That means you will be hitting the books for 300 hours to fully master the concepts tested on that exam.
The number of exams you will take depends on what kind of actuary you aim to become. If you want to be an associate actuary the number is seven, but you will need to complete other components as well. If you want to be an actuarial fellow, the number of exams ranges between nine and 13. Most students have passed two or three exams before graduation, and  sometimes, more. Exams not passed as a student must be taken while you are employed. In addition to providing training, work experience, and a paycheck, most employers support a prospective actuary by paying for their certification exams and study materials.
At North Central College, Martinez encourages his actuarial science majors to prepare to take at least one exam by the end of their sophomore year in college and two by graduation. "We offer two academic classes to teach what our students need for that exam alone," he explained. "We also teach how to study for exams during a summer seminar. And our upperclass students help mentor and tutor because they've taken the exams and can provide practical advice."
In recent years, the pass rates for actuarial exams for North Central students is between 75 and 90 percent, compared to 40 to 45 percent worldwide. In addition, students who have passed two exams and have a summer internship by their senior year have 100 percent job placement in the actuary industry, according to Martinez. 
Education requirements
The good news is that an entry-level actuarial science position could pay $70,000-plus annually and only require a bachelor's degree. Expect to complete a full curriculum of actuarial mathematics, probability, and data analysis, along with several business courses.
The actuarial science major at North Central College requires extensive preparation in math, finance, and economics. Courses include: Calculus I, Calculus II, Calculus III, The Theory of Interest, Financial Mathematics, Linear Algebra, Probability, Data Analytics, Probability for Risk Management, Models for Financial Economics, Financial Accounting, Principles of Microeconomics, Principles of Macroeconomics, Econometrics and Corporate Finance.
In addition, a liberal arts curriculum with preparation in communications during your educational experience will make you stand out. "Companies need graduates with communications skills," said Martinez. "They want employees who can write well, communicate complex messages, and have excellent speaking skills." 
Actuarial Science Internships
Between your junior and senior year, you should bolster your resume by completing an internship, which will provide practical field experience. Internships are especially valuable if you're unsure of which type of actuarial practice to work in, such as health insurance, life, pension actuaries, casualty, or consulting. The benefits include:
Gaining relevant actuarial work experience;

Building actuarial credentials while practicing your communication and leadership skills;

Acquiring experience not learned in the classroom; and

Building networks with potential employers and experienced actuaries.
Professional Actuary Certification
A graduating actuarial science major will need to pass at least two or three of the industry's certification exams to land a job. Once employed, actuaries continue studying and preparation to complete the full battery of seven exams to become certified at the associate actuary level. For those who want to become a fully qualified and certified actuary, known as fellowship level, another three exams are required for fellowship certification, for a total of 10. These exams are administered by either the Society of Actuaries (SOA) or the Casualty Actuarial Society (CAS), and are used in both the United States and Canada. 
Starting Your Actuary Career
Recent graduates enter the field as trainees and work under the supervision and mentorship of an experienced actuary or a team of actuaries. Also, be aware that many employers offer compensation for study time to complete further exams, so this educational benefit, which is standard in the industry, can help those starting out to continue through to certification.
To learn more about an actuarial career and the average actuarial science salary, read our linked blog!
Big Data and the Future of Actuarial Careers
The skills developed by actuaries, especially the quantitative analysis of risk, are valued in the marketplace. The U.S. Department of Labor, Bureau of Labor Statistics, projects that employment opportunities for actuaries will increase much faster than the average rate.
Big data is altering many industries, and the field of actuarial science is one of those affected. Actuaries will increasingly work with statisticians and computer and data scientists. And in any field, actuaries are expected to maintain high ethical standards. 
If you have the work ethic and will to succeed, you can aspire to have an actuarial career with great rewards!
Laura Zahn Pohl is an editorial director in higher education, with 18 years of experience as a content writer, publications editor and speechwriter. An honors graduate of the University of Iowa School of Journalism, her experience includes corporate communications and freelance reporting for the Chicago Tribune, Daily Herald and Kalamazoo Gazette.
Sources: 
https://www.geteducated.com/career-center/detail/actuary/
https://www.accounting.com/careers/actuary/how-to-become/
https://www.northcentralcollege.edu/program/actuarial-science