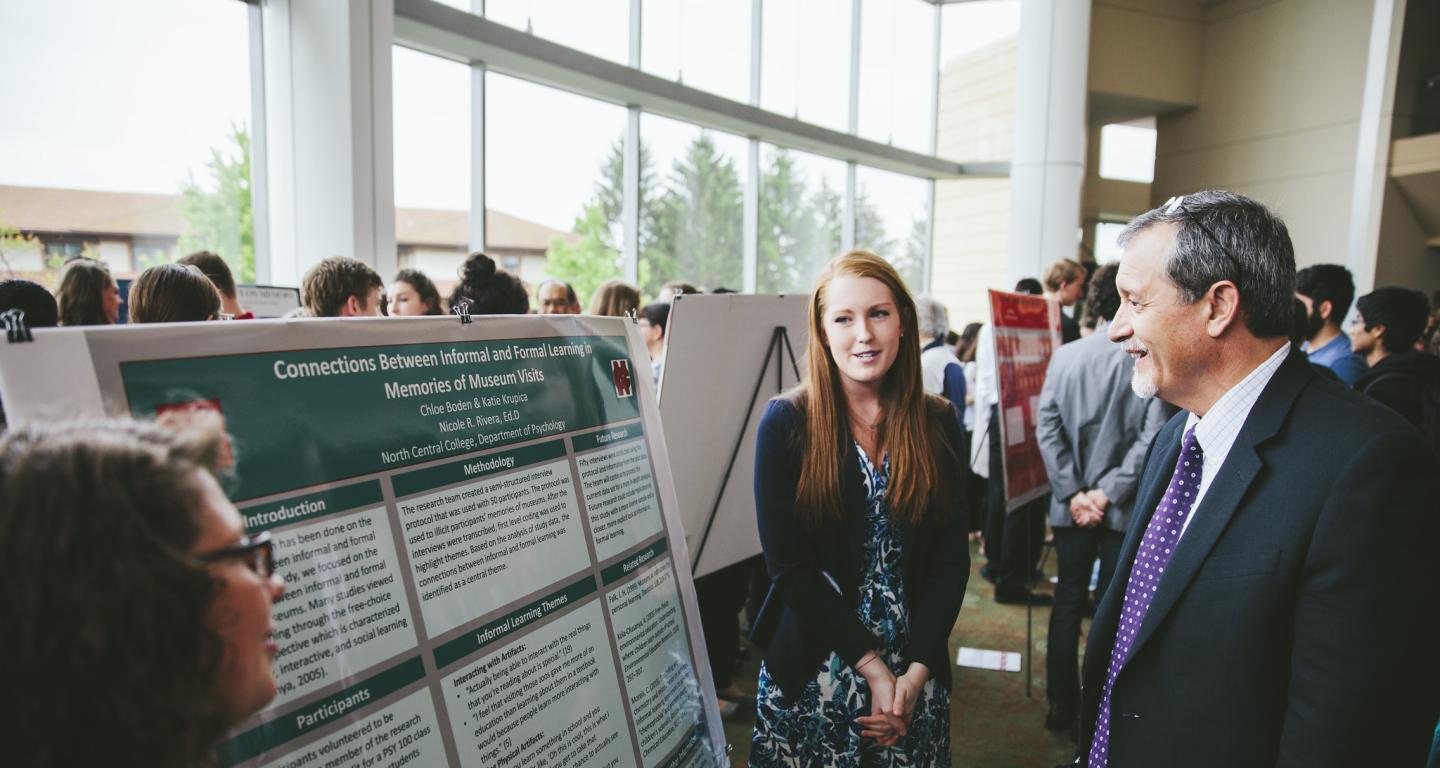 Career Paths in Psychology
Aug 23, 2023
Career Paths in Psychology
An introductory course in psychology, whether at the high school or college level, can spark an interest in the scientific study of the mind and behavior. Indeed, in recent years psychology has routinely ranked as one of the most popular undergraduate majors.
The benefits of studying psychology can include an array of career path options. Becoming a psychologist is just one possibility. A bachelor's degree in psychology can be a foundation for a role in social services or even a corporate setting — working in human resource management or sales and marketing, for example. Alternatively, a psychology student may opt to pursue graduate level study in education, medicine or law.
Because psychology is a broad discipline, it prepares a student to thrive in a range of professions, says Dr. Nicole Rivera, associate professor in the psychology department at North Central College. "Through the study of psychology, students learn to understand and interpret human behavior, critically evaluate evidence, and apply knowledge to various settings," she said. "These skills translate to different career paths because of the social nature of how we work and the human behaviors we are trying to support in various sectors."
If you are interested in working in the field of psychology, new trends create new opportunities. In its 2023 Trends Report, the American Psychological Association (APA), describes how the field is also undergoing transformation: "Psychologists are increasingly being called on to help solve some of the greatest challenges we face as a society."
According to the U.S. Bureau of Labor Statistics (BLS), overall employment of psychologists is projected to grow 6 percent from 2021 to 2031, about as fast as the average for all occupations. There may be differences across specialties.
These are some of the most common career pathways in psychology:
Clinical psychology
Clinical psychologists focus on prevention, assessment, diagnosis and treatment of mental, emotional and behavioral disorders across the lifespan, according to the APA. They work directly with individuals, families or groups and often serve a specific demographic — like youth, first responders, those struggling with addiction, LGBT+ individuals, or older adults. Practitioners may work in a professional practice, hospitals, outpatient treatment facilities, schools, courts and prisons, government, the military or other setting. 
Issues a clinical psychologist may address includes:
Adjustment issues and traumatic stress reactions

Emotional and psychological problems, including serious mental illness and crisis intervention

Interpersonal or social problems and dysfunction

Behavioral problems including substance abuse and dependence

Intellectual, cognitive, and neurological conditions
Becoming a clinical psychologist requires masters and doctoral level training. Each state has different licensing requirements. Some states require supervised clinical hours. Writing for Psychology.org, Nina Chamlou says becoming a clinical psychologist can take up to 10 years, depending on whether a student is part-time or full-time and what type of undergraduate degree is earned before starting a master's program. 
Educational Psychology
If you like working with children and families, consider working in a school as an educational psychologist. According to the National Association of School Psychologists (NASP), the challenges that youth can face include social relationships, making difficult decisions or managing emotions — all of which can impact learning. The NASP describes educational psychologists as "a highly skilled and ready resource in the effort to ensure that all children and youth thrive in school, at home, and in life."
Educational psychologists need to have masters-level, specialist-level or doctoral-level education to equip them with knowledge and skills that include:
Data collection and analysis

Assessment

Progress monitoring

School-wide practices to promote learning

Resilience and risk factors

Consultation and collaboration

Mental health interventions

Instructional support

Prevention and intervention services

Special education services

Crisis preparedness, response, and recovery

Diversity in development and learning

Research and program evaluation
Social Psychology
The APA defines social psychology as "the study of how individuals affect and are affected by other people and by their social and physical environments." Social psychologists study interpersonal and group dynamics and social challenges such as bullying, prejudice, criminal activity and substance abuse. They can work in the private sector in varied roles, including designing and evaluating policy and programs in education, conflict resolution and environmental protection.
How do you become a social psychologist? A bachelor's degree in general psychology, social psychology or another related field is a start, according to the APA. Beyond that, a master's degree or doctoral degree is typical, with Ph.D. programs taking approximately five years to complete. 
Sports Psychology
When an athlete has optimal mental health and well-being, they are better able to optimize their physical performance. Writing for Forbes, Sheryl Gray describes how sports psychologists help professional and amateur athletes cope with emotions and stress, anxiety, depression, eating disorders, and other challenges. They may work with others who have high-stress jobs — first responders, surgeons, performance artists, and military personnel. Gray writes that the U.S. Army is the largest employer of sports psychologists in the country. She also notes: "In addition to working directly with athletes, sport psychologists may work with coaches or youth sports organizations to teach skills that help athletes stay motivated and maintain healthy self-esteem."
Sport psychologist education requirements typically include bachelor's, master's and doctoral degrees. Each state has its own licensing requirements.
Neuropsychology
In another piece for Psychology.org, Chamlou writes that neuropsychology is one of the fastest-growing, in-demand and highly paid areas of psychology. While clinical psychologists focus on how an individual's life experiences affect them, she writes that neuropsychologists look at genetics and other biological factors: "In short, neuropsychologists study how an individual's cognition and behavior relate to the brain and nervous system." They administer and interprets tests — including language assessments, mental exams, personality tests, and other cognitive tests. Often in collaboration with neurologists, physicians, psychiatrists, and neurosurgeons, neuropsychologists may help patients who have suffered a head injury, are dealing with an undiagnosed learning disability, or are experiencing symptoms of dementia.

Gray adds that neuropsychologists frequently specialize in working with a particular age group, like children or older adults. It takes 10-13 years in postsecondary education and supervised experience to become a neuropsychologist.
Counseling Psychology
According to the APA, the counseling psychologist focuses on healthy aspects and strengths of their clients, who may include individuals, couples, families, groups, organizations, or communities. The goal is to prevent and address emotional, relational, physical/health-related, social, cultural, vocational, educational, and identity-related challenges. A doctoral degree is required.
The procedures and techniques used within counseling psychology include, but are not limited to:
Individual, family and group counseling and psychotherapy.

Crisis intervention, disaster and trauma management.

Assessment techniques for the diagnosis of psychological disorders.

Programs/workshops that educate and inform the public about mental health, school, family, relationship and workplace issues so that problems can be prevented before they start or reduced before they get worse.

Consulting with organizations.

Program evaluation and treatment outcome (e.g., client progress).

Training.

Clinical supervision.

Test construction and validation.

Research methodologies for scientific investigations.
Health Psychology
The complex relationship between physical and mental health is the focus of health psychology, which is a specialty of clinical psychology. For example, as Ilana Hamilton writes for Forbes, health psychologists may study how to manage chronic pain, cope after a terminal diagnosis, recover from addiction, or maintain a healthy weight. "Their findings can improve healthcare systems and help people lead healthier lives," she writes. A health psychologist may work in a hospital or rehabilitation center or private practice. Some provide direct patient care while others work in education, advocacy and research. A master's in psychology with a health psychology emphasis is a common education path. A doctoral degree may not be needed.
Forensic Psychology
If you are interested in psychology and law, being a forensic psychologist draws on both disciplines. According to the American Academy of Forensic Psychology, forensic psychologists apply the science and profession of psychology to questions and issues relating to law and the legal system. They provide expertise to judicial, administrative, and educational systems, including examining or treating charged or incarcerated individuals. Also, they may provide expert opinion or testimony about psychological issues to judicial, legislative, or administrative bodies. They may serve as a trial consultant or otherwise offer expertise to parties who are conducting research in connection with, or anticipation of, litigation.
See related: Psychologist Salaries
Pursuing a Career in Psychology
So, how to become a psychologist? For each psychology career path listed above, earning a bachelor's degree in psychology is an important first step. At a school like North Central College, students pursue a range of courses in the psychology department, which helps them decide which direction they want to follow after graduation.
As Rivera said: "The curriculum also allows students to explore related coursework to help them individualize their programs. Students have opportunities to pursue professionalizing activities such as internships, undergraduate research, and student leadership roles within the department which all contribute to post-graduate transition to work or advanced studies."
Kim MacGregor is the editorial director and executive speechwriter in the North Central College Office of Institutional Communication. She has decades of experience as a communication strategist and writer for journalism, marketing, and nonprofit advancement. She holds a bachelor's degree in journalism from Marquette University.
Sources:
American Academy of Forensic Psychology, https://aafpforensic.org
American Psychological Association, www.apa.org
Bureau of Labor Statistics, U.S. Department of Labor, Occupational Outlook Handbook, Psychologists, 
at www.bls.gov/ooh/life-physical-and-social-science/psychologists.htm.
Chamlou, Nina. "How to Become a Clinical Psychologist." Psychology.org, Jan. 30, 2023. www.psychology.org/careers/clinical-psychologist/
Chamlou, Nina. "How to Become a Neuropsychologist." Psychology.org, Aug. 15, 2022. https://www.psychology.org/careers/neuropsychologist/
Gray, Sheryl. "How to Become a Sport Psychologist: Salary, Education Requirements and Job Growth." Forbes, updated Aug, 2, 2022. https://www.forbes.com/advisor/education/become-a-sports-psychologist/
Hamilton, Ilana. "What Is Health Psychology, And Why Might You Pursue It?" Forbes, updated Nov. 16, 2022. https://www.forbes.com/advisor/education/health-psychology-overview/
National Association of School Psychologists www.nasponline.org