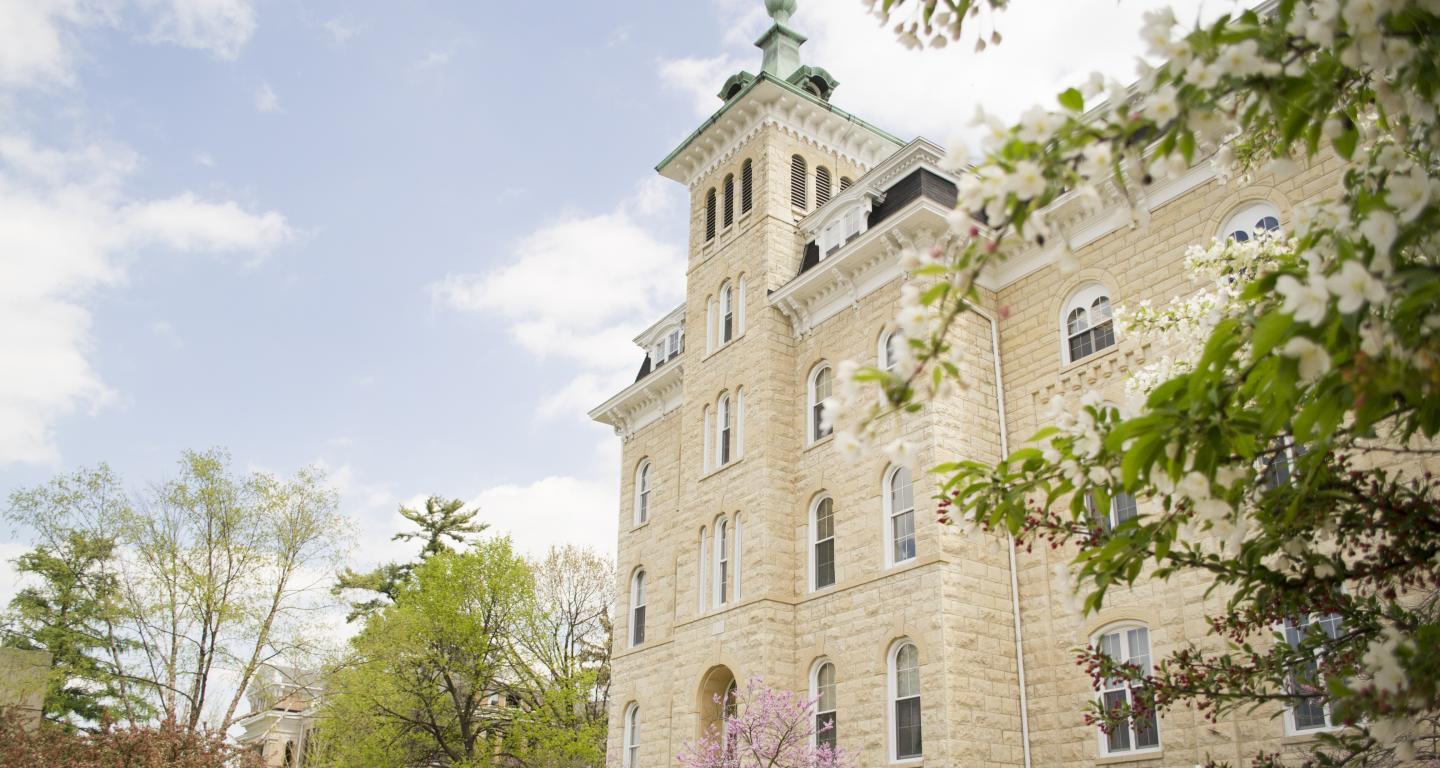 College of Arts & Sciences
Pharmacy (Pre)
Why choose a pre-pharmacy degree at North Central College?
Pharmacists are becoming increasingly involved in counseling patients and planning drug therapy programs. By studying at North Central College in one of our majors, such as biology, biochemistry or chemistry, and completing specific prerequisite coursework, you will develop a solid foundation for applying to top pharmacy schools. You'll be pushed to master writing and communication skills that will help prepare you when you're ready to pursue a career in pharmacy and relate to pharmacy patients. You'll get to know the professors who teach in North Central's small classes, and when you need a letter of recommendation to a college of pharmacy your teachers will know just what to say about you.
North Central's proximity to independent pharmacies like Martin Avenue Pharmacy or Oswald's Pharmacy in Naperville provides opportunities to job shadow a licensed pharmacist and gain valuable hands-on experience in health care. North Central pharmacy students can observe and assist pharmacists as well as gain customer service experience when studying in our pre-pharmacy programs. As one of the leading pre-pharmacy schools in Illinois, we give you all the tools you need to start and succeed for a career in pharmacy. To speak with an academic advisor about your future in pharmaceutical science, visit our campus or call our pharmacy college today.
You can also:
Study abroad or apply for a Richter Independent Study Fellowship grant for funding to conduct health sciences-related research locally or abroad.
Conduct research on your own, with peers or faculty and present your findings at local, regional and national conferences.
Work with North Central's dedicated pre-health advisor.
Network with alumni and peers through North Central's student-run Pre-Health Organization.
North Central has an affiliation agreement with the Lake Erie College of Osteopathic Medicine (LECOM) to offer high school students an opportunity for a "reserved seat" in their School of Pharmacy leading to the Doctor of Pharmacy (PharmD) Degree.
In the agreement between North Central and LECOM, based in Erie, Pa., qualified high school students interested in becoming a licensed pharmacist will have the opportunity to be admitted jointly into both institutions. Application in the LECOM's Early Acceptance Program (EAP) can occur as early as the student's senior year in high school and up until the start of the third year at North Central College.
Application to the EAP is separate from the application to North Central College. A student may apply for EAP consideration as a high school senior. Minimal qualifications to participate in the EAP are:
High school GPA of 3.5 on a 4.0 scale or higher unweighted
ACT composite score ≥ 26 on a single exam or an SAT score ≥ 1170 on a single exam taken before March 1, 2016, or a SAT score of ≥ 1240 on a single exam taken after March 1, 2016
Must be a U.S. citizen, permanent resident, or international applicant holding an F-1 Visa
The process to enroll in the EAP is to submit an inquiry at http://portal.lecom.edu. Students will receive an email from LECOM with username, password and instructions to complete the application.
Pre-Pharmacy Opportunities
A North Central education integrates career preparation and pharmacy practice with rich academic study. Our faculty encourages you to refine and apply your knowledge in an interconnected world. Here you'll learn to think independently and work globally to solve problems and lead the way in health care.
Graduate Programs
Graduates have been accepted into a Doctor of Pharmacy degree program at:
University of Illinois at Chicago, College of Pharmacy

Purdue University College of Pharmacy

Rosalind Franklin University

of Medicine and Science

Roosevelt University College of Pharmacy

Midwestern University Chicago College of Pharmacy

Regis University

, Denver, CO

University of Colorado Health Sciences Center, Denver, CO

Creighton University, Omaha, NE
Practitioners
Graduates have been employed at:
Martin Avenue Pharmacy, Naperville
Oswald's Pharmacy, Naperville
CVS Pharmacy, Chicago
Walgreen's Pharmacy, Hanover Park, IL
Sam's Club Pharmacy, Colorado Springs, CO
Target Pharmacy, Woodridge, IL
 
What major should I choose at North Central College?
A bachelor's degree in Pharmaceutical Studies, Biochemistry, Biology or Chemistry is recommended unless you have a strong interest in another major.  Regardless of your major, pharmacy schools require a set of prerequisite courses (see list below).  
Will I need graduate education?
Yes, after earning your bachelor's degree at North Central becoming a pharmacist requires an additional 3-4 years in a graduate program in pharmacy education leading to the Doctor of Pharmacy (PharmD) degree. The average GPA for students accepted to pharmacy school is about 3.25 or higher.
What prerequisite courses do pharmacy graduate programs require?
Minimum course requirements for pharmacy school admission are:
General Biology with lab 
General Chemistry with lab 
Organic Chemistry with lab 
Physics with lab
Anatomy and Physiology 
Calculus
Statistics
Psychology 
Many pharmacy schools in Illinois also require or recommend:
Genetics
Microbiology
Biochemistry
Economics
Sociology
What else should I consider?
While a student at North Central, you will participate in activities that will help you develop into a competitive applicant for pharmacy school. These include: observing pharmacists to demonstrate that you understand the professional responsibilities of the role; research experience to learn how new knowledge is generated; leadership activities like lab assistant, serving as an officer in a student organization, or tutoring; and, a commitment to others demonstrated through volunteer service. The Pre-Professional Health Program Coordinator will guide you in these activities, connect you with alum that have pursued this path, and advise you throughout the application process to pharmacy school.
Invest in your future
Choosing the right college is a big decision. Don't make it alone. North Central's admission and financial aid team is here to help you design a financial aid solution that works best for you and your family.
Merit scholarships, grants, loans, campus employment - these are just some of the resources available to you to cover your tuition fee. Over 95 percent of students and 100 percent of all eligible students receive aid. Let our team partner with you in finding the best value for your pharmacy education.
Learn more about financial aid, costs, and degree options for North Central College
Apply to North Central College
The first step to becoming a North Central student is reading the application instructions specific to you. Find out everything you need to know about applying to a pharmacy degree program by selecting the group you belong to below.