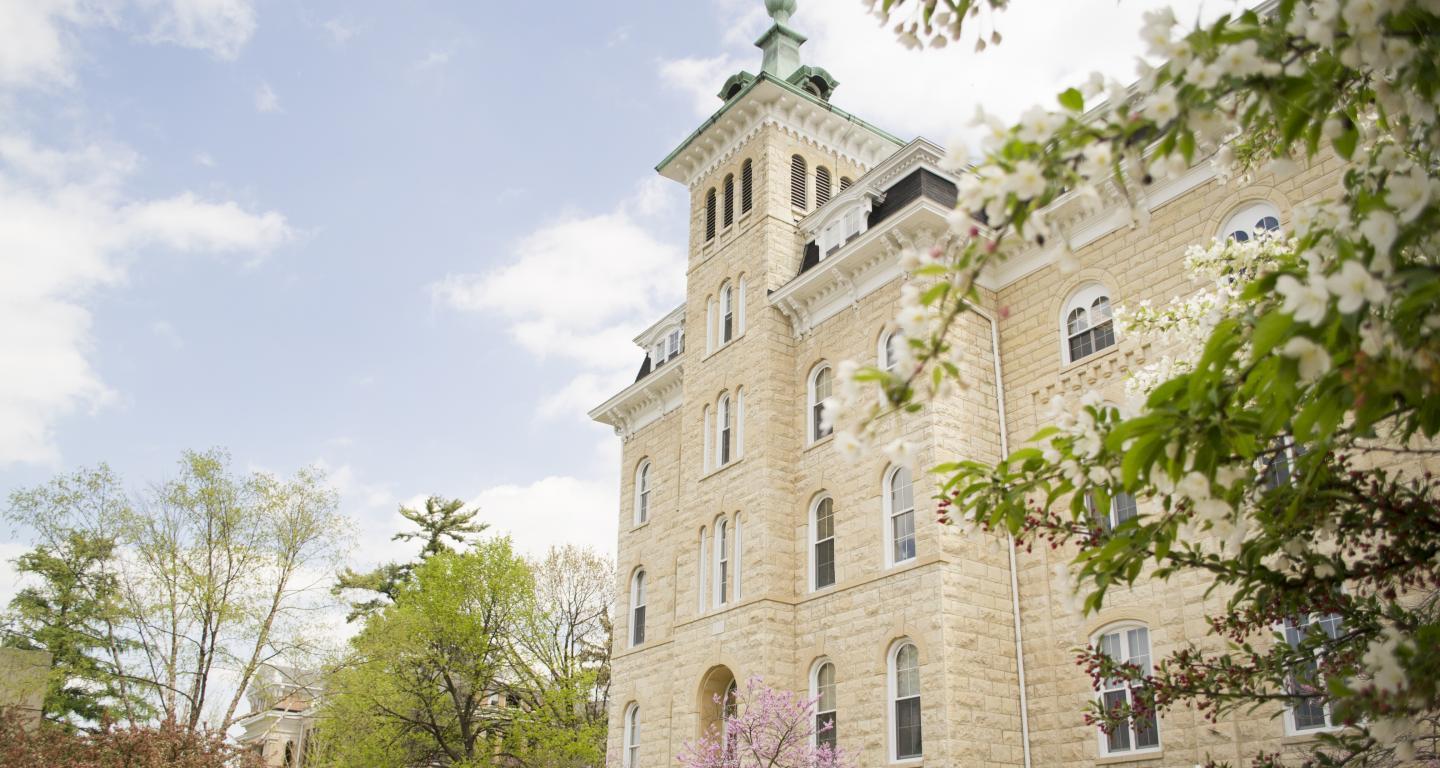 College of Arts & Sciences
Veterinary Medicine (Pre)
Why choose pre-veterinary medicine at North Central College?
Admission to veterinary school is very competitive. There are only 30 schools in the country accredited to award a doctor of veterinary medicine (D.V.M) degree. By studying at North Central College, you can experience opportunities that give you the edge you need to gain admission to veterinary school.
At North Central, you'll study biology, chemistry and other subjects. In your degree program you'll be pushed to master writing and communication skills that will help prepare you to relate to animal owners. You'll get to know the professors who teach in North Central's smaller classes, and when you need a letter of recommendation your teachers will know just what to say about you. By earning a bachelor's degree in one of our majors, such as biology or biochemistry, and completing specific prerequisite coursework, you will develop a solid foundation for applying to veterinary school.
North Central College is ideally located in Chicago's western suburbs, where veterinary students find plenty of opportunities to job shadow veterinary professionals or volunteer at animal care facilities like the Naperville Area Humane Society.
You can also:
Conduct research on your own, with peers or a faculty member during North Central's Summer Undergraduate Research Colloquium, and present your findings at the Rall Symposium for Undergraduate Research or the National Conference on Undergraduate Research.
Pursue research interests anywhere in the world by applying for a Richter Independent Study Fellowship grant.
Work with North Central's dedicated pre-health advisor.
Network with alumni and peers through North Central's student-run Pre-Health Organization.

Pre-Veterinary Medicine Internships and Jobs
A North Central education integrates career preparation with rich academic study. Our faculty encourages you to refine and apply your knowledge in an interconnected world. Here you'll learn to think independently and work globally to solve problems and lead. Our goal is to prepare veterinary students to become successful, certified veterinary professionals.
Graduate schools (or veterinary schools)
Graduates have been accepted at:
University of Illinois College of Veterinary Medicine, Champaign-Urbana, IL
University of Wisconsin School of Veterinary Science, Madison, WI
The Ohio State University, Galbreath Equine Center, Columbus, OH
Colorado State University College of Veterinary Medicine & Biomedical Sciences, Fort Collins, CO
Auburn University College of Veterinary Medicine, Auburn, AL
Careers
Graduates include:
Doctor of veterinary medicine/owner, Shirkey Veterinary Clinic, Coal City, IL
Veterinary technician, Chicago Veterinary Emergency Service, Chicago
Veterinarian, The Dairy Authority, Denver, CO
Veterinarian, Green Trails Animal Clinic, Lisle, IL
Professional dog trainer, animal behavior counselor and director of training, Fine Canine Dog Training & Animal Rentals, Elmhurst, IL
Internships
Intern in equine medicine and surgery, University of Missouri, Columbia, MO
Sport horse intern, Hagyard Equine Medical Institute, Lexington, KY
 
What major should I choose at North Central College?
A degree in Biology or Biochemistry is recommended unless you have a strong interest in another major.  Regardless of your major, veterinary schools require a set of prerequisite courses for each degree program (see list below).  
Will I need graduate education?
Yes, after earning your bachelor's degree at North Central becoming a veterinarian requires an additional four-years of veterinary school leading to a Doctor of Veterinary Medicine (DVM) degree. Animal science specialties can require advanced training beyond the DVM. Admission to veterinary programs is very competitive, and real-world veterinary experience is of great importance in addition to excellent grades and test scores. The average GPA for students accepted to veterinary school is about 3.6 or higher.
What prerequisite courses do veterinary schools require?
Minimum course requirements for veterinary school admission are:
One year of General Biology with lab 
One year of General Chemistry with lab 
One year of Organic Chemistry with lab 
One year of Physics with lab 
Many veterinary schools in Illinois also require or recommend:
Calculus
Anatomy and Physiology
Biochemistry
Microbiology
Genetics
Psychology
Statistics
What else should I consider?
Veterinary schools in Illinois look for experience in the veterinary field to demonstrate that you are comfortable working with animals and understand the role of the veterinarian. Direct experience in the veterinary field is extremely important to a successful application, including both small-animal and large-animal experience. A job as a vet tech or assistant is a good way to gain this experience. Paid or volunteer work or internships with animal shelters, zoos, veterinary clinics or even in farm or ranch settings can all contribute to meeting this requirement.
While a student at North Central, you will participate in activities that will help you develop into a competitive applicant for veterinary school. These include: observing veterinary professionals; research experience to understand how new knowledge is generated; leadership activities like animal-lab assistant, serving as an officer in a student organization, or tutoring; and volunteer service. The Pre-Professional Health Program Coordinator will guide you in these activities, connect you with alum that have pursued this path, and advise you throughout the application process to veterinary school.
Invest in your future
Choosing the right college is a big decision. Don't make it alone. North Central's admission and financial aid team is here to help you design a financial aid solution that works best for you and your family so you can become a certified veterinary professional today.
Merit scholarships, grants, loans, campus employment - these are just some of the resources available to you at Illinois veterinary school. Over 95 percent of students and 100 percent of all eligible students receive aid. Let our team partner with you in finding the best value for your education.
Learn more about financial aid and tuition costs for North Central College
Apply to North Central College
Discover which vet tech program is right for you so you can become a certified veterinary technician today! The first step to becoming a North Central student is reading the application instructions specific to you. Find out everything you need to know about applying by selecting the group you belong to below.