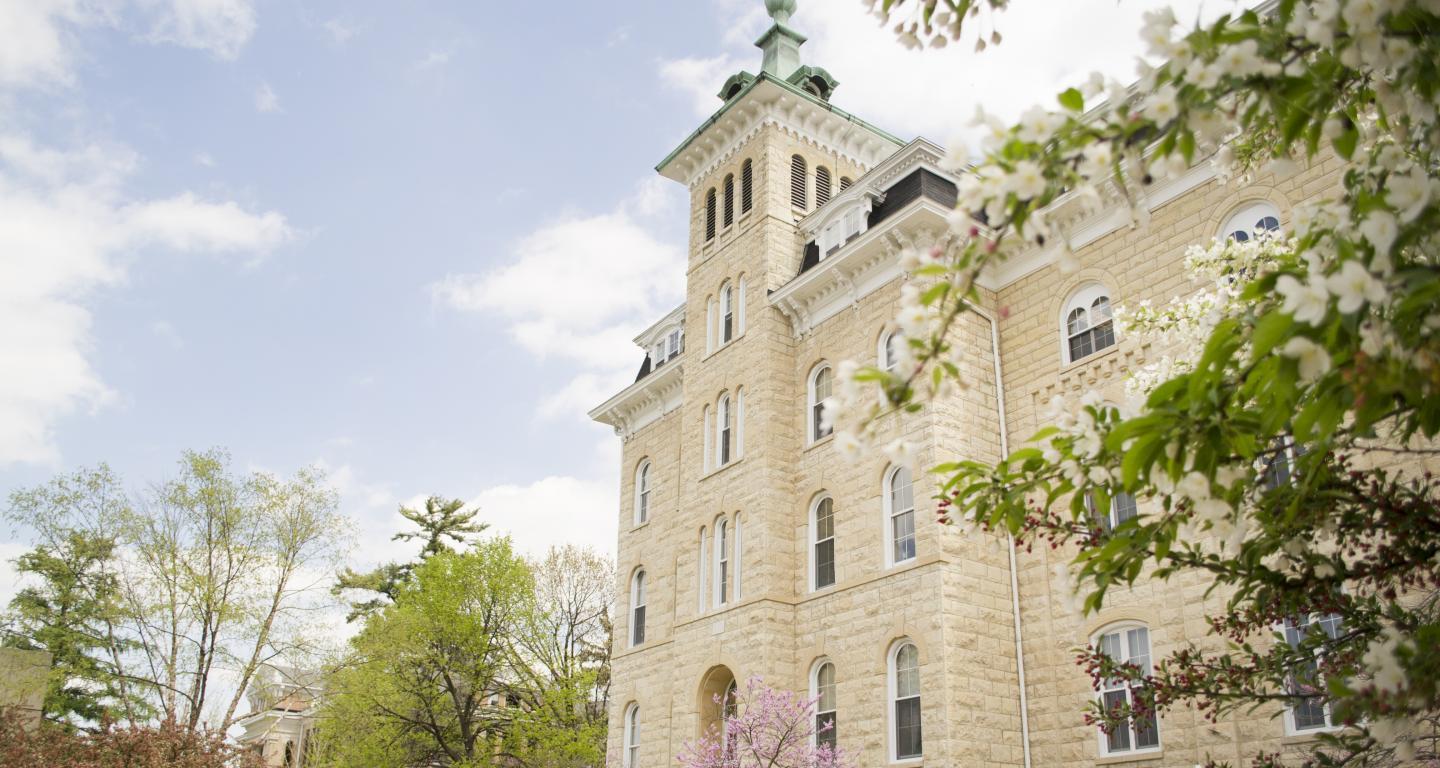 College of Arts & Sciences
Political Science
Why pursue a political science degree at North Central College?
Political scientists make sense of how local, state and national policies and laws affect governments, businesses and citizens. Students who major in Political Science are prepared to understand complexities within politics across parties, closely examining the past, present and future of political decision making. At North Central College, you'll work closely with faculty to explore topics such as foreign policy, the constitution, the role of the presidency and more. Political science prepares you for graduate school and a wide range of careers in various levels of government service, law, education, journalism, business and nonprofits.
IF YOU ARE INTERESTED IN
Analyzing the exercise of power in the

United States and global governments

Evaluating issues of justice, rights and the

relationship between state and individual

Examining public policy and the political

process
then a degree in POLITICAL SCIENCE might be for you.
Why study political science at North Central College?
In the Classroom
Coursework topics:
American Foreign Policy

Comparative Politics

Congress: The Least Popular Branch

Constitutional Law

First Ladies: Symbol of American

Womanhood

Great Decisions in International Politics

International Law

International Relations

Law, Politics and Society

Model United Nations

Political Psychology

Public Opinion and Political Behavior

Rights, Liberties and Justice

Scope and Practice of Political Science

Seminar in Political Science

The American Electoral Process

The American Political System

The Politics of the Presidency

Women in American Politics
Beyond the Classroom
As a political science major, you can:
Apply for internships and jobs through robust faculty and

alumni networks or the Center for Career and Professional

Development.

Monitor political candidates and cycles or do research with

faculty members.

Present your own research projects at the Rall Symposium for

Undergraduate Research and other forums.

Attend a professional political conference, such as the Midwest

Political Science Conference in Chicago.

Gain valuable practical experience in law and international

relations through the faculty-led Mock Trial and Model United

Nations organizations.

Get involved politically through NCC College Democrats or

Republicans or Student Governing Association.
Political Science, B.A.
For additional programs and courses in this department, see Political Science.
A minimum of 32 credit hours, including:
Electives
The remaining credit hour requirements must include at least one course from each of the following areas:
Students must demonstrate elementary competence in a foreign language. For more information, see the  within the Academic Regulations section of this catalog.
Political Science Minor
For additional programs and courses in this department, see Political Science.
A minimum of 20 credit hours, including:
Electives
A minimum of 12 credit hours of Political Science, with at least four credit hours at the 300-level.
 Political Science Internships and Jobs
A North Central education integrates career preparation with rich academic study. Our faculty encourages you to refine and apply your knowledge in an interconnected world. Here you'll learn to think independently and work globally to solve problems and lead.
Internships
Recent graduates in political science have served as:
Intern, White House
Campaign intern, U.S. Representative Judy Biggert, Naperville
Consulting firm, Coleman Group, Chicago
Senate press intern, Office of U.S. Senator Richard Durbin, Chicago
Volunteer relations intern, World Relief, Aurora, IL
Legislative assistant, Illinois Physical Therapy Association, Naperville
Youth intern, Global Vision International, Esteli, Nicaragua
Law clerk, Keough and Moody P.C., Naperville
Office of Member of British Parliament Vincent Cable, London, England
Graduate Schools
Recent graduates in political science have been accepted at:
Yale University
University of Kentucky
John Hopkins University-SAIS
American University
The John Marshall Law School
University of Illinois-Chicago
Bush School of Government and Service, Texas A&M University
The George Washington University
St. Louis University School of Law
Chicago-Kent College of Law
Fordham University
DePaul University
University of San Diego
Appalachian State University
University of Chicago
Northwestern University
University of Pittsburgh
The Ohio State University
Careers
Recent graduates in political science include:
Manager of federal government relations, Darden Restaurants, Orlando, FL
Associate attorney, Wolfe & Stec, Ltd., Woodridge, IL
Associate director of global operations, Peace Corps
Assistant state's attorney, DuPage County
Community resource coordinator, Lupus Foundation of America, Heartland Chapter
Vice president of advocacy, economic growth and quality of life, Naperville Area Chamber of Commerce, Naperville, IL
 
Invest in your future
Choosing the right college is a big decision. Don't make it alone. North Central's admission and financial aid team is here to help you design a financial aid solution that works best for you and your family.
Merit scholarships, grants, loans, campus employment - these are just some of the resources available to you. Over 95 percent of students and 100 percent of all eligible students receive aid. Let our team partner with you in finding the best value for your education.
Learn more about financial aid and costs for North Central College
Apply to North Central College
The first step to becoming a North Central student is reading the application instructions specific to you. Find out everything you need to know about applying by selecting the group you belong to below.