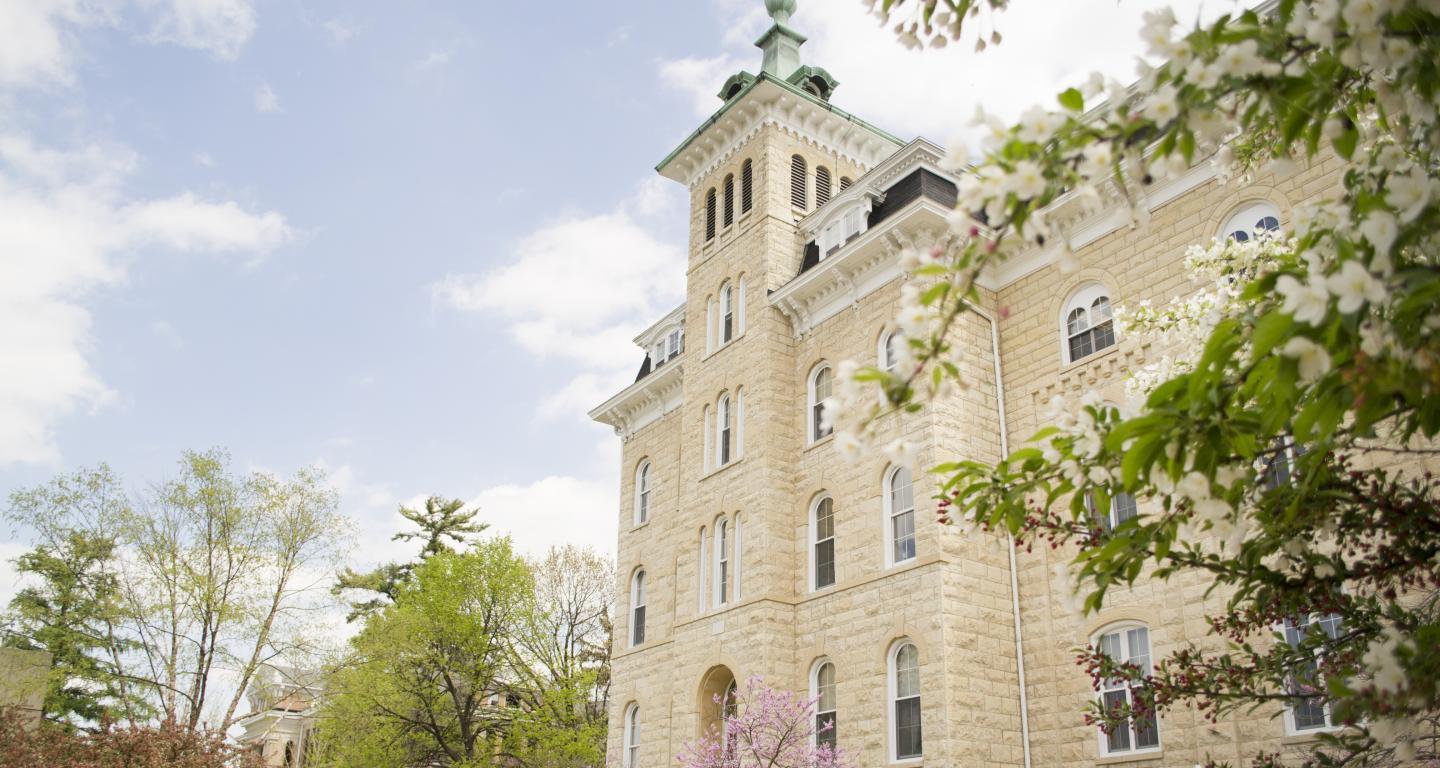 College of Arts & Sciences
Musical Theatre
Why pursue a musical theatre degree at North Central College?
As a musical theatre major, each student will train to become a "triple threat" in acting, dancing and singing. Unlike a conservatory environment, the musical theatre program at North Central encourages exploring different kinds of performing arts across theatre, dance and music. This program is designed to prepare you to succeed in any theatrical environment but is especially equipped to help you audition nearby in the Chicago theatre scene for companies like Chicago Shakespeare Theater, Steppenwolf, The Other Theatre Company, Goodman Theatre, and Greenhouse Theatre. At North Central, you'll study with faculty who are accomplished actors and dramaturgs working in the Chicago theatre scene. You will have ample opportunity to act, sing, dance, direct plays and even write and produce your own dramatic art productions. Students looking to further develop their skills in the theatre arts will find a strong start to their career at North Central.
IF YOU ARE INTERESTED IN
Acting, singing, and dancing on stage professionally
Honing your voice, movement, improvisation and character study skills
Auditioning for and performing in multiple shows a week
then a degree in MUSICAL THEATRE might be for you.
Why study musical theatre at North Central College?
In the Classroom
Coursework topics:
Acting for The Musical Stage
Advanced Performance Styles for Musical Theatre
American Musical Theatre History
Ballet
Business of Theatre
Choreography
Collaboration
Contemporary Acting Styles
Contemporary Modern Dance
Directing
Fundamentals of Acting
Jazz
Music Theory for Actors
Musical Theatre Dance
Musical Theatre Scene Study
Piano Lessons for Musical Theatre
Senior Musical
Somatics
Tap
Vocal Pedagogy and Techniques
Voice Lessons of Musical Theatre
Voice and Movement for The Actor
Beyond the Classroom
As a musical theatre major, you can:
Audition for well-known agents and casting directors (including Paskal Rudnicke Casting, Claire Simon Casting and Stewart Talent) as part of the Senior Showcase.
Direct a show of your choice in our state-of-the-art facilities as part of our student directed series.
Tap into our faculty's professional network, which extends throughout Chicago's vibrant theatre community (and beyond).
Work with a faculty advisor during your senior year to select a show, coordinate production responsibilities, produce and present a fully mounted production in one of our state-of-the-art venues.
Possible Musical Theatre Careers
Upon completion of the musical theatre program, every student will have the opportunity to apply for a plethora of jobs. A degree in the performing arts will elevate your career on stage and off, allowing you to:
Audition

for

broadway musicals

Take part in the construction of

theatre design

Teach

theatre studies

and

music theory

Compose music as a music director

Create and display

stage

props

Engage in costume design

Voice act in TV shows and movies

Develop

stage

and set design
Musical Theatre, B.A.
For additional programs and courses in this department, see Theatre.
Advanced Theatre Courses
Two of the following:
Voice Lessons
Six semesters of:
Piano Lessons
Six semesters of:
Theatre Practicum
Six semesters of the following:
Note:
*Voice lessons, piano lessons and theatre practicum may be taken for zero credit hours, or for credit in partial satisfaction of elective credits, up to College limits. These hours are in addition to, not part of, the hours required for the major.
Students must demonstrate elementary competence in a foreign language. For more information, see the  within the Academic Regulations section of this catalog.
Musical Theatre Internships and Jobs
A North Central education integrates career preparation with rich academic study. Our faculty encourages you to refine and apply your knowledge in an interconnected world. Here you'll learn to think independently and work globally to solve problems and lead.
Internships
Chicago Shakespeare Theater at Navy Pier
The Other Theatre Company, Chicago
American Theatre Company, Chicago
Goodman Theatre, Chicago 
Greenhouse Theater Center, Chicago
Graduate Schools
Recent graduates in musical theatre have been accepted at:
New York University Tisch School of Music
University of Alabama
University of New Mexico
Careers
Recent graduates in musical theatre have been cast at:
Light Opera Works, Wilmette, IL
Steppenwolf Theatre, Chicago
Timber Lake Playhouse, Mt. Carroll, IL
Canterbury Summer Theatre, Michigan City, IN
The American Theatre Company, Chicago
Heartland Festiva, Platteville, WI
Royal Caribbean Productions
Music by the Lake, Williams Bay, WI
Norwegian Cruise Lines
Royal George Cabaret Theatre, Chicago
Steel Beam Theatre of St. Charles, Ill.
Greenhouse Theater Center, Chicago
Invest in your future
Choosing the right college is a big decision. Don't make it alone. North Central's admission and financial aid team is here to help you design a financial aid solution that works best for you and your family.
Merit scholarships, grants, loans, campus employment - these are just some of the resources available to you if you are interested in a musical theatre program. Over 95 percent of prospective students and 100 percent of all eligible students receive aid. Let our team partner with you in finding the best value for your education.
Learn more about financial aid and costs for North Central College
Apply to North Central College
The first step to becoming a North Central student is reading the application instructions specific to you. Find out everything you need to know about applying by selecting the group you belong to below.