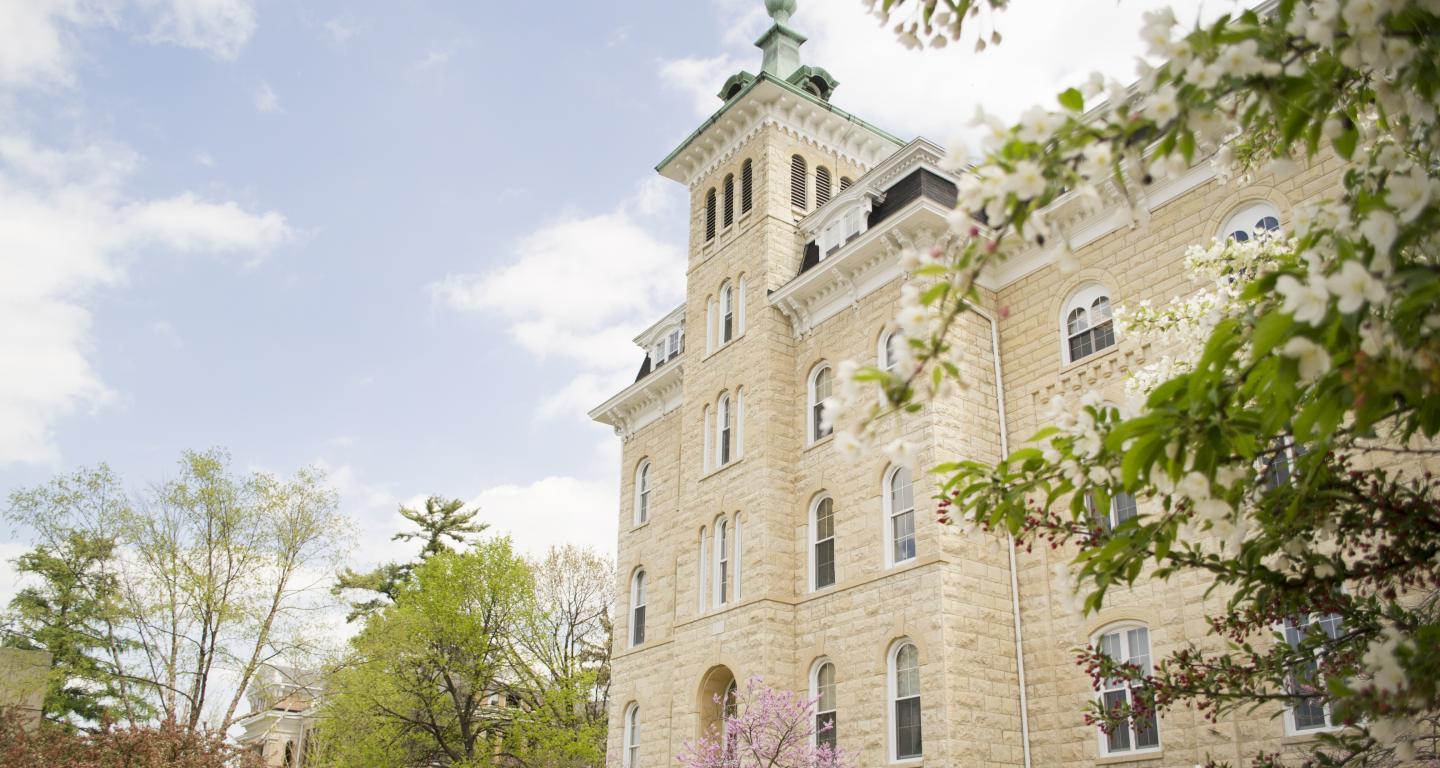 College of Arts & Sciences
Theatrical Design and Technology
Why pursue a degree in theatre design and technology at North Central College?
As a theatrical design and technology major, you'll develop design and technical theatre expertise through hands-on experience staging campus productions. This program is designed to prepare you to succeed in any theatrical environment but is especially equipped to help you take on the nearby Chicago theatre scene in companies like Chicago Shakespeare Theater, Steppenwolf, The Other Theatre Company, Goodman Theatre, Greenhouse Theatre and more. At North Central, you'll study with faculty who are accomplished and working in the Chicago theatre scene as well as Chicago-area professionals. You can dabble in or master all aspects of design and technology, including stagecraft, makeup, lighting, costuming, scenic design, stage management, and skills such as drafting, model-making and computer-aided design. A technical theatre background will prepare you for a professional theatre career as an electrician, programmer, director, carpenter, sound engineer, stage manager, wardrobe head, scenic painter and more.
IF YOU ARE INTERESTED IN
Applying artistic, technical and dramatic principles to theatrical lighting, sound and design elements
Designing sets, adjusting lighting or perfecting sound
Spending time in and around theatrical spaces
then a degree in THEATRE DESIGN AND TECHNOLOGY might be for you.
Why study theatre design and technology at North Central College?
In the Classroom
Coursework topics:
2D Design
Collaboration
Costume Design
Design Practicum
Design Skills – drafting, model making and rendering
Figure Drawing
Fundamentals of Theatrical Design
Processing
Script Analysis
Stagecraft
Theatre History and Literature
Theatrical Makeup
Stage Lighting
Scenic Design
Stage Management
Student Directed Series
Beyond the Classroom
As a Theatre Design and Technology major, you can:
Attend workshops and classes with theatre professionals.
Design for shows in our ambitious theatre season in collaboration with faculty and professional guest artists.
Develop additional design and technology skills through art and interactive media studies.
Tap into our faculty's professional network, which extends throughout Chicago's vibrant theatre community (and beyond).
Theatrical Design and Technology, B.A.
For additional programs and courses in this department, see Theatre.
Students must demonstrate elementary competence in a foreign language. For more information, see the  within the Academic Regulations section of this catalog.
Theatre Design and Technology 

Internships and Jobs
A North Central education integrates career preparation with rich academic study. Our faculty encourages you to refine and apply your knowledge in an interconnected world. Here you'll learn to think independently and work globally to solve problems and lead.
Internships
Recent graduates in theatre interned at:
Chicago Shakespeare Theater on Navy Pier
The Other Theatre Company
Goodman Theater, Chicago
American Theatre Company
Greenhouse Theater Center, Chicago
Careers
Recent graduates in theatre are working at:
Chicago Shakespeare Theater at Navy Pier
Steppenwolf Theatre, Chicago
Goodman Theatre, Chicago
Peninsula Players Theatre, Door County, WI
Montana Shakespeare, Jefferson City, MT
Timber Lake Playhouse, Mt. Carroll, IL
First Folio Shakespeare, Clarendon Hills, IL
Drury Lane, Oak Brook, IL
American Theatre Company, Chicago
Polarity Ensemble Theatre, Chicago
Royal Caribbean Productions
Theatre Royal Haymarket, London, UK
Theatre At The Center, Munster, IN
Norwegian Cruise Lines
Metropolis Theatre, Arlington Heights, IL
Invest in your future
Choosing the right college is a big decision. Don't make it alone. North Central's admission and financial aid team is here to help you design a financial aid solution that works best for you and your family.
Merit scholarships, grants, loans, campus employment - these are just some of the resources available to you. Over 95 percent of students and 100 percent of all eligible students receive aid. Let our team partner with you in finding the best value for your education.
Learn more about financial aid and costs for North Central College
Apply to North Central College
The first step to becoming a North Central student is reading the application instructions specific to you. Find out everything you need to know about applying by selecting the group you belong to below.
Riley Wodka '24
North Central College's department of theatre provides students ample opportunities to gain a diverse range of experiences and express their creativity, and the first production of the 2023 – 2024 season, "pool (no water)," is no exception.  
Riley Wodka '24 is majoring in theatre: acting and theatrical design and technology at North Central. As part of several productions, she has already built a long list of acting and designing credentials. In "pool (no water)" Wodka had the rare opportunity to be both an ensemble lead and the sound designer.